Old Navy is a clothing brand that is known for its inexpensive apparel and accessories. Founded in 1994, the company is a subsidiary of Gap, Inc, a retailer that operates five other divisions. Noted for its blue and white logo, they sell a variety of products for women, men, and children including clothing, footwear, swimwear, and more. 
More About Old Navy
The brand started out as Gap Warehouse; it wasn't until 1994 that they were renamed Old Navy Clothing Co. Later that same year, a number of retail stores were opened in California. Within a few years, the company had earned more than $1 billion in sales. In 2001, Old Navy opened a dozen stores in Ontario, Canada. Since then, the retailer has grown significantly. As of 2023, there are more than 1,100 locations across the world. Currently, there are five flagship stores in San Francisco, Seattle, Mexico City, New York City, and Chicago.
Old Navy's Activewear Line
Like most clothing brands, Old Navy has their own line of activewear. Stylish and sleek, each of their items is cut from soft fabrics, all of which are easy to move in. Not only do they have women's and men's collections, but they also have a line of athletic apparel for children. More specifically, they sell tops, leggings, yoga pants, hoodies, jackets, and sports bras. For men, they also have base layers, Go-Dry breathable short and long sleeved t shirts.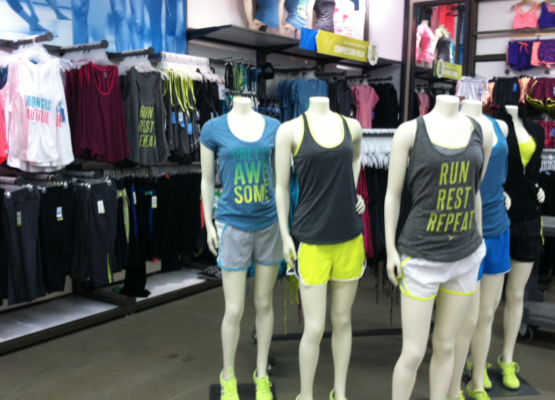 Why is their activewear so popular? The answer is simple—it's inexpensive. Compared to other brands, Old Navy's clothing is much more affordable. Take, for instance, their leggings; you can easily get a decent pair for less than $40 whereas it might cost you double that at other stores. Every once in a while, they'll also have sales, which will bring down the prices even further. Why spend $100 on a top when you can get one for a fraction of the price right?
Taking Care of Old Navy Activewear Clothing
Their activewear is quite decent in terms of quality. However, they are still prone to damage. For instance, you can easily ruin a pair of leggings in the wash with the wrong machine settings—this is especially true if you're not used to washing synthetic materials (more on this later). After all, their needs are a little different than those of regular clothes.
Before we delve into the washing instructions, let's first take a look at the various fabrics that they use in their products.
Fabrics Used in Old Navy's Activewear Line
Unlike their regular clothing, their activewear line is mostly made out of man-made fabrics. In contrast to natural fibers, these materials are well suited for workouts due to their moisture-wicking properties—that is, they keep the wearer dry by pulling sweat to the surface.
Polyester and Spandex Blends
Polyester is often used in activewear due to the fact that it is inexpensive. Relatively durable, it is also resistant to shrinking and wrinkles. While flexible, it is typically blended with spandex for greater elasticity and stability. With that said, spandex usually accounts for less than 10% of the fabric.
Old Navy uses polyester/spandex for their tank tops, shirts, tights, leggings, yoga pants, tights, polos, and more. Some items, such as their jackets and joggers, are made from 100% polyester.
Nylon and Polyester Blends
Nylon is even stronger than polyester. Mixed together, the fabric is incredibly resilient. Not only is it resistant to piling and shrinkage, but it is also lightweight, and breathable. As one would expect from two types of performance fabrics, it also dries quickly and wicks away moisture.
Old Navy mainly uses nylon/polyester for their sports bras (spandex is also incorporated into the material).
Cotton and Polyester Blends
In some cases, polyester is blended with cotton. Due to the moisture-wicking properties of polyester, the resulting fabric is much more comfortable than 100% cotton—especially when sweat is involved. More breathable, it also does not wrinkle easily.
Old Navy uses cotton/polyester blends for their shorts, hoodies, sweatshirts, yoga pants (with spandex), and more.
Rayon
Rayon is a type of fabric that is made from cellulose fiber. Super soft, it is much more absorbent than other materials such as cotton. Due to the fact that it tends to crease, it is often used for loose garments. Nowadays, it is commonly blended with synthetic fabrics.
Old Navy uses rayon for their t shirts (blended with cotton and spandex), long-sleeved shirts, and short sleeved shirts.
How to Wash Old Navy Activewear Leggings
Leggings can get pretty dirty—especially if you've just finished an intense workout. To prevent them from smelling, it's a good idea to wash them as soon as you get home. Never leave it in a pile for a week.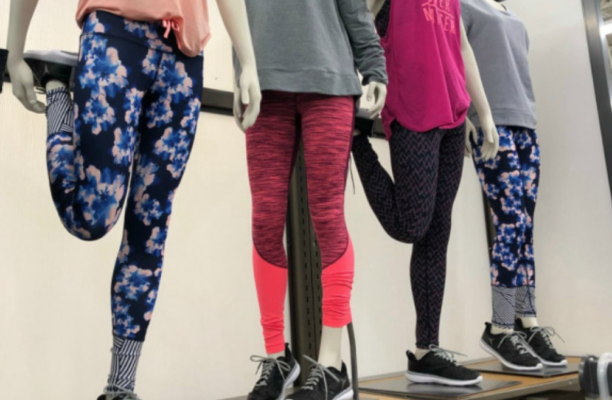 Machine Washing Old Navy's Activewear Leggings
As noted above, most of their leggings are made out of polyester and spandex. Ultimately, what this means is that you can safely throw them into the machine.
To begin, turn the leggings inside out; this will prevent fading by reducing friction. You might also want to put them in a mesh laundry bag if they have intricate details (e.g. lace, mesh). You can wash your leggings with other activewear given that they are of similar colors. In some cases, you'll have to separate them into different loads.
Add a bit of ACTIVE detergent and put the leggings into the machine. Wash with cold water on a gentle cycle. Avoid hot water as that can cause shrinkage. Do not use fabric softeners—these types of chemicals will make it so that the fabric will no longer be able to pull away moisture.
Note: You should use a detergent that is specially designed for activewear. For instance, ACTIVE detergent contains plant-based enzymes that will help to dissolve sweat and body oils. Traditional detergents can harm your clothing made from synthetic materials.
Take the leggings out once the cycle is finished; do not leave them in the machine for long periods of time—this will cause them to smell bad. Dry them on a clothesline. Alternatively, you can use a drying rack. While you can put them in the dryer (on the lowest setting), it's not recommended as the high temperatures will cause the fabrics to deteriorate prematurely.
Washing Old Navy's Activewear Leggings by Hand
Hand washing takes a bit more time, but it's definitely worth it. For one thing, this method is much gentler on your leggings. If you want them to last longer, skip the machine.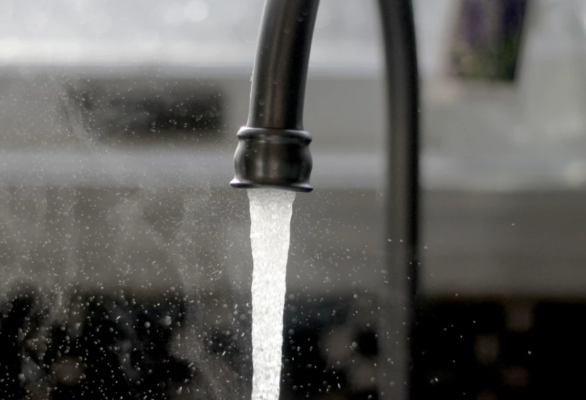 The first step is to fill a basin with cold water. Add a bit of ACTIVE detergent to create a soapy mixture; you might have to use your hands to mix the solution. Once that's ready, put your leggings in. Avoid overloading the basin if you're washing more than one pair of leggings. After ensuring that it's properly submerged, let it soak for 15 to 30 minutes.
Pro-tip: You can soak the leggings for longer if they are excessively dirty. If there is a stain, apply extra ACTIVE detergent to the spot before soaking.
From there, you can begin to wash the leggings. Pick them up from the basin; wash them by lightly rubbing the material against itself. Afterward, rinse off the detergent with plain water—repeat until the water is clean. Place them on a towel, which you can use to soak up some of the extra water. Hang them up to dry. As noted earlier, you do not want to put them in the dryer, if possible.
Note: These methods can also be used to wash Old Navy's yoga pants, tights, base layers, shirts, and performance pants.
Best Method to Wash Old Navy Hoodies and Sweatshirts
Most of their hoodies and sweatshirts contain cotton. Ultimately, this changes the washing instructions slightly.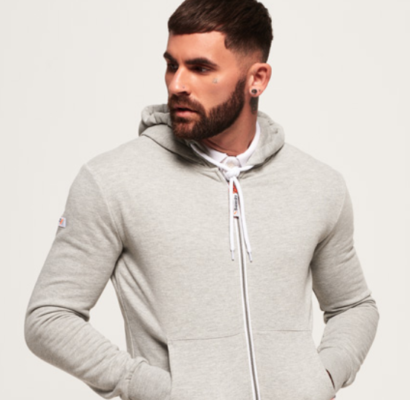 Machine Washing their Hoodies and Sweatshirts
Unlike their other items, their hoodies and sweatshirts can be washed with warm or hot water (assuming that they're preshrunk or processed). Generally speaking, you can also use chlorine bleach to get rid of stains. However, you should always double check by looking at the care label.
When it comes to hoodies, always zip them up before putting them into the machine; otherwise, they can hit and snag on other items. It might also be a good idea to turn them inside out. In terms of sweatshirts, you can just toss them in.
Measure and add an appropriate amount of ACTIVE detergent. Wash with cold, warm, or hot water on a delicate cycle. Given that they are of similar colors, you can wash them with other laundry. Due to the fact that these items contain polyester, you want to skip on the fabric softener. If necessary, you can add a bit of vinegar, which will help to soften the clothes.
Safely Cleaning Old Navy's Activewear Sports Bras
Their sports bras are generally constructed from nylon and polyester. Not only does this help to wick away perspiration, but it makes them quick drying.
Can You Put Their Sports Bras Into the Washing Machine?
Yes, their sports bras can safely be put into the washer. Seeing as how they're delicates, you'll want to protect them by putting them in a lingerie bag; this will prevent it from being deformed in machine You can wash the bras with other activewear items given that they're like colors.
Pro-tip: It's not uncommon for the pads to shift around during the wash cycle. To prevent this, you can sew it from the inside. Alternatively, you can remove the pads from the bra and wash them separately.
Pour in some ACTIVE detergent, put the bras in, and close the door. Select a delicate cycle and wash the garments with cold water. Do not use fabric softener—that will only make it harder to wash away the sweat. When the cycle is finished, take the sports bras out of the lingerie bras and hang them to dry. Do not put them in the dryer. While it's true that nylon and polyester are able to withstand heat, the material can still shrink over time.
Washing Old Navy's Sports Bras by Hand
Want to skip the machine? No problem—you can easily wash the sports bras by hand. In fact, it's much gentler on the fabric. The first step is to soak the bras in a basin or the sink; to do this, simply fill it with cool water and mix in a small amount of ACTIVE detergent. Put the garments in and allow them to sit for at least 15 minutes—this will make it easier to wash later.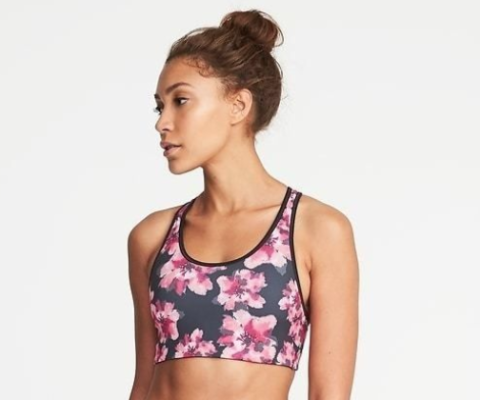 Note: You can also soak your sports bras before putting them into the washing machine; this will help to get rid of any unpleasant odor.
Wash the bras with gentle movements once they've been thoroughly soaked. Avoid twisting or scrubbing actions as that will wear out the elastic and material. Drain the basin or sink and fill it with clean water. Swish the bra around to remove the detergent. Alternatively, you can rinse it off under the faucet; repeat until the water is clear. When you're finished, lay it on a clean towel. If necessary, use the towel to remove some of the excess water. Use a drying rack or hang it up to dry. Avoid putting them in the dryer at all costs.
Note: This promotional offer is only guaranteed through the end of the day.