Swimming is a good all-around activity. Not only does it build endurance, but it also helps to increase muscle strength and cardiovascular fitness. The best part? It doesn't put any stress on the joints. This makes it an ideal sport for almost everyone—including seniors.
It's worth mentioning that it has benefits for your mental wellbeing as well. For one thing, it'll release endorphins, natural feel-good hormones that'll bring about a sense of happiness. Aside from that, it can also reduce stress, increase self-esteem, and lower the risk of depression.
Considering all that, it's not surprising to know that swimming is as popular as it is!
How Many Swimmers Do You Know?
It's said that more than 27 million people swim for fitness in the U.S. Considering that, it wouldn't be surprising to know if you had one or two friends who were swimmers. Not just friends but family as well. For example, maybe your dad-in-law likes going swimming on the weekend.
Well, if that's the case, why not get them something that they can use at the pool for their next birthday or maybe even Christmas? After all, there's nothing better than giving them something that they can put to good use.
Need some ideas? Well, you're in luck. We'll be going over some of the best gifts for swimmers on this page. Find out what they are by reading the rest of the post!
7 Best Gift Ideas for Swimmers in 2023 – Top Recommendations
Here are a few things that you can get for that swimmer friend in your life.
1. Waterproof Earbuds – $25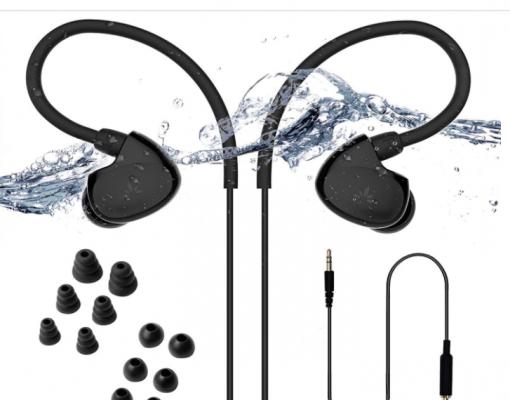 It's not uncommon for people to listen to music while they're working out—and swimming is no exception. That's right, there are many waterproof devices that you can use to listen to your favorite tunes in the water. If anything, it's a great way to motivate your workout. As it is, however, you'll need more than just the music player—you'll also need a pair of waterproof earbuds.
Enter the Avantree Secure Fit Underwater Earbuds. Completely waterproof, they're one of the best things that you can use for water activities. Not only are they comfortable, but they also come with an ear hook for secure fitting. That way, you won't have to worry about them coming off while you're swimming laps. If you want, you can even use them at the beach! Just make sure to soak them in clean water afterward to prevent saltwater damage.
Did we also mention that they're cost-effective? You're looking at around $24.99 per pair, which makes it a budget-friendly gift option.
2. ACTIVE Detergent – $24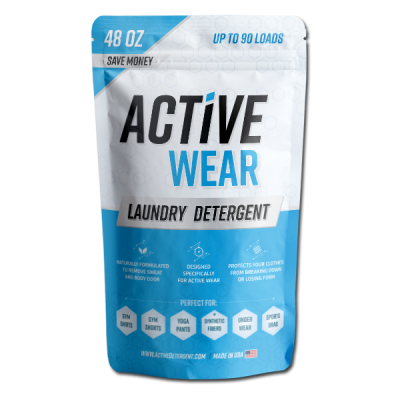 When it comes to swimming, you want to make sure to clean your swimsuit after each wear. Why? The sweat and sunscreen from your skin can compromise the fabric. The same thing goes for chlorine—it can also damage the suit over time. Given that, it's crucial that you wash them properly as soon as possible. If you can, it also helps to rinse it out beforehand.
Ideally, you want to use a soap that's specifically geared toward nylon, polyester, and other synthetic materials. Not sure which to get? Try ACTIVE detergent. As you can probably guess, it's engineered for activewear and of course, that includes swimsuits. Made from plant-based ingredients, it contains enzymes that allow it to break down sweat and oils from the fabric. On top of that, it's hypoallergenic. In other words, it won't irritate your skin.
I know what you're thinking—"who gives detergent as a gift?" but hear me out—wouldn't you want to give your friend something practical? I mean, everyone has to wash their swimsuits so they'll definitely be able to put it to good use. In fact, you might even want to get some for yourself! After all, everyone needs detergent.
3. Speedo Cap – $10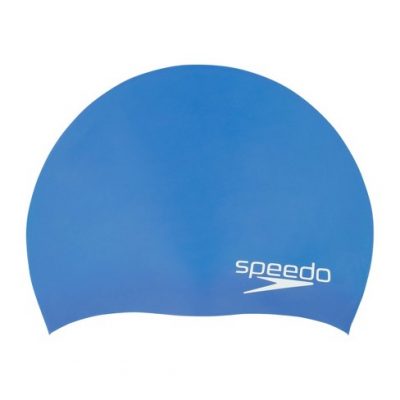 Chlorine is typically added to pool water to eliminate bacteria and algae. At the same time, however, it can be damaging to hair. That's why many swimmers choose to wear swim caps. Not only does it protect their hair, but it also reduces drag, which allows them to swim faster.
Thinking of giving your friend one of these caps? If so, considering getting one by Speedo. If anything, they're the most well-known brand when it comes to swimwear. The best part is there are multiple colors and patterns to choose from—just check out their site. You won't have to worry about getting the wrong size either since it's one size fits all (unless you're getting it for a child then you'll want to get a child-sized cap)!
Soft and comfortable, they won't pull or snag your hair while you're in the water. On top of that, it's built for durability—that is, it'll likely last many swim sessions so it'll definitely be worth it, especially for that price.
4. Hydro Flask Water Bottle – Ranges from $30 to $40
It's super important that you stay hydrated while you're swimming and how can you do that without a water bottle? Yes, most pools have vending machines where you can buy water but let's face it, that's not exactly eco-friendly. Plus, why buy when you can just bring your own, right?
That's why Hydro Flask is on this list. Basically, they're water bottles that are backed by a lifetime warranty. Made of stainless steel, they're capable of keeping drinks cold for up to 24 hours with their vacuum-insulated technology. Of course, you can use it for hot drinks too (it will keep your drink hot for up to 6 hours). BPA-free, the bottle also comes with a slip-free grip so that you can easily take it with you on the go. Size-wise, it'll also fit comfortably into most cup holders.
Last but not least, it comes in various colors—from orange to pale blue. It's also worth mentioning that there are multiple sizes to choose from. For example, there's the 18 oz with standard mouth and 20 oz with a wide mouth. If you want, you can also get one with a sports cap.
5. Triswim Chlorine Removal Shampoo – $13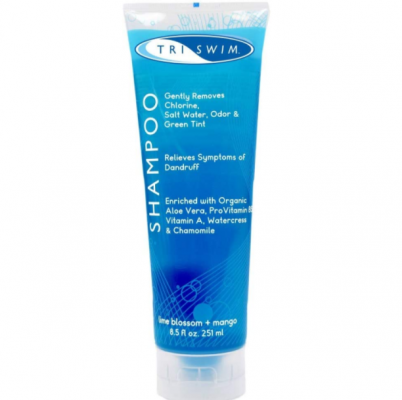 Chlorine is not only damaging to your hair but it can also leave a noticeable smell. You can try to get rid of it with shampoo but that's not always enough, especially if you're a regular swimmer. The good news is that there are specific products that are designed to solve this problem.
Ever heard of chlorine removal shampoo? Because that's a thing. They might be a bit more costly compared to regular shampoos but most would say that they're worth it. One of our favorites is the one by TriSwim. Not only will it remove chlorine, but it'll also get rid of salt water, bromine, and any chemical odors that are present. In fact, it's endorsed by the Women's Olympic USA Water Polo team! Formulated with aloe vera, it'll effectively restore, hydrate and nourish your hair. For the best results, use it with the Triswim conditioner.
In terms of cost, you're looking at $12.99 for a 8.5 oz bottle. Given that your friend only uses a small amount, which they should be anyway, it should last them many washes. Why not give something practical that they can put to good use in the shower room, right?
6. Anti-Fog Swimming Goggles – $13
Swim goggles aren't mandatory when you're at the pool but they can definitely improve your experience. For one thing, they'll protect your eyes from chlorine. That way, you won't have to worry about them getting irritated while you're swimming. Not only that, but they'll improve your vision and clarity—this is especially true for those who require corrective lenses.
The thing with swim goggles, however, is that they tend to fog up after a while. As you can imagine, that can make things hard to see. While you can rub the lenses clean with your hands, it's not exactly the most efficient way to go about it. That's why it's a good idea to invest in anti-fog goggles. Basically, the inner surfaces of the lenses are coated with a special technology that prevents them from fogging up.
Thinking of giving your friend a pair? Consider the ones by Aegend. Featuring a flexible silicone frame, they'll stay on your face without hurting your nose or leaving any marks. Not only that, but its snug fit will prevent water from leaking in. And most important of all…they're stylish. Aside from its ergonomic design, there are also many colors to choose from such as pink, light blue, black, etc.
Even if your friend already has a pair, you can't go wrong. After all, the anti-fog properties tend to diminish over time. In other words, they'd have to get a new pair eventually anyway! So by giving them a pair, you'll be making things easier for them.
7. Dragsox – $32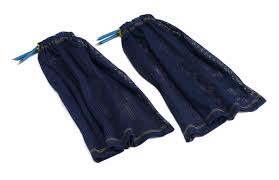 Is your friend a competitive swimmer? If so, why not give them a pair of DragSox? A training tool, it'll help them develop a more powerful kick. How does it work? As they move through the water, it'll cause turbulence and create an area of lower pressure behind them. As a result, they'll have to exert more energy to overcome the suction. The resistance also promotes greater control of motion and awareness.
While the DragSox are one size fits all, there are three degrees of resistance that you can choose from—30, 45, and 60. Assuming that your friend has never used them before, it's probably a good idea to start on the low end. From there, they can eventually work their way up to the 45 and 60. Or if you want to be generous, you can get them all three so they can just move up whenever they feel ready!
Note: This promotional offer is only guaranteed through the end of the day.