Heading to the gym? If so, you'll probably want to wear activewear. Not only are these garments moisture-wicking, which lets you stay dry through your workout, but they are lightweight and comfortable. Made from technical fibers, these types of clothes also allow for a free range of motion, which is important when you're doing various exercises.
Given how "popular" the fitness niche has become, it's not surprising to know that there are numerous brands out there that manufacture sportswear. Obviously, some are more famous than others. Take Lululemon, for instance, they have made themselves known in more than a dozen countries around the world!
Shopping based on style is good, but what if you could buy cool-looking clothes and support a cause? You'll be spending the money on an item anyway, so wouldn't it be better for some of the proceeds to go toward a cause? Ideally, one that you care about!
As it turns out, there are several activewear brands out there that are involved with charities. You might not have heard of some of them, but that doesn't mean that you should pass on their products. If anything, it should make you feel better about yourself—after all, you're helping to make a difference!
Is that something that you're interested in? Want to know what some of these brands are? If so, you're on the right page! We've compiled a list of companies, all of which give back to the community. What are they? Keep reading to find out!
10 Activewear Brands That Give Back or Donate to Charity
How many of these brands are you familiar with?
1. Headbands for Hope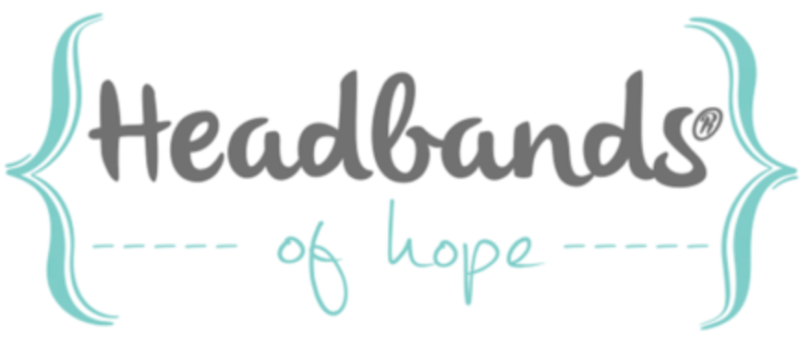 Headbands of Hope, as their name implies, sells a variety of headwear from flower crowns to turbans, all of which are available in a wide range of patterns and styles. Aside from that, they also sell clothing such as tanks and sweatshirts, though it's not their main products. What sets them apart from other headwear brands, though, is that they have a subscription box that you can order. For just $35, you will receive three of the newest products every 3 months!
How Do They Give Back?
For every item that sells, the company will donate a headband to a child with cancer (the only exception is their subscription boxes—for every box that they sell, they will donate three headbands).
That's not all, they also have headBAND Together weeks, where they donate 10% of their proceeds to a childhood cancer charity, which customers can vote on. Plus, half of their credit card processing feeds go to The Baldrick's Foundation for childhood cancer research!
Know someone in the pediatric ward that would like a headband? There's always the option of filling out an individual donation request on their website!
2. Wolven Threads
Wolven Threads is an apparel brand that specializes in multi-functional activewear. They sell a variety of products for both men and women including tanks, tees, leggings, joggers, shorts, and more. What's unique about the company? All of their products are made from post-consumer plastic. More specifically, they are constructed from OEKO-TEX certified P.E.T. fabric—a type of material that is made from recycled plastic bottles. 
Why is this important? Consider this—more than 14 billion pounds of garbage is dumped into the waters every year, 80% of which is a type of plastic. By switching to recycled PET fabrics, you'll be doing your part to save the Earth. For those who are curious, no, you will not be able to tell that the material is made from recycled water bottles. If anything, it's incredibly soft!
How Do They Give Back?
The company firmly believes that people should take care of each other. In collaboration with the non-profit, Families Supporting Families, they provide wellness and yoga education to youths who are at risk. This is huge—after all, yoga has the ability to reduce anxiety and boost self-confidence.
3. K-Deer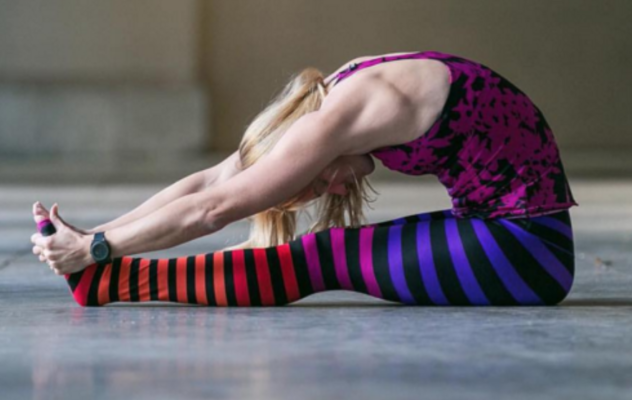 K-Deer is known for their head-turning leggings, all of which feature their signature stripes. If anything, they are definitely a conversation starter. In addition to that, they also sell tees, tops, capris, shorts, bras—even sneakers! They have a children's collection as well, which consists of various types of bottoms. One of the great things about the brand is that they offer a wide range of sizes—from XS to 4XL. There's bound to be one that's right for you!
How Do They Give Back?
K-Deer donates 1% of their wholesale proceeds and 5% of their e-commerce proceeds to a number of non-profit organizations that support communities in mind. Not only do they support children's causes, but they are also for animal welfare, environmental issues, and health and wellnesses.
Some of the charities that they work with include Bring Change to Mind, The Naomi Cohain Foundation, the Tragedy Assistance Program for Survivors, the Newark Yoga Movement, and the National Park Foundation. You can learn more about the others by browsing through their Signature Stripes collection.
4. Beyond Yoga
Beyond Yoga is an apparel company that is geared toward yogis. In addition to leggings, they offer pants, one-pieces, shorts, sweatshirts, jackets, and more. They even have a maternity line for expectant mothers! On top of that, they sell a variety of accessories such as bags and necklaces.
How Do They Give Back?
Beyond Yoga created Moms for Moms, a charity initiative that supports underprivileged mothers-to-be across the country. For every Beyond the Bump purchase, the brand will make a monetary donation to those in need.
That's not all, they're also a proud partner of Midwives for Haiti, an organization that aims to reduce maternal and infant mortality rates in Haiti. For every Beyond the Bump item sold, the brand will make a direct contribution to expectant mothers in Haiti. Since their launch, they have donated more than $10,000 toward the cause and have impacted over 10,000 prenatal visits.
5. Spiritual Gangster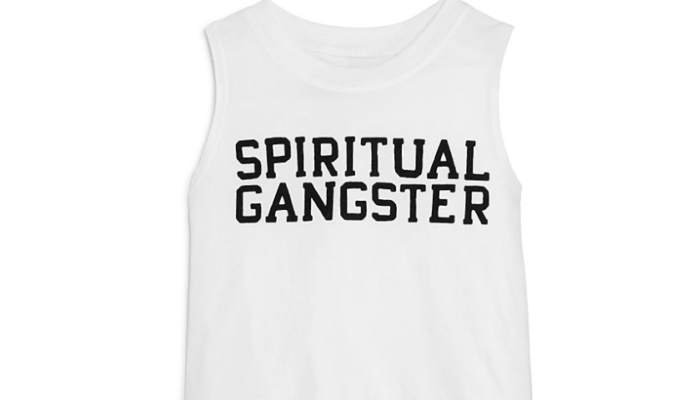 Spiritual Gangster sells yoga-inspired apparel for men and women. Some of the items that they sell include leggings, tees, jumpsuits, swimwear, bras, tanks, hoodies, and more. Though not as diverse, they also have a children's line, which consists of various tops and bottoms. In addition to clothing, they also sell accessories such as beanies, stickers, journals, water bottles, and key tags.
Their mission is to inspire kindness, generosity, and positivity—something that they're constantly working toward. 
How Do They Give Back?
For every product that they sell, Spiritual Gangster will donate some of their proceeds toward providing a meal to someone in need. How? Through their partnership with Feeding America—a U.S. based non-profit organization that operates more than 200 food banks across the country. To date, they have helped to provide over 11 million meals. In doing so, they have collectively made an impact in the fight against hunger.
6. Cotopaxi
Cotopaxi specializes in outdoor gear and apparel. As with most activewear brands, they sell jackets, tees, leggings, tanks, and shorts for both men and women. Equipment-wise, they offer tents blankets, sleeping bags, backpacks, headlamps, and more. On top of that, their catalog includes accessories such as beanies, socks, mugs, hats, and water bottles.
One of the great things about the brand is their design.. Almost all of their products are made from recycled materials. Not only that, but they only work with suppliers that have a rigorous code of conduct.
How Do They Give Back?
Cotopaxi is a certified B corporation. In other words, the company balances purpose and profit. They do this by donating 1% of their proceeds toward addressing poverty; they also support community development. Through their grant program, they have helped to promote numerous organizations. In doing so, they have played a significant role in improving the human condition.
As of 2019, they have given out 42 grants in six different countries worldwide.  Some of their grantees include the International Rescue Committee, Escuela Nuela, UN Foundation – Nothing But Nets, and Utah Refugee Services.
7. Bombas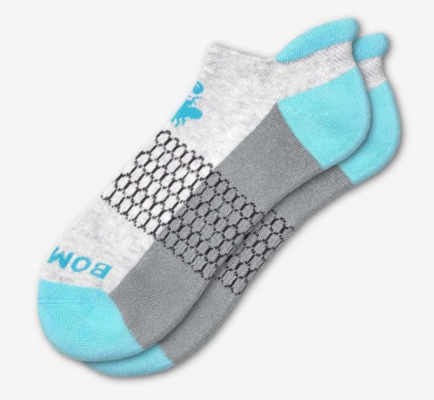 Bombas is a company that specializes in comfort-focused socks. They sell various styles including those that are ankle, quarter, calf, and knee high. On top of that, they have high-performance varieties that are designed for hiking, running, tennis, golf, skiing, and snowboarding.
In addition to socks, they also sell some apparel. More specifically, they offer tees for men, women, and children.
How Do They Give Back?
Bombas follows a one-for-one business model. In other words, they will donate one pair of socks for every pair that is purchased. Where do they go? To homeless shelters, where new clothing is in high demand. They also work with non-profits and at-risk communities to get their items to where they're needed the most. To date, the company has donated more than 19.5 million clothing items through 1,700 Giving Partners across the country.
8. Allbirds
Allbirds is a startup that is dedicated to creating environmentally friendly footwear. They sell many different styles including runners, loungers, breezers, skippers, and toppers, all of which are made from natural materials such as eucalyptus tree fiber, merino wool, and sugar cane. Not only are they eco-friendly, but they're comfortable as well!
How Do They Give Back?
All of Allbirds' products give back to the environment. As mentioned earlier, they're made from natural materials, as opposed to synthetic fabrics. Less energy is also used during the production process.
That's not all, though—they've also partnered with Soles4Souls, a nonprofit that creates sustainable jobs through the distribution of footwear around the world. In collaboration with them, they've donated countless pairs of lightly used sneakers to those in need.
9. LVR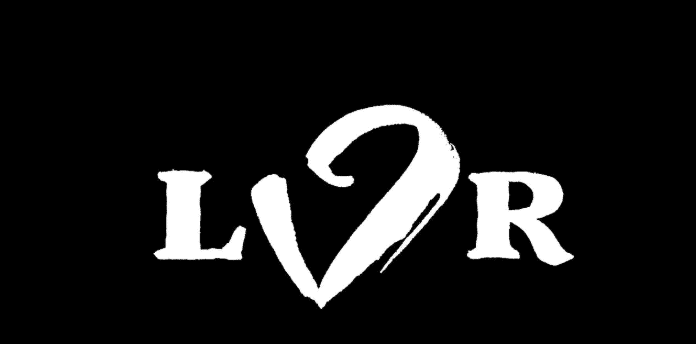 LVR is a Los Angeles-based company that manufactures yoga pants, leggings, dresses, tops, and scarves, all of which are suitable for active lifestyles. Not only are the items buttery-soft with an organic cotton blend, but they are produced using low-impact dyes.
Their products are sold in yoga studios and boutiques across the US, Canada, Europe, Japan, the Middle East, and Iceland.
How Do They Give Back?
LVR is partnered with ARCAS, a wildlife rescue center located in Guatemala—that is, the proceeds from their sales are donated quarterly to help in the release, rehabilitation, and rescue of wild animals. On top of that, they also contribute to Los Angeles' Downtown Women's Centre.
10. ShareHope
ShareHope is unique in that they only sell one type of product—leggings. What's special about them is that they come with a lower-back product that allows you to store your phone while you exercise. In addition to that, the fabric features two forms of eco-friendly odor control; they use Agion and Lava Zeolites technologies, which helps to prevent the development of odor.
How Do They Give Back?
The brand donates 100% of their profits to fund various social programs in Haiti. Over the years, their apparel sourcing activities have led to more than 1,700 jobs. As if that wasn't impressive enough, they've also provided health education to 8,750 workers!18,000 workers have also benefited from their programs, which aim to strengthen factory clinics.
Note: This promotional offer is only guaranteed through the end of the day.