Allbirds is an American company that specializes in eco-friendly footwear. Aside from runners, they also sell loungers, toppers, and skippers for men and women. On top of that, their catalog includes a variety of socks as well. Not to mention accessories such as insoles, sleeping masks, and lace kits.
About Allbirds
Allbirds is a relatively new company—it was founded by Tim Brown and Joey Zwillinger in 2014. A former business student, the former had made leather shoes for friends in the past. However, it wasn't until later on that he decided to make his own sneaker. Teaming up with Zwillinger, a biotech engineer, the duo began to develop their own product after successfully raising $119,000 on Kickstarter.
By 2016, they had opened for business. Within a year, they managed to raise over $7 million from investors such as Red Seas Ventures, Peterson Partners, and Lerer Hippeau Ventures. Fast forward to 2023 and they have retail stores in New York, Shanghai, San Francisco, Beijing, London, and Seattle. In the near future, they will also be opening a couple of stores in Washington, D.C. and Los Angeles.
More About Allbirds Footwear
As mentioned above, the brand sells a variety of shoes from runners to flats. They even have a limited edition children's line that's an exact replica of the adult version. While they all have different features, they do have one thing in common—that is, they are all made from environmentally friendly materials. For instance, they have a collection that's made from merino wool and another that's made from tree fiber (more on this later).
Cost-wise, their shoes are quite competitive. For instance, their runners (no matter the fabric) go for $95, which is around the ballpark of most standard runners. As a matter of fact, many of their products are listed for the same price including their loungers and skippers. One of the only exceptions is their tree toppers line, which goes for $115.
Taking Care of Allbirds Shoes
Allbirds footwear might be environmentally friendly but that doesn't mean that they won't get dirty. Light-colored footwear is especially prone to dirt and mud stains. As with all shoes, you want to take proper care of them—otherwise, they can deteriorate prematurely.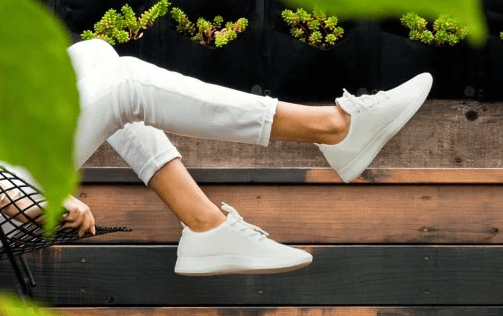 While you don't need to wash your shoes as often as your clothes, it's a good idea to give them a good clean every once in a while. After all, debris will accumulate on the fabric over time. Not to mention that it can start to stink after a while!
In the case of stains, you want to wash it as soon as possible. The longer you wait, the harder it'd be to remove from the fabric. The last thing that you'd want is to have to work with stinky, stained shoes!
Allbirds' Footwear Materials
Allbirds offers a variety of shoe collections, each of which is made from a different type of eco-friendly fabric. Let's take a closer look at them below.
Superfine Merino Wool Collection
Their merino wool collection is breathable, moisture-wicking, and temperature-regulating. Made from superfine fibers (20% the diameter of human hair), you won't have to worry about any irritating scratchiness. Cozy as a blanket, it's soft on the inside and durable on the outside. Complete with a merino wool insole, it'll feel as if you're walking on a cloud! There are two types of shoes in this collection—loungers and runners. 
Tree Fiber Collection
Their tree fiber collection is made from Tencel Lyocell—a type of material that is derived from cellulose fibers. Sourced from South Africa, the fabric is silky-smooth and breathable, with a cooling effect. Renewable and naturally-derived, it's much more eco-friendly compared to traditional shoe materials. Not only that, but they're so soft, that you can wear them without socks!
Sugarcane Sweetfoam Sole
Many of their shoes such as their runners come with their signature SweetFoam sole. Made from sugarcane material, it concurs to your feet for endless comfort. Sourced from Southern Brazil, it not only grows quickly, but also helps to remove carbon from the atmosphere.
Trino Yarn Socks
Trino is a super-tan that's made from tree and merino wool fibers. Responsibly sourced, it's soft, moisture-wicking, and breathable—which makes it perfect for socks. Complete with a reinforced heel and toe, they are guaranteed to last you a long time. What's more, is that they come with special fibers on the footbed for slip prevention.
Washing Instructions for Allbirds Wool Shoes
Not sure how to wash your wool shoes? No worries, that's why we're here. We'll be going over everything you need to know below.
Are Allbirds Wool Shoes Machine Washable?
You'll be happy to know that their wool shoes are machine washable. That shouldn't come as a surprise, though. After all, we regularly put wool clothes in the washer! Given the delicate nature of the fibers, however, there are a few things that you want to be careful with during the washing process.
Start by removing the shoelaces. While you can leave them on, it's much better to take them off—that way, the detergent will have better access to the shoe surface. Not to mention that the laces themselves will also be cleaner if you wash them separately. Similarly, you want to remove the wool insole. Place them in their own laundry bag and place them in the washing machine.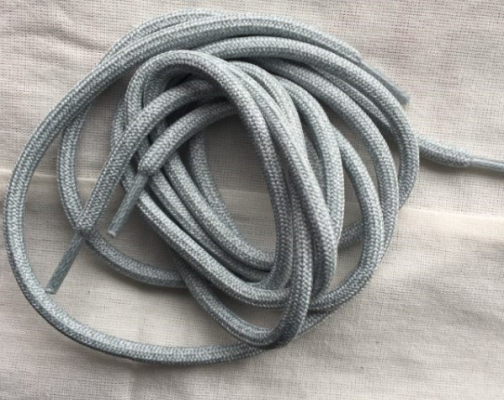 Note: The laces and insoles can also be washed in the sink. Mix a scoop of ACTIVE detergent with cool water and soak the items. Let them sit for at least 15 minutes before rinsing them clean. Let them air dry afterwards.
Once you've removed the laces and insoles, place the shoes in their own laundry bag. There are a few reasons why that's recommended—for one thing, it will keep them together during the cycle. Second of all, it'll prevent them from banging around inside the machine, which can actually damage the material. Generally speaking, it's not recommended that you wash your Allbirds shoes together with clothes. Instead, you want to wash them separately. For the best results, put in a few clean towels.
Next, you'll want to add your detergent. Ideally you want to use a product that works well for wool fabrics, like ACTIVE detergent. Do not add any fabric softener/conditioner—it will prevent the wool from pulling moisture away from your skin. Bleach is also a no-no as it will damage the material. White vinegar is a suitable alternative if you want to soften your shoes.
Finally, set the settings—you want to use a gentle or wool cycle (if your washer has such an option). Always use cold water; hot water can cause your wool shoes to shrink. Let the cycle run. Once it's finished, take the shoes out and let them dry naturally in a well-ventilated room—the same goes for the insoles and laces. Never use the dryer with Allbirds shoes unless you want to buy a new pair!
Washing Your Allbirds Wool Shoes by Hand 
Allbirds footwear can also be washed by hand. We suggest this method if you want to extend the life of your shoes as it's much gentler than using the washing machine. It's not that difficult either!
The first thing that you want to do is to fill a bucket or tub with cool water. As mentioned earlier, you do not want to use hot water as the heat can cause the wool fibers to shrink. Next, add a small amount of ACTIVE detergent. Swirl the water with your hand to dissolve the product.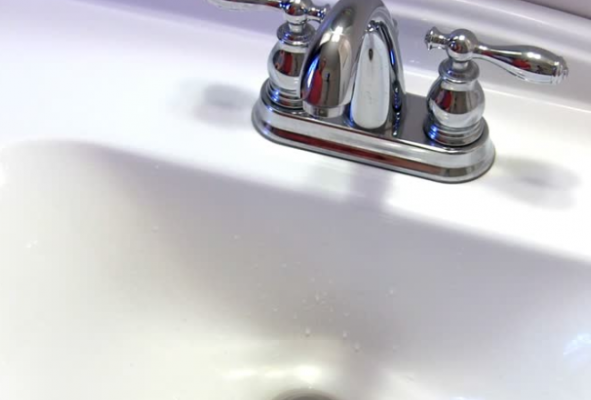 Pro-tip: It's a good idea to clean your shoes with a brush first before submerging them. That will allow you to remove any dirt or mud that might be on the surface.
Once you've done that, remove the laces and insoles from your shoes (you want to wash them separately in the sink). From there, place the shoes in the tub. It's important that you submerge the whole thing in the soapy water. Leave it alone for at least 20 minutes—that will give the detergent time to remove the dirt and grime from the fabric.
Pick up the shoes afterwards and rinse them with cool water in the sink. Make sure that all of the soap film is removed—you don't want there to be any remnants on the fabric. Allow them to dry completely before putting the laces and insoles back in (double check that they're dry too before doing so).
Note: Stains on the surface of the shoe can be removed with a soft-bristled brush. Dip it in the soapy solution and use it to clean the material (use gentle, circular motions).
How to Deodorize Allbirds Wool Shoes
Let's face it—your Allbirds are probably going to stink after a while. Sweat is a thing, after all. Here are a few ways that you can deodorize them:
De-stink Using Baking Soda
Baking soda is super effective when it comes to removing smells. Ultimately, what you want to do is to sprinkle a liberal amount into the offending shoe. For the best results, leave the powder in overnight. The longer it's in the shoe, the more effective it will be as a deodorizing agent.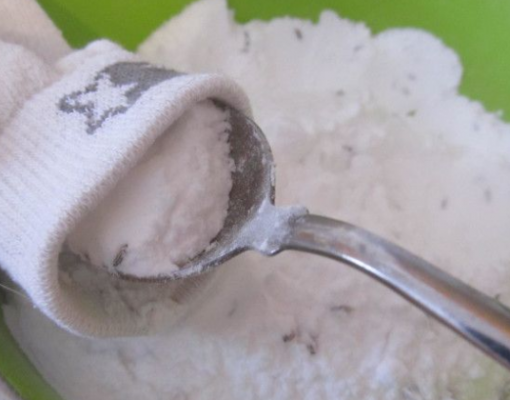 Remove the baking soda from your shoes in the morning (simply shake them upside down) and they should smell a lot fresher!
Alternatively, you can create your own "deodorizing pack" by filling a pair of old socks with baking soda. Tie them up tightly and stuff them into each shoe. Remove them in the morning. Unlike the previous method, you won't have to worry about there being any residue inside.
De-stink with Fabric Softener Sheets
Dryer sheets aren't just for the dryer—you can also put them in your shoes. That's right, they can be used to neutralize odors. As with the baking soda, you'll want to leave them in for several hours. Take them out before wearing.
De-stink with White Vinegar
White vinegar is also great for odors. Dampen a clean cloth or rag and use it to wipe the inside of each shoe. If necessary, stuff the inside with newspaper to help get rid of excess moisture. Do not use balsamic or apple cider vinegar as these variations can stain the wool material.
De-stink with Rubbing Alcohol
Rubbing alcohol is fantastic at killing odor-causing bacteria. As with vinegar, you want to start by dampening a cloth with the product. From there, wipe the insides of your shoes with it—pay attention to the corners. The great thing about alcohol is that it dries quickly. You won't have to wait several hours for it to dry.
Note: This promotional offer is only guaranteed through the end of the day.