Nike is perhaps one of the best-known sportswear companies in the world. In fact, they're one of the most valuable brands in the industry with a valuation of nearly $30 billion!  Over the years, they've sponsored many celebrities including Michael Jordan, Steve Prefontaine, Allyson Felix, and Carl Lewis.
Product-wise, the company sells apparel, equipment, and accessories. Their footwear is also incredibly popular. Since their launch, they've come out with numerous collections, many of which are highly sought after by collectors. It's not uncommon for some limited edition pairs to sell for thousands of dollars!
A Little History Behind Nike
Nike, which was known as Blue Ribbon Sports at the time, was founded by Phil Knight, a college student, and his track coach, Bill Bowerman, in 1964. Within the first year, the pair had managed to sell more than 1,300 pair of shoes, which earned them $8,000. From there, they eventually opened their first store in 1966.
By the 80s, the company had expanded their product line to include many sports. Since then, they've acquired several footwear and apparel companies including Bauer Hockey, Converse, and Cole Haan. As of 2023, there are more than 1,100 Nike retail stores around the world.
More About Nike Footwear
As mentioned earlier, Nike manufactures a variety of shoes for men, women, and children. To give you a better idea, they have ones designed for running, basketball, tennis, skateboarding, golf, and football. They also have casual shoes, as well as slides and sandals, which are meant for everyday wearing.
Which is the most popular? Probably their Air Jordans. As you might be aware, they're made in collaboration with star athlete, Michael Jordan. Given that, it's not surprising to know that they're highly desirable—that fact hasn't changed from the 80s!
A Look at the Different Nike Shoe Brands/Lines
We mentioned this earlier but Nike has a large selection of shoe brands to choose from. Essentially, these are different collections that are made from various materials; their purpose also varies from shoe to shoe.
Let's take a look at some of their most popular ones below.
Nike Flyknit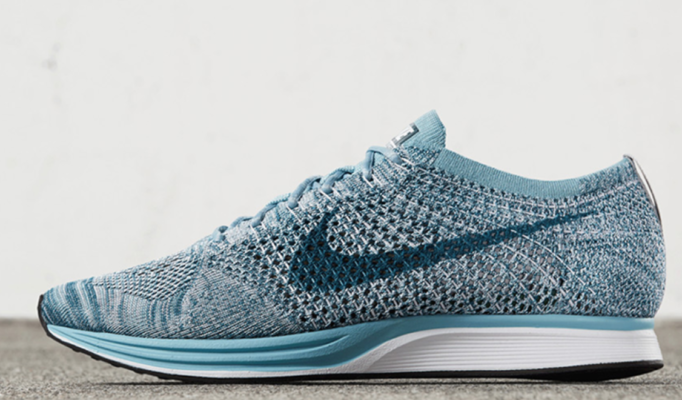 The Nike Flyknit is engineered to be lightweight. Made from yarn and fabric variations, the shoes are formfitting with a seamless upper. To give you a better idea, the upper and tongue only weigh 34 grams!  The whole shoe? Only 160 gram for a size 9, which is nearly 20% lighter than the Nike Zoom Streak 3!
One of the great things about the Nike Flyknit is that it is environmentally sustainable. Unlike traditional footwear, the one-piece upper does not use multiple materials nor cuts. Designed with runners in mind, the shoe is close-fitting, almost to the point of it being a second skin.
Nike Free RN 5.0
Nike's Free RN shoes are unique in that they are designed for a barefoot-like feel. Not only are they flexible, but they come with a single mesh layer that provides a considerable amount of stretch—that way, you'll be able to move exactly the way you want out on the field. It also comes with less foam in the midsole, which makes it easier for you to run!
Not only that, but it uses an asymmetrical lacing system that helps to relieve pressure on your foot. There are also rubber pods on the heel and forefront, which will enhance traction as you run.
Nike Metcon
The Nike Metcon is perfect for even the most demanding of workouts! It features a strong platform that provides stability and a flexible forefoot that allows for natural movement. It even has a 3D-printed upper, which boosts durability.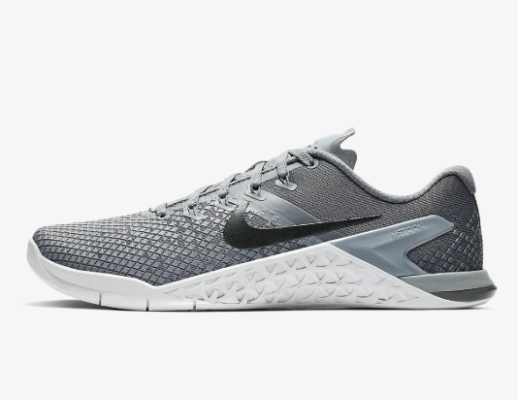 Not only is it ideal for running and training, but it's great for rope climbs. For one thing, it comes with sticky rubber in the outsole, which offers traction and helps to resist abrasions. The way the heel is designed, it will also minimize drag during lateral movements.
Nike Trainer
Nike offers a variety of trainers that are ideal for most sports. Built for performance, these shoes deliver cutting-edge technologies that make your workouts easier.
Nike Zoom
Nike Zoom shoes are built for runners. Not only do they come with a full-length Zoom Air unit, which provides responsive cushioning, but it also features a seamless flymesh fabric, which offers breathability and durable support. The rubber outsole is also engineered for impact absorption.
Nike ZoomX
The Nike ZoomX features foam cushioning that is designed to maximize speed and energy return (up to 85%). It's softer, lighter, and more responsive than their other foams, which makes it fantastic for a variety of activities. Did we also mention that the same kind of foam is used in aerospace innovation?
How to Wash Nike Shoes the Right Way
It's not uncommon for your shoes to get dirty, especially if you're training or exercising outdoors. For instance, mud and grass can easily get on the outer fabric. Fortunately, there are several ways that you can get them to look new again!
Are Nike Shoes Machine Washable?
The short answer is yes—you can put them in the washing machine. There are several things that you want to do before throwing them in, though. For starters, you want to remove the shoelaces from your shoes; wash them separately by putting them in a mesh lingerie bag (you can also wash them by hand if you want).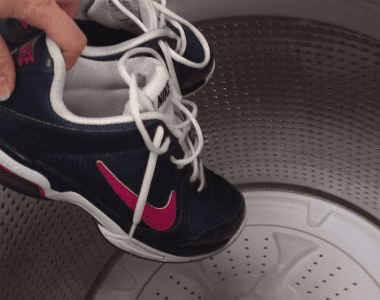 Note: It's highly recommended that you wash the shoes by themselves; it's not a good idea to put them in with your clothes as they can get damaged. However, you can put a few towels in to balance out the weight.
Carefully put your shoes and laces in the washer. Pour the normal portion of ACTIVE detergent (one scoop) into the machine. If necessary, you can also add a cup of white vinegar—that will help to get rid of some of the odor. Baking soda works too.
Turn on the machine on a delicate setting and wash with cold water. Allow it to complete the cycle before removing the shoes and laces. Lay them in a well-ventilated area to air dry. Avoid putting your Nike shoes in the dryer; they are not designed to withstand high heat.
Note: Nike does not officially recommend that you put their shoes in the washer. As long as you don't do it regularly, though, there shouldn't be any major effects.
Washing Nike Shoes by Hand
Generally speaking, it's probably a better idea to wash your Nike shoes by hand. As it turns out, it's not tedious at all!
The first step is to clean the outsole with a soft-bristled brush (an old toothbrush or shoe brush works well)—the goal is to remove all of the excess dirt. You can also knock off some of the dirt by gently hitting the shoes against each other.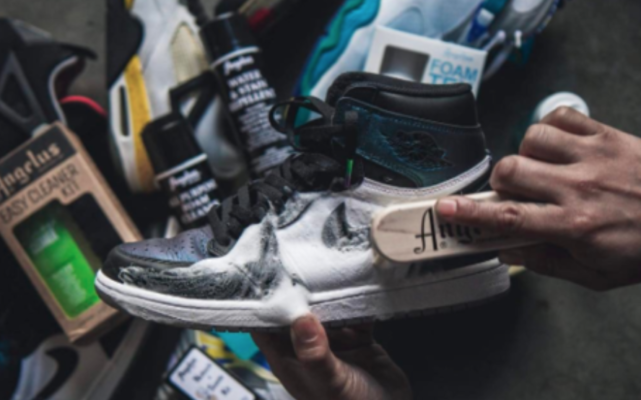 Pro-tip: Many of their shoes come with removable insoles. If that's the case, you want to take them out and wash them separately. Essentially, what you want to do is to fill the sink with water. Add a bit of ACTIVE detergent to the liquid to create a soapy mixture. From there, you can put the insoles in and let them soak—same with the shoelaces (you'll want to remove them from the shoe).
In a small bowl, mix some warm water with a small amount of ACTIVE detergent. You should get a soapy mixture; apply a bit of it to a soft cloth, or soft brush and use it to clean the dirty areas on the outside of the shoe.  Rinse the detergent off the cloth or brush when you're finished. Dampen it with plain water and use it to remove any excess soap that's leftover.
The next step is to clean the sole. You can do this with the same brush—dampen it with the detergent water and use it to brush off any mud, grass, or dirt from the bottom. Once you've done that, "rinse" the detergent off by wiping the sole with a clean cloth.
Give your Nike shoes ample time to air dry before wearing them again. You might want to stuff some newspaper into them to prevent the buildup of moisture (which can lead to bacteria growth).
Best Ways to Deodorize Nike Shoes
Had your Nike shoes for a while? Are they starting to stink? Don't worry, you can easily deodorize them with a few tricks!
Deodorizing them with Baking Soda
Did you know that baking soda has anti-bacterial properties? That's right, it can kill the bacteria that are responsible for the stinky shoe door. It's easy to use too!
All you have to do is sprinkle a couple of tablespoons onto your smelly sneakers. Leave the powder in the shoes overnight—that will give the baking soda plenty of time to do its magic. By the next morning, the odor should be gone. Once you've confirmed that, you can wipe the powder away with a clean cloth.
Deodorizing them with Essential Oils
Did you know that essential oils can be used to reduce shoe door? Not only are they anti-microbial, but they come with strong fragrances, that can help to eliminate the stink.
Choose an essential oil of your choice (e.g. lavender oil, clove oil, tea tree oil, etc.) and add 3 to 4 drops to the inside of your shoes. Be careful not to put it on the surface as there's a possibility of discolouration. Once you've done that, cover the sneakers with some tissue paper and leave it overnight.
The foul odor should be gone by the morning. Remove the tissue paper and enjoy your fresh shoes!
Deodorizing them with Tea Bags
Tea bags also come in handy for eliminating odors. What you want to do is to put two tea bags into boiling water for 3 to 5 minutes. Remove them from the heat and let them cool for at least 10 minutes before putting them in each of your shoes.
Leave the tea bags in there overnight. Like magic, they will reduce the smell inside your shoes. Remove the bags the next morning.
Easiest Methods to Prevent Your Nike Shoes From Smelling
There are a few things that you can do to prevent odors from developing. These include:
Dry your shoes completely between wearings
Avoid wearing the same shoes two days in a row
Apply a foot powder before wearing the sneakers
Store your Nike shoes in a cool, dry area, away from moisture
Note: This promotional offer is only guaranteed through the end of the day.