If you're into fitness, chances are, you've heard of Zella. Nordstrom's in-house workout line, it includes a variety of activewear including leggings, tops, and sports bras. In 2009, they gained widespread attention after it was revealed that they had recruited one of Lululemon's top designers. While the two brands share many similaries—such as the fact they both sell fitness apparel—there are a few major differences. For one thing, Zella sells clothing for adult and kids. On top of that, they have plus sizes, something that Lululemon does not offer. 
Where can you find their clothes? At Nordstrom of course! As a matter of fact, they have more than 300 stores across the country including some in Canada. Don't want to head out? No worries—you can easily browse through their catalogue on their official website. Just search for "Zella" on the main page. From time to time, the brand will also launch-pop stores to feature new workout clothes and gear.
As it is, Zella products are not particularly cheap; however, they're not particularly expensive either. To give you an example, a pair of leggings will generally cost you around $50 (obviously it would depend on the exact design). Other items such as jackets and tops can run up to $100. Interestingly enough, their apparel is a lot cheaper than Lululemon's—one of the biggest competitors. Thanks in part to how affordable their clothing is, Zella has grown significantly over the past few years.
While it's true that their activewear is affordable, it's important that you take good care of the clothing. After all, money is still money; nobody wants to ruin their favorite pair of joggers in the wash. When it comes time to wash them, these types of clothes require a bit of extra attention. Before we get into that, though, let's take a look at the kinds of fabric that is used for their products.
What Kind of Fabric does Zella Use for their clothing?
Despite being a well-known brand, Zella does not have its own propriety fabrics like Under Armour or Fabletics. Instead, their activewear is constructed out of regular fabrics such as polyester and spandex. As far as we can tell,  it seems to work for them. If anything, customers are satisfied with the way they feel and look.
Let's briefly go over some of the common materials used by the brand.
Polyester
Polyester is a common synthetic fabric. Not only is it less expensive than cotton, but it is much more durable. Made out of strong fibers, it is resistant to both shrinking and wrinkles. Compared to other materials, it also does not wear down as quickly. When used in activewear, it pulls perspiration away from the skin.
Zella uses polyester for: leggings, tops, sports bras, jackets, shorts
Spandex
Spandex is another type of synthetic fiber. More often than not, it is used to create a blend with polyester. Despite being lightweight, the material is incredibly strong. Noted for its elasticity, it easily returns to its original shape even after being stretched. Activewear with spandex also tends to dry quicker than regular fabrics.
Zella uses polyester for: tops, leggings, underwear
Nylon
Nylon is another type of moisture-wicking material. For this reason, it is often incorporated into activewear such as leggings and sports bras. Much more durable than polyester, it is one of the strongest types of fibers out there. Flexible and tough, it is also resistant to heat.
Zella uses polyester for: sports bras
The Best Ways to Wash Zella Athletic Apparel
Now that we know more about their fabrics, let's take a look at some of the best ways to wash their apparel. We will be categorizing this section by item type.
How to Wash and Clean Zella Leggings, Pants and Tights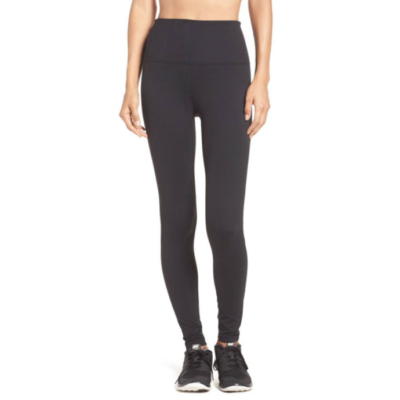 As discussed earlier, their leggings and pants are generally made out of polyester and spandex. Given that they both have moisture-wicking properties, you'll want to avoid using fabric softeners or dryer sheets. If used, these chemicals will add a layer of wax-like substance to the surface of the fabric. Ultimately, this will prevent moisture such as perspiration from reaching and evaporating from the surface.
In terms of how to wash your leggings and pants, you can safely put them in the washing machine. Before you do, though, it's always a good idea to double check the care label that's sewn into the piece of clothing. Seeing as how polyester tends to snag easily, you'll want to turn your leggings inside out—that way, you won't have to worry about the outer surface getting damaged.
If it's been a while since you last washed your leggings, it's probably a good idea to soak them first. Pour some ACTIVE detergent into a sink of water, swish it around to mix the solution, and put the items in. In general, you'll want to leave them in for at least 15 minutes (longer if they're particularly dirty).
Note: If there's a noticeable stain on your leggings or pants, add a bit more ACTIVE detergent directly to the spot. Using your fingers or a soft brush, rub it in. Leave it on for a while before soaking the item. This will pre-treat the area and make it easier for you to get the stain off.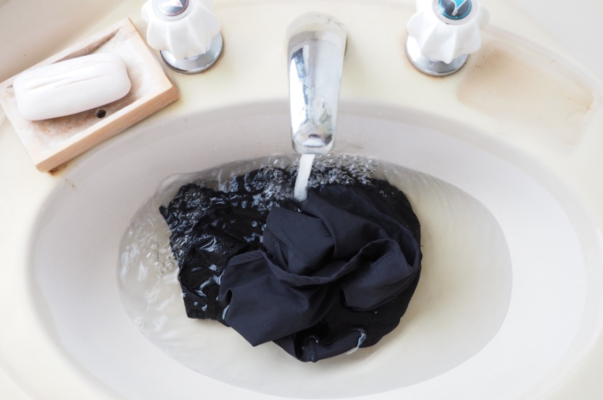 After soaking the leggings, put them into your washing machine. Select a gentle cycle and wash with cold or warm water. If you're washing multiple pairs of leggings at once, you want to make sure that they're like colors. For instance, you can wash light blues, light greens and pinks together, however, you should never mix navy or dark colors with something like yellow. The color can bleed in the wash and ruin your clothes!
When the wash cycle is done, hang up your leggings and let them air dry. With its moisture-wicking properties, they should dry very quickly! If you're short on time, you can put them in the dryer on the low heat setting. Do note that if the temperature is too high, permanent wrinkles may develop on the fabric.
Can I Hand Wash My Zella Leggings?
Yes, you can. In fact, that's probably the better option as it is much gentler on the fabric. However, we understand that not everybody has the time to hand wash their leggings. If you want to though, definitely go for it. After soaking the item in soapy water, you can wash it directly in the sink or tub. Gently rub it together to get rid of the oils, sweat and dirt; try not to be too rough with it, if possible. After a while, you can rinse off the soap with water. To get rid of the extra water, gently press down on the leggings. Avoid twisting it as that will stretch and ruin the polyester and spandex materials.
Note: The methods described above can also be used to wash their tops, sports bras, jackets, shorts and joggers (excluding the ones made out of cotton).
Washing Instructions for Zella Sports Bras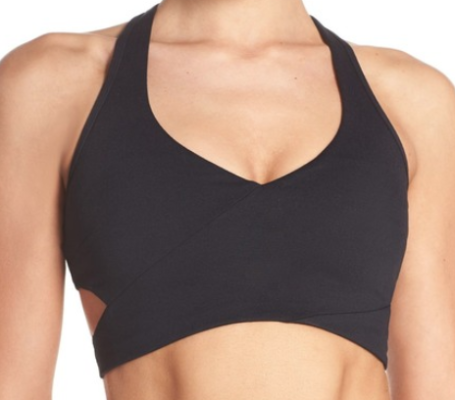 Most if not all of their sports bras are made out of nylon and spandex. The good news is that they are sturdy enough to withstand the washer. The bad news is that they should not be washed with fabric softener. While these chemicals can help reduce static, they also affect their ability to wick moisture (similar to polyester). Avoid using bleach as that can stain the nylon. For stains, add a bit of extra ACTIVE detergent to the spot; alternatively, you can purchase a stain remover.
As with the rest of your delicate garments, you'll want to put them in a mesh laundry bag. If your sports bra has any velcro or clasps, close them. Otherwise, they might get caught on your other items. If your sports bras are padded, it might be a good idea to take the pads out and wash them separately in the sink (they tend to move around a bit in the wash). Select a gentle cycle, add a small amount of ACTIVE detergent, and wash with cold or warm water (the former is recommended for white bras).
Pro-tip: You should always wash your sports bra after an intense workout. If that's not possible, try to air it out by draping it over a rack or something similar.
If possible, do not put your sports bra into the dryer. Unlike some other fabrics, nylon is not capable of withstanding high heat; there is also the risk of damaging the elastic inside. Instead, allow it to air dry by draping it or hanging it up.
Hand Washing Zella Sports Bras
For those of you who want to be extra gentle, hand washing your sports bra is always a good option. Fill a tub or sink with warm water and add a bit of ACTIVE detergent. Swirl it a little bit to mix the solution. Place the bra in and allow it to soak for several minutes before washing. Afterward, rinse the item with water. Once the water is clear, take it out of the sink. Gently press the bra onto a clean towel to remove some of the extra moisture. Hang or drape dry.
How to Safely Clean Zella Swimsuits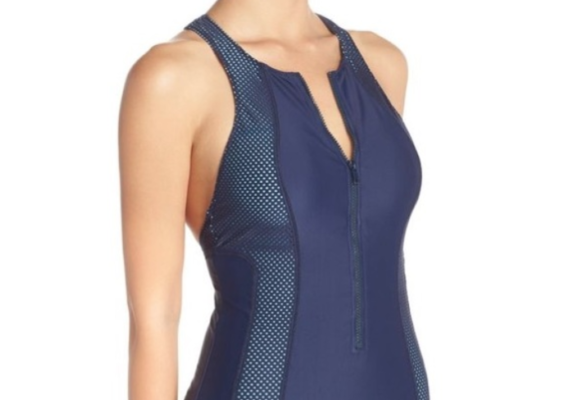 Aside from activewear, Zella also sells a few varieties of swimsuits that for the most parts, are made out of polyamide and elastane. While polyamide makes the suit moisture-resistant (similar to polyester), elastane gives it a bit of extra stretch.
Washing Zella Swimsuits by Hand
Generally speaking, you'll want to wash your Zella swimsuits by hand. Similar to their sports bras, these garments are relatively delicate. Prior to doing so, however, it's a good idea to pre-soak the item; this will help to get rid of any sunscreen, oils, salt, or chlorine that might be on the fabric. After letting it sit for about 15 minutes, you can wash the swimsuit in the sink. Gently rub the material together in the soapy solution of ACTIVE detergent and water. As with their tops and leggings, you want to avoid twisting or wringing it as that can stretch and damage the polyamide elastane blend.
Pro-tip: Swimsuits can easily get stained. If there's a spot on your suit, add a bit of extra soap to the area before allowing the item to soak.
Can You Put Zella Swimsuits into the Washer?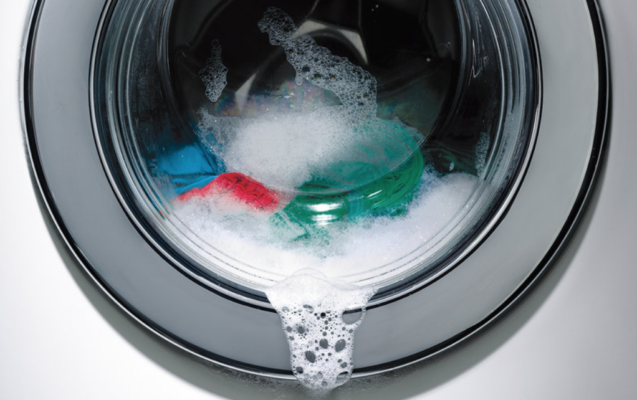 If you want, you can also put your swimsuit into the washing machine. Add a bit of ACTIVE laundry detergent and wash the items in a cold water cycle. To prevent the straps from getting caught, put the suit in a mesh lingerie bag. When the wash is complete, gently roll out the water and allow it to dry flat.
Unless you want to buy yourself a new swimsuit, do not put it into the dryer. As it is, polyamide and elastane dry quickly so you won't have to wait too long.
Note: This promotional offer is only guaranteed through the end of the day.