Maytag is a US-based home and commercial appliance company. Founded in 1893 by Frederick Maytag, it was one of the only companies to make a profit during the Great Depression. The company later participated in war production by making various military equipment.
Following the war, they resumed the production of washing machines. It wasn't until 1949, however, that they started making automatic washers. They also began selling a separate line of refrigerators and oven ranges under the Maytag brand.
Fast forward to 2022 and they have become one of the biggest appliance companies in North America. They also have sales operations in the UK, Australia, Mexico, and Japan. Not only do they offer washing machines, but they also sell cooktops, dryers, ranges, dishwashers, and refrigerators. At one point, they also sold small appliances such as blenders and mixers under the JennAir brand.
Currently, the company is owned by Whirlpool Corporation; they were acquired back in April 2006, which ended its 112-year history as an independent company. They also own the brands Admiral, Caloric, Magic Chef, Holiday, Litton, Sunday, Inglis, and Jade, among others.
Maytag Model Series Over the Years
Maytag has produced numerous lines of washing machines over the years. Here are some of their most popular series.
Atlantis: A line of top-loading washing machines that were produced in the early 2000s. Unlike the other models at the time, they focused on heavy-duty laundering. They also came with TurboRinse and Super Wash features.
Bravos: A line of high-efficiency top-load washing machines. They feature an extra-large capacity design and come with more than 10 different wash cycles.
Centennial: A line of top-load washers that come with PowerWash and Deep Rinse options. Features Automatic Load Size Sensing Technology and Wrinkle Control.
Ensignia: A line of top-load washers with a large size capacity. Introduced in the early 2000s.
Neptune: A line of front-load washers that were originally released in 1997. Featured four different wash cycles as well as LED touch pad controls.
Performa: A high-capacity top-load washing machine that's designed for oversize laundry loads. Comes with bleach and fabric softener dispensers, four water temperature settings, and four water level options.
Cleaning Maytag Washing Machines – Front & Top Load
Washers might be the ones doing the cleaning most of the time but did you know that they need to be cleaned too? Ideally, you want to do it once a week. That'll keep soap scum, soil, and grime from getting trapped inside, which will prevent bacteria growth. That way, your clothes will come out clean and fresh every time.
How to Clean Maytag Top Load Washers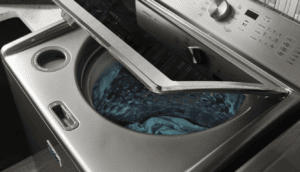 Top-load Maytag washers have a lid at the top of the machine. Because of this, you don't have to bend down to load and unload your clothes. However, they're less energy and water efficient. They also have an agitator, which can be tough on your clothes. The way they're designed, however, they're less likely to experience mold and mildew issues as the lid isn't airtight.
One way to clean your top-load washer is to use bleach and vinegar. Not only will they sanitize the machine, but it'll also get rid of any odors. First things first, you want to empty the dispenser. Select the hottest setting and run the longest cycle. From there, fill it with water. Next, add 4 cups of liquid chlorine bleach. Once it's in, press the start button and wait for the cycle to finish.
The next step is to clean the dispenser with vinegar. When you're done, fill the washing machine again with hot water. Add four cups of vinegar into the basin and run another wash and spin cycle on the hottest setting. Finally, wipe down the exterior surfaces.
Best Option – Use ACTIVE Washing Machine Cleaner
Active Washing Machine Cleaner tablets are great in that they're specifically designed to clean washers. They're also affordable and super easy to use. Start by making sure that the inside of the machine is dry. If necessary, you can go ahead and wipe it down with a towel.
Once you've done that, add one tablet directly to the washbasin. Don't put it in the dispenser as that'll hinder its efficacy.
Set the top-load washer to a normal cycle and run it on the hottest water setting. Depending on the washing machine that you have, you may also be able to run a "clean washer" cycle. Avoid using cold water as the tablets won't work as efficiently.
Once the cycle is complete, wipe down the drum with a towel. It's important to get rid of any leftover residue. Also, don't forget to wipe the agitator, detergent dispenser, and lid as well.
Other Helpful Tips:
Make a habit of leaving the lid open after doing the laundry. That'll allow the extra moisture to escape, which will help prevent mold and mildew
You can use an old toothbrush to scrub away heavy residue buildup
Clean and empty the filter every three to four months. The water will not be able to drain properly from the machine if it's covered in lint
How to Clean Maytag Front Load Washing Machines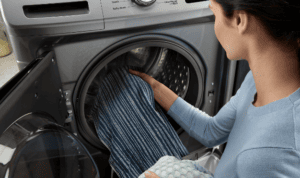 Front-load washers are different from top loaders in that the opening is at the front, which means that you must bend down to load and unload your laundry. They also work differently. Instead of using an agitator, they clean by moving clothes through the water. In fact, it's not uncommon for some front-load washing machines to not have an agitator at all.
They might be more expensive than top-loaders, but they're also more energy efficient as they use less water. That's not all, they also tend to be gentler on your clothes, which is another bonus.
High efficiency (HS) front-loaders are also a thing. If anything, they've become more popular in recent years. The main difference between HS washers and regular washers is that they're specifically designed to use less water. Because of this, they also require a specific type of detergent (regular detergents will produce too many soap suds).
One way that you can clean your front-load washer is by using vinegar and baking soda. Start by pouring two cups of vinegar into the dispenser. Next, add 1/3 to 1/2 cup of baking soda directly into the drum.
From there, run a hot-water cycle on the longest possible setting. You can also use a Clean Washer cycle if your machine has one. That'll get rid of any mold or mildew that's inside the drum.
And don't forget to clean the gasket. If anything, it's not uncommon for mold and mildew to grow on the seal as it tends to trap moisture. To clean it, all you need is some soapy water (preferably hot soapy water). Add it to a spray bottle and apply it to the surfaces before wiping it down with a clean towel. Repeat as needed. If necessary, you can scrub stubborn spots with an old toothbrush.
Best Option – Use ACTIVE Washing Machine Cleaner
Active Washing Machine Cleaner can also be used to clean front-load washers—both regular front loaders and HS front loaders. All you need is one tablet; add it directly to the washbasin and it'll work its magic. Remember not to put it in the detergent dispenser.
Choose the hottest water setting and run a normal wash cycle (or a "clean washer" cycle if there is one).
When the cycle is finished, give the inside of the washing machine a quick wipe-down with a clean towel. Be sure to wipe the gasket/seal area as well—it's not common for moisture to accumulate there. To do that, you'll want to gently pull back on the seal with your hands. That'll give you access to the area.
Other Helpful Tips
You can use bleach if mold or mildew is an issue. For example, you can scrub mold spots with an old toothbrush dipped in a bleach solution
Wipe down the gasket after each laundry session. It's also recommended that you deep clean it on a monthly basis
Leave the front washer door open when you're not using the machine so that moisture can evaporate easily
Don't leave wet clothes in the washer after washing— you want to limit the amount of moisture inside the machine
Best Washing Machine Cleaner for Maytag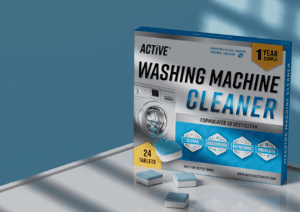 Active Washing Machine Cleaner is formulated so that it'll thoroughly clean the inside of your washer. How does it work? It contains enzymes that are capable of penetrating residue. Not only that but they'll also break down any grime that's left by detergents and dirt.
In doing so, your Maytag washing machine will smell nice and clean. You won't have to worry about there being any stubborn musty odors, which is a common problem with grimey washers. That way, your clothes will come out fresh every time. That's not all, it'll also be better for your washing machine (dirty internal parts can affect its performance over time).
One pack also comes with 24 tablets, which will easily last you a year. The cleaning schedule is easy to remember as well. Plus, the company is based in the US.
Note: This promotional offer is only guaranteed through the end of the day.