Bzees is one of Caleres' many footwear brands. Launched in 2013, they're known for their lightweight and comfortable shoes, all of which come with low-density, cushioned soles.
More About Bzees
Naturalizer—one of Caleres' healthy living brands—announced the launch of BZees, a sporty footwear collection in 2013. Not only are they easy to wear, but they're also easy to wash. If anything, that's what they've become known for.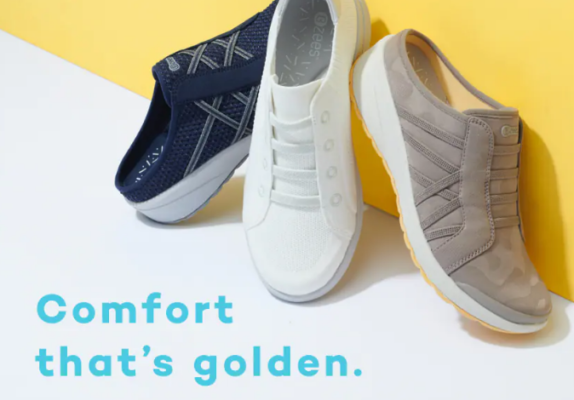 For those who are interested, you can find their shoe collection on their official website. Some products are also available at retailers such as Nordstrom, Macy's, Dillard's, and Famous Footwear.
What Kind of Shoes Do They Sell?
Bzees offers a variety of footwear options for men and women including boots, clogs, slip-ons, and sandals. Weighing less than six ounces, their footwear is considerably lighter than those of other brands. Not only that, but they feature unparalleled flexibility from the heel to the toe. 
They're also reasonably priced. It depends on the style, but generally speaking, you're looking at around $80 to $100 for a pair. They also have a sale section, where items are heavily discounted. Shipping is also free across the U.S.
Taking Care of Bzees Shoes 
The great thing about their shoes is that they're easy to clean. Not just their washable collection, but their other styles as well. All you need is some detergent and cold water. Let them air dry afterward and they'll be as good as new.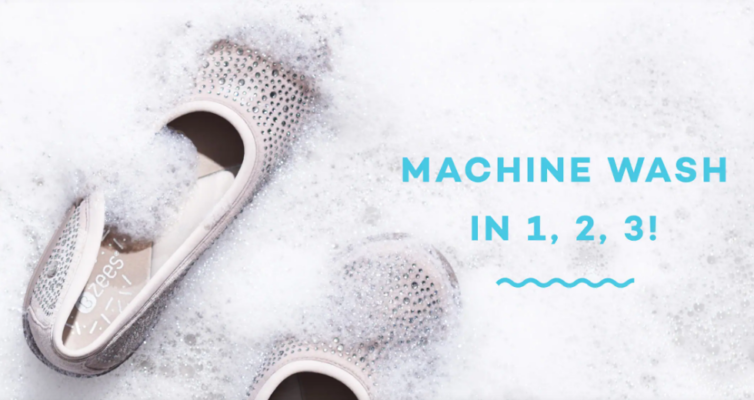 Looking for more detailed instructions? Don't worry, we'll be going over how to wash them step-by-step below. Keep reading to learn more!
What Materials Are Their Footwear Made Of?
Their shoes are made from various materials including polyester and nylon. Here's a brief overview of their pros and cons:
Polyester
Polyester is a plastic-based fiber that's known for its durability. Not only is it resistant to stains, but it's also resistant to water and chemicals. On top of that, it's flexible—this makes it ideal for shoes and other apparel. The only disadvantage is that it's not very breathable and that's one of the reasons why it's often blended with cotton.
Nylon
Nylon is a silk-like fiber that's made from petrochemicals. Similar to polyester, it has exceptional strength. For one thing, it can stretch 30% its original length while retaining its shape. It's also resistant to wrinkles and shrinkage, which makes it easy to wash. Like most synthetic fibers, however, it tends to trap moisture against the skin.
EVA Foam (For the soles)
Ethylene-vinyl acetate (EVA) is a type of foam that has rubber-like flexibility and softness. Not only that, but it's incredibly strong and is able to withstand strong forces. It's also weather-resistant, which makes it ideal for footwear. With that said, it's not as long-lasting as natural rubber.
Washing Bzees Slip-Ons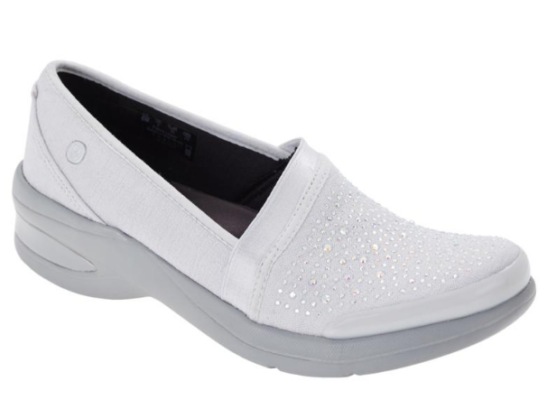 Their slip-ons are all machine washable, including their sneakers and boots. You can also wash them the old-fashioned way by hand. Keep reading to find out how.
Tossing Them In the Wash
Take out the insoles (most of their slip-ons come with removable footbeds) and wash them separately*. Remove as much dirt as possible from the surface of the shoes before placing them in a mesh garment bag—this will prevent them from rattling around during the cycle, which can damage the machine. 
*We recommend hand-washing your insoles with cold water. Fill up a sink and add in a bit of detergent to create a soapy mixture. Place the insoles in and allow them to soak for 10-15 minutes before rinsing with water. Make sure that they're completely dry (it can take several hours) before putting them back in the slip-ons.
Zip up the bag; make sure that the contents are secure and toss it in the washer. Consider  throwing in a few towels to help balance out the weight. Avoid washing your shoes with your garments (e.g. shirts, shorts, etc).
Measure one scoop of ACTIVE detergent and place it in the compartment drawer of your washer. White vinegar can also be added, ideally during the final rinse, if odor is an issue. 
Run a cold water cycle and make sure to use a gentle setting—that'll minimize agitation, which will keep your slip-ons looking new for longer. And never use hot water. It can damage the adhesives on the shoes. 
Press the start button and allow the washing machine to do its thing. Wait until the cycle is completely finished before taking out your shoes. Don't throw them in the dryer—the heat can compromise the material. Let them dry naturally instead in a well-ventilated space, away from sunlight.
Washing Them By Hand
Fill up a container or sink with lukewarm water and mix in half a scoop of ACTIVE detergent to create a bath. Once you've done that, take out the footbed and place them in the container so that they're immersed in the solution. Do the same for the shoes. Consider giving them a brush beforehand if they're excessively dirty to get rid of some of the dirt (don't forget the soles as well).
Tip: You can add a bit of white vinegar (half a cup) or baking soda to the mixture if odor is an issue—they'll act as a natural deodorizer. 
Place the slip-ons in the container and make sure that they're covered by the soapy water. Swirl them around a few times if you have to with your hands. They should be completely saturated—that'll allow the detergent to work its magic.
Set a timer for 15-20 minutes and let the slip-ons and insoles soak. Rinse them thoroughly with cold (not hot) water afterward. You can either rinse them in the sink/container or run them under the faucet. The goal is to get rid of all of the soap suds. 
Wipe the slip-ons with a damp cloth and let them air dry naturally in a well-ventilated room. Don't use the dryer and don't leave them out in the sunlight. Wait until the footbeds are completely dry before reinserting them into the shoes. 
Washing Bzees Sneakers and Boots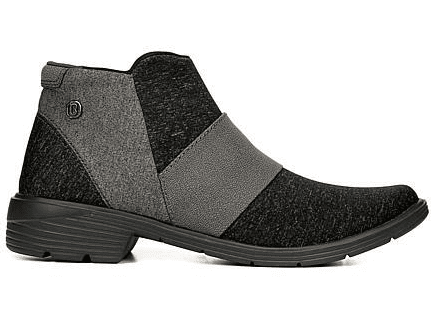 Their sneakers and boots are also machine washable. The only difference is that some models come with laces, which you may have to take out before washing.
Using the Washing Machine
Use a brush to remove as much dirt as possible from the boots or sneakers. Next, remove the laces (if the model comes with removable laces) and insoles. Wash them separately in the sink with some detergent and water.
As for the boots/sneakers, you want to protect them by putting them in a mesh bag. Make sure that the zipper is zipped all the way up and place it in the washing machine. We highly recommend adding a few towels to help balance the load, otherwise, the shoes will end up banging around while the cycle is running.
Add half a scoop of ACTIVE detergent and half a scoop of white vinegar (optional). Don't use bleach—it can damage the shoes' surface. Run a delicate cycle with cold water. Never use hot water—the heat can damage the adhesives on the boots/sneakers. Not to mention that it can wear out the upper.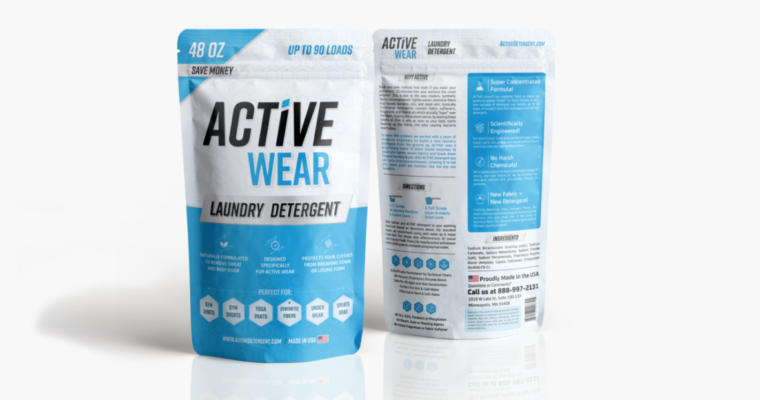 Take out your shoes once the cycle is finished. Don't leave them inside the washing machine for extended periods of time as that can lead to mold and mildew growth. Let them dry naturally in a well-ventilated space instead. You can speed up the process by stuffing the shoes with newspapers or paper towels.
Replace the laces and insoles once the shoes are completely dry.
Washing By Hand
Take out the laces and footbeds (if they're removable) and set them aside. Fill up a clean sink with lukewarm water and mix in half a scoop of ACTIVE detergent. You should get a soapy water mixture.
Place the laces and footbeds in the sink so that they're saturated with the solution. Do the same with the sneakers/boots. Consider using a brush to remove some of the dirt if they're excessively dirty. Everything should be completely immersed in the sink.
Set a timer and leave the shoes, laces, and footbeds in the soapy water for 15 to 20 minutes. Refill the sink with clean water afterward so that you can rinse off the detergent. You can also hold them under running water. Continue until the water runs clear and there are no more visible soap suds on the items.
Use a damp cloth to wipe the outside of the boots and sneakers and let them air dry. Don't toss them in the dryer—you don't want to expose the materials to heat. Once everything is dry, you can re-insert the footbeds and laces.
More Tips For Keeping Your Bzees Clean
Consider spraying your shoes with a waterproof protector—that'll prevent the surface from getting dirty in the rain

Store your shoes in a cool, dark place

Use an old toothbrush or clean towel to remove visible dirt from your shoes

Always wear socks (unless you're wearing sandals)—that way, sweat won't accumulate within the shoe

Use antiperspirant on your feet if sweat is an issue
Note: This promotional offer is only guaranteed through the end of the day.