Golf might not be the most demanding sport, but it still comes with plenty of health benefits. For starters, it burns calories and increases your heart rate. Swinging the golf club over time will also strengthen your legs, arms, and core muscles. It might even improve your vision as well! After all, you have to focus your eyes on the tiny golf ball.
A great thing about golf is that it is not a contact sport. In other words, there is a relatively low risk of injury—this makes it an excellent choice for people of all ages.
What Kind of Gear Is Required For Golf?
First and foremost, you'll need a golf club—perhaps more than one. You'll also need a pair of golf shoes that will prevent you from slipping on the grass. Want to be super fancy? You can even get your own golf cart!
Clothing-wise, there isn't anything special that you need for golf. If you really wanted to, you could even play in a regular t-shirt. More often than not, though, golfers wear polo shirts—that and a pair of shorts or pant. Some also wear visors.
The Top Golf Clothing Brands
There are numerous brands out there that manufacture golf gear, some more well-known than others. Let's take a look at some of the ones that sell golf shirts—more specifically, ones that are made from technical fibers.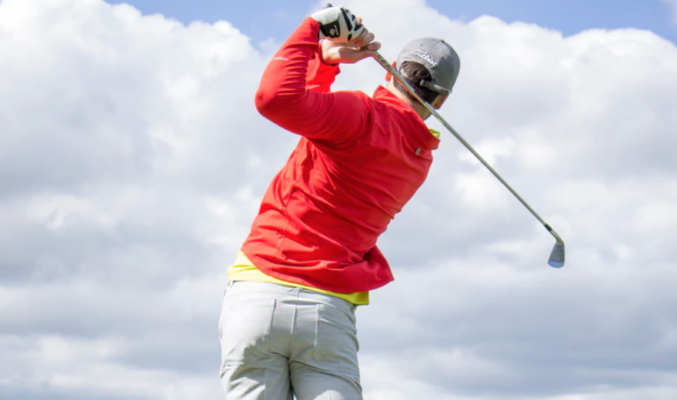 Nike Dri-FIT
Nike sells a variety of dress shirts that are suitable for golf. What's unique about them is that they all feature Dri-FIT technology; that is, they're made from a  special type of polyester fabric that's designed to keep you cool and dry on the golf course. Essentially, what it does is that it wicks away sweat and disperses it throughout the service, where it can evaporate. 
Under Armour
Under Armour offers a wide selection of tops for golfers. Not only do they sell short-sleeved polos, but they also have long-sleeve versions for those who like to play in the cooler months. In addition to shirts, the brand also sells golf pants and shoes. They even have accessories like belts, gloves, and hats!
Adidas Climalite
Adidas is another player when it comes to golf apparel. They sell various styles of polo shirts, pants, shorts, shorts, and more, all of which are made with the sport in mind. Ultimately, what sets them apart from the rest of the brands is the fact that they use Climalite material. Designed to keep athletes dry and cool in warm conditions, it is also used in their running, hockey, and training apparel.
Unlike most of the activewear out there, Adidas Climalite features a blend of cotton and polyester, which enhances its sweat-wicking properties.
Dockers
Dockers is a manufacturer of khaki garments, all of which are suitable for golf. In addition to that, they also sell polo shirts—though the selection isn't quite as extensive as some of the other brands. It's probably worth mentioning that they also sell accessories like shoes, belts, and wallets.
PGA Tour
PGA Tour is responsible for organizing the main golf tours in North America. As it turns out, they also sell their own golf apparel under the name PGA Tour Superstore. If anything, they sell everything that you'd need for the sport. This includes shirts, pants, shorts, outerwear, headwear, socks, sunglasses, and more.
Oakley
Oakley is a company that specializes in sports performance equipment. Their golf collection consists of several items including sunglasses and polo shirts, the latter of which is available in many colors and designs. Most of them also come with a mesh back, which provides additional breathability.
Walter Hagen
Walter Hagen is considered to be one of the greatest golfers in the world. Born in New York, he began his professional career in 1982. After winning numerous awards, he retired in 1941. He later passed away at the age of 76 in 1969.
Like many professional athletes, he had launched his own line of golf apparel, which includes golf shirts, shorts, pants, jackets, and more. His products can be found in many retailers including Dick's Sporting Goods, Golf Galaxy, and Walmart.
Puma
Puma's golf line includes stylish yet high-performance shirts, shoes, hats, pants, and shorts, all of which are designed to make you feel better. Not only do they have four-way stretch, but they all feature a breathable design that allows you to stay comfortable on the golf course.
Bonobos
Bonobos is a subsidiary of Walmart that specializes in men's clothing—it just so happens that they also have a line for golf. What makes them special? Their products are all made from their signature performance fabric, M-Flex, which provides UPF protection. This is important when you're spending the entire day out in the sun!
Aside from golf polos, they also sell shorts, pants, belts, and hats.
Callaway
Callaway is an American sporting goods company that specializes in manufacturing golf equipment. As expected from such a brand, they offer a vast selection of polo shirts, all of which feature Opti-Dri moisture-wicking technology, which keeps your body cool and dry by pulling sweat away.
Aside from performance polos, they also sell pants, skirts, shorts, and outerwear.
Greg Norman
Greg Norman is a professional golfer who's from Australia. Throughout his professional careers, he has won over 90 international tournaments, including the Open championships and PGA Tour.
Considering this, it's not surprising to know that he has his own line of golf-inspired apparel. Some of his best selling products include polo shirts, shirts, pants, shorts, and gloves. As of 2023, his apparel is available at many retailers including Amazon and Macy's.
The Best Ways to Wash Golf Shirts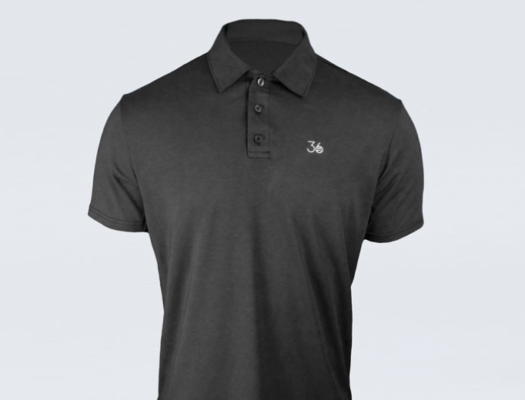 Golf shirts are essentially polo shirts. There's a major difference between regular polos and those that are meant for golf, though—the fabric. Traditional polo shirts are often made from cotton whereas the high-performance variety is made from synthetic fabrics. The difference? High-performance golf shirts are moisture-wicking; this allows you to stay cool and dry even if you're sweating.
As a general rule, you should always wash your golf shirts after a day out in the golf course. After all, sweat can easily cause odors to develop on the fabric. Fortunately, these garments are easy to wash. We'll be going over the instructions below.
Washing Instructions for Golf Shirts & Polos
You'll be happy to know that most golf shirts are machine washable!
The first step is to button up all of the buttons—this will help to prevent the collar from being deformed. Next, you want to turn the polo inside out. Will you be washing your shirt with other garments? If so, you might want to put it in a mesh laundry bag; that way, it'll be protected from the rest of your clothing. The more careful you are with your golf shirts, the longer they'll last!
Pro-tip: It's perfectly fine to wash your golf shirt with other clothing (ideally those that are also made from technical fibers) as long as you pay attention to the colors. After all, dark-colored items can easily discolor light items. The last thing that you'd want is to ruin your white polo in the wash.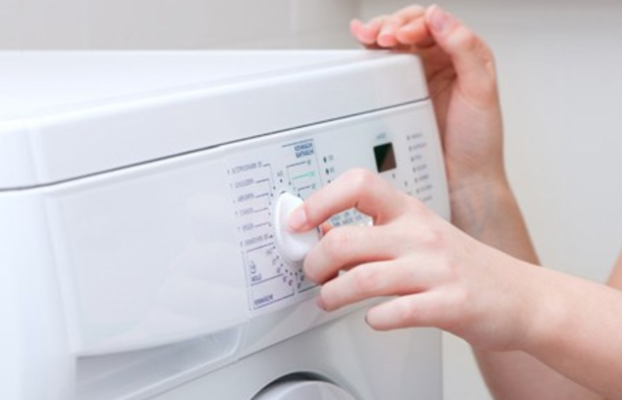 Load your golf shirt into the washing machine and pour in one scoop of ACTIVE detergent. Choose a gentle setting and press on the start button. Always use cold water; hot water will damage your golf shirts' technical fibers. Do not use fabric softener—these chemicals will ruin the fabric's sweat-wicking finish. If you want to soften your golf shirt, try adding a cup of distilled vinegar instead.
Take the golf shirts out of the machine once the cycle is done. Let them air dry on a clothesline; you can also put them on a drying rack. Avoid putting them under direct sunlight as the heat can cause the fabrics to deteriorate. Do not put them in the dryer.
How to Clean Performance Golf Shirts by Hand
Want to go for something more eco-friendly? How about washing your golf shirt by hand? Don't worry, it's not as hard as it sounds! In fact, it's quite simple.
Start by filling a container or the sink with cool water—ideally, you want it to be around 3/4 full. Add a scoop of ACTIVE detergent to create a soapy mixture; mix the powder by agitating the liquid. Carefully put your golf shirt in once it's thoroughly mixed. You might have to press down gently to put the entire thing in the water. Leave it in the solution for 15 to 30 minutes.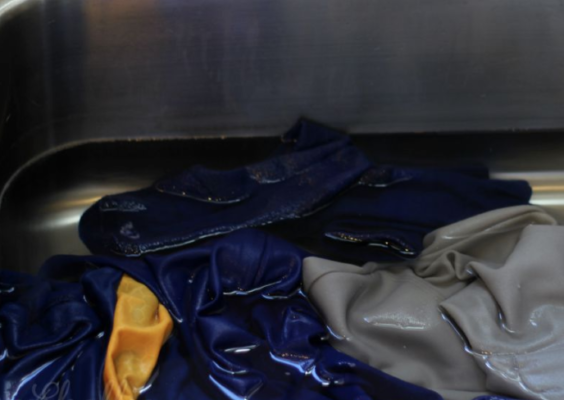 Swirl the golf shirt a few times before picking it up. Wash the fabric by massaging it between your fingers—pay extra attention to stains if there are any. From there, rinse the detergent off by putting it under running water. Continue until all of the soap suds are gone; it might take a minute or two.
Transfer your golf shirt onto a clean surface once it's clean—be careful of dripping water. Use a towel to press out some of the excess water before hanging it up to dry. You can also drape it over a drying rack. Allow it to air dry; do not put it in the dryer.
How to Remove Golf Shirt Stains
Perhaps there's a stain on your golf shirt? No worries—you can easily get it off with some detergent.
In a small bowl, mix a small amount of ACTIVE detergent with warm water. Apply it onto the stained area using a soft bristled brush—saturate the entire area both from the inside and outside. Let it sit for at least 30 minutes.
Brush off the paste and check the stain. Repeat the above steps if it's still visible; you might have to do it a few times depending on how stubborn the spot is. Once it's gone, you can wash the golf shirt as normal.
Best Laundry Detergent for Golf Shirts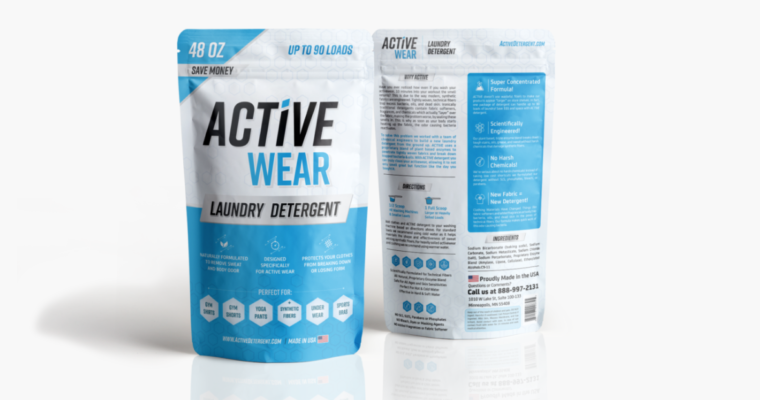 Looking for something to wash your high-performance golf shirts with? Consider using ACTIVE detergent. Specially formulated for athletic clothing, it contains three types of plant enzymes that will break down any bacteria, body oils, and sweat that's trapped in the synthetic fabric. Traditional detergents simply won't cut it—they're not made for washing technical fibers. They're more for old school materials such as cotton and silk.
Another great thing about ACTIVE detergent is that it is all-natural. In other words, the product does not contain any chemicals; you won't have to worry about polluting the waterways. Not to mention that it'll be gentler on your skin. As a matter of fact, it's hypoallergenic. This makes it a perfect option for those with skin sensitivities.
Note: This promotional offer is only guaranteed through the end of the day.