Frankies Bikinis is a swimwear and apparel brand. Aside from bikinis, they also sell loungewear, dresses, rompers, sweaters, and more. Not only that, but they offer accessories as well such as hats, bags, sandals, and scarves.
More About Frankie's Bikinis
Frankie's Bikinis was founded in 2012 by Francesca Aiello. Encouraged by her mother, she began making her own bikinis and that's how the brand got started. Since then, the LA-based company has grown tremendously. For one thing, they've collaborated with several celebrities including Hailee Steinfeld and Naomi Osaka.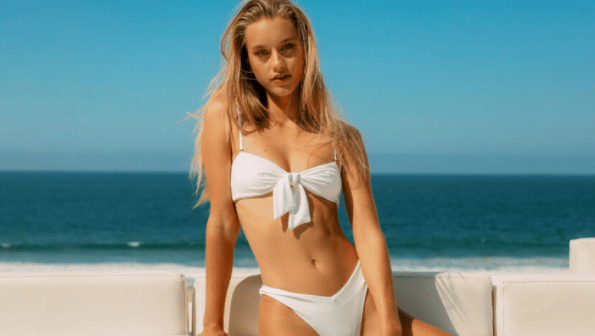 Aside from their official website, you can find their bikinis and other products at Nordstrom, Free People, The Iconic, Browns, Bikini Bird, and more.
What Kind of Activewear Do They Sell?
Frankie's Bikinis has a wide selection of swimwear that includes both bikinis and one pieces. They also have a plus-size section that you can find on their site. While they don't sell other types of activewear per se, they do offer shorts, tanks, etc, that can be worn for workout purposes.
Price-wise, you can expect to spend about $200 for a bathing suit—this goes for both their one pieces and bikinis. Shipping is also free if you spend above $160. And if you sign up for their email mail list, you'll get 10% off your first purchase.
Taking Care of Frankie's Bikinis
Swimwear, in general, is more delicate than regular clothing. For one thing, they're sensitive to heat. Sweat and oils can also degrade the fabric, which is why it's so important to rinse and wash your suits right away after every wear.
The way you wash your bikinis and one pieces matters as well. One wrong step and you can easily ruin the suit! Need some help on how to wash your bathing suit? Then you're in luck—we'll be going over the steps below so be sure to check out the rest of the post!
Materials Used by Frankie's Bikinis
Their bikinis and one pieces, like all swimwear, are made of synthetic fibers. Let's take a closer look at them below.
Nylon
Nylon is a stretchy fabric that was originally made as a substitute for silk. Like most synthetic fibers, it's lightweight and durable, which makes it suitable for a variety of clothing, including swimwear. The only thing is that it has poor heat resistance. Not only can it shrink, but it can also stretch out and fade if exposed to high temperatures.
Spandex
Spandex is even more elastic than nylon. For this reason, it's often used in form-fitting garments such as leggings, sports bras, and bathing suits. Unlike other fibers, however, it can't be woven by itself; it has to be blended with other materials such as nylon, cotton, or polyester.
Polyester
Polyester is lightweight and resistant to many things including moisture, abrasion, and wrinkles. Not only that, but it has the ability to wick moisture away from the skin. This makes it suitable for a variety of sportswear including tanks, sports bras, leggings, tights, etc.
How to Wash Frankies' Bikinis Swimsuits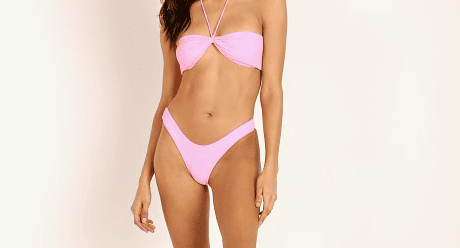 There are two ways to wash their bathing suits—you can either wash them by hand (recommended) or run them through the washer.
Washing Frankies' Bikinis Swimsuits In the Sink
First things first, you want to rinse the bathing suit with cool water. That'll remove chlorine, sunscreen, sweat, and body oils from the fabric. You can either hold it under running water or soak it in a sink (recommended) for 15-20 minutes. Or if you want, you can rinse the suit by jumping into the shower with it on—just make sure that the water isn't too hot.
After rinsing, create a bath. Fill a small bucket or sink with cool water and mix in 1/2 a scoop of ACTIVE detergent. You can help the powder dissolve by swishing the water.
Turn the swimsuit inside out (both the top and bottom pieces for bikinis) and place it in the bucket/sink. Gently press down on it so that it's completely submerged. Let it soak in the soapy water for at least 20 minutes.
Tip: You can use baking soda to get rid of stains. Sprinkle a liberal amount onto the spot and let it sit for 1-2 hours before washing. Alternatively, you can soak the stain in a vinegar solution (one part white vinegar to three parts water).
Rinse the bathing suit thoroughly with water. You can hold it under running water or refill the bucket/sink with clean water. Continue to rinse until there's no more detergent.
Remove the excess water from the suit by gently squeezing it with your hands. Do not twist or wring it like a dishcloth; that will ruin the fibers' elasticity. From there, let it air dry on a laundry rack (away from direct sunlight). Never put your bikini or one piece in the dryer—the heat will permanently destroy the fabric.
Putting Frankies' Bikinis Swimsuits In the Washing Machine
As always, you want to start by rinsing the swimsuit in cool water. Once you've done that, place the suit in a mesh garment bag (don't forget to turn it inside out). That'll protect it from the agitator and from your other clothes, assuming that you're washing other items at the same time.
Put the garment bag and the rest of your laundry into the washing machine. For those who are washing just a swimsuit, you can add a few towels to help balance the load. Next, pour in a scoop of ACTIVE detergent. We do not recommend adding fabric softener; it'll coat the suits with a waxy substance, which will make them harder to clean.
Select a delicate wash setting and run a cycle with cold water. Never use hot water—the heat will damage your suit. Retrieve your bathing suit from the garment bag once it's finished and allow it to air dry on a laundry rack. Don't transfer it into the dryer; you don't want to expose the suit to high temperatures.
Washing Frankie's Bikinis Shorts and Sweatpants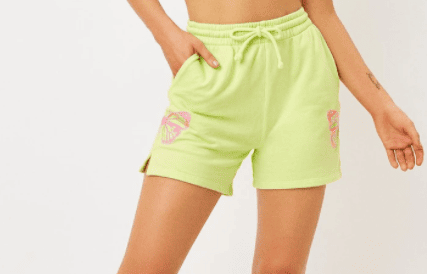 Remember, they sell more than swimsuits. Here's how you can wash their shorts and sweatpants.
Machine Washing their Shorts and Sweatpants
Turn the shorts/sweatpants inside out. Make sure there isn't anything left in the pockets—you don't want to accidentally wash them with your clothes. Next, place them in a laundry bag (you can put several pairs in the same bag); that'll ensure that they won't get thrown around during the wash cycle.
Tip: It's perfectly fine to wash shorts/sweatpants with other items (e.g. other activewear) so long as you separate everything based on colors.
Throw the laundry bag into the washer. Put in the rest of your dirty clothes (if you're washing a mixed load) and add a scoop of ACTIVE detergent (feel free to add more, if necessary). Skip the fabric conditioner; you can pour in a cup of white vinegar instead if you want to soften your clothes.
Run a gentle wash cycle with cold water. Don't use a hot water cycle—the heat can damage your shorts/sweatpants.
Let the washing machine do its thing and take your items out once it's finished running. Depending on the item, you may be able to use a clothes dryer (when in doubt, check the care tag label). Or you can just hang it up and let it air dry. Remember not to leave it outside; the sun's rays can cause the fabric to fade.
Washing Your Shorts and Sweatpants By Hand
Add cool water to a sink or washtub. Pour in half a scoop (or more, if you're washing multiple items) of ACTIVE detergent and swish the water with your hand to combine the powder. Turn your shorts/sweatpants inside out and place them in the tub or sink once the solution is thoroughly mixed. Don't forget to check the pockets beforehand as well.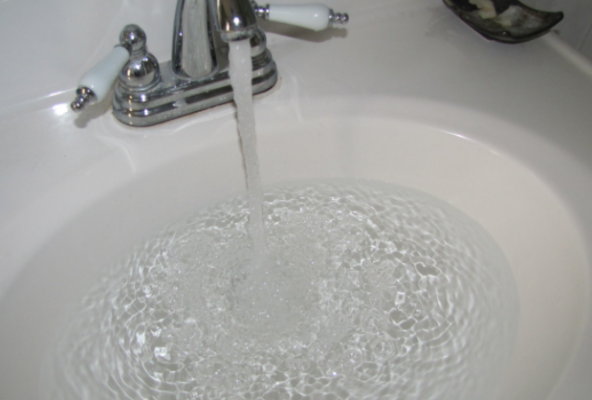 Leave the items in the tub for up to 30 minutes—that'll give the detergent time to work into the fabric. Gently swish the item through the water afterward. From there, rinse it with clean water (we recommend holding the pants under running water). Continue to rinse until there are no more soap suds.
Press the excess water out of the shorts/sweatpants and allow them to air dry on a rack. If necessary, you can also roll it up with a towel (place the pants on a towel and roll it up with the item inside).
Always check the care tag label before putting an item in the dryer.
Best Laundry Detergent For Frankie's Bikinis
ACTIVE detergent is the product of choice for Frankie's bikinis (and other clothing). For one thing, it's specifically formulated for synthetic materials. Unlike traditional detergents, which are designed with natural fibers in mind, it's able to reach deep into the fibers to dissolve sweat, oils, and bacteria with its enzymes.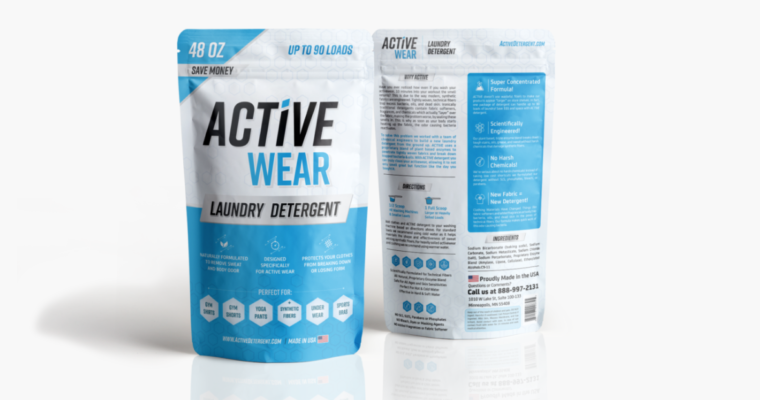 Did we also mention that it's all-natural? The product does not contain any fragrances, fillers, or preservatives whatsoever so you won't have to worry about it irritating or agitating your skin. Not to mention that it's also better for the planet!
Note: This promotional offer is only guaranteed through the end of the day.