Ever stared at your RV in the driveway, and thought, "What's the best way to properly store an RV?"
As it turns out, there are several things that you want to consider, such as the weather. Not only that but you also want to decide whether or not you'll be leaving it outdoors.
On this page, we'll be going over various considerations, including some tips on how to keep your vehicle in tip top shape during the colder months. That way, you'll be ready for your next adventure when the weather is warm again.
Indoor vs Outdoor Storage Facility Options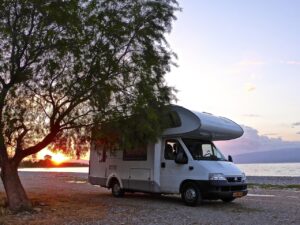 There are two main types of RV storage: indoor and outdoor. An indoor facility provides protection from weather conditions but may cost more than outdoor options.
Outdoor parking facilities, on the other hand, offer covered or uncovered parking spaces which can be cheaper, but expose your vehicle to the elements.
When making your decision, you want to consider several factors such your local climate, budget constraints, and how long you plan to store it for.
Preparing Your RV for Storage
Before tucking away your RV, there are a few things that you want to do. For one thing, you want to clean both the interior and exterior parts thoroughly with a trusted brand such as Active. It's also important to defrost the freezer compartments, open the cabinets for air circulation, and empty the water heater tanks as stagnant water could cause damage over time.
Winterizing an RV for Long-Term Storage
If you're planning to store your RV during the winter, there are essential steps you need to take. First and foremost, you want to protect it against freezing temperatures as they can cause serious damage to your RV's water systems.
Essential Winterizing Steps
To start, drain all water from your tanks and add antifreeze. You should also insulate any exposed pipes with foam pipe insulation or heat tape. This will prevent damage from cold weather such as cracked pipes, which can be costly to fix.
Last but not least, you want to cover the windows and tires with specialized covers. That will protect them from UV damage while being kept outdoors during the long-term winter season.
Tips for Storing an RV During the Winter
To prevent mold and mildew, it's a good idea to add baking soda to the inside storage compartments and leave the cabinet doors open for ventilation.
To protect against UV damage, especially in places like southern California where winters are sunny, using an exterior RV cover can be of great help.
Rodents love making cozy homes in parked RVs during the cold months. That's why it's so important to seal all holes with steel wool or spray foam.
Fuel stabilizer added into the fuel tank will also help keep everything running smoothly when you're ready to hit the road again after the winter season ends. And remember – defrost that freezer before shutting down.
Taking an RV Out of Storage and Making It Operational Again
Waking your RV up from its slumber doesn't need to be a hassle. Start by giving it a thorough check, paying close attention to potential damage from the direct sunlight during the cold months.
Inspect the Interior
Check for signs of mold or rodents that might have made themselves at home in your absence. Examine all holes and cabinet doors – little critters love these cozy spots.
The kitchen area deserves special attention too; ensure there's no leftover rv food as they can cause unwelcome smells. If necessary, you can use baking soda – it'll help absorb odors left behind.
Fire Up The Systems
Check the water heater tanks and add antifreeze if necessary. Be sure to give some love to your air conditioner as well after its long period rest in the storage facility.
Short-Term Storage Tips for RV Owners
When it comes to storage, proper maintenance is just as important as the location.
To prevent mold during short-term storage, use baking soda inside the fridge and cabinets. It will absorb excess moisture and help maintain freshness. Also, consider using tire covers to protect them against harsh weather conditions.
Another crucial step is draining the water heater tank before storing your RV. Leftover water could freeze in cold weather leading to cracked pipes that will wreak havoc when you're about to leave for your next trip.
It's also a good idea to add fuel stabilizer into the fuel tank – that will keep it running smoothly after sitting idle over winter months.
Benefits of Indoor Storage Facilities for RVs
Storing your RV in an indoor facility will protect it from the winter weather. Not only that but it'll also keep it safe from temperature fluctuations and high humidity levels that could cause mold or mildew.
Not only that but these facilities typically also have enhanced security measures, which will keep potential thieves at bay.
And unlike regular parking lots, they are designed with features such as wide access lanes and large overhead doors to accommodate big vehicles such as RVs.
Long-Term Storage Tips for RV Owners
Finding a secure location for your RV is only part of the equation. Here are a few other things to keep in mind.
Maintain Your Stored RV's Exterior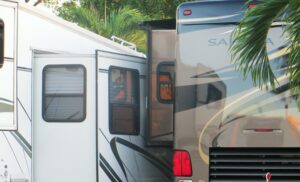 To protect the exterior, consider using RV covers. They will protect the surface against sun damage which could lead to faded paint or cracked seals.
Also, make sure to inspect the windows regularly; they should be sealed properly as that'll keep unwanted moisture out.
Taking Care of Fuel System & Water Heater Tank
Using fuel stabilizer will help prevent gummed-up parts when you start up the vehicle again after the winter months. And don't forget about draining the water heater tanks as well; leftover water could freeze and cause cracked pipes.
Lock Everything Up
Be sure to lock the doors and windows – this applies whether you're storing the RV at home, at a family member's property, or at a storage facility.
Common Issues That You May Run Into When It Comes RV Storage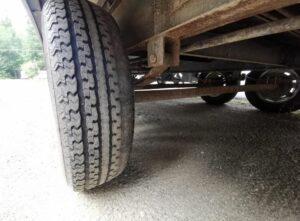 Sun damage is a common issue for stored RVs. But don't worry, you can prevent that by using an RV cover. Parking it in an enclosed storage facility will also shield it from harmful UV rays.
Tire troubles are also common when parking your rig for the long haul. For this reason, we recommend using RV tire covers – they will protect them against cracking and blowouts caused by harsh weather conditions.
Mold and mildew may also be an issue due to the trapped moisture inside the vehicle, especially during the colder months. One way to prevent this is by using baking soda. It's natural, dirt cheap, and does wonders at absorbing unwanted dampness within closed spaces like the cabinets and storage compartments in your RV.
Rodents finding their way into access holes is yet another pesky issue that could happen while your RV is parked for the winter season. To prevent that, add steel wool to all potential entry points as they detest chewing through such material.
Storing Your RV – FAQs
What's the proper steps for RV storage?
Clean and prep your RV, then choose a suitable storage spot. Indoor facilities offer more protection but can be pricier.
Is outdoor parking suitable for an RV?
You can keep an RV outdoors, but it's highly recommended that you use covers for weather protection.
Should the RV be stored with slides in or out?
The slides of an RV should always be retracted when storing. That will help protect them from environmental damage and pests.
Where is the best place to store an RV?
An ideal spot would be a dry, shaded area away from trees. A climate-controlled indoor storage facility would also be a good option as it would provide maximum safety for your vehicle.
Note: This promotional offer is only guaranteed through the end of the day.