Patagonia is a popular brand that sells outdoor clothing. For example, they have tops and bottoms that are designed for certain sports such as surfing and rock climbing. In addition to apparel, they also offer other products such as sleeping bags, backpacks, and camping food.
More About Patagonia
Patagonia was founded by Yvon Chouinard in 1973. An accomplished rock climber, he had sold his own climbing gear since the late 50s. Wanting to improve his products, he eventually partnered up with Tom Frost in 1965. From there, they eventually opened Patagonia's first store, Great Pacific Iron Works, in Ventura, California.
Since then, the brand has grown significantly. As of 2023, there are dozens of stores worldwide—53 to be exact.
More About Patagonia's Products
Patagonia has a massive catalog. To give you a better idea, they sell jackets, vests, sweatshirts, jeans, snow pants, yoga wear, dresses, wetsuits, base layers—even underwear! They also have several product lines that are specifically designed for climbing, mountain biking, fly fishing, surfing, trail running, skiing, and hiking.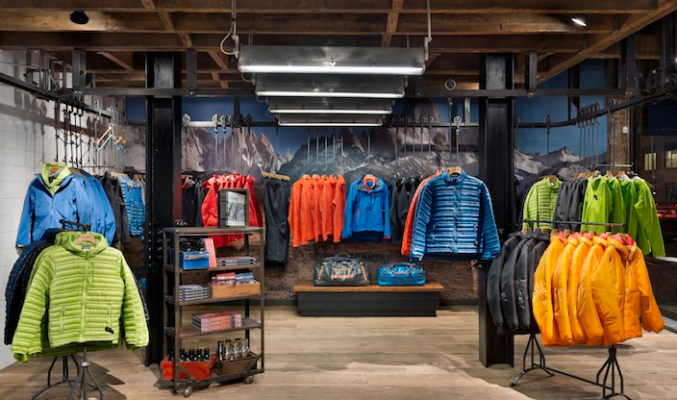 Price-wise, their clothes can be a bit of an investment. For example, one of their parkas or snow jackets can run you a few hundred dollars. Most would argue that their quality is worth it, though. What's more, is that they offer store credit for used merchandise in good condition. In other words, you can easily trade in some of your older items for new ones!
Taking Care of Patagonia Clothing
Patagonia is known for their durable products. Given how they can be pricey, you'll want to make sure that you care for them properly. That way, you'll be able to get the most out of them. Not to mention that it'll allow you to trade them back in should you choose to do so!
Put it simply, you want to keep their clothes clean. This means washing them whenever necessary. For example, you'll want to wash their sports bras after working out. Similarly, it's a good idea to clean your jacket if you've accidentally gotten mud on it. Never leave dirty sweaters, coats, or pants just hanging around—they'll only get smellier with time!
Materials & Fabrics Used by Patagonia
Before going into the washing instructions, it's important to know what kind of fabrics they use for their clothes. Here are some of them.
Recycled Polyester 
Patagonia is known for using recycled polyester—it's something that they've been doing since the early 90s. Aside from used soda bottles, they also make fibers out of worn-out garments and unusable manufacturing waste. Not only is this method sustainable, but it reduces landfill as well. On top of all that, it reduces toxic emissions during the manufacturing process.
Recycled Nylon
The brand has been using recycled nylon for their clothes for the past five years. How does that work? They take post-industrial waste fiber, waste from weaving mills, and yarns from factories and re-create that into usable fibers. Recently, they've also started experimenting with discarded fishing nets.
2.5-layer H2No® Performance Standard Shell
This material is 100% waterproof and windproof. Not only is it breathable, but it's packable as well. On top of that, it's coated with DWR finish, which helps repel rain and snow. This makes it a great choice for snowboarding, skiing, alpine climbing, and backpacking gear. The best part is that it's designed for vigorous use—even severe trashing won't do much to it!
4-Layer Wader Fabric
This innovative material features a 4-layer construction, which increases breathability, abrasion resistance, and moves moisture away from the skin. Complete with H2No waterproof coating, you won't have to worry about it getting wet in the rain or snow. There's also a layer of soft polyester tricot lining, which provides extreme comfort.
Gore-Tex Paclite Shell
This fabric is not only waterproof, but it's also windproof and extremely breathable. Lightweight and packable, you can take it anywhere you want—whether you're cycling or hiking. Noted for its longevity, it won't be losing its waterproofness even after repeated washing, abrasion, or flexing.
Windstopper Fabric
This material is exactly what it sounds like—it features total wind-roofless. In other words, you'll stay comfortable in a wide range of weather conditions. Not only is it soft and lightweight, but it's also water resister. On top of all that, it dries very quickly!
How to Wash Patagonia Down Jackets
Patagonia offers a wide range of jackets, most of which are filled with goose down. While they don't have to be washed regularly, there will come a day when you have to give them a wash! Here's how to do it.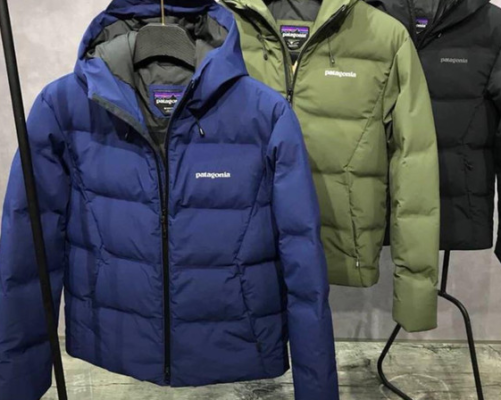 Can You Put Patagonia Down Jackets In the Washer?
Most, if not all down jackets can be put into the washing machine. When in doubt, check the label. Assuming that it's safe, the first thing that you'll want to do is to empty the pockets. From there, close all the zippers. Velcro attachments should also be closed if there are any.
Set your washing machine to a delicate cycle. Make sure to use cold water; hot water can cause damage to the fibers. As an extra precaution, you might want to place the down jacket into a mesh laundry bag. That will protect it from rubbing against the agitator while the machine is in motion. Not to mention that it'll keep it safe from your other items (if you're washing other things with the jacket).
As far as detergent goes, you want to use something that's appropriate for the finish. ACTIVE detergent is one such example. Generally speaking, one scoop of the powder will be enough for the load. Simply add it to the drum (or drawer, depending on the model of your washer) and press start. It's important that you do not use any fabric softener as that will degrade the water-repellant finish.
Pull your jacket out once the cycle is finished. Don't worry if it looks a bit deflated—that's normal with down jackets. What you want to do is to put it in the dryer and set it on low heat. The agitation will help to restore its fluffiness. For the best results, consider adding a few dryer balls.
Pro-tip: Air drying is only recommended for thinner jackets. It can lead to moisture retention inside, which can result in mildew growth.
Washing Patagonia Down Jackets By Hand
It'll take a bit more effort, but you can also hand wash down jackets. As always, you want to begin by closing all the zippers. Make sure to check the pockets as well. From there, fill a bathtub or sink with lukewarm water. Add a bit of ACTIVE detergent and mix until the powder is fully dissolved.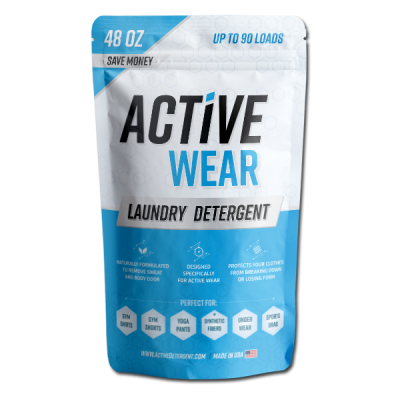 Carefully submerge the jacket. It might be a good idea to push it up and down as that'll help to work in the suds. Once you've done that, let it soak for a while—around 20-30 minutes. Next, drain the soapy water. Using your hands, press as much as possible out of the jacket.
Refill the bathtub with clean water and use it to rinse the soap off the jacket. Continue until the water is free of soap suds. Depending on how much detergent you used, this might take a few tries. When you're finished, drain the excess water out of the jacket. Avoid wringing or twisting motions as that'll make the down clump together. Not to mention that there's a chance that you'll rip and tear the fabric.
Transfer the jacket to the dryer (it can be a bit heavy while wet, so be careful). Set it on the lowest heat setting and tumble dry. Add a dryer fall as that'll help to break up any clumps inside. Make sure that it's fully dry before removing it out of the machine. As mentioned earlier, you want to avoid air-drying the jacket as that could attract mildew or mold.
Note: You can use the same method to wash their vests, sweaters, tops (just skip the steps for down if the item doesn't contain down)
Washing Instructions for Patagonia Swimsuits
Patagonia offers a variety of swimsuits for women. Here's how you can keep them clean.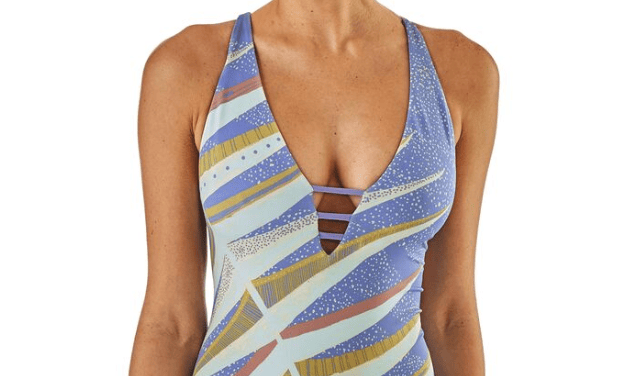 Handwashing Your Patagonia Swimsuit
The first step is to rinse the swimsuit. One easy way to do this is to take a shower with it on. Alternatively, you can take it off and rinse it with cool water in the sink. Consider soaking it for 15-20 minutes—that'll help to remove contaminants such as sweat, chlorine, and sunscreen.
From there, refill the sink with water and add a bit of ACTIVE detergent. Just a little will do. Dissolve the powder and place your swimsuit in once you've turned it inside out. Swish for a few minutes with your hands and rinse well under the faucet. Continue until all the soap is gone. Drain the dirty water and gently squeeze the suit to remove the excess water. Do not ring it—that can damage the shape.
Let it air dry in a well-ventilated spot, away from direct sunlight.
Note: You can wash their wet suits in a similar fashion. Instead of using the sink, however, it might be easier to put it in a tub given its size.
Best Way to Clean Patagonia Sports Bras and Underwear
The brand is known for their sportswear, however, they also sell undergarments such as bras and underwear.
Putting Patagonia Bras and Underwear in the Washing Machine 
Their sports bras and underwear are safe to put in the washer. Just be sure to use a lingerie bag—otherwise, the elastic can wear out quickly. You can also wash them with other clothes (ideally ones without zippers or similar hardware) as long as you sort out the colors.
Place the lingerie bag into the washing machine and add a scoop of ACTIVE detergent. Do not use any fabric softener. You want the items to be able to move moisture away from the body and that will hinder its ability to do so. Set your washer on a delicate cycle and wash with cold water.
Take out the items once they're done washing. Do not put them in the dryer. Instead, let them air dry. You can either put it on a drying rack or a clothesline. Avoid hanging the bras by the straps as that can cause the elastic to stretch.
Washing Patagonia Bras and Underwear By Hand
Their sports bras and underwear are also easy to wash by hand. Simply fill a sink with water and add some ACTIVE detergent. Swirl until it gets soapy and place the items in. Make sure that they're fully submerged in the solution and soak for at least 15 minutes before rinsing them with water. If necessary, you can rub or massage the fabric. Be careful not to twist or wring the garments. Remove the excess moisture with a clean towel and let them dry naturally. Do not use the dryer.
Note: This promotional offer is only guaranteed through the end of the day.