Fella Swim is a contemporary fashion brand that's known for their premium swimwear. Aside from that, they also offer ready-to-wear apparel such as wrap skirts and sarongs.
More About Fella Swim
Fella Swim was founded by designer duo Christine Tang and Rosie Iffla in 2012. Based in Sydney, Australia, the company provides comfortable and confident swimwear, all of which are created from high-quality fabrics in flattering cuts.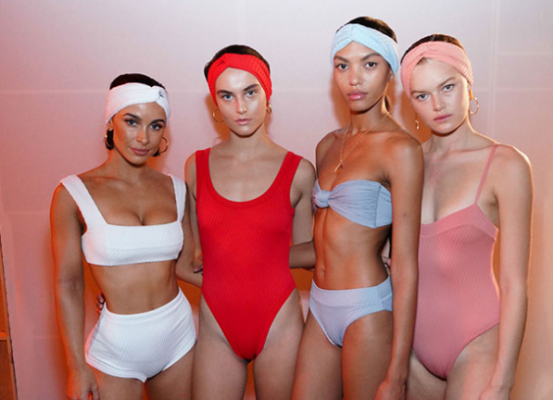 Aside from their official website, you can find their products are various online retailers such as Surf Stitch, The Cool Hour, Shopstyle, and more.
What Kind of Swimwear Do They Sell?
Fella Swim offers a variety of tops and bottoms that you can mix and match. Not only that, but they offer one pieces as well. And if you want, you can take advantage of their custom alterations service. For example, you can shorten the body, lengthen the body, adjust the band and strap size, or padding.
Their bikini tops/bottoms range from $143 to $154. If you mix and match, however, you'll get a 10% discount. As for their one pieces, you can expect to spend about $230 per suit. Shipping is also free if you order over $250.
Note: Many of their suits are made to order.
Taking Care of Fella Swimwear
Want your bathing suits to last? Then make sure to take good care of them. That means keeping them away from the sun and washing them the right way. For example, you should only use cold water; hot water will wear out the suit much quicker than usual. Not to mention that it can also cause the colors to fade.
Looking for some tips on how to wash your Fella swimwear? That's why we're here! We'll be going over how to wash them in detail below so be sure to read the rest of the post.
What Materials Do They Use For Their Swimsuits?
All swimsuits are made from synthetic aka manmade fibers. Here's what they use for their products.
Nylon/Polyamide
Nylon is water-repellent, which makes it suitable for swimwear. Not only that, but it has superior abrasion resistance as well. Plus, it has great elasticity and can stretch many times its length. The only thing is that it's sensitive to heat. That is, it can degrade quickly if exposed to high temperatures.
Spandex/Lycra
Spandex is a strong fiber with great elastic properties. For this reason, it's often used in athletic wear. Unlike other synthetic fabrics, however, it must be woven with other materials. For example, it's often blended with polyester, nylon, or cotton (this gives it the properties of both fibers).
Polyester
Polyester is inexpensive yet durable. More specifically, it's resistant to abrasions, chemicals, and wrinkles. And while it's made of plastic, the fiber can be made from post-consumer bottles, which makes it a more sustainable option.
Washing Guide For Fella Swimwear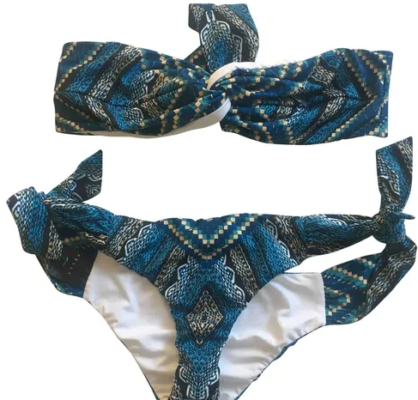 Their swimsuits can either be washed by hand (recommended) or put in the washing machine; there are just a few things that you have to consider with the latter option, which we'll be explaining later.
Washing Your Fella Bikinis and One Pieces By Hand
Start by rinsing the suit with cold water. For example, you can soak it in a bucket or sink—that will get rid of most of the dirt and chemicals that are on the fabric (you don't want to leave them on as they can damage your suit). Alternatively, you can jump into the shower with it on. Just make sure that the water isn't too hot, or else you can damage the nylon fibers.
The next step is to prepare a bath. Fill a clean sink with cool water so that it's half-full and add in 1/2 a scoop of ACTIVE detergent. Swish the water with your hand a few times to mix the powder; you should end up with a sudsy solution.
Turn your bathing suit inside out (both the top and bottom for bikinis) and place it in the sink. The entire garment should be fully immersed. That way, the detergent will be able to work into the fabric.
Let it soak for up to 30 minutes in the sink. From there, rinse well with cool water. We recommend holding the suit under the faucet until the water runs clear. Or if you want, you can rinse it by refilling the sink with clean water.
Press the excess moisture out of the suit with your hands. Make sure to be gentle. Never twist or wring the material as that can stretch out the elastic fibers (aka you'll be ruining the fit). Lay it flat to dry. Alternatively, you can use a laundry rack.
Warning: Never put your bathing suit in the clothes dryer. The high temperature will destroy the material, thereby ruining the item.
Machine Washing Your Fella Swimsuits Without Ruining Them 
As always, you want to start by rinsing the swimsuit. Make sure that the water is cold and if you can, let it soak in a sink, ideally for 15-20 minutes. That'll get rid of any chemicals or oils that have built up on the fabric.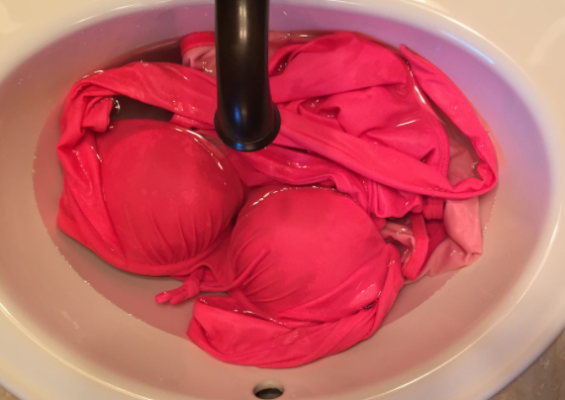 Turn the suit inside out and place it in a mesh laundry bag. It'll prevent it from getting damaged by reducing friction among your clothes (assuming that you're washing a mixed load). And for those who are wondering, yes, you can wash your suit with other items—just make sure to separate lights from darks.
Tip: Never put your bikini or one piece directly into the washing machine without a garment bag; it will get damaged during the wash cycle.
Close the laundry bag and place it in the machine, along with the rest of your clothes. For those who are washing the suit by itself, add a couple of towels. That will help balance the load so that it'll run smoother.
Next, add a scoop of ACTIVE detergent (you can always add more, if necessary). Don't use bleach or fabric softener. A cup of white vinegar can be added instead if you want to soften the fabric; it'll also help get rid of odors.
From there, select your machine settings. Generally speaking, a delicate or gentle cycle is the way to go for swimsuits (and other delicate garments). Run a cold water cycle and wait for it to finish before taking your clothes out.
Lay your swimsuit flat to dry. You can also dry it naturally on a laundry rack. Don't tumble dry unless you want to buy a new bikini.
How to Wash Fella Sarongs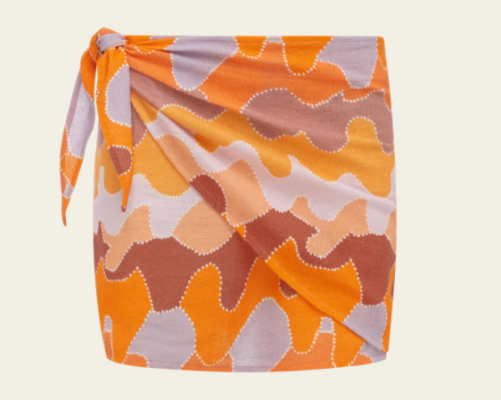 Fella Swim also sells sarongs, which you can wear as a coverup over your swimsuit. Here are two ways that you can wash them.
Putting Your Fella Sarongs In the Washing Machine
Fold your sarong and place it in a laundry bag; that will protect it against the agitation of the machine. It'll also prevent the fabric from snagging on other garments, which can happen if you're washing a mixed load (you can wash them with other items as long as you've sorted the colors).
Put the mesh bag into the washer. Add the rest of your laundry and pour in a scoop of ACTIVE detergent. That's all you'll need; avoid add bleach or fabric softener. White vinegar is a suitable alternative if you want to soften the fabric.
Select a gentle or delicate wash cycle. Make sure to use cold water; hot water can damage the delicate fibers of the item. Wait for it to finish before taking out your sarong (and other garments). Don't leave the item in the washer for too long, otherwise, it can smell.
Drape it over a laundry rack and allow it to air dry in a well-ventilated room. Do not hang it outside—the sun's rays can cause the colors to fade. Also, don't use the dryer; the heat can cause the fabric to shrink.
Hand Washing Your Fella Sarongs
First things first, you want to create a bath. Turn on the tap and fill a washtub or sink with cold water. Turn it off once it's half-full and add in 1/2 a scoop of ACTIVE detergent. Swish the liquid with your hand to dissolve the powder; you should end up with lots of bubbles.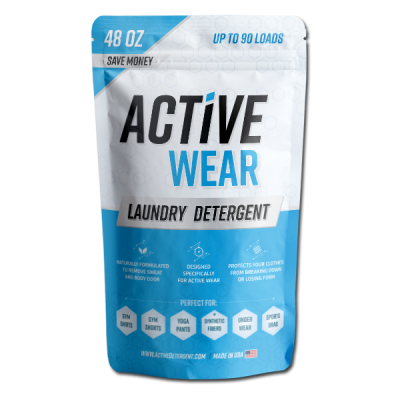 Tip: You can remove stains and spots with baking soda or white vinegar. Sprinkle (or pour) a generous amount of the product onto the problem area and let it soak for 15 minutes. Rinse well with water afterward. From there, you can handwash the item as normal.
Place the sarong in the sink, making sure that it's fully immersed in the water. Swish it through the solution a few times to help work in the soap. From there, soak it for approx. 20-30 minutes.
Rinse the sarong thoroughly with water after soaking—there shouldn't be any detergent left on the fabric when you're done. You can either rinse it under the faucet or in the sink (you'll have to refill it with freshwater).
Press the excess water out of the fabric and let it air dry naturally on a laundry rack. Avoid the clothes dryer if you can.;
Note: This promotional offer is only guaranteed through the end of the day.