Chaco is a footwear company that specializes in Z-strap sandals. However, they also sell boots, flip-flops, and shoes. On top of that, they offer various types of gear such as bags, hats, socks, and wrist wraps. In fact, they even have a pets collection!
About Chaco
Chaco was established in 1989 by Mark Paigen. A fly fishing guide, he wanted to create a sandal that would let his feet dry in the sun. Eventually, he succeeded in creating a pair out of synthetic material. By the early 90s, he had opened his own shop in Glennwood Springs, Colorado. Over the next several years, he worked to improve the design of his shoes with the help of a pedorthist.
Since 2009, the brand has operated as a subsidiary of Wolverine World Wide. Nowadays, their products can be found at a number of retailers including REI Co-Op, Amazon, Dick's Sporting Goods, and Nordstrom. Of course, they can also be purchased through their official website.
More About Chaco Sandals
The brand offers a variety of sandals for men, women, and children. What makes them special? They are all designed for outdoor and water use. What's more, is that they all feature a single strap that loops around the foot, which allows you to adjust the fit easily. Perhaps the coolest thing about Chaco, however, is the fact that they offer custom sandals. Simply pick the style that you want and they'll do the rest!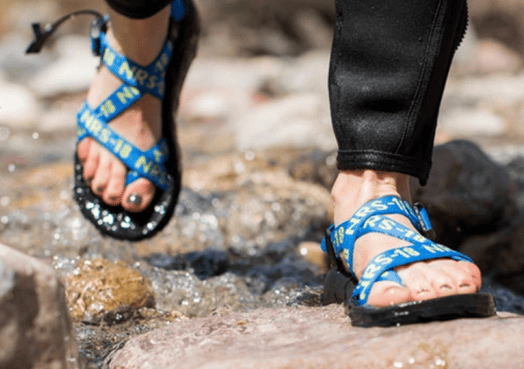 Price-wise, their sandals are typically around the $100 range. As far as their other products go, they're generally a little cheaper. For instance, you can get a pair of flip flops for $65. Want to get the most bang for your buck? Check out their clearance section—you might just be able to get a good deal!
Taking Care of Chaco Sandals
As with all shoes, their sandals will get dirty—especially if you wear them on a regular basis. For instance, it's not uncommon for them to come into contact with mud or sand, which can easily leave marks on the material.
As a general rule of thumb, you always want to remove stains as soon as the possible. The longer you wait, the greater the chance that it'll "set in" aka be more difficult to remove later. Not only that, but the dirt and debris can actually wear down the material. Not to mention that there's also the issue of sweat, which can lead to icky odors!
Given that, it's probably best to wash them every now and then. The last thing that you'd want is to keep a pair of dirty sandals on your shoe shelf (don't forget, the dirt can end up on your floor as well).
Chaco Sandal Collections
Chaco offers four different lines of sandals, each of which has its own unique features. Let's take a closer look at them below.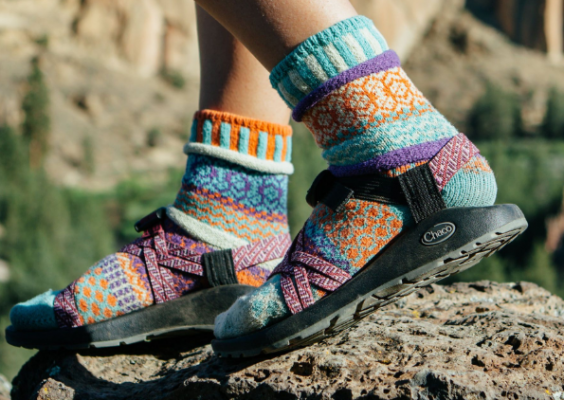 Z/Cloud Sandals
Z/Cloud sandals come with an added layer of cushioning for extra comfort. More specifically, they consist of a 5mm Cloud PU layer, which removes the need for a break-in period. Featuring a ChacoGrip rubber outsole, they'll provide you with instant comfort the moment you take them out of the box. Not only that, but they are made to be durable. if anything, they will last you many years to come.
Z/Volv Sandals
Z/Volv sandals are comfortable and lightweight. To give you a better idea, they're 20% lighter than their classic sandals! Modern with contemporary aesthetics, they come with an extra-soft PU compound and texturized grooves on the footbed for added traction. Not only that but the upper features a double-strapped wrap for a customized fit. It's also worth noting that the outsole is made from a 25% recycled rubber compound.
Classic Sandals
Their classic sandals have been a hit since 1989. Durable and comfortable with a secure fit, they are perfect for outdoor adventures, whether you'll be on land or in water. Featuring fully adjustable straps, you won't have to worry about losing any stability. You won't have to worry about traction either as they come with ChacoGrip technology.
Leather Sandals
Their leather sandals collection is perfect whether you're travelling or walking around town. Made from premium leathers, they feature a LUVSEAT PU midsole that guarantees all-day comfort. In addition to that, the footbed is fully padded. Certified by podiatrists, you won't have to worry about experiencing any foot pain!
Washing Instructions for Chaco Sandals
Chances are, you'll need to wash your Chaco sandals at some point. Fortunately, the process is quite easy. We'll be going over two different washing methods below. Follow along and your sandal are bound to look as good as new!
Note: This section does not apply for their leather sandals—they'll have their own section later.
Putting Your Chaco Sandals In the Washer
Are Chaco sandals machine washable? They sure are! After all, they're meant for water use. Having said that, you don't want to just throw them in and press the start button. As it is, there are certain steps that you want to follow. First things first, it's best to place them in a laundry bag—that way, you won't have to worry about them being thrown around. Not to mention that it'll keep the sandals together during the wash cycle. A pillowcase will do if you don't have one of these bags.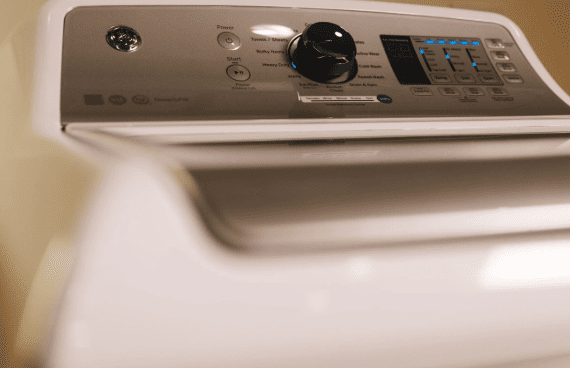 The next step, once you've put the sandals in, is to add detergent. Given the fact that their sandals are made from synthetic material, it's probably best to use a product that's designed for that purpose—something like ACTIVE detergent. Add a scoop to the machine and set it to a delicate setting. Avoid using any other cycle as the agitation will be too much for the sandals. Do not use bleach or other chemical cleaners as they can cause damage to the straps.
Note: For the best results, wash your sandals with a load of laundry. Yup, it's perfectly okay to put them together with your clothes (except for delicates). At the very least, you should put in a few towels—that will help to prevent them from being tossed around during the cycle.
Run the machine and wait for it to finish. Once it's finished, remove the sandals. Allow them to air dry in a well-ventilated room. Never put them in the dryer as the heat will cause the soles and straps to warp; not to mention that the adhesive can also melt. Similarly, it's not a good idea to put them near a heat source (including the sun). Wait for them to dry completely before wearing them again.
Washing Your Chaco Sandals by Hand 
The first thing that you want to do is to remove any dirt or mud from the sandal—you can do this with a bristled brush. Once you've done that, fill a sink, bucket, or basin with warm water. Add some ACTIVE detergent and mix until suds appear. Place your sandals in and give them a good soak. From there, you can clean the surface with a bristled brush or sponge. Pay extra attention to the crevices along the straps.
When you're finished, rinse off the soap. The easiest way to do this is probably to drain and refill the container with water. Alternatively, you can put the sandal directly under the faucet. Continue to rinse until the water is clear (make sure that there are no suds left). All that's left from there is to let it air dry. Remember, never put your Chaco sandals in the dryer.
How to Clean Leather Chaco Sandals
Their leather collection requires a bit more care. After all, leather is much more delicate than synthetic materials. Here's how to wash them.
Washing Leather Chaco Sandals By Hand
Leather sandals are a little different in that they should never be soaked in water. Ultimately, what you want to do instead is to use a leather specific cleaner. Saturate a dry cloth with the product and use it to clean the upper. Gently rub in a circular motion; avoid using too much force as that can lead to scratches. For the best results, remove any dry debris (e.g. dirt, mud) from the sandals before using the cleaner.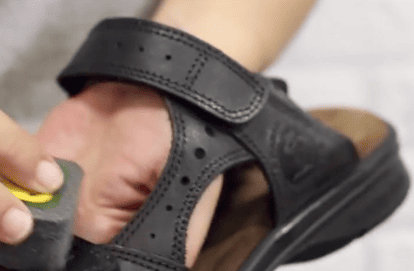 The next step is to wipe the cleaner away with a damp cloth (you don't want it to be too wet). As before, you want to do so in a circular motion. If one cloth isn't enough, use a second. The goal is to remove all of the product from the leather.
Pro-tip: Want to prolong the life of your sandals? Consider using a leather conditioner. It's easy—start by putting a bit of the product on a lint-free cloth. From there, apply it onto the leather in a circular motion. When you're finished, buff the surface with a separate clean cloth. Let it air dry. How it works is that the conditioner will restore the flexibility of the leather. In doing so, it'll be less likely to crack.
When you're finished, let them dry thoroughly. Seeing as how they won't be too wet, it shouldn't take too long. Never put your leather sandals under direct sunlight as the heat can cause it to crack. Similarly, you do not want to rub them with a cloth as that will also damage them.
Are Leather Chaco Sandals Machine Washable?
Leather sandals should never be put in the wash. As mentioned above, they should only be wiped and spot-cleaned.
How to Wash Chaco Sandal Webbing
Chaco sandals are unique in that they feature a continuous webbing system. As with the rest of the shoe, however, they can attract dirt and grit. More specifically, particles will get in the channels where the straps enter the midsole. As you can imagine, that can lead to odors. Not to mention that it can cause the straps to stick together! If you have this issue, it's time to floss your straps!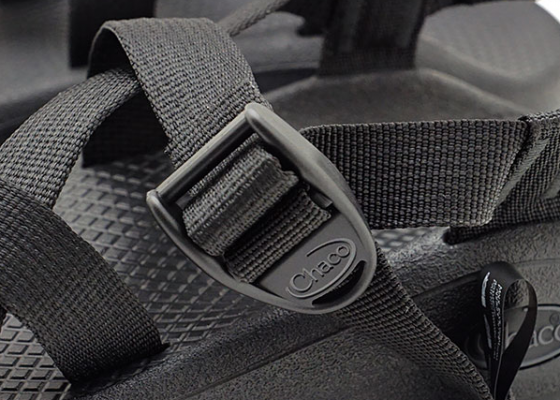 It's quite straightforward. Start by wetting down the straps with a little bit of water—you do not need to add any cleaner. Once the straps are wet, squirt some fabric softener into the slot. From there, what you want to do is to pull the straps back and forth (this is why it's often referred to as "flossing"; this movement will help to dislodge any debris that might be stuck in the channels.
The Best Way to Remove Odors from Chacos
Chances are, your sandals will become smelly at one point. Don't worry, though—you can deodorize them easily! The first step is to dissolve some baking soda in a bowl of water. Dampen a firm-bristled brush with the solution and use it to scrub the footbed of your sandals. Once you've done that, rinse your sandals clean with water. That's all there is to it! From there, you just have to wait for it to air dry.
Note: This promotional offer is only guaranteed through the end of the day.