Canada Goose is a Canadian company that specializes in winter gear and clothing. Aside from their jackets, which happens to be one of their most popular products, they also sell things like gloves, hats, vests, shells, and more.
More About Canada Goose
Canada Goose was founded in 1957 by Sam Tick. Back then, the company was known as "Metro Sportswear Ltd." They sold various items such as snowmobile suits and pollen vests; it wasn't until the early 70s that they started to create the down jackets that they're known for today.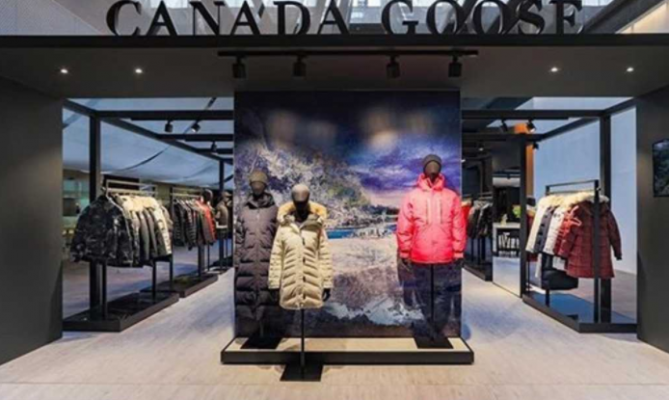 Eventually changing their name to Canada Goose, the brand began to expand internationally in the 2000s. Currently, they operate retail stores in Vancouver, London, New York, Boston, Chicago, Toronto, and Tokyo, among a few other places.
What Kind of Jackets Do They Sell?
Canada Goose offers a wide range of functional jackets for men, women, and children. More specifically, they sell rain jackets, trench coats, knit jackets, parkas, and bombers. For those who are wondering, the brand uses both duck and goose down, all of which are sustainably sourced.
While their jackets aren't cheap, you know that what you're getting is of high-quality. Not only is everything made in Canada, but they're also hand-stitched. To give you a better idea, a parka, depending on the style, can run anywhere between $900 to $1600.
Caring For Canada Goose Jackets
While the construction itself is durable, how you treat the item can also make a difference in their lifespan. Given that, it only makes sense that you'd want to care for the jackets properly—this is especially true given their price.
The good news is that they're fairly easy to maintain. For one thing, you don't have to wash them after each wear. Even when you do, they're easy to care for. For those who are unsure about it, just follow the instructions on this page and you'll be good to go!
Canada Goose's Fabric Technology
The brand has their own innovative fabrics that they use for their jackets. Here are some of them.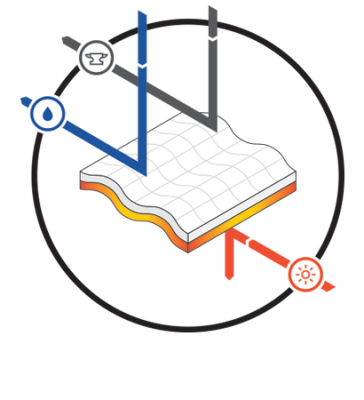 Arctic Tech
Arctic tech (85% polyester and 15% cotton) is their most proven fabric—it's designed to keep you warm in the most extreme of conditions. Not only that, but it'll also keep you dry. While it might not be waterproof, it is made to withstand water and wind.
Dura-Force
Dura-Force, as its name implies, is a durable fabric that's made for rugged conditions and that includes high winds. Made of 100% nylon, it's soft, functional, and comfortable. Did we also mention that it's wind and water-resistant?
Tensile Knit
Tensile knit is a 3-layer double weave fabric that made for maximum flexibility and movement. Aside from offering 4-way stretch, it's also breathable so that the moisture from your body won't be trapped inside. Has a microfleece polyester backing.
2L Herringbone
2L Herringbone is a 2-layer fabric that's known for its unique woven texture. Durable yet refined, it comes with a water repellent finish that'll keep you dry during any activity. Microporous, it's also incredibly soft to the touch.
Resistor 40D
Resistor 40D is a durable ripstop fabric that can withstand intense, all-day activity. Designed to perform, it is abrasion resistant and also comes with a water repellent finish. Made from 100% nylon.
Poly Plush
Poly Plush is one of their softest fabrics. Not only is it durable, but it's also soft, and water-resistant. Made of 100% polyester.
Tri-Durance HS
Tri-Durance HS is a three-layer fabric that's waterproof, windproof, and breathable. Suitable for almost all conditions, it's ideal for paddling, running, skiing, and even ice climbing. What's more, is that it has incredible stretch that'll allow it to move with you.
Tri-Durance PF
Tridurance PF is a laminated 3-layer fabric that's soft yet durable. Featuring a micro polar fleece backing, it allows for maximum breathability no matter the activity.
How to Wash Canada Goose Down Parkas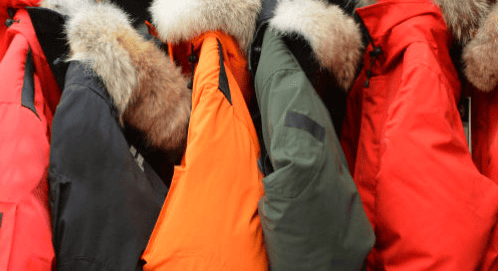 Are Canada Goose Down Parkas Machine Washable?
It's not recommended that you put their down jackets or parkas in the washing machine. For one thing, it'll void the warranty. What you want to do instead is take it to a reputable dry cleaner. Before you do, though, make sure that you take off the removable fur (if it has one).
Removing Stains From Canada Goose Down Parkas
Small stains can be washed off with water and detergent. Start by filling a bowl with tepid water. Add a bit of ACTIVE detergent and agitate the solution with your hand to mix. Dampen a sponge or cloth with the mixture and use it to spot-wash the problem area. The key is to be gentle; you don't want to damage the fabric. To prevent the stain from spreading, always clean from the outside to the inside.
When you're done, rinse the area with water. You can put it under running water or wipe it clean it with a cloth.
Washing Canada Goose Lightweight Down Jackets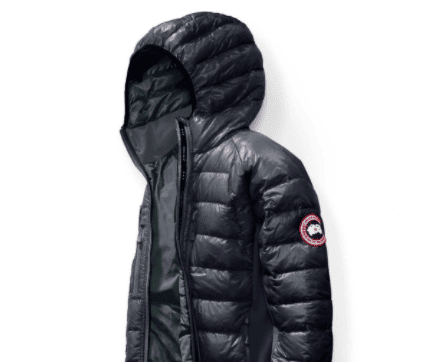 Putting Canada Goose Lightweight Down Jackets in the Washer
Unlike their parkas, it's fine to put your lightweight down jacket in the washing machine. In fact, that's what they recommend. Start by checking all of the pockets—there shouldn't be anything left inside. From there, close all buckles and zip up all zippers; the same thing goes for flaps and fasteners.
Use a dry cloth to wipe away any debris or dirt from the jacket. Carefully place it in the washing machine. Do not wash it with other items. For the best results, use a front-loading washing machine or a top-loader (the agitator can damage the jacket).
Pour in a scoop of ACTIVE detergent. Wash with cold water only on a gentle or delicate setting. Do not add bleach or fabric softeners. Once the washing machine has finished the cycle, run it through a second rinse cycle—this will help to remove any detergent that's leftover.
Do not tumble dry. Simply hang it up to dry. If necessary, you can iron the jacket on a cool setting. If there are any clumps, you can loosen them with your hand.
Hand Washing Canada Goose Lightweight Down Jackets
Do up all zippers and close all fastener; you don't want them to catch or pull on the fabric while you're washing the jacket. Wipe away any debris or loose mud with a dry cloth. Fill a washbasin or tub, anything that's big enough to fit the item, with warm water. Add 1/2 a scoop's worth of ACTIVE detergent and agitate the solution with your hand to combine the powder.
Let the down jacket soak for 10 to 15 minutes—that will help to remove any debris or dirt. After soaking, empty the tub or sink. Refill it with clean water; you want to rinse off all the detergent. Given how absorbent down is, you will likely have to press the soap suds out of the fabric with your hands. Never twist or wring the jacket.
Continue to rinse for a few minutes, until the soap film is gone. From there, gently press out the excess water; that will minimize the dripping when it's drying. Remember, do not tumble dry your Canada Goose down jacket. Instead, let it air dry in a well-ventilated area. Do not put it outside, where it might be exposed to the sun.
Cleaning Your Canada Goose Shell Jacket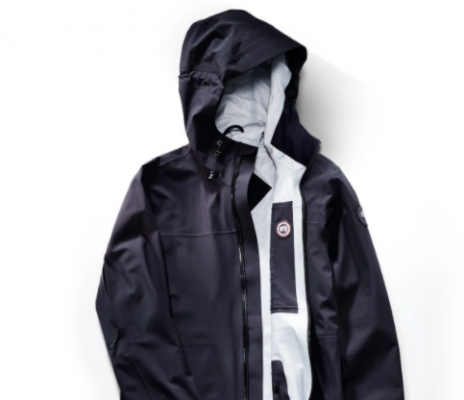 Running Them Through the Washing Machine
Their shells are similar to their lightweight downs in that they can be put in the washer. First things first, close all fasteners and zippers; this includes any pockets (make sure that they're emptied). The next step is to wipe off any loose debris from the surface—you can do this with a dry, clean cloth.
From there, you can place the shell into the washing machine. Due to the hardware (e.g. zipper) that's attached to the jacket, it's not recommended that you wash it with other garments. With that said, it's fine to put in a few towels to help balance the weight of the item.
Pour in a scoop of ACTIVE detergent—that's all you need. Do not use fabric softeners or else you risk ruining the outer membrane. Run a wash cycle with cold water only on a delicate cycle with minimum spinning.
Take out the jacket afterward and let it line dry. Canada Goose does not recommend that you tumble dry their shells.
Washing Them By Hand
Close all zippers and fasteners on the shell jacket. Use a cloth or brush to wipe off any surface debris. Prepare a bath by filling a tub or washbasin with warm water. Mix in half a scoop of ACTIVE detergent, agitating the water to combine the powder.
Submerge the shell once the water has become sudsy. Move it through the detergent solution a few times before letting it sit for 10 to 15 minutes. That gives the soap suds time to work into the fabric.
Once you've finished soaking the shell, rinse off the detergent. We recommend draining the dirty water from the tub and refilling it; you can also just use running water from the tap. Continue to rinse until the shell jacket is 100% free of detergent. Hang it up and wait for it to air dry.
Note: This promotional offer is only guaranteed through the end of the day.