Whirlpool Corporation is a leading manufacturer of innovative home appliances. Based in Benton Harbor, Michigan, the company sells products under a variety of brands including Maytag, Whirlpool, Amana, Consul, Jenn-Air, and KitchenAid.
Founded in 1911 by Louis Upton, the company came to be after Upton acquired a patient to a manual clothes washer. He and his uncle later added an electric motor to the design and began producing electric motor-driven washers. The first customers included Sears and the Federal Electric division of Commonwealth Edison.
While there were a few mishaps in the beginning, including several recalls, they were able to overcome the situation. After several years of business, they merged with the New York-based Nineteenth Hundred Washer Company in 1929.
By the late 1940s, they had introduced an automatic, spinner-type washing machine. They also launched a variety of home laundry products including automatic dryers, wringers, washers, and irons after the war as there was an increased demand for convenience products.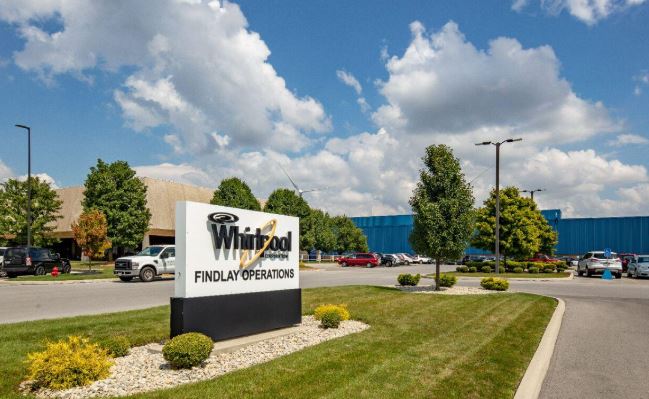 Fast forward to 2023, and Whirlpool Corporation is a Fortune 500 company with an annual revenue of more than $21 billion. They currently manufacture their appliances in more than a dozen different countries worldwide including the United States, Italy, Brazil, and Hong Kong, Not only that but they have over 70 technology research centers worldwide.
Whirlpool Washing Machine Model Series
Whirlpool has released several lines of washers throughout the years. Here are some of their most popular models.
Cabrio: A top-load washing machine that was released in the mid-2010s. ENERGY STAR-certified and features 6th Sense Technology. Comes with five temperature options, a Delay Wash Feature, Add-A-Garment Indicator, and Cycle Status Lights.
Calypso: An early top-loading washer that was produced in the early 2000s. One of the earliest energy-saving models, it had a good design but was notorious for pump problems. Featured multiple automatic cycles as well as an Ultra Quiet Wash Sound Reduction System.
Duet/Duet HT: A line of affordable front-loading washing machines. Comes with a Deep Clean Wash system that fights the toughest of stains and an innovative 6-point suspension system. Noise and vibration are also reduced. Newer Duet models come with an eco monitor and sanitary/allergen cycles.
Duet Sport: A line of front-loading washers with 3 temperature options and 8 wash cycles. Uses 66% less energy and 60% less water in every load compared to traditional washing machines. Features a 6-Point Suspension System, which cushions the inner drum and reduces vibration and noise.
Stylemaster: A line of top-loading washing machines that were produced in the early 1990s. Featured several wash cycles including a Super Wash setting for heavy fabric items (e.g. sleeping bags, bedsheets) and overweight clothes.
Ultimate II: A line of top-loading heavy-duty washers that were produced in the mid-2000s. Came with Extra Rinse and Cycle Signal features, the latter of which produced a loud noise when the wash cycle is complete.
Cleaning Guide for Whirlpool Washing Machines
It's highly recommended that you clean your Whirlpool washing machine on a regular basis. Not only will that keep it in tip-top shape but it will also maximize its performance. How often should you do it? It depends on how frequently you do the laundry but generally speaking, you want to clean it at least once a week.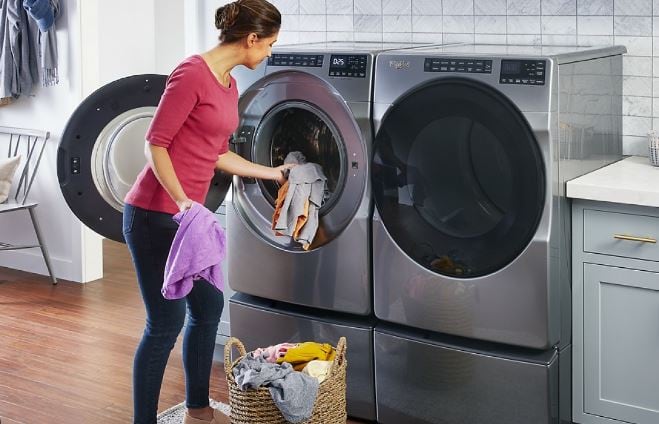 That'll prevent soap residue, minerals, and chemicals from building up, which if left unattended, can create a thin film that will trap bacteria. These germs, over time, can clog the machine's inner mechanisms, which can affect its efficiency. Mold and mildew can also be an issue. For example, they can transfer from the washing machine onto your clothes.
Given all that, it's important to keep up with your washing machine cleanings.
How to Clean Whirlpool Top Load Washers
Top-loading washing machines by Whirlpool have a door at the top, which means you can drop your laundry directly into the washer; there's no need to bend down to load your clothes. That's not all, you're also less likely to run into mold and mildew issues since they don't have an airtight door.
Compared to front loaders, however, top loaders use more energy and water (HE models being the only exception). They also have an agitator, which while effective at cleaning clothes by churning and rubbing them together, can also wear down the fabrics over time.
Cleaning a Whirlpool Top Loading Washing Machine with Bleach and White Vinegar
One easy way to clean your Whirlpool top-loading washer is by using bleach and distilled white vinegar. The former will kill off germs, including bacteria and mold, while the latter will neutralize any odors that are present.
Start by emptying the washing machine; there shouldn't be anything left in the basin. Choose the longest wash cycle and run it on the hottest setting. From there, add half a cup of liquid bleach to the detergent drawer. Once it's in, press the start button. You may need to run a second wash cycle to rinse out any remaining bleach.
Run another wash cycle with the hottest temperature setting. Wait for the washer to fill up with water before adding four cups of distilled white vinegar. If necessary, you can also add one cup of baking soda—it'll help combat smells and old detergent deposits.
Close the door and allow the washer to run for several minutes. The vinegar and baking soda will work together to get rid of any germs and grime that are inside.
Note: For deeper cleaning, you can open the door and let the hot water and white vinegar sit in the washer for an hour or so before continuing the cycle. In the meantime, you can give the outside of the washer a good wipe with a cloth and cleaner to remove any soap scum or limescale buildup.
Once the wash cycle is finished, wipe down the interior of the washer. Don't forget to clean the detergent dispenser (some can be removed, in which case you want to submerge it in soapy hot water), kobs, and electronic panels. If necessary, you can use an old toothbrush to clean the tight areas and corners of the door.
Best Option – ACTIVE Washing Machine Cleaner For Whirlpool Top Loaders
ACTIVE Washing Machine Cleaner tablets are the best option for those who are looking for a quick and effective way to clean their washers. Basically, they're foaming tablets that are specially designed to clean washing machines- including top loaders. They're also super easy to use.
First things first, you want to make sure that the interior of the washing machine is dry. Wipe the surfaces down with a clean cloth or towel if you have to.
Remove one tablet from the packaging and place it directly into the washer. Don't put it in the detergent drawer- that'll significantly reduce its efficacy. Once the cleaning tablet is in the basin, run a normal wash cycle with the hottest possible water setting. If your washing machine has a "clean washer" setting, you can also use that. Avoid using cold water as that will prevent the tablets from foaming up properly.
Close the washer door and allow the machine to run. Once the cycle is finished, give the inside a good wipe-down with a clean cloth or towel. The goal is to get rid of any leftover residue, whether it's soap scum or dirt.
Other Helpful Tips:
Don't forget to clean the washing machine filter every two to three months. If it's covered in lint, water may not be able to drain properly after the cycle
Always leave the door open after doing the laundry- that will allow the excess moisture to escape, which will help prevent mold, mildew, and bacteria issues
How to Clean Whirlpool Front Loader Washing Machines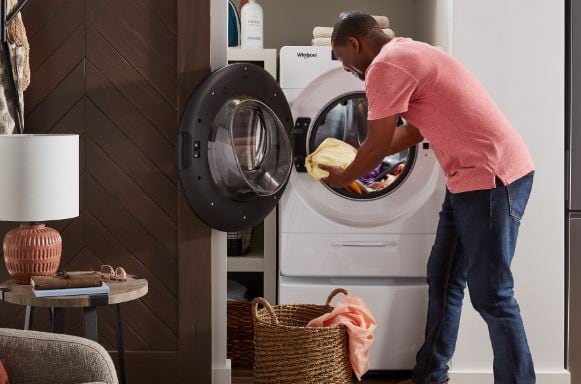 Front-loading washers, as their name implies, have a front door as opposed to a top door, which means you have to bend down to put your clothes in. They're also different from top loaders in that they don't have an agitator. Rather, they clean your clothes by moving them through water and detergent.
While pricier than their top-loading counterparts, many front-loading washing machines are also high-efficiency (HS), meaning that they use less water and energy compared to traditional washers. In other words, they'll save you money on your utility bills in the long run.
Bleach and Vinegar Cleaning Instructions for Whirlpool Front Loaders
Measure two cups of distilled white vinegar and pour it into the detergent dispenser. Run a wash cycle on the longest possible setting with hot water. If your washing machine has a "clean washer" cycle, you can also use that. The vinegar will help neutralize any smells and get rid of any mildew or mildew.
For deeper cleaning, you can also sprinkle one-third of a cup of baking soda in the drum.
Close the front door and allow the washing machine to run. When the cleaning cycle is finished, open the door and give the plastic seal a good wipe with a clean cloth or towel. Don't forget to clean the gasket as well; you don't want there to be any leftover moisture.
Using ACTIVE Washing Machine Cleaner For Your Whirlpool Front Loader
ACTIVE Washing Machine Cleaning tablets can be used with all front-loading washing machines- both standard and HE models. The process is simple; remove one foaming tablet from the pack and add it directly to the drum. Don't put it in the detergent dispenser as that will render it less effective.
If your washing machine has a "clean washer" cycle, use that. Otherwise, run a normal wash cycle with the hottest temperature setting.
Open the front door once the wash cycle is complete and wipe the inner surfaces with a clean cloth or towel. Don't forget to wipe the seal/gasket as water tends to accumulate in the area. To do that, gently pull back on the rubber seal. Be careful not to pull too hard as that can damage the part.
Other Helpful Tips:
If you have a high-efficiency (HE) washer, make sure to use a HE detergent.  Using the wrong type will create too many soap suds, which can damage the machine
Leave the front door ajar after the cleaning cycle to eliminate any leftover moisture
Take your clothes out as soon as the wash cycle is over; don't leave them in the front-loading washer as bacteria and mold thrives in moist environments
Best Washing Machine Cleaner for Whirlpool Washing Machines
ACTIVE Washing Machine Cleaner is the best choice for Whirlpool washers. Powered by enzymes, it has the ability to break down grime and residues- including those left by dirt and detergents. That way, the inside of your washing machine will always be clean and fresh.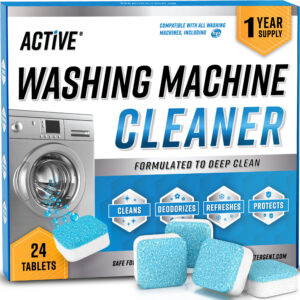 You won't have to deal with stubborn odors or smells, which is a common problem with dirty washing machines. Not only will your washer smell nicer but your clothes will come out cleaner as well.
What's more, is that your washing machine will also be more efficient in the long run. Why? Having clogged filters or dirty internal parts can cause them to stop working or break down completely. By using ACTIVE Washing Machine Cleaning Tablets, however, you won't have to worry about that problem. The tablets themselves are also septic-safe.
They're affordable as well. One pack comes with a year's supply, which is equivalent to 24 tablets (two tablets each month) so you get your money's worth. Considering all that it can do, why not give it a try and see for yourself?
Note: This promotional offer is only guaranteed through the end of the day.