General Electric Company (GE) is a high-tech industrial conglomerate that operates through three segments: Power, Renewable Energy, and Aerospace. Based in Boston, Massachusetts, the company was founded in 1892 after the Edison General Electric Company merged with the Thomson-Houston Electric Company.
While Edison was appointed to the board of directors, he ultimately sold all his shares and resigned from GE in 1894. Charles A. Coffin, a former shoemaker, subsequently took over as the president.
By the turn of the century, the company had begun to manufacture a variety of electrical alliances from light bulbs to locomotives. It wasn't until the early 1950s, however, that they began to assemble washing machines and dryers.
With that, they soon became the largest appliance manufacturer in the world, offering a wide range of GE washing machines, stoves, refrigerators, air conditioners, garbage disposals, dryers, and other products.
Fast forward to 2023, and GE has become one of the largest firms in the U.S. and is ranked among the Fortune 500. In 2022 alone, their revenue was more than $76 billion. They also have a number of subsidiaries including GE Power, GE Research, GE Digital, GE Additive, GE Capital, and GE Renewable Energy.
GE Washing Machine Models
Numerous GE washing machines have come out over the years. Here are some of the most popular models. Keep in mind, however, that different versions exist among the various models.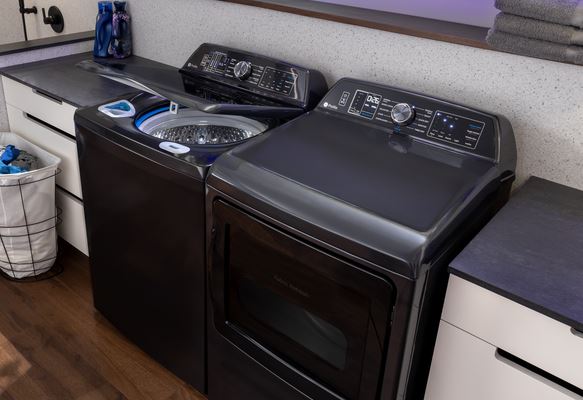 Profile: A line of smart top-loading washing machines that come with the UltraFresh Vent System, which detects and removes excess moisture. It also features Microban Antimicrobial technology and Adaptive SmartDispense, the latter of which always dispense the right amount of detergent. Comes with built-in WiFi connectivity and can be controlled and monitored remotely via the SmartHQ app.
Harmony: A high-efficiency (HE) top-loading washer that is capable of communicating electronically with the dryer. Originally released in 2003. Newer versions come with a Flow-Thru Dispensing System and a Stain Inspector system and feature full electronic controls with a touchscreen.
Space-Saving: A line of portable washing machines that feature a 2.8 to 3.3 cu ft capacity, depending on the model. Features eight wash cycles and four water temperature settings. Comes with caster wheels for easy transport and storage and an electronic one-touch LED control screen.
Spacemaker: A line of compact and portable washing machines that boast a large four-cubic-foot basin. Comes with 10 wash cycles, four water levels, and three wash temperatures. Also available as a single, stacked unit with a front-load dryer.
Why Should You Clean Your GE Washing Machine?
Washing machines require regular maintenance. To keep it in tip-top condition, it's recommended that you clean it at least once a month. Not only will that maximize its performance but it'll also prevent plumbing disasters such as drain clogs, busted hoses, and water leaks.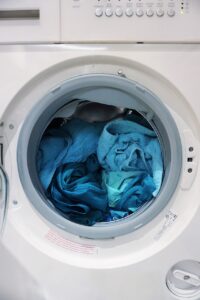 For example, grease and other residue can build up in that pipes and that can affect the water flow.
That's not all, a dirty washing machine can also put you and your family's health at risk. This isn't surprising seeing as how the majority of household washers contain viruses, bacteria, and other germs- even more so if it's been a while since the last cleaning. Given that, it's easy to see how they can contaminate your clothes, which can potentially result in illness.
Take staphylococcus aureus, for instance, it's commonly found in washing machines and can cause impetigo and other bacterial skin infections.
That's why it's so important to clean your GE washing machine, ideally once a month (or weekly/bi-weekly, depending on how often you use the machine).
How to Clean GE Top Load Washers
Top-loading GE washing machines work by submerging your clothes in water and detergent. They also have an agitator that twists back and forth to break down stains and loosen dirt and other residue. Items can also be added mid-cycle by opening the lid at the top.
High-efficiency (HE) top-load washers are also a thing and use an impeller to move clothes through detergent and water. While they're a bit more expensive, they allow you to clean with less water and energy.
Using Distilled White Vinegar and Baking Soda to Clean a GE Top Loader
Distilled white vinegar is a great option if you're looking for something that'll kill germs and neutralize odors. The best part is that most of us already have it at home so you don't have to go out of your way to get it.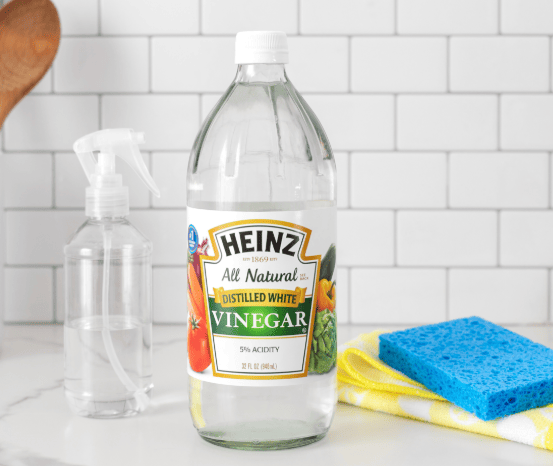 The first thing that you want to do is empty the washer. Choose the hottest temperature setting and run a hot water cycle. While the machine is running, open the lid and pour in four cups of white vinegar. Ideally, you want to do this as it's filling with water.
For deeper cleaning, you can also add some baking soda to the tub- one cup of the powder will do. Just pour it into the hot water.
Once everything is in, close the lid. Allow the washer to run for a few minutes; this will let the vinegar and baking soda work their magic. From there, you want to pause the machine. To do that, simply open the lid. You want to let the hot water and vinegar mixture sit in the washer for an hour or so.
In the meantime, you can wipe the outside of the washing machine with a clean cloth. You want to get rid of any soap scum or limescale deposits that are on the surface. Don't forget to clean the knobs and electronic panels (if any) as well. If necessary, you can use a soft-bristled brush (e.g. old toothbrush) to clean the corners and tight areas around the lid.
When the washing machine is finished running, wipe down the interior with a clean cloth.
Cleaning a GE Top Loading Washing Machine – Bleach Method
Empty your GE washing machine. Measure one cup of bleach and pour it into the dispenser compartment or drawer.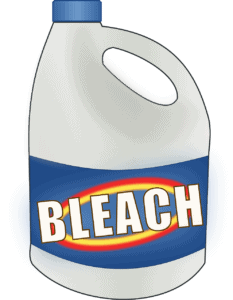 Next, set the water temperature to the hottest possible setting. That will make it easier to get rid of any grease or oils that have accumulated inside the washer.
Choose the longest possible cycle, or if your washer has a "Cleaning or Maintenance Cycle", you can select that. It will swirl the hot water and bleach around the basin and clean it thoroughly.
For deep cleaning, we recommend pausing the cycle for an hour after it's filled up with water- simply open the door or pull on the dial. You want to let the bleach sit in the washer so that it can soak in the drum; that'll help it get rid of any stubborn stain or residue.
After the cycle is finished, you can run an additional rinse cycle to get rid of any leftover bleach that's in the tub.
Best Washing Machine Cleaner for GE Top Load Washers – ACTIVE
ACTIVE Washing Machine Cleaner tablets are specially formulated to clean the inside of washing machines. Once exposed to water, they will foam up and dissolve any residue- whether it's soap scrum or dirt- that's left in the tub as well as other parts of the washer. The enzymes will also eliminate any unpleasant odors that are present.
Start by removing everything inside the washer. You also want to give the inside a wipe with a cloth or towel so that it's nice and dry.
Remove one tablet from the box and place it in the tub. Don't put it in the detergent compartment or drawer; it won't work properly. Once you've dropped the tablet into the washer, run a hot water cycle on the longest possible setting. If your washer has a "Maintain" or "Cleaning Cycle", you can also select that.
Tip: For the best results, always use hot water. While the tablet will dissolve in cold water, it will not be nearly as efficient.
Allow the washing machine to run. The foaming tablet will automatically work its magic and clean all surfaces of the tub. Once the cycle is finished, wipe the inside with a clean cloth or towel to get rid of any remaining residue.
How to Clean GE Front Loader Washing Machines
Front-load washers come with a door at the front and are generally considered superior at cleaning clothes. Compared to top loaders, their drums move faster and they use much less water. However, they do have a higher price tag.
In the long run, however, they'll likely save you money as they use much less energy; this is especially true for high-efficiency (HE) models.
Cleaning a GE Front Loader with Vinegar
Take everything out of the washing machine. Select the hottest water setting and add 3/4 to one cup of white vinegar to the bleach dispenser (alternatively, you can fill it to the max line).
Run a long wash cycle or a "cleaning" or "maintenance cycle", if your washer has that option. The vinegar will mix with the hot water and get rid of any mildew, mold, or odors that are inside the machine.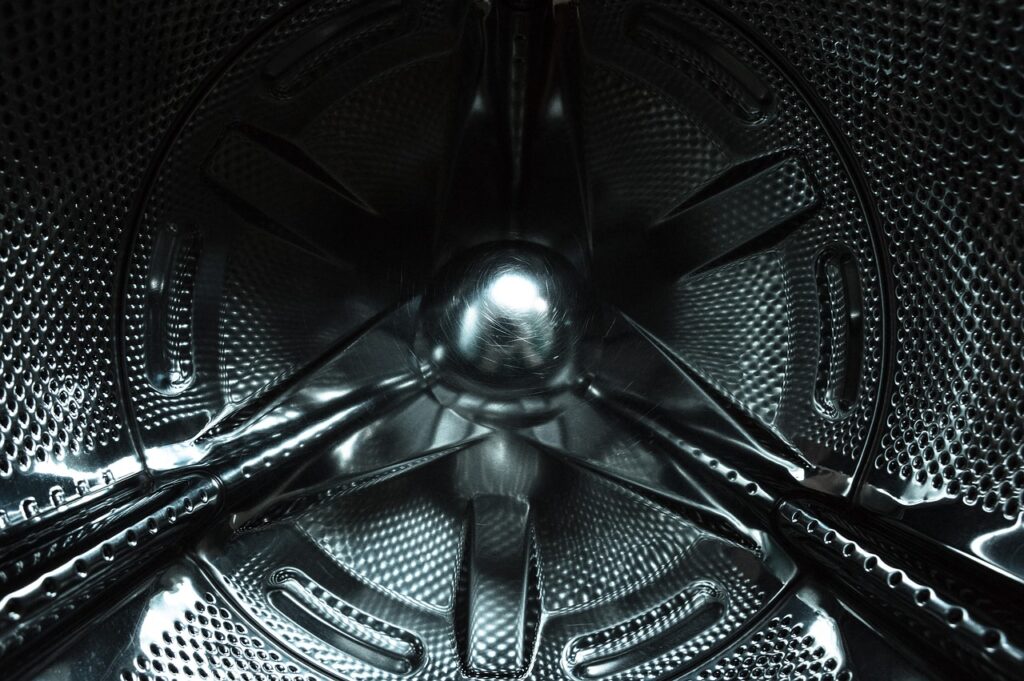 If it's been a while since you last cleaned the washer, you can also add some baking soda to the drum. Sprinkle one-third to one-half of a cup, close the front door, and let the washer run. When the cycle is finished, give the plastic seal around the door a good wipe as moisture tends to accumulate in that area. Don't forget to pull back on the gasket and wipe that area as well.
The fabric and bleach dispensers, depending on the washer, may also be removable. If that's the case, you can clean them by soaking them in warm, soapy water. Make sure they're completely dry before reinserting them.
Tip: You can run a second rinse cycle to get rid of any leftover vinegar.
Best Cleaner for GE Front Loading Washing Machines
ACTIVE Washing Machine Cleaning tablets are a great choice for GE front-loading washers. They can also be used for HE models.
Make sure nothing is left inside the washer and drop one cleaning tablet into the drum. Don't put it in the detergent or fabric softener compartment.
Run a "clean" or "maintenance cycle" if your washing machine has that option. If not, run a long wash cycle on the hot temperature setting. The heat will help maximize the tablets' efficiency so that they can get rid of any dirt, residue, and odors that are inside the machine.
While the machine is running, wipe the outer surfaces with a clean towel. Don't forget to clean the dials, buttons, and electronic panels as well. When the cycle is finished, remove any leftover residue from inside the washer with a cloth.
Make sure to clean the area behind the gasket as well as the rubber seal. Don't pull too hard on the part, though, as it can be quite delicate.
Best Washing Machine Cleaner for GE Washers
ACTIVE Washing Machine Cleaner is the number one choice for GE washing machines. Specially formulated for washers, including HE models, it will remove all grime and residue—including soap scum—from the inner surfaces. Not only that but the active enzymes will also eliminate odors, leaving the inside fresh and clean.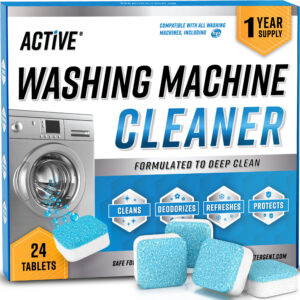 That way, your clothes will come out clean every time. You won't have to worry about transferring bacteria and other gunk onto your skin.
That's not all, the tablets will also prevent residue from building up on internal parts, which can very well cause the machine to stop working altogether. Did d we also mention that the product is septic-safe?
It's also super affordable. Every box comes with 24 tablets, which if you do the math, is equivalent to a year's supply. Given all that, why not give it a try?
Note: This promotional offer is only guaranteed through the end of the day.