Hollister is a retail brand that sells clothing for teens and young adults. In fact, they're considered to be one of the most popular brands among teenagers. Other goods that they sell include perfumes, candles, air fresheners, hats, scarves, belts, and more.
More About Hollister
Hollister was established in the summer of 2000; that was the year they opened their first store in Easton Town Centre in Ohio. By the mid-2000s, they had expanded into Canada with multiple stores in Toronto, Vancouver, and Edmonton.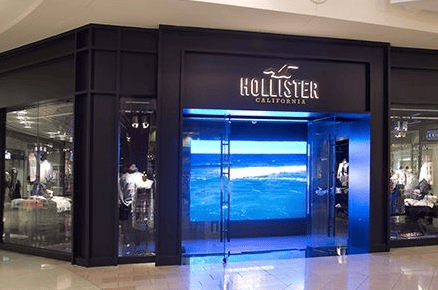 Since then, they've continued to expand to other countries including France, Germany, Italy, Hong Kong, South Korea, and Australia, to name a few. As for the United States, there are currently over 500 locations. Their headquarters, however, is located in New Albany, Ohio.
What Kind of Activewear Does Hollister They Sell?
Hollister offers a wide range of activewear for both girls and guys including leggings, sports bras, shorts, tanks, hoodies, and more. They also have their own line of swimwear, which includes bikini tops, bikini bottoms, one-piece swimsuits, and swim trunks.
Given their target audience, it's not surprising to know that their prices are fairly affordable. For example, you can get a pair of shorts for about $20 and a pair of leggings for $45. They also have a clearance section both on their site and inshore where you can snag various items for cheap. The only thing is that you do have to pay $7 for standard shipping.
Taking Care of Your Hollister Sportswear
Hollister might not be top of the line but their quality isn't that shabby either. Given proper care, your activewear should last you a while. What does "proper care" entail? Well, for one thing, you don't want to procrastinate when it comes to doing your laundry. This is especially true for workout clothes seeing as how they would have come into contact with sweat.
Don't have time to do the laundry right away after a gym session? At least air out the item. Whatever you do, you don't want to let your clothes "marinate" in the moisture that is your sweat.
Hollister Activewear Fabrics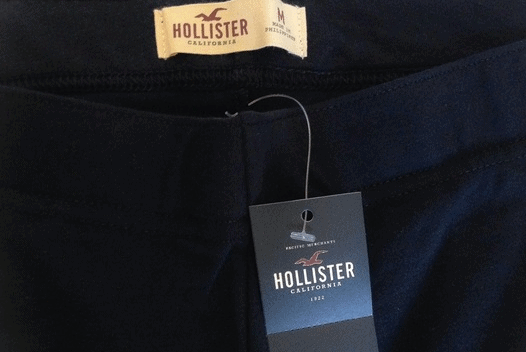 It's also important to wash your Hollister activewear properly—and to do that, you have to know what kind of fabrics you're dealing with. Here are a few that they use for their clothes.
Polyester
Polyester is a material that's derived from petroleum. Man-made, it's known for its strength and durability, two things that make it ideal for clothing, especially sportswear. It also has moisture-wicking abilities, which means that you'll stay dry even if you sweat during your workout.
Hollister uses polyester for their leggings, swimsuits, hoodies, sweatshirts, sports bras, and more.
Elastane
Elastane is the same thing as spandex—the names refer to the same chemical structure. Synthetic in nature, it's often used for clothes due to its extraordinary stretch. Not only that, but it's strong, even more so than rubber. Unlike polyester and other manmade fibers, however, it's almost never used by itself when it comes to apparel.
Hollister uses elastane for their leggings, swimsuits, hoodies, crop tops, sports bras, and more.
Viscose
Viscose is a type of rayon, which is a regenerated cellulose fiber. In other words, it's semi-synthetic. As far as characteristics go, it's soft, smooth, breathable, absorbent, lightweight, and inexpensive. However, it can also shrink when being washed.
Hollister uses viscose for their hoodies, sweatshirts, crop tops, and more.
Polyurethane
Polyurethane is a composite material that's made from several layers of polymer resins. Lightweight and watertight, it's often used for waterproof clothing. In some cases, it's also used as a foam for different types of padding.
Hollister uses polyurethane for their sports bras, swimsuits, and crop tanks.
Washing Instructions for Hollister Leggings
Their leggings are made of polyester and elastane, which means that they can be put in the washer. In addition to that, they can be washed by hand. We'll be outlining the two methods below.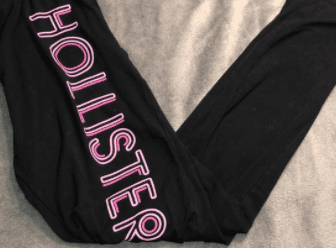 Option No. 1 – Using the Washing Machine For Hollister Leggings
Make sure that the hidden waist pocket is empty before turning the leggings inside out. Once they've been flipped, place them in a mesh garment bag. While it's not mandatory, it's highly recommended as it'll prevent the polyester material from being snagged or damaged by other items. A pillow-case is a good alternative if you don't have a garment bag.
Carefully place the bag inside the washing machine (make sure that it's sealed properly before you do so). If you're washing a mixed laundry load, add the rest of your clothes. After everything is in, add one scoop of ACTIVE detergent. You can adjust the amount based on the number of items but try not to use too much, or else, one rinse cycle won't be enough. Fabric softener and chlorine bleach should be avoided.
Friendly Reminder: Never mix black or dark-colored leggings with light-colored clothes such as tees, bras, or undies; the black dye can and will transfer onto the fabric.
Select a gentle cycle using the dials on the washer. For leggings and other activewear, you always want to use cold water as it's not as damaging on the fabric. Press start and allow the machine to work its magic. Once it's come to a stop, retrieve your leggings form the garment bag. Allow them to air dry ideally on a drying rack or clothesline. Do not expose them to direct heat—and that includes p putting them in the dryer.
Option No. 2 – Washing Hollister Leggings Manually By Hand
The first step is the same as machine washing—that is, you want to empty the hidden waist pocket. Once you've done that, flip the whole thing inside out. With that done, you want to prep the sink (or basin or container) by filling it with tepid water. Plain water won't be enough, however, so you'll want to mix in a scoop of ACTIVE detergent. You should end up with soapy water after a few swishes with your hand.
Place the leggings in the sink so that they're under the detergent mixture. You may have press them down with your hands to completely saturate the fabric. From there, you want to leave the pants in so that they can soak. About 15-20 minutes should do.
Massage the leggings gently with your hands after soaking—it'll help remove any leftover oils or debris. The next step then is to rinse the garment with water so drain the sink and re-fill it with fresh water from the faucet. Given the absorbency of the polyester fabric, you will have to press out the excess detergent with your hands. Ultimately, the key is to rinse the item until the water turns clear; that means that there's no more soap suds.
Blot your leggings briefly with a clean towel before letting them air-dry indoors in a well-ventilated room. Never should you tumble dry.
Note: You can wash Hollister crop tops, tanks, and tees similarly. In fact, you can even wash them together if they're of similar colors!
How to Wash Hollister Sports Bras Without Ruining Them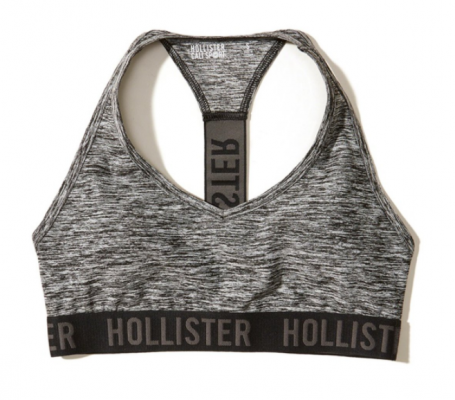 Sports bras are more "delicate" than leggings and other types of activewear. With that said, you can wash them in a similar fashion—here's how.
Option No. 1 – Placing Your Hollister Sports Bra in the Washing Machine
Hollister sports bras do not have removable pads so you don't have to worry about taking them out before washing. If anything, all you need to do is place it in a mesh lingerie bag—it'll protect your bra from the rest of your laundry. Speaking of which, there are certain items that you want to avoid putting in the same load as your bras such as denim jackets and clothes with hardware such as zippers. Besides that, however, you can pretty much wash your sports bras with anything as long as you've sorted them based on color.
Once everything has been loaded into the washing machine, add your soap. We recommend one scoop of ACTIVE detergent for Hollister sports bras. Given their moisture-wicking abilities, you do not want to use conditioners or softeners.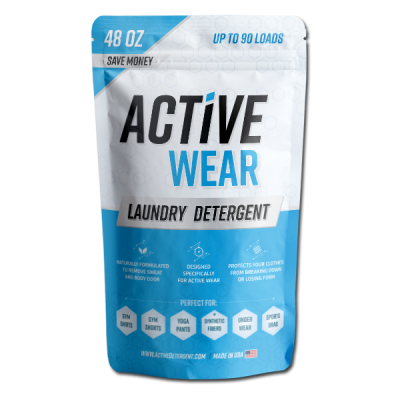 The next step is to choose the right washing settings. That is, you want to set the dial to a gentle cycle. This is super important—washing your sports bras on a regular cycle can easily damage the fibers. Also, you want to use cold water instead of hot water; it'll be less harsh on the item.
When the cycle is complete, you can hang your sports bras up so that they can dry. Like their leggings, you want to avoid putting them in the dryer.
Option No. 2 – Hand Washing Your Hollister Sports Bra
With their sports bras, you can hand wash them in a sink, basin, or container. Start by adding water and half a scoop of ACTIVE detergent—that'll give you a soapy solution to work with. Once it's obvious that the powder has dissolved, place the sports bra in so that it's under water. Feel free to give the fabric a few rubs with your hands before letting it soak for 15-20 minutes.
The next step is to drain the sink and refill it with water; that will allow you to rinse away the detergent that's been absorbed by the item. Continue to rinse, pressing down on the straps and pads to remove the soap suds. You'll know when it's once there are no more bubbles and the water runs clear.
The final step is to air dry the sports bras, indoors, away from direct sunlight. Like we mentioned above, never dry it with the dryer—that's too much heat for the bras.
Note: This promotional offer is only guaranteed through the end of the day.