Want to build strength and keep fit? Consider rock climbing. It's a full-body workout that puts an individual's endurance, balance, and agility to test. What's more, is that it can be done both indoors and outdoors—you just need to know where to go! Regardless of where you go, however, you'll get the same benefits.
That's right, rock climbing can help you lead a healthier life. How? By strengthening your heart. That's not too surprising when you think about it—after all, it's a physically demanding sport. Not only that, but it will also increase your flexibility, tone your muscles, and reduce stress. On top of all that, studies have shown that climbing can actually boost your brain function as well!
How Many Rock Climbers Do You Know?
Rock climbing has gotten more and more popular over the years. In fact, we all probably know someone who's into the sport! Do you have a friend who tends to climb on weekends? Or maybe your co-worker told you that he wants to get into it?
Believe it or not but that's actually valuable information—it makes present-giving so much easier! Instead of not knowing what to get them for say, Christmas, you can just buy them something that they can use for climbing. Who doesn't like practical gifts, right?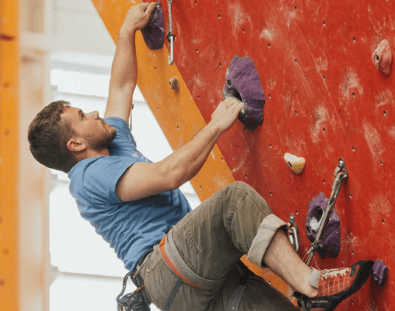 But wait, what would make a good gift for a rock climber? Coming up blank? Don't worry, that's why we're here. You see, we've compiled a list of items that would make great gifts for those who are into climbing. Curious to know what they are? Well then, what are you waiting for? Keep reading to find out!
7 Best Gift Ideas for Rock Climbers in 2023 – Top Recommendations
How about surprising your climbing friend with one of these products? I'm sure there's at least one thing here that they would like!
1. Hydroflask Water Bottle
Staying hydrated is a must when you're climbing. In other words, you'll want to take a water bottle with you when you're heading to the mountains or gym. Sure, you can always buy something along the way but why do that when you can just bring your own? Not only will it be cheaper, but it'll reduce your plastic footprint on the planet.
As far as water bottles go, the Hydro Flask is a great choice. Made from premium grade stainless steel, it comes with a double wall that provides excellent insulation—that is, it keeps hot drinks hot for up to 6 hours and cold drinks cold for up to 24 hours. On top of that, it fits most backcountry water filters! In other words, you can enjoy clearer, fresher water. Lightweight yet durable, it's the perfect bottle to take with you when you're climbing!
Plus, there are several colors (e.g. red, blue, black, brown, pink, yellow, etc) that you can choose from. As if that wasn't great enough, it also comes with a lifetime warranty! Put it simply, your friend will be able to get it replaced or fixed if anything happens to it.
Price: $39.95
2. Voltaic Systems Portable Solar Charger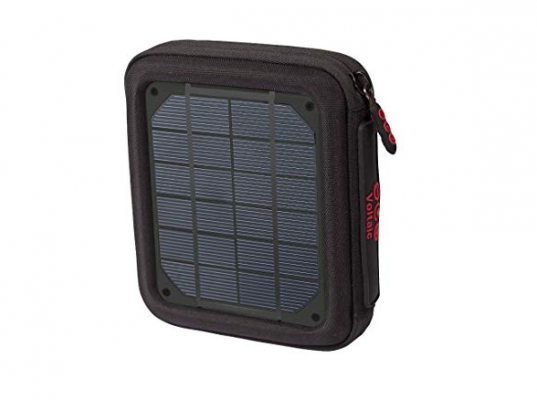 You can never go wrong with a little bit of extra power when you're going on an outdoor adventure. Trust me, it can make a big difference when you're out in the mountains by yourself! Think about it—how would you be able to call for help if something happens and your smartphone is dead? Given that, a battery pack is probably a good idea.
Is your friend someone who likes to climb outdoors? If so, you might want to consider getting them this portable solar charger—that way, you won't have to worry about them should anything happen! Not only is it waterproof, but it's UV-resistant as well. All you need to do is expose it to direct sunlight for 3.5 hours and it'll have enough power to charge a smartphone (and more). Light and compact, it'd fit easily into any backpack. Did I also mention that it comes with a zippered case?
Price: $59.00
3.
Sublime Climbing Boar's Hair Brush
Nothing's more important than holds when it comes to climbing. After all, that's what you'll be using to propel yourself upwards! As it is, however, they can get quite dirty over time, which can affect your performance. Remember, you're not the only one who uses them—chances are, they will be full of dirt, grease, and other grime. Given that, you might want to give them a quick clean before you start climbing.
Trust me, your friend will know what big of a difference it will make! So, why not get them these climbing brushes? Made from premium boar hair, they are stronger, longer, and lighter than others on the market. Not only do the brushes come with an ergonomic handle, which fits perfectly in a climber's hand, but they also come with a secret compartment—you can use it to store anything you want! For those who are curious, each brush consists of more than 14,000 bristles.
As an added bonus, the product is made from recycled plastic. Similarly, the packaging itself is 100% recyclable. If anything, it's the perfect gift for eco-conscious climbers!
Price: $24.99 for a pack of two
4. Active Roots Quick-drying Microfiber Towel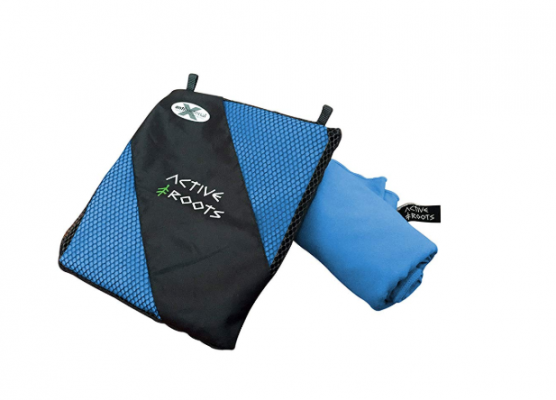 A towel can come in handy when you're rock climbing—you never know when you might need it! For instance, you might want something to wipe your sweat with on a hot summer's day. Similarly, you can use it to clean your hands. After all, holds aren't exactly the cleanest things out there.
So, why not give your friend one of these microfiber towels? Super compact, it weighs only a few ounces! In other words, they'll be able to take it with them wherever they go—it won't add much weight to their bag at all. On top of that, it even comes with its own mesh carry case. Not only is it absorbent, but it's quick drying. Assuming that it's wet, you just have to air it out a bit for it to dry. When they're not climbing, they can use it for other things too. For example, it's great for the pool or beach. There are two colors to choose from—grey and blue. Likewise, you can choose between medium or x-large for size. 
Designed in partnership with Will Hatton, veteran traveller, the product also helps to save the elephants. For every purchase, a portion will be donated to The Elephant Sanctuary in Laos. Make sure to tell your friend that if that's something that they're interested in!
Price: $12.95 to $19.95
5. Bright Outdoors Solar Light
Staying outdoors after the sun goes down is a big possibility if you're a climber. As you can imagine, your surroundings can get dark quickly—especially if you're climbing during the winter! Considering that, it's probably best to bring some sort of light with you if you plan on going outdoors. If anything, it's important from a safety perspective! You never know what kind of hazards might be around you, after all.
Worried about your friend that goes climbing at night? Why not give them this solar lantern? That way, they won't have to rely on flashlights and whatnot (most don't generate a lot of light anyway). Featuring an 800 mAh battery, it's capable of providing torchlight for up to 10 hours. Not only is it USB powered, but it runs on solar energy as well. In other words, you can charge it simply by putting it under direct sunlight. There's no need for batteries whatsoever!
Its size is compact too. After all, it's foldable (to around 2" high). You can easily fit it into your backpack—even your pocket! Water-resistant, you won't have to worry too much if its raining either. If your friend isn't satisfied with it, they can always give it back to you so that you can get a refund too!
Price: ~$19.95
6. Petzl Headlamp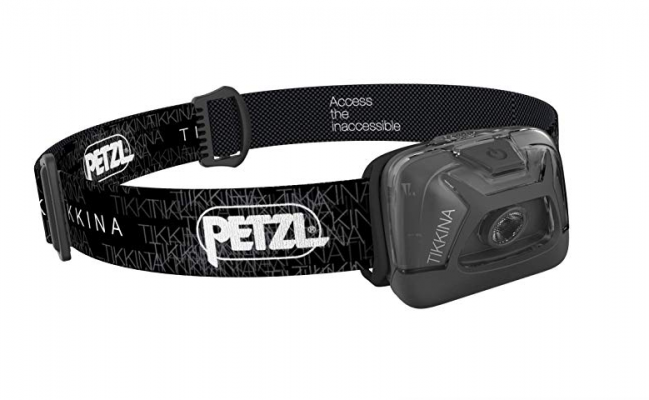 Speaking of light, a headlamp is a good idea for those who like to climb at night. If anything, it's a whole new experience. It allows you to navigate in the darkness in a hands-free manner! Trust me, it's super important when you're climbing with your hands. How would you be able to see and reach the various holds if it's pitch black? Besides climbing, it can also be used for running, camping, trekking, and other sports.
Did your friend mention something about climbing at night? If so, this product—the Petzl Headlamp, might be a good choice. Easy to use, it comes with a single on/off button that allows you to choose from various lighting modes (e.g. wide beam, close-range beam, etc). What's more, is that it has a beam distance of ~400, which is quite significant. At the very longest, it can last 220 hours. All you need to do is put in the three batteries and power it on. If you want, there's also a rechargeable battery that you can get (sold separately).
There are four color choices to choose from—black, red, purple, and blue. Regardless of the style, they are all 2" high and 6" wide.
Price: ~$22.95
7. Active Detergent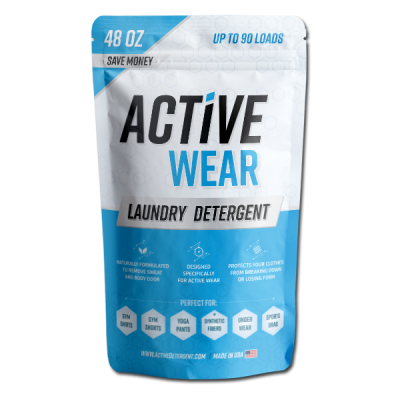 Rock climbing is physically demanding. At the end of the day, you will be covered in sweat—as will your clothes. Ideally, you want to wash them as soon as possible once you return home. Leave them in a pile somewhere and they can easily stink up a room! Not just that, but it's bad hygiene. The last thing that you want is to spread bacteria around the house!
Assuming that you're wearing activewear (which you really should, if you're rock climbing), you'll want to use a detergent that's specifically made for those kinds of fabric (e.g. polyester, nylon, spandex, etc). Sure, you can use other detergents, but they probably won't do as good of a job at getting rid of the sweat, oils, and dirt.
Want to help your friend with that? Give them a package of Active Detergent. What is it? It's a special product that's designed for activewear fabrics. Unlike other detergents, it dives deep down into the fibers to dissolve bacteria, sweat, and other gunk. You don't need to use a lot either—simply follow the directions on the packaging and your clothes will be clean and fresh! 
Price: $24.00 ($19.99 when on sale)
Note: This promotional offer is only guaranteed through the end of the day.