Varley is a London-based athleisure brand that places an emphasis on style, comfort, durability, and performance. Aside from clothing, they also sell accessories such as caps and beanies.
About the Company
Varley was founded by the husband and wife team, Ben and Lara Mead in 2014. Inspired by a vacation trip, they decided to create their own brand after noticing a lack of options in the female activewear department. As of 2021, they're headquartered between LA and London.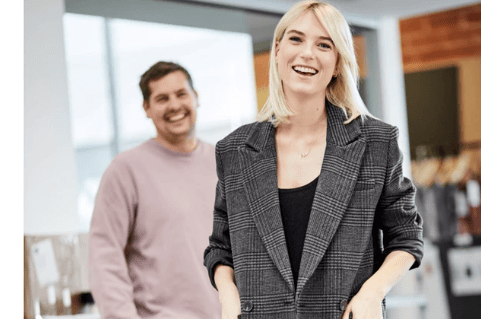 Fast forward to today and they're vastly popular with more than 1,000 stores worldwide. Some of their partners include Nordstrom, Simons, Selfridges & Co, Holt Renfrew, and Saks Fifth Avenue.
More About Their Activewear Collection
Varley offers a wide variety of activewear including sports bras, tank tops, sweatshirts, jackets, leggings, and more. Some of their best sellers include their high-rise leggings, half-zip pullovers, and sweatshirts.
Price-wise, you can expect to spend between $50 to $150 per item. Take their Oscar Tank, for example, it goes for $58 plus tax. The good news is that you won't have to pay for shipping—it's free for all US orders and there's no minimum required. Returns and exchanges are also free through their online portal so there's no harm in changing your mind afterward.
Taking Care of Varley Activewear
Varley is known for the quality and performance of their products. For one thing, most of the fabrics that they use are very durable. Like all workout clothes (or clothes in general), however, they can and will wear out over time. The good news is that you can slow it down by taking proper care of your items. This means washing them after each wear; you don't want to leave them in a pile in your room or in the trunk of your car.
And be sure to wash them properly, according to the care tag label. For example, hot water is usually a bad idea when it comes to washing sports bras.
Need more help? Looking for a guide on how to wash Varley
activewear? Then you've come to the right place. We'll be going over how to wash their products in detail below so be sure to read the rest of the post!
What Materials Do They Use?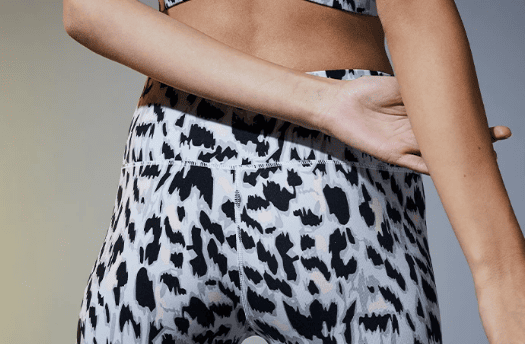 Most, if not all of their workout clothes are made of synthetic fabrics, which makes sense, given their durability compared to natural fibers. Anyway, here's what you need to know about these fabrics:
Nylon
Nylon is a manmade fiber that's known for its strength and elasticity. It's also incredibly durable. For one thing, it's abrasion-resistant, water-resistant, and chemical-resistant. It's also easy to dye, which makes it suitable for a variety of clothes. The only drawback is that it tends to get damaged if exposed to high temperatures.
Recycled Polyester
Recycled polyester is a synthetic fiber that's made from recycled water bottles. Not only is it strong, but it's also flexible, lightweight, and resistant to shrinking. Plus, it has great moisture-wicking abilities, which makes it an excellent choice for sportswear. However, it is prone to static and pilling.
Spandex
Spandex is a fully synthetic fiber that can stretch many times its original length. In fact, it's even stronger than rubber. At the same time, it's soft and comfortable to wear. Not to mention that it's resistant to perspiration. Unlike polyester and other materials, however, it must be mixed with other fibers such as polyester or cotton.
Varley Leggings: How Should You Wash Them?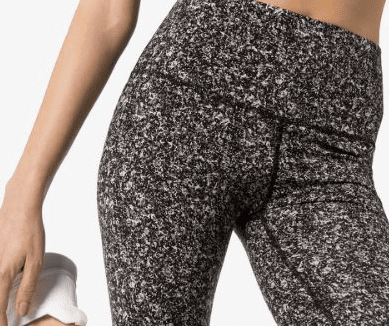 The easiest way to wash their leggings is to throw them in the washer. Or if you want to be gentler, you can wash them by hand; it'll take a little more effort but the fabric won't wear out nearly as fast. Both methods will be explained in detail below.
Using the Washing Machine
Flip the leggings inside out before putting them in the washing machine—that'll prevent the outer layer from pilling and fading. It's also highly recommended that you use a laundry bag. That way, they won't rub against your other garments.
Make sure that the bag is zipped up and toss it in the washer. Do the same for the rest of your clothes. For example, you can wash the leggings with other activewear such as tank tops and shorts. Avoid washing them with things like denim as the coarse fabric can damage the items.
The next step is to add the laundry detergent. Measure one scoop of ACTIVE detergent and pour the powder into the dispenser (or directly to the drum). Avoid using fabric softener—it'll coat the fabric with silicone, which will inhibit its moisture-wicking abilities.
Tip: White vinegar is a great alternative to fabric softener. Simply add 1/2 a cup into the washing machine during the final rinse. Not only will it soften your pants, but it'll also keep your washer smelling fresh and clean!
Once everything is in the machine, choose your settings. For leggings and sportswear in general, it's best to run a quick wash on a delicate setting—that'll prevent wear and tear during the cycle. And always use cold water; hot water can compromise the integrity of the fabric.
Wait for the cycle to finish before taking out your leggings and hanging them up to dry. For example, you can put them up on a clothesline or a drying rack. You can also lay them flat to dry on a clean towel. Never use the dryer; the heat will break down the fabric.
Hand Washing Your Varley Leggings
Prepare a bath; you can use a sink or a container as long as there's enough space for your leggings. Fill it 3/4 full with cool water and mix in the detergent—half a scoop of ACTIVE detergent will suffice. You may have to swish the water a few times to help dissolve the powder.
Flip your leggings inside out and immerse them in the sink; you want them to be completely saturated with the soapy solution. Swirl them around with your hands if you have to. The next step is to soak the pants. Set a timer for 15 to 20 minutes—that'll allow the detergent to work into the fibers to get rid of any dirt and oils.
Remove the dirty water and refill the sink/container with clean water. Rinse the leggings thoroughly by massaging the fabric with your hands. Continue until all of the detergent has been washed away. If you want, you can also run them under the faucet—the water should eventually run clear once there's no more soap.
Press the leggings against the edge of the sink/container to get rid of the excess water. You can also squeeze the fabric gently with your hands. Avoid twisting it like a towel as that can stretch out the material.
Once the excess water is out, hang them up to dry, ideally on a laundry rack or clothesline. You can also lay them on a flat surface such as a clean towel. Avoid direct sunlight as it can cause the colors to fade and never tumble dry.
Varley Sports Bras: Are They Machine Washable?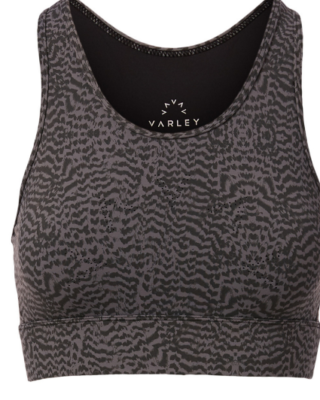 The answer is yes—all of their sports bras can safely be put in the washing machine or if you want, you can hand wash them with other workout clothes.
Using the Washing Machine
There are two things that you always want to do when you're machine washing sports bras. First off, you want to turn it inside out—that'll keep it from rubbing against other garments. You also want to use a lingerie bag; it'll act as a physical barrier and protect your bra from being damaged during the wash cycle.
Put the sports bra in the washing machine with other similarly colored items. For example, you can wash white bras with white tanks or shirts. Never mix lights with darks as that can cause the dyes to bleed.
Next, add one scoop of ACTIVE detergent. Be careful not to use too much, otherwise, it can actually trap the dirt and sweat in the fabrics. And as always, you want to skip the conditioners.
Choose cold water and run a gentle wash cycle. Don't use hot water—it can degrade and stretch out the fabric.
Once it's done washing, lay it flat to dry on a clean, dry towel. You can also put it up on a hanger or drying rack. Just don't hang the bra up by the straps as that can cause them to stretch out. And like most activewear, it's best to avoid using the dryer.
Hand Washing Varley Sports Bras
Fill a clean sink (or container) with cool water. Measure and pour in 1/2 a scoop of ACTIVE detergent. Swish the water with your hands until the powder is thoroughly dissolved.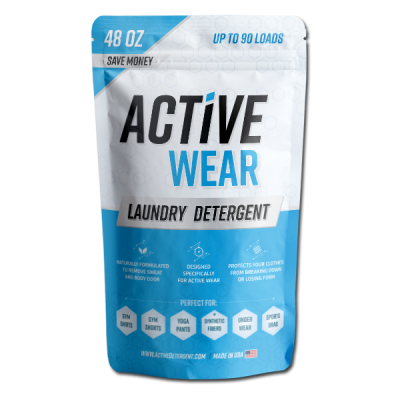 Flip the bra inside out and submerge it in the sink—you want it to be completely saturated with the soapy solution. Gently massage the fabric with your hands to loosen any dirt and let it soak for 15 minutes. Drain the sink. Refill it with clean water and use it to rinse off the detergent. You can also hold it under the tap for a couple of minutes. Do this until the water runs clear and there are no more signs of soap.
Place the sports bra between two clean towels and press down to remove any moisture. Allow it to air dry afterward on a clean towel or on a clothesline.
Note: This promotional offer is only guaranteed through the end of the day.