Reef is a footwear company that specializes in casual sandals. Surf-inspired, their products are especially popular among surfers and beachgoers. It's worth mentioning, however, that they also sell apparel for men. More specifically, they offer t-shirts, hats, shorts, and more.
About REEF
REEF was founded by two brothers, Santiago and Fernando Aguerre in 1984. Avid surfers, they made it their mission to create high-quality sandals—ones that could keep up with their active lifestyle. Eventually, they succeeded. Nowadays, they're worn by countless individuals around the world.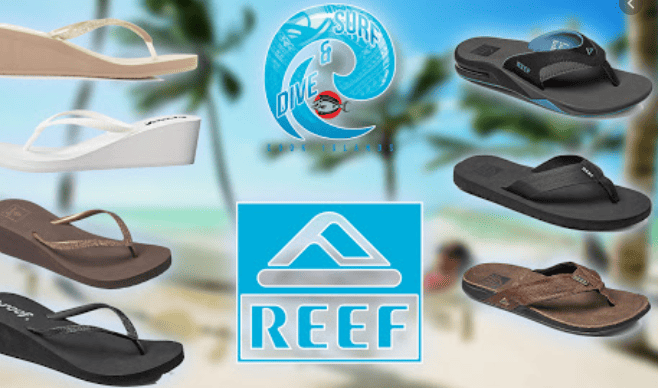 Many years later, they were acquired by VF Corporation, a global leader in lifestyle apparel and footwear. Since then, they've changed hands a second time. In 2011, the brand was sold to The Rockport Group. Besides their official site, you can find their products at many retailers including Macy's, DSW, Walmart, and more. There's also a decent selection on Amazon for those who like to take advantage of their two-day shipping.
Another thing that's worth mentioning is their pledge. That is, they're dedicated to reducing plastic pollution through bleach clean-ups. According to their website, they've cleaned nearly 1,000 beaches and removed more than 300,000 pounds of trash over the past several years! On top of that, they've partnered up with Urban Surf 4 Kids, a non-profit organization that introduces at-risk children to the positive benefits of the beach and ocean.
More About REEF Products
REEF specializes in sandals. Given that, it's not surprising that they sell a variety of styles. To give you a better idea, they sell leather sandals, water-friendly sandals, and slide-sandals. They even have a line of sandals that come with a bottle opener on the bottom. That's right, you can open your drinks with it! How cool is that? If anything, they're probably the only brand that offers something like that. 
Price-wise, their shoes are quite affordable. Depending on the style, you're looking at anywhere between $50 to $110ish. It's worth mentioning, that they also have frequent sales. On top of all that, they offer free shipping and free returns so there's really nothing to lose.
Taking Care of REEF Sandals
REEF shoes pride themselves on the quality of their products. That is, each and every shoe that they make is crafted from the best of materials. In other words, you won't have to worry about them wearing them after just a few wears. Keep in mind, however, that that's not the same as being invincible.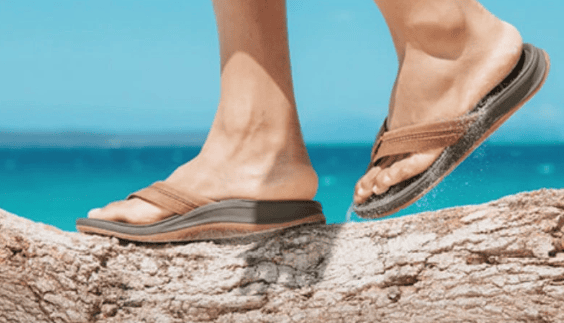 Over time, the sandals will eventually wear out, especially if you go to the beach often. On top of that, they'll get dirty. Mud, dirt, etc, will find its way onto the soles, sides, and straps. Fortunately, you can wash them off. If anything, that's what you want to do, otherwise, they might wear out prematurely! After all, dirt and mud aren't exactly what you want your sandals to be covered with.
Not sure how to wash and clean your REEF sandals? Don't worry, that's what we're here to talk about. Keep reading to learn more!

What Type of Material Do They Use For REEF Sandals?
REEF mostly uses EVA foam for their sandals. If anything, most if not all of their shoes feature an EVA midsole. For more information, read the blurb below.
EVA Foam
Many of their sandals feature an EVA midsole. For those who don't know, it's a type of foam that's often used for crafts, flip-flops, exercise mats, and more. Unlike rubber, it's made by expanding plastic and trapping air in different densities. Soft and elastic, it's very comfortable to walk with, which makes it a popular choice for sandals and other types of shoes.
Other Things About Their Sandals/Shoes
One thing that sets REEF apart from other brands is that they make an effort to minimize their impact on the environment. For one thing, many of their shoes feature Eco-One technology. Put it simply, it's an organic additive that enhances the biodegradation process. In other words, the shoes will degrade quickly once they're disposed of in a landfill. On top of that, most of their sandals are crafted without PVC, which makes them better for the Earth. 
How to Wash REEF Casual Sandals
There's more than one way that you can wash your REEF sandals. Let's take a look at the different methods below.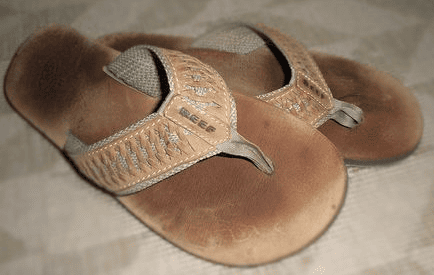 Can You Put REEF Sandals in the Washing Machine? 
While they don't recommend that you put them in the washer, you can—given that you do it carefully. First things first, you want to remove all of the dirt and mud that's stuck on the soles. One of the easiest ways to do that is to clap them together lightly. Alternatively, you can use a soft bristle brush. Use it to brush the sole until it's free from debris.
The next step is to place the sandals inside a mesh laundry bag. This is very important—it'll prevent them from being thrown around during the wash cycle, which can end up damaging your shoes. If you don't have a laundry bag that's big enough, you can improvise with a pillowcase.
Note: As with most shoes, it's highly recommended that you wash them separately from your clothing. With that said, you can place a few towels in. In fact, that's probably a good idea as you'll need something to balance the load with.
Place the sandals inside the washing machine. Turn your attention to the settings—you want to use the gentlest cycle with cold water. Do not use hot water; the heat can harm the materials and cause the adhesives to break down. Add a scoop of ACTIVE detergent into the washer and run the machine. Make sure not to use bleach or other chemicals as they can harm the sandals.
Wait for the washing machine to finish the cycle before removing the sandals. Avoid leaving them in for long periods of time as mold and mildew can grow, which can result in a pungent odor. If that happens, you'll have no choice but to wash them again.
Once you've taken them out, leave them in a well-ventilated room so that they can air dry. Do not put them in the dryer or under direct sunlight as it can damage the adhesives.
Washing Your REEF Sandals By Hand 
It's also possible to wash their sandals by hand. As with machine washing, you want to start by removing any excess dirt with a soft-bristled brush (you can also clap them together). From there, mix a scoop of ACTIVE detergent with warm water in a container. Agitate it lightly with your hand until there are soap suds.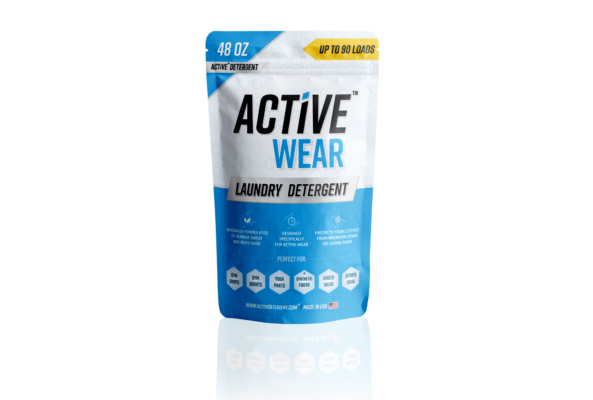 Dampen a soft sponge with the soapy mixture and use it to clean the affected areas. Pay extra attention to the heel area as dirt tends to accumulate there. When you're finished, rinse the sponge with warm water and use it to remove the detergent from the sandals.
The final step is to let them air dry at room temperature.
Alternatively:
You may wish to soak your sandals first if they're excessively dirty. That is, combine the detergent with water in the sink (you can also use a tub) and place the shoes in. Gently press down on them so that all of the sandals is submerged in the soapy mixture. Let it soak for a least 20 minutes.
Afterward, rinse the sandal clean with water. Continue rinsing until there are no more visible signs of soap. Place them in a shaded area and allow them to air dry.
*Note: You can wash their casual slip-ons the same way as well.
How to Wash Leather REEF Sandals
Most of their shoes are made from synthetic materials, however, they do have some that are made from leather. For those, you'll want to wash them differently.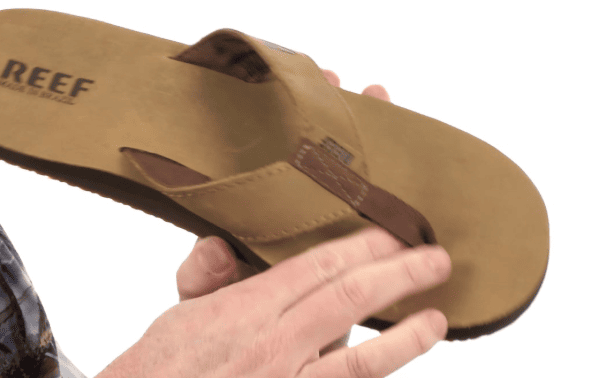 For one thing, you should never put them in the washing machine. The leather is delicate and can easily be damaged by the heat. Instead, you want to wash them by hand. While you can use ACTIVE detergent, it's probably best to use a leather conditioner and cleaner. Follow the product's instructions and use it to clean the leather surfaces.
Generally speaking, you want to avoid saturating leather with water as it can cause damage to the sandals.
Deodorizing Your REEF Sandals/Shoes
Let's face it—your REEF sandals are probably going to get stinky after a while. After all, it's not like you wear socks with them! Don't worry, though. There are a few easy ways that you can deodorize them.
Eliminating Odor With Baking Soda 
Baking soda is super versatile. You can use it to bake and you can also use it to deodorize your sandals. It's very easy as well. Simply sprinkle the powder onto the material and leave it on overnight. The next morning, dump the powder. Rinse it with water if you have to. You'll be surprised at the difference!
Eliminating Odor With Vinegar
Vinegar, or more specifically white vinegar, is also great for odors. Avoid the urge to pour it onto your sandal, though. Instead, dampen a sponge or cloth with the vinegar and use it to wipe the sandal. That's pretty much it. You don't even have to rinse it! The vinegar scent will be gone as soon as they're dry.
Put Them in the Freezer
Believe it or not but you can also deodorize your sandals by putting them in the freezer. Obviously, it's not ideal but it does work. Simply place them in a plastic bag and put them in. Remove them the next day and the odor will be gone. The cold temperature would have killed off all the bacteria that's causing the smell.
Note: This promotional offer is only guaranteed through the end of the day.