Leggings have become super popular in the past few years. Why? They're practical, especially if you plan on working out. For one thing, they're incredibly comfy—it definitely beats wearing a pair of jeans! Second of all, they allow for a range of movement. In other words, you'll be able to bend and move to your heart's content, something that is harder to do with other types of pants.
Different Types of Leggings
The truth is, leggings is a big umbrella term. There are various types, all of which have different features. For instance, there are ankle-length leggings, knee-length leggings, stirrup leggings, leather leggings, and mid-half leggings. There are also jeggings—a type of legging that is made to resemble denim material (complete with fake pockets).
Where to Buy Leggings
Given how popular these types of pants are, it's not surprising to know that they're available from a number of retailers. As a matter of fact, we're willing to bet that most clothing brands offer at least one type of leggings—they're just that popular. Obviously, some would be more pricey than others. At the end of the day, it depends on who the manufacturer is—some are more well known than others, after all.
Speaking of which, there are also brands that are exclusive to Amazon. In other words, their leggings are available for purchase only on site; they do not have their own retail store. One advantage to this is that they're able to sell their products for much cheaper—after all, they don't have any additional costs. Not only that, but customers are able to receive their items quickly (assuming that they have Amazon Prime). Amazon will also take care of any returns or issues that come up. Really, it's a win-win situation for everyone.
Interested in some affordable leggings? Want to know which brands are worth getting? Then you're in luck! You've put together a list of some of Amazon's best leggings brands on this page. Keep reading to learn more!
Our Top 10 Best Affordable Amazon Leggings Brands
Why pay $100+ for a pair of leggings when you can get a similar product for a fraction of the price? Chances are, they're pretty similar as well. After all, most of them are made from the same type of materials. Without further adieu, here are some Amazon leggings brands that are worth checking out! Which one will you be adding to your wardrobe?
1. Compressionz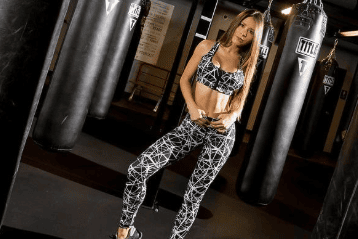 Compressionz is a relatively new company that is founded by a team of health enthusiasts. Their aim is to help people achieve their fitness goals by providing them with affordable apparel. Since their launch, they've come up with a patented fabric blend that is incredibly smooth to the skin. The highlight, however, is that it offers just the right amount of compression.
As far as their range goes, they sell a variety of compression leggings for men and women. Judging by their 2000+ positive reviews on Amazon, I'd say that most people are satisfied with the product's quality! Their affordable prices definitely help too.
Price Range: $24.99 to $30 for a pair
2. Baleaf
Baleaf is an apparel company that sells a variety of sportswear, including leggings. Unlike some of the other Amazon brands out there, they have their own website, through which customers are able to buy their products. In fact, they offer a 10% discount for those who purchase from their official site.
From the looks of it, however, most of their sales come in through Amazon. In fact, there are some items that are only available through the web giant—such as their women's leggings. How do their leggings compare to those from other brands? For one thing, they all have a four-star rating on the site from hundreds, if not thousands of reviews. Surely, that has to mean something, right?
Price Range: $12.99 to $29.99 for a pair
3. Homma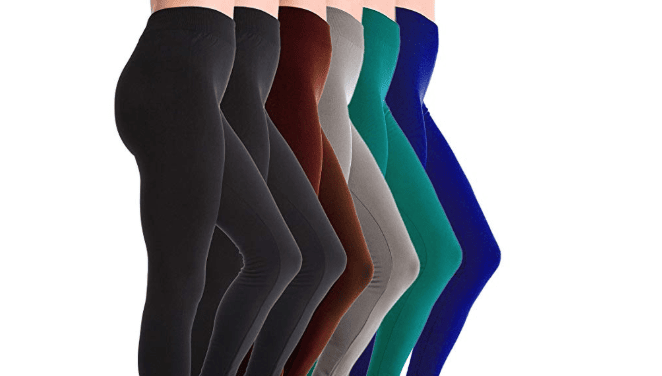 Homma is a clothing company that sells exclusively on Amazon. Unlike the previous companies that we've mentioned, they do not have their own website. Instead, everything is available through the e-commerce site. Aside from leggings, they also sell shorts, sports bras, and shirts. As far as we can tell, their products are geared toward women.
One of the best things about Homma is that they offer leggings that are made from different materials. For instance, they have a compression line and a fleece-brushed line, the latter of which is more suitable for cold winter days. They also sell extra-thick terry thermal leggings.
Despite being a relatively "new" brand, they've managed to earn a considerable reputation on Amazon. Take their leggings, for instance—many of them have more than 1,000 positive reviews!
Price Range: $9.95 to $38.50
4. Satina
Satina is a brand that specializes in women's clothing. Created for the Modern Woman, the company aims to create pieces that will become essential items in the closet. All of their products, both leggings, and non-leggings, are made with both style and function in mind.
Currently, they sell two kinds of leggings—full-length and capris. There are subcategories as well. For instance, they offer ones that fleece-lined, "super soft", and high-waisted. Aside from leggings, they also manufacture high-waisted pants, which are great for exercise and casual wear.
Why is Satina so popular? Their prices are extremely affordable. You can easily get a pair of leggings for under ~$10, including tax. Where else would you be able to get such cheap activewear?
Price Range: $4.99 to $13.99
5. Yogipace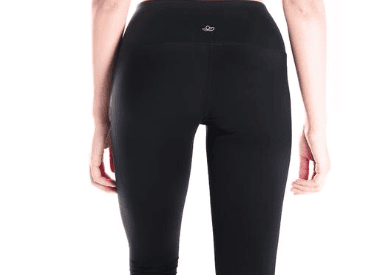 Yogipace specializes in workout clothes that are designed to help you perform. They have two different collections—petite and tall, both of which include leggings. They also sell shorts, skirts, shorts, pants, and capris for women.
Aside from their Amazon store, they also have an official website, that is capable of taking orders. From the looks of it, however, most of their sales are from the former. As far as their leggings go, they offer various varieties including ones that are high-waisted, thermal, and quick-dry. They also have ones that come with pockets, which adds a bit of convenience when you're heading out to the gym.
Price-wise, their products are not too expensive. If anything, their leggings are decently priced at around ~$30 a pair. Depending on the style, however, there are ones that are cheaper. Don't forget, it comes with free Amazon Prime shipping as well!
Price Range: $20.99 to $39.99
6. Neleus
Neleus is an activewear brand that sells mainly on Amazon. Since 2008, they have provided customers with a variety of price-friendly products including tops and leggings. Suitable for an array of sports, their clothes all feature quick-dry technology, which is ideal for training and workouts.
Their Amazon store has several sections include compression shorts, leggings and pants, workout tanks, and workout tops. As far as their leggings go, they offer various styles including ones with pockets, tummy control, and compression. It's probably also worth mentioning that all of their leggings are made in the USA, not China. As such, you can expect better quality. This is supported by the hundreds of positive reviews that they've received on the site.
Price Range: $18.90 to $38.88
7. Leggings Depot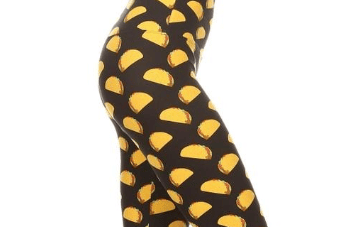 Leggings Depot's mission is to supply their customers with the largest selection of leggings available—ones that are high-quality yet budget-friendly. As such, their catalog is quite vast. For one thing, they offer numerous sizes—from kids sizes to 5XL.
While they have their own website, it is only available for wholesale buyers. Don't worry, though, you can find all of their products on their Amazon store. To give you a better idea, they sell solid color leggings, print leggings, and high-waisted leggings, all of which are "buttery soft." On top of that, they also offer premium joggers for those who prefer something that's more loose-fitting.
Considering that, it's not surprising to know that they're fairly popular. How do we know this? Many of their leggings have thousands of positive reviews on Amazon! In fact, their most popular product, the high-waisted leggings have a 4.5-star rating from more than 11,000 ratings! That's quite significant if you ask me.
Price Range: $7.99 to $13.99
8. Ododos
Ododos is another leggings brand that you can find on Amazon. Despite the fact that they do not have much of a web presence, their products are very popular with thousands of happy customers.
Like most of the other brands that we've looked like, they offer a wide array of leggings. There are ones that come with tummy control, pockets, and 4-way stretch. While their designs are different, they do have one thing in common—the material is not see-through. In other words, you won't have to worry about crouching or bending over at the gym.
There are many colors and designs to choose from as well. Surely, there will be one that will suit your tastes!
Price Range: $12.98 to $20.98
9. TSLA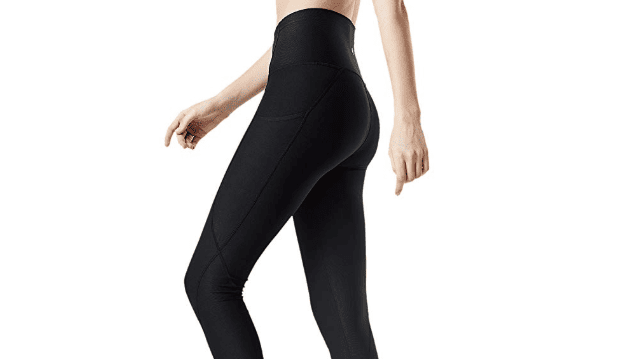 TSLA is a sports apparel brand that sells a variety of items—not just leggings. For instance, their catalog also includes workout shorts, running shoes, swimsuits, swim trunks, compression shorts, and thermal gear.
While they might not specialize in leggings, they do offer a number of styles. Take their pocketed leggings, for example—there are ones where the pockets are on the side and ones where the pocket is completely hidden. Their best-selling leggings, however, are their compression tights. Currently, they have a 4.5-star rating from over 2,000 reviews on Amazon.
Price Range: $9.88 to $14.98
10. 90 Degree by Reflex
90 Degree by Reflex specializes in the manufacturing of activewear apparel. They pride themselves on producing high-quality garments that are not only affordable but bestow self-confidence. Their catalog includes leggings, shorts, capris, tanks, tees, hoodies, and more. While most of their products are for women, they do have a separate men's line.
As far as their leggings go, they are available in a number of colors and styles. Not only that, but they also vary in material. While most are made from synthetic fabrics, they do have some that are made from cotton.
Price Range: $25.99 to $69.00
Note: This promotional offer is only guaranteed through the end of the day.