Oiselle is an athletic apparel company that specializes in women's clothes. In addition to tops and bottoms, they also sell bras and outerwear such as jackets and vests. On top of that, they offer various types of accessories including headwear, gloves, socks, mittens, and more.
More About Oiselle
The company was launched in 2007. Their first product? Running shorts. Since then, they've expanded significantly. Just take look at their catalog—you'll see that they have much more available nowadays. How are they different from other brands? Well, for one thing, they're dedicated to giving back to the community. Take their Bras For Girls Program, for example, its goal is to donate sports bras to elementary and middle school girls for those who need them.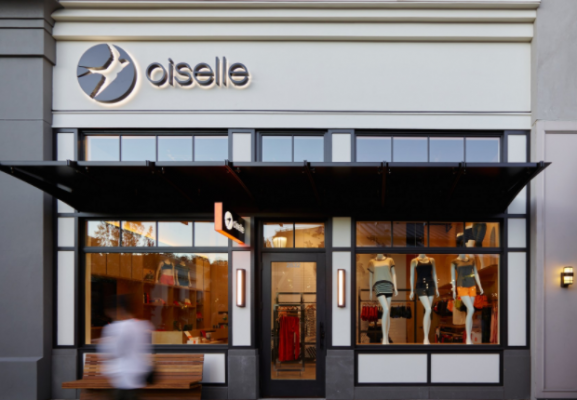 Aside from their flagship store, which is located in Seattle, you can also find their products at various other retailers including Title Nine, Renegade Running, REI, Moosejaw, and more.
What Kind of Running Apparel Do They Sell?
Oiselle sells a variety of sportswear including tank tops, short sleeves, long sleeves, tights, and sweatshirts. In addition to that, they also have their own line of sports bras. While they might be known for selling running apparel, almost everything they sell can be worn for other sports and activities.
Cost-wise, you can expect to spend anywhere from $40 to $100+, depending on what you're getting. For example, a pair of their tights can run you $90 whereas you can get a tank for around $40.
Taking Care of Oiselle Workout Clothes
Oiselle is known for its premium apparel, all of which are made with high-performing materials. Not only are they soft, but they're also durable. With that said, it wouldn't do any good if you don't actually take care of the garments. After all, even the most durable clothing will wear out over time. Given that, you want to do your part to extend their lifespan—and part of that includes washing them correctly!
Even if you can't wash the item right away, hang it up so that the fabric can dry. You don't want to leave it moist as that'll cause it to develop a musky odor. The sweat and body oil on the material can also cause damage.
Fabrics Used For Oiselle Running Apparel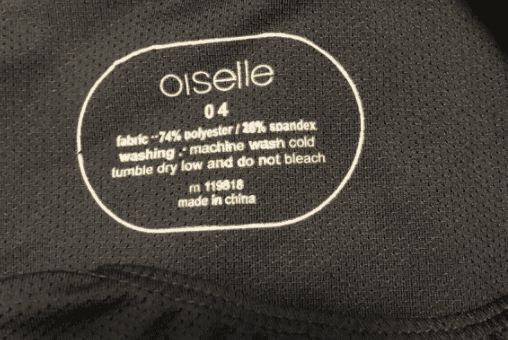 Most, if not all of their apparel is made from technical fibers aka synthetic materials. Let's take a look at what they use in this section.
Polyester
Polyester is usually used for clothes such as leggings and shorts. Unlike cotton, it is a synthetic fabric. For this reason, it's much more durable. Not just that, but it's also moisture-wicking and quick-drying. This makes it an easy material to wash.
Can be found in their tights, sports bras, tanks, shorts, etc
Spandex
Spandex is similar to polyester in that it's also manmade. Texture-wise, however, it's quite different. That is, it's much more elastic. As such, it's often added to polyester or other materials to provide stretch. In addition to that, it helps hold and support the shape of the item.
Can be found in their tights, sports bras, sweatshirts, etc
Nylon
Nylon is known for its smooth-to-the-touch texture. Durable and lightweight, it's often used for activewear, sometimes in combination with spandex. It's also worth mentioning that it's oleophobic, which means that it won't retain smells.
Can be found in their capris, shorts, etc
Oiselle Proprietary Fabrics
Oiselle has their own proprietary fabrics, most of which are made from a combination of polyester, spandex, and nylon.
Polyester/Spandex Blends: Plya Interlock Compression, Plya Compression, Power Plya, Reversible Bird Hug, Roga Stretch
Nylon/Polyester/Spandex Blend: Flyout Compression
Polyester/Nylon Blend: Arque Plya
For more information, you can check out their fabrics information page.
How to Wash Oiselle Tights and Capris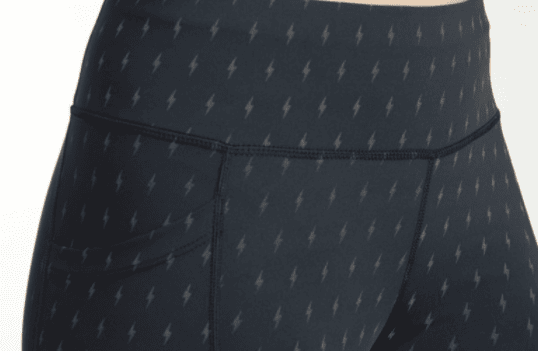 As with most athletic wear, there are two ways to wash their tights and capris. That is, you can either run them through the washer or wash them by hand—both works. At the end of the day, it just depends on what you prefer.
Machine Washing Your Oiselle Tights and Capris Pants
*Consider soaking the pants first if they're excessively dirty. You can do this in a small tub—just fill it with water and add a bit of ACTIVE detergent. Place your tights or capris in the solution and submerge them for about 15 to 20 minutes.
 Turn your tights and capris inside out. Make sure that the pockets are empty and place the bottoms in a laundry bag. You don't have to, but it'll greatly reduce the chances of snagging—this is especially important if you're washing a mixed load (i.e. you're washing the tights with other clothes).
Note: Washing your tights and capris with other items? If so, it's super important that you pre-sort everything based on colors. Do not put dark and light-colored garments together as the colors will bleed.
Once you've sealed the laundry bag, place it in the machine, along with your other items. Next, take out your bag of ACTIVE detergent. Add in one scoop and set it to run on a delicate setting. Remember to only use cold water as heat can cause the polyester, spandex, or nylon materials to warp. Do not wash with fabric softeners as they will damage the sweat-wicking finish. Distilled white vinegar is an acceptable alternative if you must soften your pants.
To dry your tights and capris, lay them flat on a clean surface. Air drying is another option; you can either put it on a drying rack or clothesline. Do not tumble dry. Similarly, do not expose them to sunlight—the sun's UV rays can cause them to fade.
Hand Washing Your Oiselle Tights and Capris Pants 
As with pre-soaking, you want to start by filling a small tub with water. Take out your ACTIVE detergent and add in 1/2 a scoop. Feel free to add more powder if you're washing multiple items. Once the powder is in, swish the water with your hand to help it dissolve.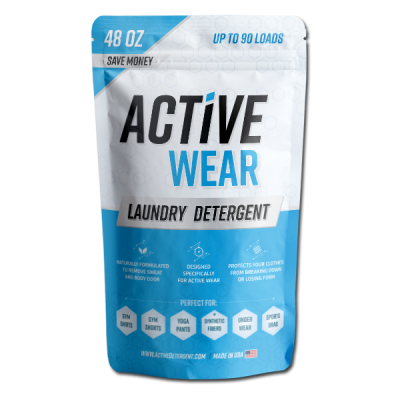 Submerge your tights or capris in the sudsy water. Work in the detergent by gently swishing it through the solution. It's important that you do not scrub or twist the material as that can cause damage. When all that is done, let it soak for 15-20 minutes. Make sure not to skip this step as you want to give the ACTIVE detergent ample time to remove the gunk.
The next step is to rinse off the detergent. To do this, drain the tub and refill it with clean water. Remove the soap suds by pressing up and down on the pants lightly. Continue until the soap film is gone. If you want to do it quicker, you can rinse the tights under running water.
Once they're clean, lay them flat on a towel. Proceed to roll it up—that will allow the towel to absorb the excess moisture. Finally, you can lay it flat to dry or use a clothesline. Once again, tumble drying should be avoided. Also, do not lay it outside in the sun for the same reasons mentioned earlier.
Washing Instructions for Oiselle Sports Bras
Oiselle is also known for their sports bras. Compared to their tights, they're a bit more delicate. Here's how you can wash them safely.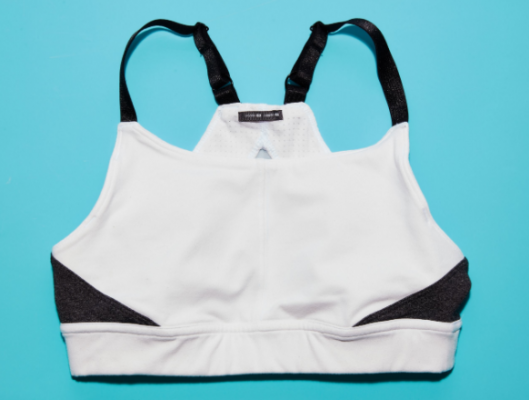 Can You Machine Wash Oiselle Sports Bras?
There's nothing wrong with machine washing your sports bras—as long as you use a delicate cycle. Start by turning it inside out. If your bra has removable cups, you'll want to remove those too. From there, put the bra in a garment bag; that will prevent the elastic from stretching. You can place the removable pads in the same garment bag for washing.
Note: It's fine to wash Oiselle sports bras with other items. Just make sure everything is of similar color.
Load the garment bag into the washer. Add the rest of your laundry and set the machine to delicate. It's crucial that you use cold water; heat and sports bras do not mix well. Avoid softeners and conditioners as they'll ruin the fabric's sweat-wicking finish.
Press the start button and wait for the washing machine to do its thing. Once washing is complete, take out the garment bag and remove your sports bra. Let it air dry naturally on a drying rack or clothesline. Never should you tumble dry your bras.
Hand Washing Oiselle Sports Bras 
Hand washing is the most gentle option when it comes to washing your sports bras. It might be a tad more tedious than the previous method but all you need is a sink, water, and detergent. First things first, add water to the sink until it's 3/4 full. Next, add in 1/2 scoop of ACTIVE detergent (you can add more if you're washing more than one item).
Wait for the detergent to dissolve before submerging your sports bra. Once it's in the water, massage the fabric gently with your hands—that'll help to loosen up the "gunk." The next thing that you want to do is let it soak for 15-20 minutes. Set a timer, if necessary.
Rinse your sports bra with water after soaking. The goal is to remove all the soap so that there's no residue left on the fabric. One way to do this is to refill the sink with clean water. Gently press up and down on the bra to squeeze out the excess detergent. As an alternative, you can hold it under the faucet; continue until the water is clear and free of suds.
Lay the sports bra on a clean towel and can use it to absorb the excess moisture. Finally, allow it to air dry on a drying rack or clothesline. Avoid the clothing dryer at all costs.
Note: This promotional offer is only guaranteed through the end of the day.