Lorna Jane is a manufacturer of women's activewear. Like most clothing brands, however, they also sell accessories such as towels, backpacks, water bottles, socks, and bags. Despite being frequently asked, they currently have no intention of selling men's wear.
More About Lorna Jane
Lorna Jane was founded in 1990 by Lorna Jane Clarkson and Bill Clarkson, a wife and husband team. A  part-time aerobics instructor, the former had started to make her own workout clothes after being dissatisfied with what's available to women in the 80s. Before she knew it, her clothes had become popular among her students too.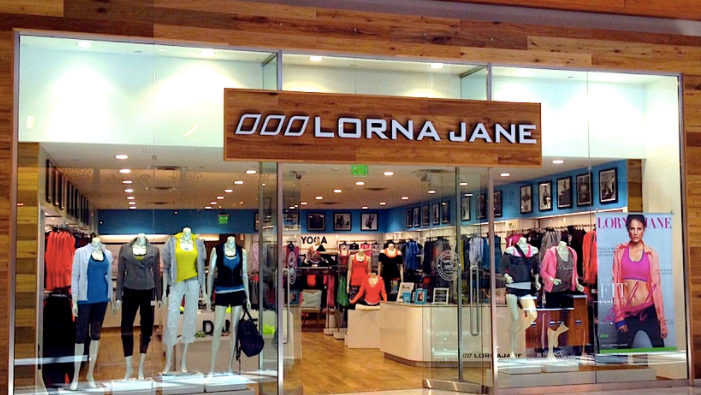 By 1988, she decided to make clothes as her full-time job. Two years later, they opened their first store in Brisbane, Australia. Fast forward to today and they've got over 140 stores worldwide in the U.S., Canada, Dubai, Britain, and South Africa.
What Kind of Athletic Wear Do They Sell?
The brand offers a wide variety of athletic wear including leggings, tights, sports bras, active tanks, shorts, jackets, hoodies, sweats, and more. It's worth mentioning that they also have an eco collection, which consists of eco-friendly clothing, all of which are made from recycled plastics.
As far as prices go, it largely depends on what you're getting. With that said, their prices are what you'd expect for an established brand. For example, you can expect to pay between $89 to $100 for a pair of leggings. They do have a sale section, though, so it's not like you have to pay full price. In fact, they even have warehouse sales!
Taking Care of Lorna Jane Activewear
Lorna Jane is known for their fashionable yet durable products. Unlike the cheaper alternatives out there, you know that they're made to last. However, you still need to do your part to take care of the garments.
After all, fabric is fabric. No matter how high-quality it is, it can wear out, especially if you rough handle the item. If anything, the most important thing is how you wash it. Yes, it does matter. Do your laundry incorrectly and it will show on your clothes, sooner than later.
Don't worry if you don't know how to wash them, though, because that's what we'll be going over in this post!
Fabrics Used By Lorna Jane
Before we jump into the how-to-wash section, let's take a look at the types of fabrics that they use for their activewear. It's important because it dictates how you should wash the item!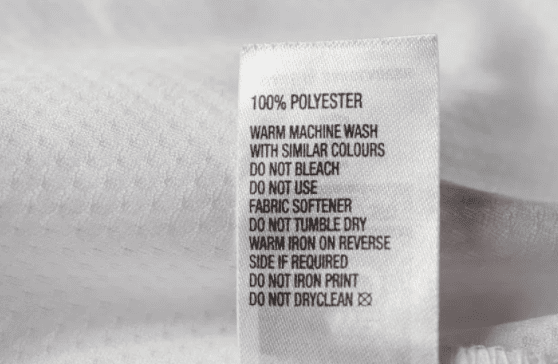 Polyester
Polyester is a manmade fabric that's made of plastic polymers. As such, it's relatively durable. For one thing, it's resistant to both abrasion and wrinkles. Like many synthetic fibers, it also has the ability to pull sweat from the skin. While 100% polyester garments are common, it's also typical to see the fabric mixed with other textiles such as spandex.
Lorna Jane uses polyester for their leggings, tights, sports bras, tanks, etc.
Elastane
Elastane goes by another name—spandex. As with polyester, it's also synthetic and made from polymers. There's a major difference in how they feel, though. While spandex is also durable, it's incredibly elastic, to the point where it's often used in clothing to provide stretch.
Lorna Jane uses elastane for their tights, leggings, shorts, sports bras, etc.
Nylon
Nylon is similar to silk in that it's soft and drapes well. However, it's significantly stronger, being made of thermoplastic. Not only does it wick away sweat, but it also dries very quickly. Compared to polyester, it also has a good stretch, which makes it an excellent choice for certain types of garments.
Lorna Jane uses nylon for their jumpers, jackets, tops, and more.
How to Wash Lorna Jane Leggings and Tights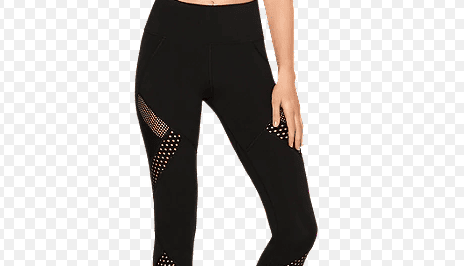 Method 1: Using the Washing Machine
The entire collection of their leggings and tights are machine washable. Before you toss them in, however, there are a couple of things that you want to do. First things first, make sure that there's nothing in the pockets (some styles come with pockets). Once you've double-checked that they're empty, flip the bottoms inside out—that way, the outside layer will be protected during the wash.
Pro-tip: It's a good idea to pretreat your tights or leggings if they're stained or have a noticeable odor. Basically, all this entails is soaking them in a water-detergent solution. Vinegar can also be added for extra deodorizing power if you feel that it's necessary.
Place the leggings in a mesh garment bag. The greatest benefit of using one is that it'll protect your clothes from damage; this is especially important if you're washing many items at once. From there, load the bag into the washer. Add your other laundry (it's best to wash them with other workout clothes) and put in a scoop's worth of ACTIVE detergent to the drum or drawer. With leggings and tights (basically all activewear, really), you want to avoid products such as fabric softeners and bleach.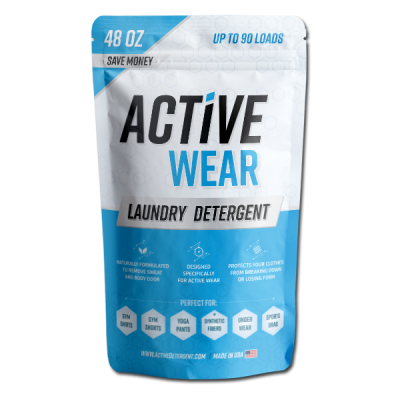 Start a cold wash cycle, making sure to use a gentle setting. It's important that you minimize the amount of agitation as that can have an effect on the durability of your clothes. Once washing is finished, take out your tights or leggings and lay them flat to dry. You can also hang them up but don't put them in the dryer. It's never a good idea to expose them to direct heat—that's why you also want to avoid laying or hanging them out in the sun.
Method 2: Washing By Hand
Washing your leggings by hand is generally preferred as it's more gentle on the fabric. Basically, you just need water, detergent, and a sink. You can also use a container, as long as it's big enough to fit your leggings or tights comfortably.
The first step is to fill the sink with water, around three-quarters full. Add half a scoop of ACTIVE detergent and stir the water with your hand to help combine the powder. It's important that you don't add to much, otherwise, it can be difficult to rinse out. Next, submerge your leggings or tights. Press down on the item until it's fully under the water.
Let the item sit in the soapy water for at least 15 minutes. The next thing that you want to do, after that, is to rinse off the detergent. You don't want the soap film to remain on your leggings as that will end up irritating your skin. Drain the dirty water and refill the sink with clean water. Swish the garment with your hand to work out the excess soap; you may also have to press it out.
Transfer the leggings onto a towel once all of the soap suds have been rinsed out. Press gently on the leggings; the towel will absorb the water. The final step is to lay them flat or hang them up to dry. Remember, do not tumble dry.
Washing Instructions for Lorna Jane Sports Bras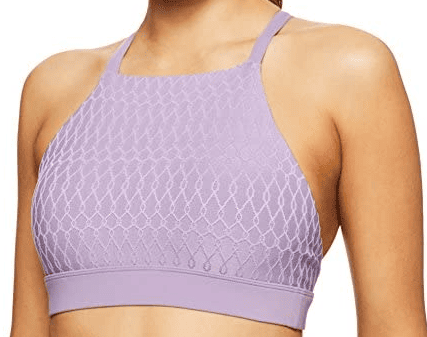 Method 1: Putting It in the Washer With the Rest Of Your Clothes
Remove the pads if they're removable and put the bra in a lingerie bag. Make sure you don't skip this step; the bag will protect it from rougher items, not to mention the agitation of the machine.
Put the lingerie bag into the washing machine. Feel free to add other items as long as they're of similar colors; you don't want to mix darks and lights as the dyes can bleed. If you want, you can also add other lightweight items (e.g. underwear, socks, etc) into the same lingerie bag.
Add one scoop of ACTIVE detergent to the washer and wash it with a gentle cycle. It's important that you use cold water as hot water can damage the spandex fibers (i.e. the straps will lose their elasticity). Avoid softeners and bleach.
Allow the machine to complete the cycle before taking the sports bra out of the lingerie bag. Do not twist or wring the item. Instead, let it air dry—we recommend using a drying rack or clothesline. Try not to hang the item by the straps as it can stretch over time. We do not recommend using the clothes dryer.
Method 2: Hand Washing With Active Detergent
Fill a sink with cold water (do not use hot water). Assuming that you're not washing anything else, one scoop of ACTIVE detergent will suffice. Swirl the water a few times with your hand to mix the powder—you should start to see bubbles.
Note: If the sports bra comes with removable pads, you can take them out and wash them separately in the sink. Wait for them to fully dry before re-inserting them back into the sports bra.
Add your sports bra in. It's perfectly fine to wash a few of them at once, as long as they're similar colors. Press down on the bras so that the fabric is fully under water and leave it to soak for about 15 minutes (longer if your sports bra is excessively dirty). This will give the ACTIVE detergent time to dissolve any sweat or oils.
Gently massage the bras with your hand—you want to loosen any dirt and oils. After a while, the water should get murky. Drain the sink; turn on the tap and rinse the garments with clean water. Continue to rinse until all of the soap bubbles are gone.
Place the sports bra on a clean towel and roll it up; this method will allow the towel to absorb the excess water. Finally, allow them to air dry. Remember not to expose them to the heat of the dryer. Not only will that ruin the shape of the bra, but it'll also compromise the elastic.
Note: This promotional offer is only guaranteed through the end of the day.