Uniqlo is a Japanese clothing apparel company that sells outerwear, loungewear, maternity wear, intimates, and more. They also offer accessories such as hats, gloves, scarves, slippers, bags, and belts. One that sets them apart from other brands is that they regularly do collaborations with designers and artists.
More About Uniqlo
Uniqlo was founded in 1949 by Tadashi Yanai. Known as Ogori Shouji at the time, the company mainly sold men's clothing. It wasn't until 1984 that they opened their first unisex casual wear shop. By then, they'd changed their name to "Unique Clothing Warehouse." It was eventually changed again to what it is today in 1988 after a staff member misread the "C" as a "Q".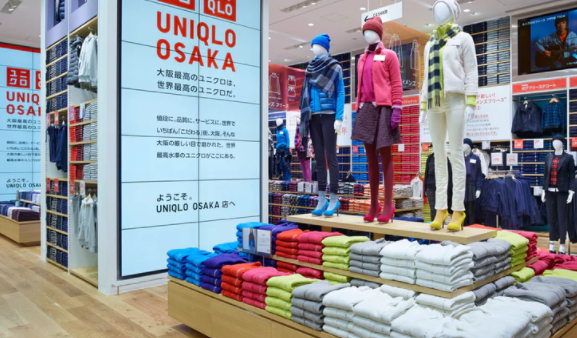 Fast forward to 2023 and they've expanded tremendously. Nowadays, they operate in many countries around the world including Australia, France, Hong Kong, Canada, United States, France, India, and Indonesia, to name a few.
What Kind of Activewear Do They Sell?
Uniqlo has a sport utility wear collection for men, women, and kids that includes sweatpants, hoodies, tank tops, leggings, shorts, joggers, swimwear, and more. Their AIRism line is also a popular option for those who work out as it has the ability to release trapped moisture.
One thing that the brand is known for is their prices. That is, most of their products are on the affordable side. For instance, you can get a pair of leggings or a hoodie for under $30.  There are also sales that you can take advantage of. For those who shop online, they do offer free shipping on your first order (otherwise, you get free shipping if your order is over $99).
Caring For Your Uniqlo Activewear
In general, all activewear should be washed after each wear and that includes Uniqlo's. Why? Assuming that you were exercising, your clothes have probably come into contact with sweat and the last thing that you want to do is leave it on there; it'll quickly turn into a smelly mess. If anything, this is especially true for close-fitting garments such as base-layers and leggings.
Keep in mind, however, that there's a certain way to wash these types of clothes. You can easily ruin the fabric if you do it incorrectly. Don't worry, though, if you don't know how to wash them properly because that's what we'll be going over in this post!
Uniqlo's Innovative Fabrics
Uniqlo has developed several high-tech fabrics for their products. We'll be going over some of their signature innovations below.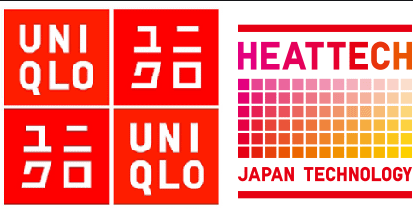 HEATTECH
Their HEATTECH line is designed to keep you warm in cold temperatures. Made from specially-designed fibers, the fabric is capable of retaining heat by preventing it from escaping your body. In addition to that, it's able to create heat by absorbing moisture from your body.
AIRism
Their AIRism line is designed to keep you cool in warmer temperatures. Made from their "cupro" fabric, it's highly breathable, which makes it ideal for physical activities. Not only does it absorb moisture, but it's also able to release it into the air, which keeps the fabric smooth and dry.
Dry Stretch
Their Dry Stretch line is unique in that it's able to dry perspiration instantly. What's interesting is that it was originally developed by Adam Scott, a brand ambassador, and golfer who wanted a pair of pants that he could wear on the golf course.
DRY-EX
DRY-EX is a highly functional fabric that's designed to absorb and wick away perspiration. It features ventilating panels and is fitted with odor-neutralizing and anti-microbial properties, which makes it suitable for workouts. With it, you'll know that you'll feel fresh while you're on the move.
UV Protection
Their UV protection fabric is capable of blocking up to 90% of the sun's UV rays. According to their website, the protection that it provides lasts 40 times longer compared to bare skin. At the same time, it's incredibly lightweight so that you won't find it to be a burden on your skin.
How to Wash Uniqlo Leggings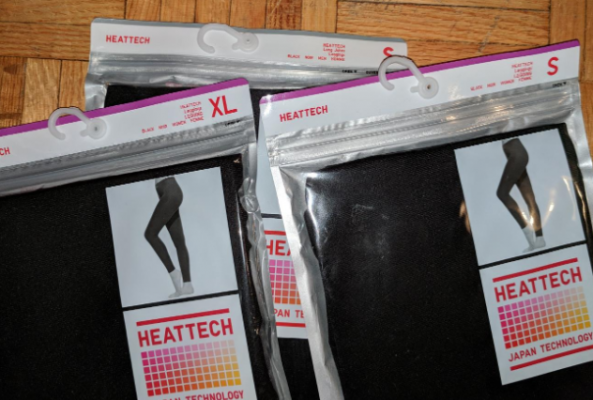 1. Using the Washing Machine For Your Uniqlo Leggings 
Start by emptying the pockets. Next, turn the leggings inside out; that will prevent the outside layer from wear and tear. Not only that, but it'll expose the inside, which is often exposed to sweat. Once you've done that, stuff them in a laundry bag. That way, the fabric will be protected from pulling and snags (i.e. they will last longer).
Pro-tip: You may have to presoak the leggings first if there's a stain or if they're excessively dirty. Just let them sit in a sink of water and detergent before washing.
Put the bag in the machine. It's perfectly fine to wash them with other items (preferably activewear) as long as you've sorted out the colors. After loading everything in, add the soap.; one scoop of ACTIVE detergent will suffice unless you're washing a particularly large load. With their legging (and pretty much all activewear for that matter), it's important that you don't use softeners. It'll hinder the fabric's ability to absorb and release moisture.
Choose a delicate wash cycle and make sure to wash with cold water; hot water can damage the high-tech fabrics. Wait for the washer to finish the job before retrieving your leggings. Don't leave them in for long periods of time or else they'll get smelly.
To dry the fabric, hang the leggings up in a well-ventilated room indoors. Using the dryer is not recommended as the extreme temperatures can damage the fibers.
2. Washing Your Uniqlo Leggings at the Sink
While there's nothing wrong with machine washing your leggings, it is gentler to wash them by hand. First things first, you'll want to bring them to the sink. Create a bath by filling it with tepid water and adding 1/2 scoop of ACTIVE detergent. Mix and combine until it becomes sudsy.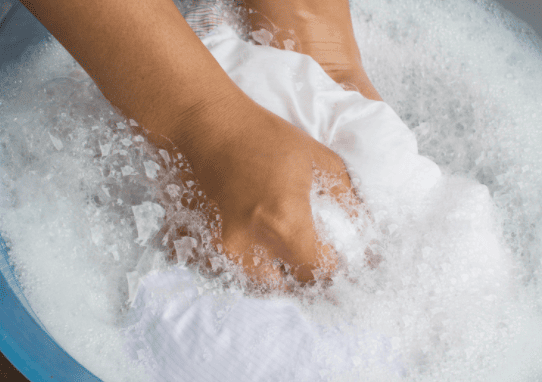 Place your leggings in the water after turning them inside out. Don't forget to empty the pockets if there are any. Swish the item through the solution to help work the soap into the fabric. Afterward, leave them in the sink to soak for 15-20 minutes.
The next step, after soaking the leggings, is to rinse off the detergent. To do that, you'll want to drain the dirty water; refill the sink with fresh, clean water, and use it to rinse the item. You can gently rub the fabric against itself to facilitate the process. Once it's soap-free, place it on a clean towel. Gently press out the excess water with your hand, it will be absorbed by the cloth underneath.
Finally, put them up in a well-ventilated area so that they can air dry. If you want them to last, do not tumble dry.
Note: You can wash their hoodies (remember to zip up the zipper first) and baselayers in a similar fashion.
Washing Uniqlo Wireless Bras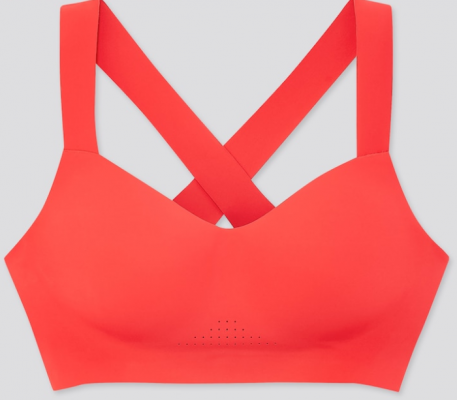 1. Machine Washing Your Uniqlo Bras With Other Clothes
Their wireless bras are machine washable. In fact, you can wash them together with your other clothes. Before you dunk them into the washer, though, make sure that you use a lingerie bag. After all, bras are delicate; you want to protect them from damage however you can. By using a mesh bag, the chances of them snagging will be significantly lower.
Seal the lingerie bag and place it in the washing machine. Choose a cold wash setting and run a gentle cycle. Remember to skip the fabric softener; bleach should also be avoided. Detergent is all that you'll need, though, you can add some white vinegar is smell happens to be an issue.
Allow the washer to run. Afterward, retrieve the lingerie bag and remove your bra. It's best to drape it on a rack or somewhere similar so that it can air dry but you can also hang it up (do not hang it by its straps or else it can stretch out). Never tumble dry.
2. Hand Washing Your Uniqlo Bras at the Sink
Their wireless bras are super easy to wash by hand. First things first, fill a sink (you can even use a bucket) with warm water. Mix in half a scoop of ACTIVE detergent to create a bath. The power should be fully dissolved before you submerge the garment. Sometimes, you'll have to press down on the item to prevent it from floating back to the surface.
Gently massage the fabric in the water to help loosen any oils or dirt. Afterward, leave it to soak for about 20 minutes—this helps the detergent penetrate into the fibers. From there, run it under running water; you want to rinse it thoroughly so that there are no soap suds left on the fabric.
Press the excess water out of the bra; do not twist it like a cloth, or else, you'll damage the elastic fibers. You can also use a clean towel to absorb the water. Once it's no longer dripping, you can put it up on a clothesline. Give it a few hours to air dry. Do not put them in the dryer; these bras are delicate and will warp and wear out if they're exposed to extreme heat.
Note: This promotional offer is only guaranteed through the end of the day.