Spyder is a US-based company that sells high-end skiing apparel. While that's their main focus, they also offer accessory items such as gloves, hats, and socks. It's also worth mentioning that they've been the official apparel partner of the U.S. Ski Team since the late 80s.
More About Spyder
Spyder was founded by David Jacobs, a ski enthusiast, in 1978. It was actually during one of his races that he noticed that there was a lack of race sweaters available. Believing that he could make his own, he started the business, which was initially called David L Jacobs. It wasn't until a little later that they changed their name to Spyder (a reference to their racing pants, which had a spider-like look).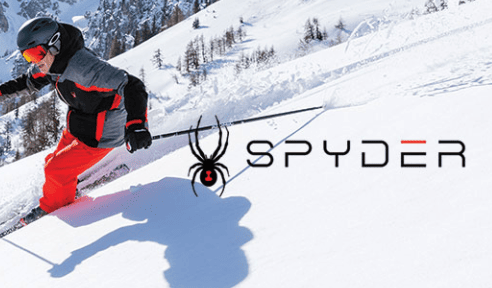 Fast forward to today and they've become the largest brand of skiing apparel in the world. Not only do they have an online shop, but they have stores in more than 50 countries around the world including the U.S. and Canada.
What Kind of Skiing Apparel Do They Sell?
Spyder offers a variety of outerwear for men, women, and children. If you look at their site, you'll notice that they sell many types of jackets including down jackets, insulated jackets, shell jackets, and more. In addition to that, they also offer insulated pants, mid layers, base layers, vests, and more. Race suits, such as the ones worn by the U.S. Ski Team, are also available.
They might come at a premium, but you know that you're getting some of the best ski gear available. And anyway, their products do go on sale regularly; you just have to watch their site. For instance, many of their down jackets are currently on sale at the time of this writing.
Taking Care of Spyder Skiing Apparel 
Their jackets, pants, and accessories are made from some of the most durable materials. If anything, that's what they pride themselves on. Still, you have to do your part to take care of the items. For one thing, base layers should always be washed after a skiing session. You don't want to let the sweat sit on the fabric as that can affect its integrity.
Keep in mind, however, that some of their other items such as their down jackets and shells and do not have to be washed after each wear. At the end of the day, it depends on how dirty the garment is. When in doubt, just use your best judgment.
Spyder and GORE-TEX
Spyder has partnered with GORE-TEX for many years. Basically, it's a special type of membrane that stops liquid water but allows vapor to pass. Known for its durability, it's used for a variety of outdoor apparel such as jackets, snow gloves, and hiking boots. Not only is it waterproof but it's also capable of blocking the wind. Plus, it's highly breathable.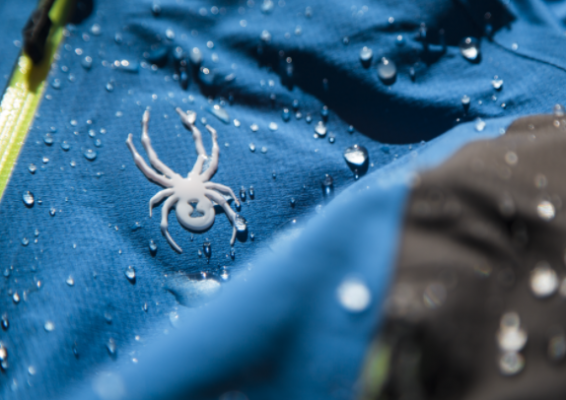 Keep in mind, however, that not all of their product features this technology; it's mainly their jackets, pants, gloves, and shells.
Other Fabrics That Spyder Uses For Their Products
Aside from GORE-TEX, the brand also makes use of other synthetic fabrics for their clothes. Here's a brief overview of them:
Polyester
Polyester is great in that it's strong, lightweight, and durable. Manmade, its fibers are also quick-drying, which comes in handy as you won't have to wait that long for it to dry after washing. In addition to that, it can wick moisture away from the skin.
Nylon
Nylon is soft and has a considerable amount of stretch (it can be stretched up to 30% of its length without breaking). As with polyester, it's also made of synthetic polymers. Strong and durable, it's resistant to most things including static and heat.
Washing Instructions for Spyder Down Jackets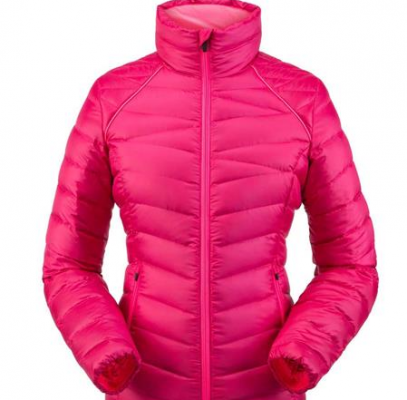 Method 1: Running Them Through the Washing Machine 
First things first, prep your jacket. Make sure that there isn't anything in the pockets (both the ones on the inside and outside) and zip up all the zippers. If there are any stains on the fabric, you'll want to spot clean it first.
Place your down jacket in the washing machine; it should be spread out evenly and not balled up. Put in a scoop of ACTIVE detergent and run a gentle wash with cold water. Do not use hot water. Bleach and fabric softeners should also be avoided as that can ruin the material.
Press start. It's highly recommended that you add a second rinse cycle as that'll help to get rid of all the soap (down jackets tend to absorb the suds). Pull your jacket out once the washing machine has done its thing. You'll notice that the jacket will be wet and clumpy. Don't worry, that's perfectly normal.
To get it back to normal, you'll have to play it in the dryer; run it on low heat and add a few dryer balls. It'll be loud but the balls will help to restore the fluff in your jacket. Depending on how wet it is, you may have to do more than one cycle. Never use a high heat setting as that can melt the seams of the fabric.
Method 2: Hand Washing Your Spyder Down Jackets
You can hand wash your down jacket as long as you have a tub that's big enough to contain the item. Start by filling it with tepid water. To create a wash solution, add half a scoop of ACTIVE detergent. Wait until the detergent's dissolved before putting your jacket in. The key is to make sure that it's fully immersed—you can do that by pressing down on the item gently with your hands.
Let it sit in the tub for at least 15-20 minutes before draining the water and rinsing. Make sure to never wring your jacket. To get rid of the extra water, you can gently squeeze it instead. Once it's clear of soap, pop it into the dryer. Run a cycle on low heat with a couple of dryer or tennis balls—that'll help fluff it back out.
How to Clean Spyder Base Layers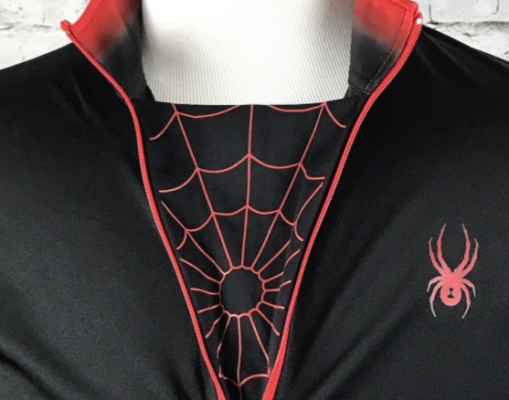 Method 1: Put Them in the Washer With the Rest of Your Clothes
Base layers should always be turned inside before being put in the washer. It's also recommended that you put them in a laundry bag, otherwise, they can snag and get damaged. For those who are wondering, yes it's fine to wash them with other similar garments (do not mix darks with lights as that'll cause the colors to bleed).
Pro-tip: Stains should be spot-cleaned with water and detergent beforehand. Do not use hot water as it can set them in further.
One scoop of ACTIVE detergent will suffice unless you're washing them with several other items, in which case, you might need a bit more. Fabric softeners, as always, should be avoided for these types of clothes. If you must use softer, opt for white vinegar instead; it's a great natural alternative. Simply add half a cup or a cup at the beginning of the rinse cycle.
Pull out your base layers from the machine after they've been washed. It's best to let them air dry by hanging them up. Unlike their down jackets, you do not want to put them in the dryer.
Method 2: Washing Them By Hand in a Tub
Base layers are easy to wash by hand; you just need a tub (or sink), water, and detergent. Start by filling the tub with tepid water. Pour in a scoop of ACTIVE detergent and agitate the water with your hands. Within a few seconds, it should turn sudsy.
Prepare your base layers by turning them inside out—that goes for both tops and bottoms; you want the inside to be on the outside so that the detergent will be able to get at the grime. Submerge the garments by pressing on them gently. Leave them in the tub for about 20 minutes to soak.
Run your base layers under running water to rinse off the soap film. You will have to squeeze some of the detergent and water out from the fabric. Continue to rinse with fresh water until there are no more soap suds; it might take a minute or two.
Press out the excess water from the material with your hands. You can also blot off the extra with a clean towel. Afterward, let it dry on a clothesline. Do not use the dryer as the heat will damage the fibers.
Best Laundry Detergent For Spyder Skiing Apparel
The laundry detergent that you use for your clothes matter. That is, you want to make sure that whatever you're using is geared toward the type of fabric that they're made of. When it comes to Spyder skiing apparel, you're looking at synthetic fibers and for that, you want to use a product like ACTIVE detergent. As implied by its name, it's made for activewear. What makes it different from other products? It's a concentrate enzyme blend; it has the ability to dissolve impurities such as sweat that may be lodged inside the fibers. It also contains surfactants that'll restore the item back to its original state once the grime is out. As it is, regular detergents aren't capable of doing this aka your skiing apparel won't be completely clean even after being run through the wash.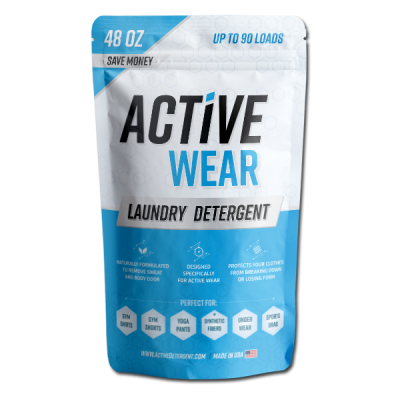 Plant-based, it does not contain any chemicals such as phosphates, which may cause irritation in some people. In fact, the formula is hypoallergenic so it's a good option if you have skin sensitivities. It doesn't contain any artificial fragrances either if that's something that you're worried about. Considering all that, why wouldn't you want to give it a try?
Note: This promotional offer is only guaranteed through the end of the day.