Revival Rugs is a direct-to-consumer rug company that's known for its handmade textiles and home decor. Not only do they offer a variety of rugs, from vintage pieces to modern designs, but many are also machine washable, for your convenience.
More About Revival Rugs
Founded in 2017, Revival Rugs began as an online-only brand that sourced vintage rugs from around the world. More specifically, they imported and restored rugs from India, Turkey, and Morocco
As the brand grew, they began making their own rugs, including the Panel collection, which featured four custom designs. Fast forward to 2023, and they also offer bedding, towels lighting, pillows, and furniture such as chairs, daybeds, tables, and nightstands.
What Type of Rugs Does Revival Sell?
Revival Rugs sells a wide variety of rugs including jute rugs, outdoor rugs, wool rugs, shag rugs, Moroccan rugs, vintage rugs, and kitchen rugs. Not only that but they also have a machine washable collection, which is made from eco-friendly materials. And as expected, there are many styles to choose from including solid colors, stripes, and many other patterns.
Price-wise, their washable rugs range from $99 to $199. Some of their other collections, however, can be a bit more expensive. Take their handwoven vintage rugs, for example, some are listed for more than $3,000, which isn't too surprising given how they're all handpicked across Morocco and Turkey.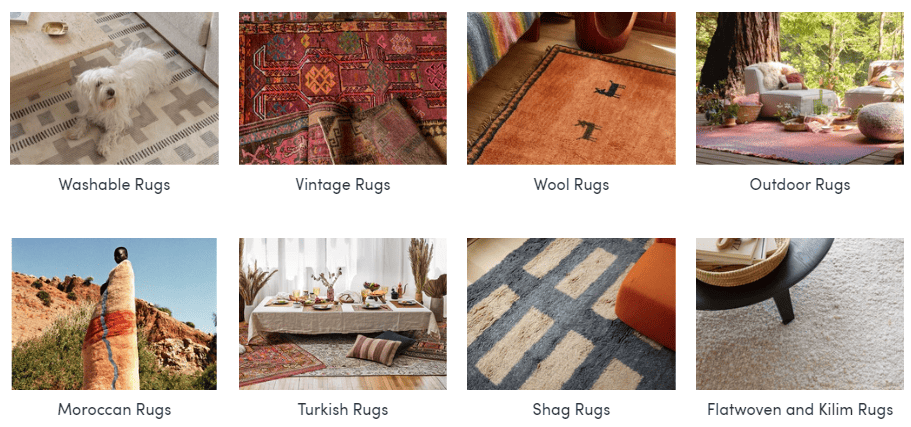 In addition to rugs, Revival Rugs also offer rug pads, which are highly recommended for some t flatweaves as they can become slippery on certain surfaces. Not only will it keep the rug stationary on the floor, but it'll also help extend the life of the rug by preventing it from rubbing against the ground. That's not all, the rug pad will also provide some noise absorption and give a softer, plusher feel under your feet.
Currently, they offer dozens of different rug pad options, from thin to thick, made from all types of non-skid materials. There's also a Premium 1/8″ Rug Pad that you can get for your rugs that's made from recycled felt and natural rubber. Not only is it available in a variety of sizes, but it can also be trimmed to fit your rug.
For those who are wondering, they currently offer free shipping on their rugs across the continental U.S. so you don't have to pay anything extra (besides taxes) for it to arrive at your doorstep.
Care Tips for Revival Rugs
Ideally, you want to vacuum your rugs every week to remove any dirt and dust that has gathered over the past few days. For the best results, use a vacuum cleaner with a suction attachment; that'll help keep the fibers in top shape (rotary vacuums can damage the fibers over time).
It's also a good idea to give your rugs a good shake every now and then. Just remember to do it outside- you don't want all the dirt in the house! If you want, you can even leave the rug outside in the sun for a few hours (sunlight is a natural disinfectant).
Just be careful when it comes to spills. One wrong step and you can easily ruin the rug's intricate fibers.
What's the best way to clean their rugs? Remove stains? For the answers, be sure to keep reading! We'll be going over everything that you need to know about how to wash Revival Rugs below.
What Materials Are Revival Rugs Made Of?
Their rugs are made from various materials from wool to organic cotton. Here's what you need to know about these fibers.
Wool
Wool is naturally resistant to stains, which makes them an excellent choice for rugs. Not only that but they're also fire resistant. Compared to other materials, however, they tend to absorb humidity. For this reason, they're not the best choice for damp areas. Another drawback is that they can be sensitive to sunlight (extended exposure can cause the colors to fade).
Organic Cotton
Organic cotton is grown without the use of any synthetic chemicals such as pesticides or fertilizers. Not only is the material breathable but it's also hypoallergenic and soft to the touch. Compared to those made of other fibers, organic cotton rugs also tend to be cheaper and are easy to care for as they can be washed. The only drawback is that they can stain easily.
Recycled Polyester
Recycled polyester is exactly the same as virgin polyester, except it's made from post-consumer plastic such as water bottles, As far as pros go, the fiber is lightweight, durable, and stain-resistant. Compared to wool and other natural fibers, it's also less expensive to make. On top of all that, it's fast-drying, which makes it less prone to mold and mildew.
Recycled Denim
Recycled denim is made from sustainable cotton that has been refashioned and repurposed (i.e. postindustrial denim fabric scraps).
How to Wash Revival Rugs – 2 Methods
Their machine washable collection is great in that they can be thrown into the washer for a quick wash. Keep in mind, however, that depending on the size of the rug, you may need a larger washing machine to accommodate the item. For example, it's recommended that you use a 60-lb washing machine (the type found at a laundromat) for rugs larger than 6×9.
Alternatively, you can wash them by hand. Here's a step-by-step guide on how to do it.
Washing Machine Cleaning Revival Rugs
Check the care tag of the rug. Assuming it's machine washable, you can place it in the washer. Make sure that the rug is positioned so that the pattern is facing out as that'll help to prevent the colors from fading.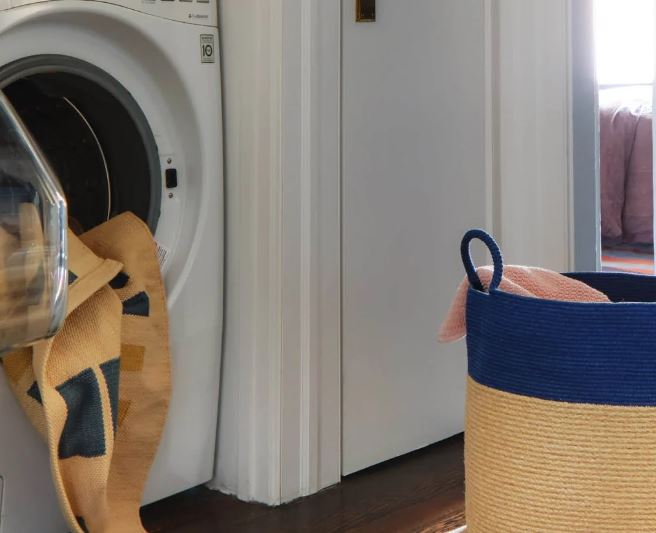 Tip: We don't recommend washing the rugs with clothes as the difference in fibers can cause the latter to wear out over time. However, you can place a few towels in the washer to balance the load, if necessary.
Once the rug is stuffed inside the washing machine, measure one scoop of ACTIVE detergent and pour it directly into the tub. It's important that you don't add too much powder (even if the rug is excessively soiled) as that can actually trap odors and dirt within the fibers. Also, avoid using bleach and other similar products; the chemicals can damage the rug's intricate fibers.
If odor is an issue, you can add 1/2 cup of white vinegar to the washer, on top of the laundry detergent. The former will help neutralize all odors that are present and won't leave behind any smells.
Run a delicate wash cycle using cold water. Do not use hot water as the heat can damage the rug's fibers. Similarly, you want to avoid using the normal wash setting as high tumbling speeds can compromise the quality of the rug.
Wait for the wash cycle to finish completely before opening the door. Line dry the rug outdoors, preferably under the sun (the sun's rays will help shorten drying times. Using the dryer is not recommended as high temperatures can cause the rug's intricate fibers to wear out over time. For example, if the rug is made from organic cotton, it can cause it to shrink.
Hand Washing Revival Rugs
Fill a large container (the bathtub works too) with cool water. Measure and add half a scoop of ACTIVE detergent. To dissolve the powder, agitate the water with your hands. You should end up with a sudsy mixture.
Gently place the rug in the tub so that it's fully covered in the detergent mixture (you may have to press down firmly on it a few times to fully submerge it). From there, let it sit and soak for about 20 minutes. That'll give the detergent ample time to work into the fibers so that it can break down the dirt and grime.
Rinse the rug with cool water after soaking. For example, you can hold it under the tap or use a showerhead. The goal is to get rid of all the soap suds. Continue until the water runs clear.
Give the rug a good shake in the tub and line dry afterward.
Removing Stains & Spills From A Revival Rug
When it comes to spills, you want to treat them as soon as possible. The longer you wait, the harder they will be to remove.
Spot Treating Hand-Knotted Revival Rugs
For water-based spills (e.g. wine), use a clean cloth or paper towel to blot the excess liquid. You may also have to add a small amount of clean water to dilute the stain (using a wet cloth or paper towel). Continue to blot until the stain is removed.
If the stain is still visible, you can repeat the blot-and-rinse procedure using ACTIVE detergent. Fill a bowl with cool water and add a small amount of ACTIVE detergent. Mix to dissolve the powder. From there, you can add the detergent mixture to the stain using a wet sponge or cloth. Continue to add clean water sparingly to dilute the area. Repeat until the stain is no longer visible. If necessary, you can also use a soft-bristled brush, such as an old toothbrush, to clean the stain. Just remember to be gentle.
Tip: Never scrub at the stain, even if it's persistent. Not only will that spread the stain but it can also damage the delicate fibers.
For oil-based stains, you want to start by removing whatever the oily liquid is with a spoon or heavy paper. Once you've done that, you can proceed with the blot-and-rinse procedure.
If the stain is still persistent, you may have to bring it to a professional cleaner.
Spot Treating Flatweave Revival Rugs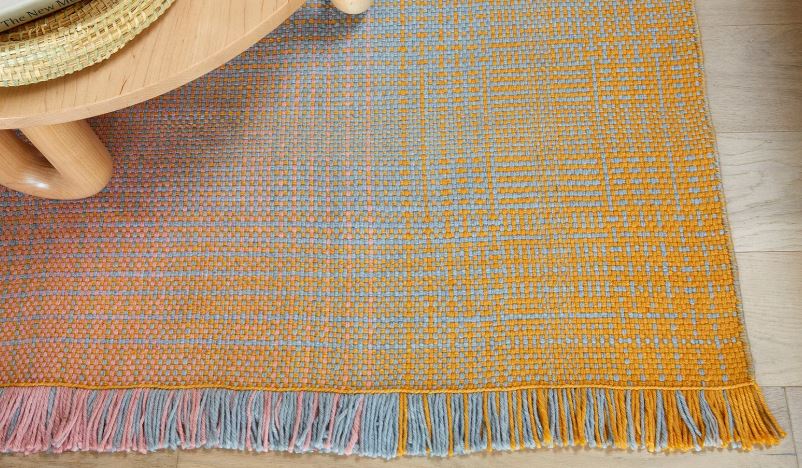 Blot the spill with a clean paper towel or cloth until it's dry. Do not add any liquid, including water, as that can make it more difficult to remove the stain. In some cases, it can even extend them further (moisture travels along the fibers and can get trapped in flatweaves, where the fibers run horizontally).
How to Wash Vintage Revival Rugs
Caring For Vintage Revival Rugs
Their vintage collection is much more delicate than their regular rugs. Given that, you do not want to put them in the washer. Rather, it's recommended that you vacuum them regularly- ideally once or twice a month- with a suction attachment (instead of a rotary attachment) to remove dirt and grime. It's important that you don't vacuum them too often as that can wear down the fibers and knots over time.
Every few months, you'll also want to flip the rug over and vacuum the back to get rid of any dirt or grit that has gotten into the foundation of the rug. Rotating your rug every once in a while will also help to ensure even wear over time.
Every three to five years, it's recommended that you get your vintage rug hand washed by a professional. Do not take it to the dry cleaners as that will almost always damage the rug.
Removing Stains From Vintage Revival Rugs
If the spill is water-based and non-oily, use a clean cloth or paper towel to blot the excess liquid. Dilute the stain with a small amount of clean water (added using a wet paper towel or cloth) and continue to blot. Repeat until the stain is gone. Avoid scrubbing the area even if the stain is persistent.
Tip: For rugs with saturated color palettes, it's best to spot-clean them outside so that you can hose them down immediately afterward- that'll help prevent the colors from bleeding.
Can You Dry Clean or Steam Revival Rugs?
It's not recommended that you steam or dry clean your Revival rugs. While it might sound like a thorough cleanse, it can actually permanently damage your rugs. The combination of high heat and chemicals will also strip wool fibers of their natural oils.
The Best Detergent For Revival Rugs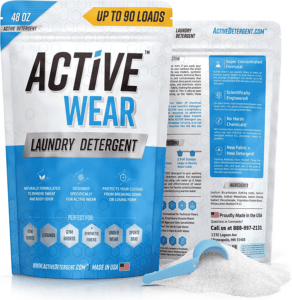 ACTIVE detergent is the number one choice for Revival Rugs. Why? Unlike traditional detergents, it's specifically engineered for synthetic fibers, such as polyester. On top of that, it contains three types of active enzymes that are capable of physically dissolving dirt and oils.
Plus, it's fragrance-free, hypoallergenic, and free of chemicals. It's also easy to use and versatile. For example, you can also use it to wash your gym clothes!
Note: This promotional offer is only guaranteed through the end of the day.