Peony is an Australian swimwear brand that's known for its classic designs and soft color palettes. Aside from swimsuits, they also offer ready-to-wear apparel such as tops, bottoms, and dresses. Not only are they fashionable, but they're all made from recycled and sustainable fabrics.
More About Peony
Peony Swimwear was founded by Becky Morton in 2012. A family-run business, they quickly caught the attention of women everywhere in Australia. By 2017, they had taken off internationally. Since then, they have expanded their collection significantly to include other products such as blouses, jumpsuits, coverups, and more.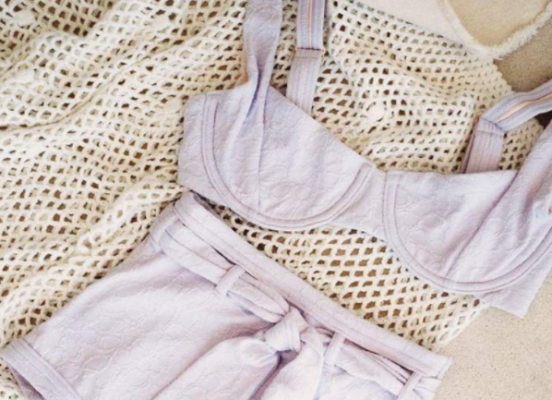 Aside from their official website, their products are available at many boutiques worldwide including Lane Crawford, Saks Fifth Avenue, David Jones, Net-A-Porter, Browns, and Selfridges.
What Kind of Peony Swimwear Do They Offer?
Peony offers a variety of bikini tops and bottoms, all of which you can mix and match. Not only that, but they sell one pieces as well and they're available in many colors and patterns—from stripes to floral designs.
Price-wise, you're looking at about $200 for a swimsuit (approx. $100 per bikini piece). With that said, they do offer discounts. In fact, there's a sale section on their website where you can take advantage of deals. Also, they offer free express shipping worldwide so you won't have to pay anything extra.
Taking Care of Peony Swimwear 
Bikinis and one pieces are delicate. You need to be gentle with them, otherwise, they can wear out prematurely. For one thing, you want to be careful with washing. Never use hot water; the heat can stretch out the fibers, which would ruin the fit. Similarly, you don't want to expose it to sunlight (the UV rays can cause fading).
Did you recently buy a new swimsuit? Looking for some tips on how to wash it? Then you're at the right place. Keep reading for everything that you need to know!
Materials Used by Peony Swimwear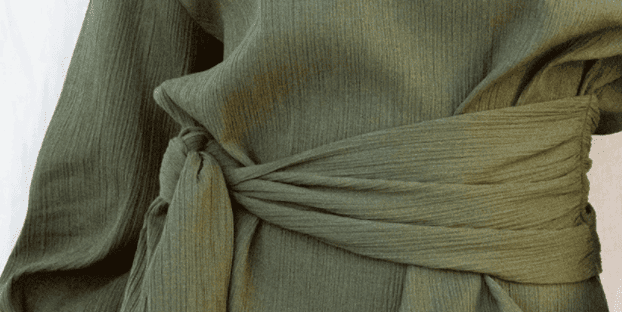 Their swimsuits are made from recycled nylon and spandex. Let's take a closer look at them below.
Recycled Nylon
Their recycled nylon is made from post-consumer plastic bottles, fishing nets, and carpets, which are collected through various initiates worldwide. Transformed into textile yarn, the regenerated nylon can then be woven or knitted into high-quality fabric for swimwear. Not only is it strong, but it also has great elasticity. On top of that, it's resistant to moisture, which makes it ideal for bathing suits.
For more information, check out their sustainability page.
Spandex
Spandex is a man-made fabric that's known for its ability to stretch. Lightweight and comfortable, it's often used for form-fitting apparel such as swimwear, dancewear, and yoga wear. Unlike other fibers, however, it's usually mixed with cotton, polyester, or other materials for clothing.
How to Wash Peony Bikinis and Swimsuits the Right Way
Peony recommends that you handwash their swimsuits with mild detergent. While that's true, you can also put them in the washer—there are just a few extra steps that you have to take as a precaution.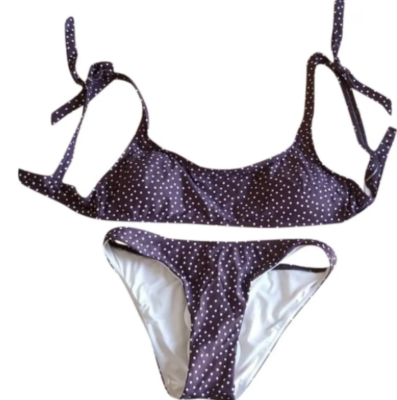 Washing Your Peony Swimwear By Hand
First things first, you want to rinse it with cool water (even if you didn't go in the water). Try to soak it for 20-30 minutes if you can; that'll wash off any sunscreen or chemicals that can otherwise break down the material.
Next, prepare a bath. Fill a sink or small container with cool water and add in half a scoop of ACTIVE detergent. Use your hands to agitate the water—that'll help the powder dissolve. From there, you can put in your swimsuit. Make sure to turn it inside out (both the top and bottom if you're washing a bikini) before submerging it in the sink.
Note: Removable cups should be taken out and washed separately.
Swish the bathing suit through the soapy water; that'll get rid of any loose debris. Let it soak for up to 30 minutes afterward.
Drain the sink and refill it with fresh water from the tap. Use it to rinse the item. If you want, you can also hold the suit under the faucet. Continue until there are no more soap suds.
Squeeze the excess water out of the fabric gently and place it on a clean surface. Do not wring or twist the swimsuit like a dish towel—that will permanently damage the fibers. If necessary, you can dry it with a towel instead. From there, lay it flat to dry. A clothesline or drying rack can also be used. Never tumble dry (this goes for all swimsuits).
Putting Your Peony Swimwear In the Washing Machine
Protect your swimsuit by turning it inside out. Next, place it in a laundry bag; that will keep the pieces together and prevent them from getting caught on other clothes during the cycle. Also, take out any removable pads and place them in the bag separately.
Tip: Remember to rinse your bathing suit with cool water first before putting it in the washer.
Make sure that the bag is zipped up and place it in the machine. We recommend adding a few towels to balance the weight if you're washing the suits by themselves. Otherwise, you can just add the rest of your laundry (you can machine wash their swimsuits with other activewear such as tank tops, shorts, cover ups, etc).
Measure one scoop of ACTIVE detergent and add it to the drum/dispenser, whichever is the preferred method for your washer. From there, choose your settings. You want to select a delicate/gentle wash cycle—that'll be the gentlest on your swimsuits. Avoid bleach or fabric softener; both can do more damage than good.
Press start and let the washer run. Retrieve your clothes once it's finished. Don't use the dryer for your swimsuits. Lay them flat on a clean surface to dry instead. Or even better, drape them over a laundry rack. Avoid hanging them up by the straps (they can easily stretch).
Note: Leaving your swimsuits in the machine for too long can cause bacteria growth. In other words, be prepared to wash them all over again!
Washing Peony Dresses Properly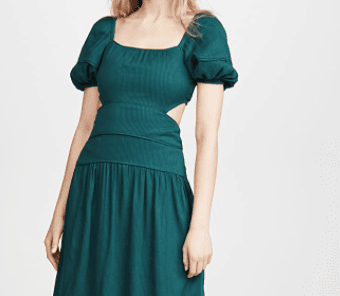 Peony also sells dresses that you can wear to the beach, etc. Here are a couple of ways that you can clean them:
Using the Washing Machine For Your Peony Dresses
Separate light-colored dresses from dark ones. That way, you won't have to worry about dye transfer during the wash cycle. Once you've done that, turn the garment inside out—that'll preserve the colors and prevent it from fading.
While you can place the dress directly in the washer, it's highly recommended that you use a laundry bag. It'll add an extra layer of protection so that the item will look new for longer.
Tip: Feel free to wash your dresses with other garments such as tees, tanks, etc. Just don't mix lights with darks and you'll be fine.
Close the laundry bag and put it in the washing machine. Next, add the rest of your clothes (for those who are washing a mixed load). From there, add one scoop of ACTIVE detergent will do. Be careful not to add too much, otherwise, it can have the opposite effect (it'll trap the dirt in). Avoid bleach. Also, skip the fabric softener; it'll do more harm than good.
Once everything is in, select your wash cycle. Generally speaking, you always want to use a delicate setting—that'll be the gentlest on your dresses. Avoid hot water as it can damage the fabric (when in doubt, check the care tag label).
Allow the washer to run. Retrieve your dresses and hang them up afterward to dry. Do not put them in the dryer as the heat can cause the material to shrink. Also, don't expose them to direct sunlight; it can cause the colors to fade. Instead, let them air dry indoors in a well-ventilated area.
Hand Washing Your Peony Dresses
Start by creating a bath. You can either use a sink or a washbasin; fill it with cool water and add half a scoop of ACTIVE detergent. Swish it a few times with your hands to dissolve the powder. You should end up with a soapy solution.
Turn your dress inside out and put it in the sink. Make sure that it's fully immersed in the sudsy water. Agitate it a few times to help work in the detergent and let it soak for up to 30 minutes.
Rinse well afterward by holding the dress under the faucet. Or if you want, you can refill the sink with fresh water from the tap. Either way, you want to rinse until the soapy water is gone; this can take a couple of minutes.
Gently press the water out of the dress; be sure not to twist or wring the item as that can permanently damage the fibers. Allow it to air dry on a laundry rack in a well-ventilated room. Don't put your dress in the dryer.
Tip: You can speed up the drying process by using a towel. Place the dress on top of one, making sure that it's flat, and roll it up inside the towel (like a sleeping bag). Repeat several times.
Note: This promotional offer is only guaranteed through the end of the day.