L*Space is known for their swimsuits, which feature playful prints and vibrant colors. Not only that, but they also sell dresses, jumpers, loungewear, sweaters, coverups, and more. Plus, they offer accessories such as bags and hats.
More About L*Space
L*Space was founded by Monica Wise in 2000. A "surf-inspired" brand at the time, it catered mostly to the junior market; it wasn't until a few years later that they entered a more contemporary swim market. Since then, they've also expanded their collection to include other types of apparel.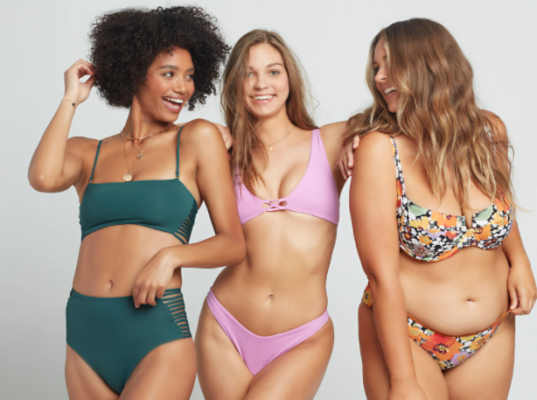 Aside from their official website, you can find their products at many retailers including Nordstrom, Shopbop, Revolve, South Moon Under, Zappos, and more.
What Kind of Swimsuits Do They Sell?
LSpace offers a variety of swimwear for women including one-piece swimsuits and bikinis. One thing that's great about their site is that you can sort their products based on the amount of coverage that they offer. For example, they have a section for 'full coverage' and a section for 'itsy coverage.' Plus, they have a collection of swimsuits with removable pads for those who prefer them.
Price-wise, you're looking at around $200 for a swimsuit (either a one-piece or a bikini top and bottom set). The good news is that they do offer free ground shipping and returns on U.S. orders (free international shipping for orders above $200) and a free gift will be included if your total is above $150.
Taking Care of L*Space Swimsuits
Swimsuits are delicate and can easily be damaged. That's why it's so important to care for them properly; the last thing that you want is to ruin them after just a couple of wears! For one thing, the fabric can stretch out easily and if that happens, it won't fit properly anymore.
Fortunately, you can prevent that with gentle washing. Need some help? Looking for a guide on how to wash LSpace swimsuits? If so, you're at the right place. We'll be going over everything that you need to know below!
Fabrics Used by L*Space
Their swimsuits are made of a nylon and spandex blend, which is fairly common when it comes to swimwear. Here's what you need to know about these materials. 
Nylon
Nylon has great elasticity (it can stretch up to 33% of its original length), which makes it ideal for bathing suits. Not only that, but it's durable. For one thing, it's abrasion-resistant; this allows it to stand up to almost any sport. Plus, it's resistant to sunlight. However, it's not very good against the heat (i.e. it can melt in high temperatures). For this reason, it should never be washed with hot water.
Spandex
Spandex, also known as Lycra/elastane, is a lightweight fabric that's used to make various types of activewear. Similar to nylon, it has exceptional elasticity, which allows it to return to its original state after stretching. It's also comfortable to wear and has great durability. The only thing is that it isn't very breathable and tends to stick to your body. Fortunately, that isn't a major problem when it comes to swimwear.
How to Wash L*Space Swimsuits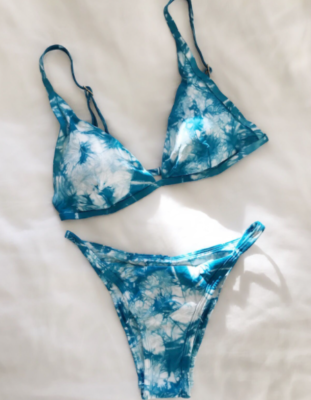 First things first, check the care tag label. It'll tell you everything that you need to know about how to wash the particular item.
Hand Washing Your LSpace Swimsuit
Rinse your swimsuit with cool water as soon as you can. That'll remove any chlorine, salt, sand, or body oil from the fabric. Or if you have time, let it soak in cool water for 30 minutes prior to washing—that's even better.
Tip: You can rinse your bathing suit by hopping into the shower with it on! Just make sure to use cool water, otherwise, you can damage the material.
Next, create a bath. Fill a clean sink (a washtub or bucket will do as well) with cool water. Pour in 1/2 a scoop of ACTIVE detergent and swish the water with your hand to dissolve the powder. Once it's mixed, put your swimsuit in. Make sure that the pieces are turned inside out and that any removable pads are taken out (you can put them in the sink with the suit).
Swish the swimsuit a few times in the sink to work in the soap suds. Let it soak in the solution afterward for up to 20 minutes.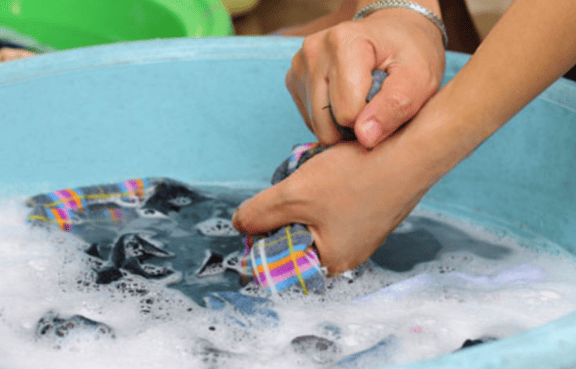 Drain the dirty water and refill the sink or bucket with clean water. Gently press up and down on the fabric to rinse out the detergent. Continue until all of the soap films is rinsed off (it can take a couple of minutes). Do the same for any removable pads. You can also hold the pieces under running water—that works too.
Under no circumstances should you wring out the suit. Instead, gently press out the excess water. Lay it flat on a clean surface afterward and allow it to air dry (you can also use a drying rack). Don't expose the suit to sunlight. Don't tumble dry. Replace the pads once they're completely dry.
Machine Washing Your LSpace Swimsuit
While it's best to hand wash your swimsuits, you can put them in the washer in a pinch (remember to rinse the suit with cool water first). You just have to be careful how you do it. First things first, turn the suit inside out (both the top and bottom if you're washing a bikini). Take out any removable pads and place them in a mesh laundry bag with your swimsuit; that'll keep the pieces together and prevent them from snagging or pilling during the cycle. Never put a swimsuit in a washing machine without a laundry bag.
Note: You can machine wash their swimsuits with other activewear such as sports bras, tanks, or leggings—you just have to sort the colors.
Put the sealed bag into the washing machine. Add the rest of your laundry. For those who are just washing their swimsuits, you can add in a couple of towels; that'll help distribute the load so that the washer will run more smoothly.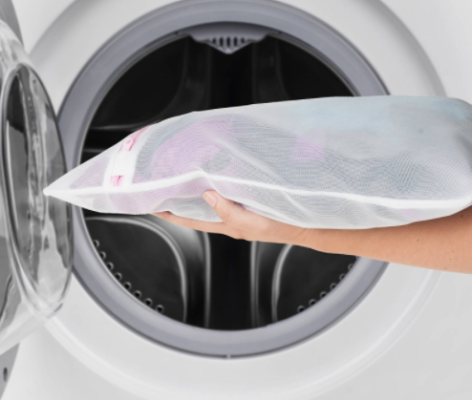 Add one scoop of ACTIVE detergent to the dispenser (or drum, depending on the model). Don't use fabric softener; it'll trap in dirt and chemicals, making them harder to wash away. If necessary, you can use white vinegar instead—one cup will suffice (don't worry, the vinegar smell won't stay).
Select a gentle/delicate setting and run a cold wash cycle. Don't use a normal setting; it'll be too much for the swimsuit's delicate fibers. Also, never use hot water—the heat will stretch out the elastic material.
Retrieve your swimsuit once the machine is finished running. Don't leave it in for too long, otherwise, the moist environment can breed bacteria (aka you'd have to wash it all over again). Lay the wet suit on a clean surface and allow it to air dry, away from direct sunlight. Don't put the suit in the clothes dryer.
Tips On How to Make Your Swimsuit Last Longer
There are several things that you can do to make your swimsuit last longer. Here are some tips!
Never Wring Your Swimsuit
Never wring your swimsuit like a rag. Instead, lay it flat on a towel and roll it up with the suit inside—that'll help remove the excess water without damaging the material.
Pretreat New Bathing Suits
Don't wear your new bathing suit without first pre-treating it. More specifically, you want to soak it in a mixture of water and white vinegar; it'll help seal in the colors so that you won't have to worry about them fading. This is especially important if you plan on wearing the suit in a hot tub.
Sit On a Towel
Avoid sitting on rough surfaces (e.g. ground next to the pool or hot tub) while wearing your swimsuit. These impromptu 'seats' can cause the material to snag or tear. Make a habit of bringing a towel with you and sitting on it instead.
Designate One Swimsuit For the Hot Tub
Reserve one bathing suit just for the hot tub (ideally, your cheapest one). That way, you won't have to worry about ruining your expensive suits by exposing them to heat.
Rotate Swimsuits
Rotate your swimsuits so that you're not just wearing one all the time. Not only will that prevent excessive wear, but it'll also allow the suit to 'bounce back' (the elastic fibers need time to snap back to their original positions). In other words, bring more than one bathing suit with you if you plan on going on vacation!
The Best Laundry Detergent for L*Space Swimsuits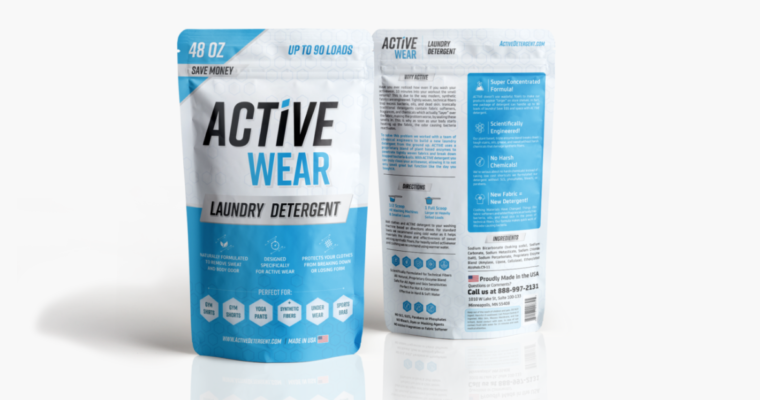 ACTIVE detergent is specifically made for activewear such as swimsuits. For one thing, it contains plant-based enzymes, which are capable of physically breaking down sweat, oils, and dirt, something that regular detergents can't do. On top of that, it doesn't contain any fillers or artificial fragrances—everything is natural. This makes it a good option for those with allergies or sensitivities. You don't need to use a lot of it either; one small scoop will do. In other words, one bag will last you many laundry sessions.
Note: This promotional offer is only guaranteed through the end of the day.