Kuhl has been manufacturing outdoor and lifestyle apparel for nearly three decades. Their goal is to make sure that they're all comfortable, stylish, and durable. Aside from clothing, they also sell accessories such as bags, hats, blankets, and more.
More About Kuhl 
Kuhl was founded by Kevin Boyle and his team in 1983. Known as Alfwear at the time, they made themselves known for their Peruvian-inspired hats. It wasn't until later on that they added apparel to the mix. From there, their popularity only climbed up!
Nowadays, they're one of the best-known brands when it comes to mountain apparel. Aside from their official website, you can also find their products at retailers such as REI, Paragon Sports, Montanic Adventure Store, and more.
More About Kuhl Apparel
The brand offers a variety of comfy clothes for men and women. For example, they sell flannel shirts, button-downs, fleece sweaters, jackets, hiking pants, base layers, and more. They even sell undergarments!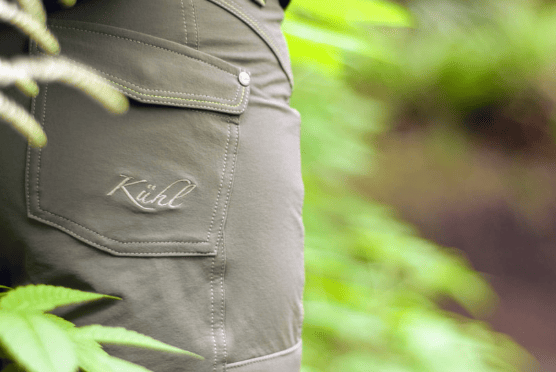 Their prices aren't the cheapest but you get what you pay for. For those who are curious, a jacket can run you upwards of $400. There are more affordable options, however, such as their hoodies and sweaters, which are generally priced below $150.
Taking Care of Kuhl Outerwear 
Let's face it—no one wants their jacket to wear down after just a few months, especially if it cost a few hundred dollars. Fortunately, it's easy to prevent that; you just have to take proper care of the item. In other words, don't do things that can damage the fabric, such as blindly tossing it into the washer. You'd be surprised to know just how easy it is to ruin an item in the laundry!
Note: One of the great things about Kuhl is that they guarantee all of their products to be free of defects. If you ever run into any problems, just contact the company. They'll be happy to repair or replace the item for you!
Proprietary Fabrics by Kuhl
Kuhl is unique in that they have their own proprietary fabrics that they use for their apparel. Here's a brief overview of some of them.
Kuldry
Their Kuldry Stretch fabric is made from a lightweight nylon/cotton blend. Not only is it durable, but it also provides a full range of motion. On top of that, it's breathable so you won't have to deal with that icky clammy feeling when you're out and about.
Their Kuldry collection includes jackets, sweaters, hoodies, and more.
UberKuhl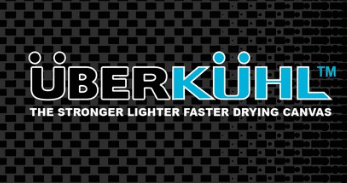 Their Uberkuhl technical fabric is made by blending nylon into a cotton weave. In doing so, it has the feel of cotton with the durability of nylon. Soft and comfortable, it's great for outdoor apparel. As an added plus, it also dries quickly, which makes washing it more convenient.
Their Uberkuhl collection includes hats, pants, and more.
Dynawax
Dynawax is a water and wind-resistant material that features PU coating. This protects it from weathering, abrasion, and other processes that can damage the fabric over time. On top of that, there's a layer of synthetic wax, which adds to its durability.
Their Dynawax collection includes jackets, vests, and more.
Freeflex
Freeflex is a flexible and comfy material that's designed for physical activity. Lightweight and moisture-wicking, you won't have to worry about feeling clammy even if you're working up a sweat. It's also quick drying so that you can get it clean and wear it again faster.
Their Freeflex collection includes sweaters, jackets, and more.
Alfpaca Gold Fleece
Their Alpaca Gold fleece fabric is known for its warmth, durability, and performance. Knit with multi-toned yarn, it features a greater softness that's not seen in other fleece. Strong and moisture-wicking, it's perfect for outdoor jackets and other apparel. 
Their Alfpaca Gold Fleece collection includes sweaters, jackets, and more.
How to Wash for Kuhl Jackets
Kuhl offers a variety of jackets—some are filled with down whereas others are shells. Generally speaking, you can wash them a similar fashion, there are just a few differences and we'll be outlining them below.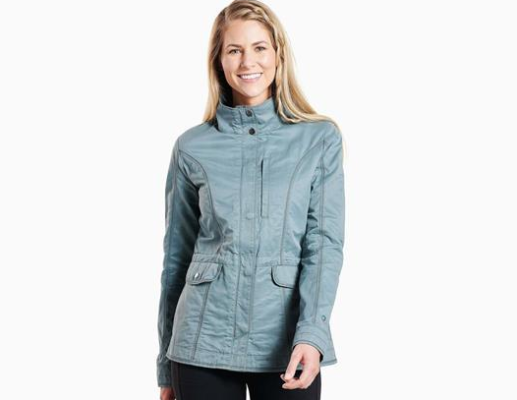 Are Kuhl Jackets Machine Washable?
Yes, you can put Kuhl jackets into the washing machine. Before you do, though, open and check the pockets. Remove all objects. The next step is to close the zippers. That will prevent the hardware from damaging the fabric (either the jacket itself or your other garments) during the wash cycle. Velcro strips should also be closed if there are any.
Note: You can wash Kuhl jackets with other activewear given that everything's been sort by color.
Consider placing your Kuhl jacket into a mesh laundry bag for extra protection. Open the door of the washing machine and load it in (along with your other items). Measure out a scoop of ACTIVE detergent and pour it into the drum. Fill the washer with cool water, set it to a delicate setting and press start. Fabric softeners should never be used as they'll cover your jacket with a waxy layer. Why's that bad? It'll reduce the moisture-wicking properties of the fabric.
Wait for the washing machine to finish washing before opening the door and removing your jacket. If it's a rain jacket or shell, hang it up to dry. If it's a down jacket, transfer it into a dryer and dry on low heat. The tumbling will fluff out the down feathers while the heat will get rid of the moisture. Do not air dry as there's a chance of mold growth (the inside won't be able to dry completely).
Washing Kuhl Jackets By Hand
Kuhl jackets can be washed by hand as well. You just need a container to fit the item in—or you can use the sink. The first step involves filling it with warm water. Once you've done that, mix in a scoop of ACTIVE detergent. You should end up with a soapy solution.
Put the jacket into the solution so that it's fully submerged. Carefully work in the soap suds by pressing the item up and down with your hand. The next step is to let it sit. This will allow the detergent to penetrate into the fibers so that it can get rid of the dirt and oils.
Massage the fabric with your hand after soaking to get rid of any leftover debris. When you're finished, press out the dirty water. From there, you want to rinse the jacket clean. So refill the container or sink with clean water. Remove all the soap suds from the fabric by pressing up and down on the item. Repeat until the water is clear and that there are no signs of detergent.
If it's a rain jacket or shell, hang it up so that it can dry naturally. Down jackets, as mentioned earlier, should be dried using the dryer. Use low heat.
Washing Guide For Kuhl Base Layers
Kuhl offers various base layers from bottoms to long-sleeves. Assuming that you've sweat in them, you'll want to wash them as soon as possible. Here's how.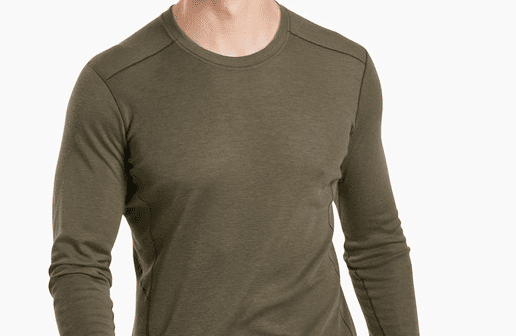 Putting Kuhl Base Layers in the Washing Machine
Their base layers, like the rest of their apparel, are machine washable. The first thing that you should do, before placing it in the washer, is to flip it inside out. That will protect the outside layer from the agitator, which will lengthen its lifespan. If there are zippers, make sure that they're fully closed. It's highly recommended also that you use a laundry bag, especially if you plan on washing it with other activewear.
Load your base layers into the washing machine and set the knob to "gentle" or "delicate." Once you've done that, take out your ACTIVE detergent and add one scoop onto the load. Like we said earlier with their jackets, you do not want to use fabric softeners. Press start and run the cycle on cold water. Avoid heat as it can shrink and damage the shirts and pants.
Remove your items from the washer (and from the laundry bags as well if you've used them) and hang them up so that they can dry naturally. Do not put them in the dryer. Likewise, you don't want to put them under direct sunlight.
Washing Kuhl Base Layers By Hand
Bring your Kuhl base layers to the sink. Fill it with water and create a solution by adding a scoop of ACTIVE detergent. Swirl the water a few times with your hand until bubbles appear and put your items in. The fabric should be completely submerged in the detergent water. Leave it in there for 20 to 30 minutes.
Rinse your base layers with running water after soaking. You want to remove all the detergent including the soapy film layer. Transfer the items onto a clean towel once they're soap-free. Roll them up to extract the excess water out of the fabric and let the garments air dry.
Best Laundry Detergent For Kuhl Outerwear Clothing
Traditional detergents just won't cut it when it comes to cleaning Kuhl's outerwear. They're simply not designed to clean such fibers. What should you use instead? ACTIVE detergent. As its name implies, it's formula is specific for activewear. That is, it's capable of removing dirt and sweat from synthetic fabrics, such as the ones used in Kuhl's proprietary fabrics.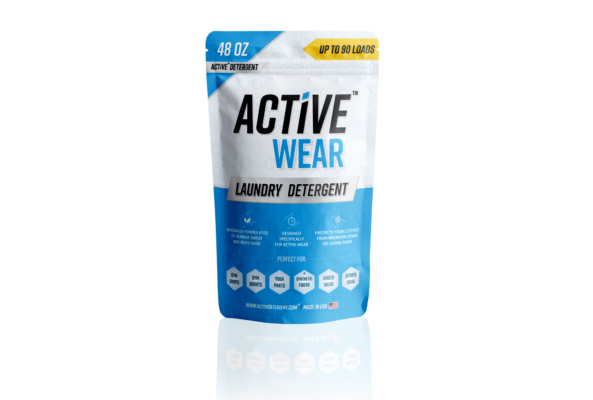 The best part is that it's gentle. After all, its ingredient list doesn't include any harsh chemicals. In fat, the entire thing is made from plant-based compounds! So it'll be better for your skin and the environment.
Note: This promotional offer is only guaranteed through the end of the day.