Helly Hansen designs and manufactures waterproof apparel for outdoor activities. Aside from that, they're also known for their survival gear and fishing equipment, both of which are used by professionals around the world. In fact, they're the number one workwear brand in Scandinavia.
More About Helly Hansen
Helly Hansen was founded by Helly Juell Hansen in 1877. Based in Norway, the company started out selling oilskin jackets, tarpaulins, sou'westers, and trousers. Within five years, they had sold nearly 10,000 items.
Over the years, there have been many company takeovers. In 2018, the brand was sold to Canadian tire for $985 million CAD. That hasn't changed much in terms of their sales, however. For one thing, their apparel is still available at various retailers such as Nordstrom, REI, and David Jones.
What Kind of Activewear Do They Sell?
Helly Hansen offers a wide array of outdoor wear for men, women, and children. For example, they sell rain jackets, ski pants, base layers, vests, and more. Aside from clothing, they also sell accessories such as hats, gloves, belts, and most recently—face masks.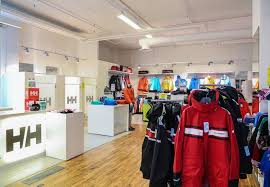 As expected from such a popular brand, however, their clothes aren't particularly cheap. To give you a better idea, one of their jackets can easily run you a few hundred dollars. Fortunately, they do have a sale section on their website so if you're lucky, you can snag some items at lower prices.
Taking Care of Helly Hansen Activewear
Their outerwear is made to be long-lasting. It won't mean anything, however, if you don't care about your clothes. This goes for everything they sell from down jackets to base layer tops.
As a general rule, you always want to wash your clothes after each wear—this is especially true if you've been sweating. Obviously, there are some exceptions to the rule (e.g. down jackets, rain jackets, etc) but it applies for most items.
The way in which you do your laundry matters as well. For example, you wouldn't want to wash your Helly Hansen ski pants with hot water and fabric softeners—both things can easily damage the fabric over time.
Helly Hansen's Proprietary Fabrics – Helly Tech
Like many brands, Helly Hansen has their own proprietary fabrics that they use for their outerwear; it's what sets them apart from other companies. You can read more about them on this page but we'll also be going over them briefly below.
What Is Helly Tech?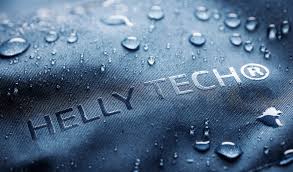 Helly Tech is a waterproof layer that's made to keep water molecules out. Designed for the harshest of conditions, it features windproof technology so that you can stay warm even from the most piercing of winds and temperatures. At the same time, it's also breathable so that you can stay nice and comfortable on the inside.
What's more, is that there are three different performance levels to choose from.
Professional: Helly Tech Professional is extremely waterproof and breathable. Designed for aerobic activities, it's capable of withstanding extremely wet conditions even in harsh environments.
Performance:  Helly Tech Performance is one step higher than Helly Tech Professional in that the fabric is more breathable. Designed for a wide range of outdoor activities, it can be used in various weather conditions.
Protection:  Helly Tech Protection is not only waterproof and windproof but it also provides protection against the weather and elements. Similar to the other lines, it also features a breathable construction
How to Wash Helly Hansen Rain Jackets
Running Your Helly Hansen Rain Jacket Through the Washer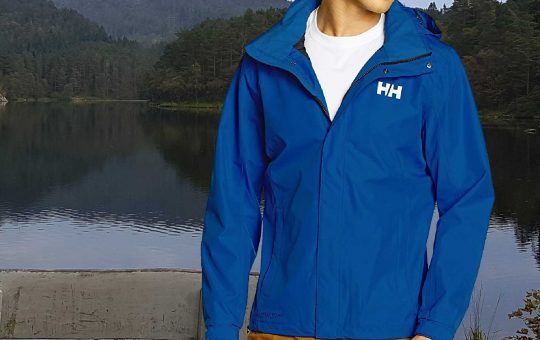 Before washing your jacket, make sure that all zippers are closed and that the pockets are empty. Wipe off any dirt or grit with a clean cloth. From there, you can toss your raincoat in the machine. If you want, you can add a couple of towels for extra padding—that way, it'll be kept safer during the spin cycle.
Once you've loaded your rain jacket in the machine, add one scoop of ACTIVE detergent. Do not use bleach or fabric softeners; they can both damage the waterproof finishing. Set your washing machine to a cold water cycle and run it on a gentle setting. If anything, that's super important as you don't want to expose the jacket to too much agitation.
Wait for the wash cycle to finish before running an additional rinse cycle—the goal is to flush out all of the residual soap. You'll know once it's clean as it won't feel filmy or gritty. From there, transfer it to the dryer. The heat will not only dry the jacket, but it'll also reactivate the DWR treatment, which gives the fabric its waterproof finish.
Note: Every now and then, you'll have to re-apply the DWR before putting it in the dryer. When should you do it? When water stops beading off the surface of the jacket. Basically, all you have to do is spray the product over the surface on the garment—both the front and back. From there, you can dry it with the machine as normal.
Washing Instructions for Helly Hansen Base Layers
Base layers are one of those things that you should be washing after each wear. For the purposes of this article, we'll be focusing on those made of synthetic materials.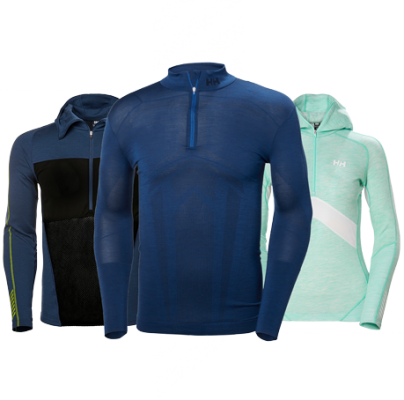 Putting Your Helly Hansen Base Layers in the Washing Machine
Turn your synthetic base layers inside out. Protect them by using a mesh laundry bag and load them in the machine. For those who are wondering, it's fine to wash them with other clothes, however, it's best to wash them together with other synthetic garments.
Load your base layers into the washing machine. Use a technical cleaner that's designed for these types of fabrics such as ACTIVE detergent—one scoop will do unless you're dealing with several items. Do not add fabric softener or bleach.
Follow the instructions on the garment care label and run the wash cycle. Generally speaking, you'll want to use cold water with a gentle setting so that there's minimal agitation. When the wash cycle is finished, take out your base layers. You can either lay them flat to dry or hang them up. Depending on the item, you may also be able to use the dryer on low heat.
Hand Washing Your Helly Hansen Base Layers
Prepare the sink by filling it with cool water. Mix and combine half a scoop of ACTIVE detergent—you can swish it a few times with your hand to help it dissolve. Once the solution is sudsy, submerge your base layers. You want the fabric to be fully saturated, otherwise, it won't be as effective.
Massage the base layers with your hands a few times—that will help loosen up any grit and dirt. From there, let the garments soak in the sink for around 20 minutes.
After soaking, rinse the items with clean water. Make sure to remove all the soap suds so that it won't irritate your skin. To do this, simply drain the sink and refill it with water. Press up and down on the base layers gently to extract the excess water and detergent. Continue until there are no more signs of detergent.
Transfer the items onto a clean towel and let them air dry. In some cases, you can also tumble dry on low (make sure to check the garment label first).
How to Clean Helly Hansen Outdoor Pants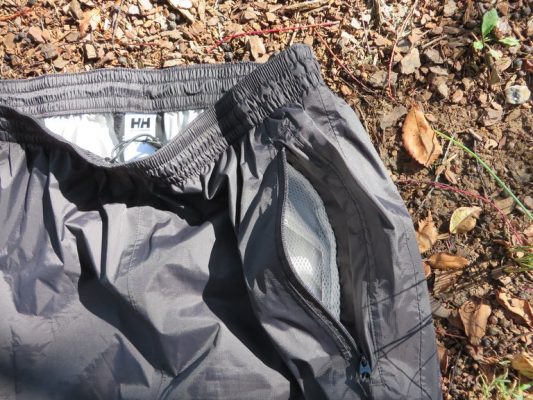 Are Helly Hansen Outdoor Pants Machine Washable? 
Yes, most of their outdoor pants, including their ski pants, can be run through the machine. Before you do that, though, ensure that you've emptied the pockets. All zippers should also be closed. After that, you can stuff the pants inside a mesh laundry bag (turn them inside out first).
Pro-tip: You may have to soak the pants in a detergent solution first, before putting them in the washing machine if they're excessively soiled. If they're smelly, consider adding one cup of white vinegar to the detergent solution—it'll help neutralize the odor.
Place them in the machine, together with the rest of your activewear. Add 1-2 scoops of Active detergent directly to the drum or drawer and choose a delicate wash cycle. Remember to only use cold water. Do not use fabric softeners as most of their outdoor pants come with a waterproof finishing. Similarly, avoid bleach.
Wait for the washing to finish before taking out your pants. Leave them inside out and allow them to air dry. You can use either a drying rack or a clothesline, it doesn't really matter, as long as you don't put them in the dryer. Exposure to sunlight should also be avoided.
Washing Helly Hansen Outdoor Pants By Hand
Prepare a tub or sink by filling it with water. Next, add 1/2 a scoop of Active detergent (you can use a whole scoop if you're washing more than one garment). Wait for the detergent to dissolve before submerging your pants. Gently move it through the water with your hand to help work in the soap.
Once the pants are saturated, let them sit for about 20-30 minutes. This will give the detergent a chance to loosen any dirt or grit that's present on the fabric. Afterward, rinse the pants by draining the tub and refilling it with fresh water. Chances are, you'll have to manually squeeze out the detergent by pressing on the pants. Be gentle; don't twist the fabric as that will ruin the pants. Alternatively, you can rinse them under the tap after draining the tub. Ultimately, the goal is to remove the film of soap.
Gently press the excess water out of the pants and proceed to let them air dry in a well-ventilated room indoors. Do not iron or dry clean.
Note: This promotional offer is only guaranteed through the end of the day.