Eberjey is a lifestyle brand that sells loungewear, resort wear, swimwear, and intimate apparel. Not only that, but they offer accessories as well such as face masks, slippers, and sandals.
More About Eberjey
Eberjey was founded by Mariela Rovito and Ali Mejia in 1996. While the latter had never wanted to be a fashion designer, she did have an interest in lingerie and sleepwear. Putting her dreams into action, she laid out a plan and eventually created her own label.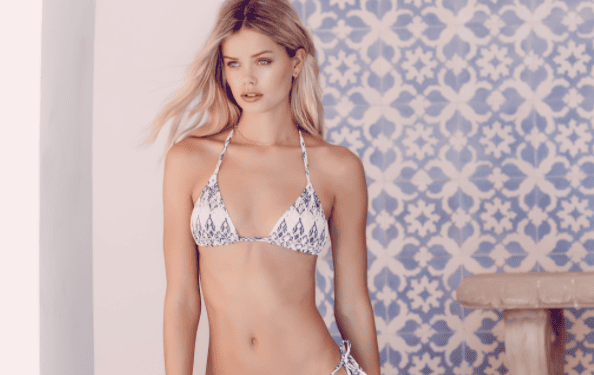 As of 2023, there are four boutique locations in Coral Gables, Miami Beach, Newport Beach, and New York. Their productions are also available from various retailers including Holt Renfrew, Bloomingdale's, Neiman Marcus, Nordstrom, and more.
What Kind of Swimsuits Do They Sell?
Eberjey offers various styles of women's swimsuits including bikini tops, bikini bottoms, one-pieces, and cover-ups. Not only that, but they also have a kid's collection, which you can check out on their website.
Generally speaking, their suits range from $160 to $200 (aside from their kid's collection). With that said, they do have sales on a regular basis. Also, shipping is free on all U.S. orders above $100. Unfortunately, they no longer process international orders.
Taking Care of Eberjey Swimwear
Their swimsuits are durable but you still have to do your part to protect them. This means using the right detergent and rinsing the item after each wear. You also want to keep it away from high temperatures as it can wear out the fabric prematurely.
Recently bought one of their bikinis? Want to know how to wash them? If so, we've got you covered. We'll be going over the different ways below—so be sure to keep reading!
What Fabrics Do They Use For Their Swimsuits?
Eberjey uses various synthetic fabrics for their swimsuits, which we'll be going over below.
Nylon
Nylon is strong, lightweight, and durable. It also repels water, which makes it one of the most popular choices for swimwear. On top of that, it's quick-drying and has excellent stretch. However, it's prone to shrinking and fading if exposed to high temperatures. Also, it's not as breathable as other fibers.
Spandex
Spandex is a soft fiber that's renowned for its elasticity. For this reason, it's often used in form-fitting garments such as swimsuits and dancewear. On top of that, it's strong and comfortable to wear. Unlike other fabrics, however, it's never used alone. It must be blended with other materials such as nylon or polyester.
Polyester
Polyester is much stronger than cotton and other natural fibers. Not only is it moisture-resistant, but it's also less prone to tearing or stretching. It also retains its shape well.  Like most synthetic fibers, however, it's sensitive to heat.
Washing Guide For Eberjey One Pieces and Bikinis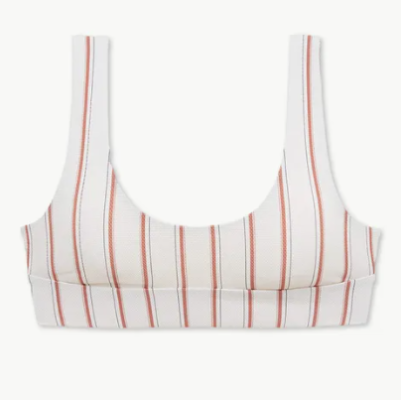 Generally speaking, it's best to wash your swimsuits by hand (it's also what the brand recommends). That doesn't mean that you can't put them in the washer, though. You can—there are just a few extra steps that you have to take.
Recommended: Washing Your Eberjey Swimsuits By Hand 
Give your swimsuit a rinse with cool water right after wearing it. If you can, let it soak for a few minutes in the sink; that'll remove any salt, sand, or chemicals that can damage the fabric. Also, it'll help to preserve the colors so that your suit will last longer.
Hand wash the suit as soon as you get home. All you need is a sink or washtub—fill it with cold water and add 1/2 a scoop of ACTIVE detergent. Dissolve the powder by swishing the water a few times; you should end up with a bubbly solution.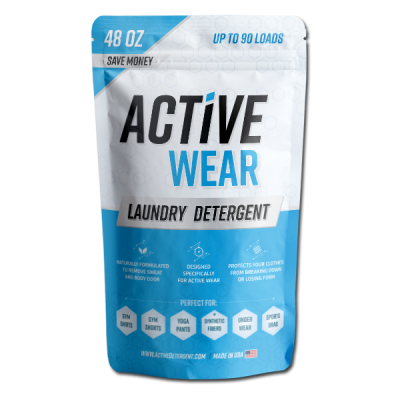 Expose the inner layer of the suit by turning it inside out (both the top and bottom for bikinis). Immerse it in the sink so that it's fully covered and let it sit for up to half an hour. Consider adding a couple of tablespoons of white vinegar if odor is an issue. Baking soda can also be added if there are stains.
Gently massage the fabric to work out any dirt and chemicals. Next, drain the dirty water; rinse the suit until the water runs clear. You may have to hold it under the faucet for a couple of minutes.
Press the excess water out of the bikini/one piece and lay it flat to dry. Avoid hanging it up as the water can pool in the fabric and that can cause stretching. Don't tumble dry.
Tip: You can remove extra water by rolling your swimsuit on a clean towel.
Optional: Machine Washing Your Eberjey Swimwear
Start by rinsing the suit with cold water. Ideally, you want to give it a soak but holding it under running water will do as well. That'll get rid of any body oils or chemicals, which can damage the fabric.
Turn the suit inside out so that the inner layer is on the outside. Protect it from agitation by placing it in a laundry bag; it'll act as a physical barrier so that it won't catch on your other items. It'll also keep your bikini top and bottom together.
Tip: You can wash their swimwear with other similar garments such as t-shirts, tank tops, and bras. The only thing is that you must sort out the colors (ie. lights with lights, darks with darks).
Close the zipper and place the laundry bag in the washer. Put in the rest of your clothes if you're washing a mixed load, otherwise, add a few towels; that'll help balance the load so that the machine will run more smoothly.
Add one scoop of ACTIVE detergent (feel free to adjust the amount based on the size of your load). Skip the softener; it'll coat your bathing suit with a wax-like substance, which will prevent it from becoming clean.
Choose a gentle setting on your machine and wash with cold water. Wait for it to finish before taking out your suits. Don't leave them inside for too long, otherwise, bacteria will grow and you'll have to wash everything all over again. From there, lay it flat to dry, ideally on a towel. Another option is to use a drying rack. Don't dry it with heat; it'll permanently damage the fibers.
How to Wash Eberjey Shorts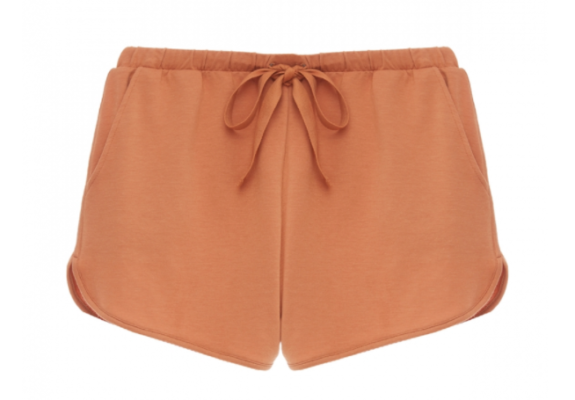 Eberjey also sells shorts, which you can wear to the beach. Here's how you can wash them.
Using the Washing Machine For Eberjey Shorts
Protect the shorts by turning them inside out; there should be nothing left in the pockets. While you can put them directly in the washer, we highly recommend that you use a laundry bag. It'll add an extra layer of protection so that they'll look new for longer.
Zip up the zipper and place the bag in the washing machine. Put in the rest of your dirty clothes and add one scoop of ACTIVE detergent (more, if necessary). Don't use softener or bleach. Consider using white vinegar instead if you want to soften the fabric—simply add one cup during the final rinse cycle. It'll also help remove any odors that are present.
Select your wash settings. As far as shorts go, it's best to use a delicate cycle as that'll be gentler on the item. Make sure to use cold water.
Press start and let the washing machine run. Wait for it to finish before opening the door and retrieving your shorts. Depending on the item, you may be able to pop it in the dryer. When in doubt, check the care tag label. Otherwise, you can let it air dry in a well-ventilated room. For example, you can put it up on a hanger or use a laundry rack. Avoid direct sunlight as it can cause the dyes to fade.
Tip: You can wash their sweat pants the same way. In fact, you can wash them together if the colors are similar.
Washing Your Eberjey Shorts Manually By Hand
Prepare a bath. You can either use a sink or a washtub—fill it halfway with cold water and add 1/2 a scoop of ACTIVE detergent. Wait for it to dissolve completely; you can speed up the process by swishing the water with your hand.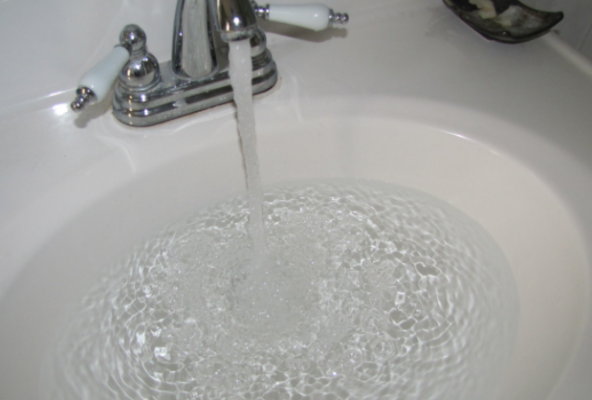 Ensure that there's nothing left in the pockets and place the shorts in the sink. They should be completely immersed in the solution so that the soap suds can get into the fibers. Leave it in there for 20-30 minutes.
Rinse the shorts with cool water afterward. For example, you can hold it under the faucet or rinse it in the sink (after refilling it with clean water) There shouldn't be any detergent or soap film left on the fabric. This can take a couple of minutes depending on the amount that's on the fabric.
Lightly squeeze the excess water out of the fabric. Try not to twist or wring the item as that can stretch out the fibers. If necessary, you can roll them inside a towel instead. Once you've done that, let them air dry. Like we said earlier, always check the care tag label before putting them in the dryer.
Note: This promotional offer is only guaranteed through the end of the day.