Athleta is a premium fitness and lifestyle brand. Unlike those of other companies, their activewear is specially designed for women. Some of their products include jackets, sports bras, tops, bottoms, swimwear, and dresses. Since the late '90s, they have also been selling sport-specific apparel such as those for hiking, dancing, tennis, and golf.
More About the Apparel Company – Athleta
The company was founded by a group of women—all of whom were involved with different sports—in 1998. Interested in creating their own clothing line, they worked together to create Pilayo—a breathable, wicking fabric that helped to launch the brand. 
Before long, they began to sell apparel for various sports such as surfing, snowboarding, and skiing. Highly successful, their sales went up on a regular basis. Eventually, they were purchased by Gap, Inc. for $150 million in 2008. More specifically, Athleta was added to their list of online brands which also included Old Navy, Piperlime, and Banana Republic.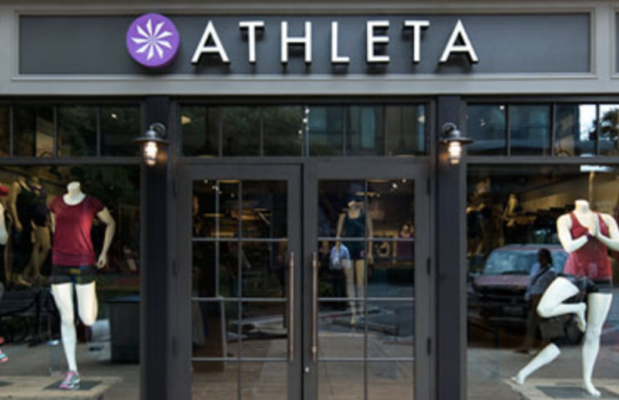 Since then, Gap has also begun to sell their products in retail outlets. Today, Athleta products can be found both online and in brick-and-mortar stores. As a matter of fact, there are more than 150 stores across the United States.
Taking Care of Their Products
As you'd expect, their clothing is not particularly cheap. For instance, a jacket can easily run you over $120; even their tops are over $50. Fortunately, the quality is there, which justifies the cost. Still, it can be quite an investment for many people.
Given how pricey everything can be, it only makes sense that you would want to take good care of the items. What does that mean? To use and wash them properly. After all, you can easily ruin a piece of clothing with incorrect washing methods. Before getting into that, though, let's take a look at some of the fabrics that they use.
Standard Fabrics Used by Athleta
Athleta mainly uses synthetic fibers in their activewear. Not only does it allow for more comfort, but it has the added benefit of keeping the wearer dry with its moisture-wicking properties.
Polyester
Polyester is a common synthetic material. Despite being a less expensive option, it is durable in that it can withstand a good amount of wear and tear. On top of that, it holds its dye well, which leads to less fading. While it's not particularly absorbent, it dries super quick; it is also wrinkle-resistant. 
Athleta uses polyester (sometimes recycled) in their: leggings, joggers, tees, sports bras, tops, jackets, shorts, skorts
Nylon
Nylon is similar to polyester in that it is lightweight and quick-drying. Naturally hydrophobic, the fiber expels water to the surface of the garment, where it then evaporates. Strong with good flexibility, the material is generally easy to take care of. 
Athleta uses nylon (sometimes recycled) in their: leggings, tights, swimwear, underwear, shorts, skorts, capris
Spandex/Elastane
Spandex/Elastane is known for its remarkable elasticity. More often than not, it is incorporated into clothing with polyester. Not only is it comfortable to wear, but it is relatively resistant to moisture. However, it is sensitive to heat and tends to stick to the skin. 
Note: Lycra is the brand name of the original spandex that was created in the late '50s. Spandex is also the same as elastane.
Athleta uses spandex in their: leggings, tights, shorts, skorts, sports bras, bras, capris
Combinations of Synthetic Fibers
Most of their athletic clothing is made from the above materials. In some cases, they are also made out of synthetic blends—that is, the fabric is mixed with two or more types of fiber. For instance, their leggings and tights are constructed out of nylon and Lycra, the latter of which provides stretch.
Athleta's Proprietary Fabrics
Like most activewear companies, Athleta also has its own proprietary fabrics.
Powervita
The Powervita line was launched in 2017. Designed for yoga, this fabric is not only soft—it's double brushed with just the right amount of support and compression. To date, it's one of their best-selling collections. Powervita is used in their tights, bras, tanks, and capris.
Powerlift
Powerlift offers more support and compression than Powervita. The fabric is used in their tights, bras, support tops, shorts—even their headbands!
Featherweight Stretch
Featherweight Stretch is unique in that it is made out of recycled polyester. Not only is it sleek, but it's lightweight and stretchy. Fully breathable, it even provides UPF 50+ protection for outdoor activities. This fabric is used in their shorts, tanks, ankle pants, shorts, joggers, and more.
Speedlight
Their Speedlight collection is great for medium and high-impact workouts. Seamless and comfortable, it stretches with every one of your movements. Great for both indoor and outdoor routines. This line includes their tanks, tops, and tees.
Foothill
Their Foothill line is specially designed for indoor and outdoor yoga practice. Chafe-free, the fabric stretches with every move. This type of fabric is used in their tees, tanks, and long sleeves.
Renew
Their Renew collection is designed for travel, work, and commuting. Breathable, it wicks sweat so that it can evaporate on the surface of the garment. This line includes various tanks and tees.
How to Wash Athleta Leggings, Shorts and Skorts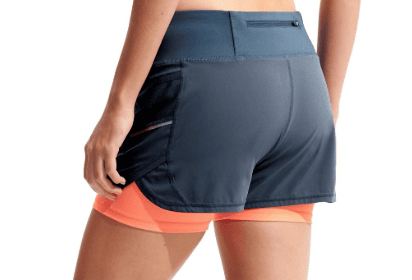 Their shorts and skorts are both made out of polyester and spandex. Given this, they can safely be tossed into the washing machine. Not sure how to go about doing that? Check out our instructions below!
Machine Washing Athleta Shorts, Leggings and Skorts
Prior to putting them into the machine, flip them inside out. After all, most of the sweat and oils will be on the inner layer—this will make it easier to wash out. If you want to prolong their lifespan, you can put the shorts and skorts into their own individual mesh laundry bags.
Add a bit of detergent—make sure that it is suitable for synthetic fibers. Ideally, you'll want to use something that is specially formulated to dissolve oils; we recommend using ACTIVE detergent. Select a gentle cycle and wash with cold water (occasional warm water is okay).
Pro-tip: Do not add fabric softener; doing so will coat the items with a layer of wax-like material that can impede its ability to wick moisture. Avoid bleach as that can lead to staining.
Take the leggings and shorts out of the laundry bags once the cycle is finished. Allow them to drip dry; this should not take too long as the fabric is naturally quick-drying. Do not put the items in the dryer—high heat can damage the polyester and spandex.
Washing Athleta Yoga Pants, Shorts and Skorts by Hand
Washing by hand is another option. Given how compact these items are, you can easily do so in the sink. Fill it with water and a little bit of ACTIVE detergent. Once the solution is mixed, submerge the shorts and skorts. Soak them for at least 15 minutes.
Pro-tip: You can use the same soaking method to deodorize their other clothing.
Afterward, pick up each individual garment and wash gently by rubbing the material against itself. Rinse off the detergent with water and put aside; repeat with the rest of the shorts and skorts. Allow them to air dry when you're done.
Note: You can wash their pants, joggers, tanks, long sleeves the same way (they are also made out of polyester/spandex).
Best way to Wash Athleta Underwear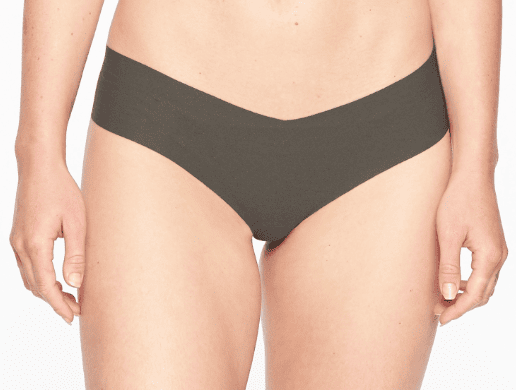 Their underwear (Performa, Natura, Incognita) is made out of nylon and polyester. Generally speaking, this blend is fairly easy to take care of. However, it can still get damaged with improper techniques.
Putting Athleta Underwear Into the Wash
It is absolutely fine to put their underwear in the washer. However, you should always use a lingerie bag to prevent them from getting stretched and snagged—this is especially true if you're washing them with other items. Choose a delicate cycle and wash with cold water; add ACTIVE detergent and press start.
Note: Never use chlorine bleach with nylon underwear.
When the cycle is done, take the lingerie bags out and remove the underwear. Hang them up on a clothesline to air dry. Do not put them into the dryer—not only will it damage the elastic, but it will cause pilling.
Handwashing Athleta Underwear
Hand washing is a good choice if you want to extend the life of the garments. Using a tub or the sink, soak it with soapy water (mix cold water with a small amount of ACTIVE detergent). Allow it to sit in the solution for at least 15 minutes—make sure that they are all submerged in the liquid.
The next step is to gently wash them with your hands. To do this, softly rub the underwear fabric against itself. When that's done, rinse the suds off with water. Never wring or twist the nylon-polyester material as that can lead to stretching and damage to the elastic. Instead, line dry.
How to Clean Athleta Sports Bras and Bras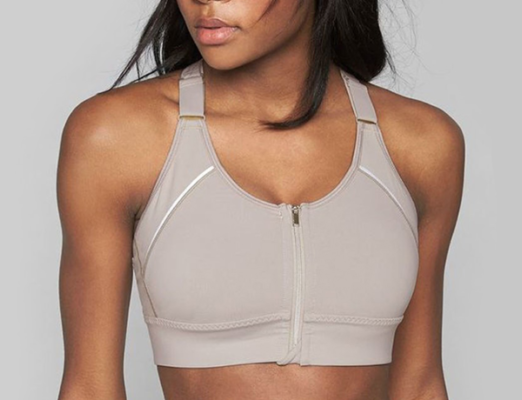 Aside from underwear, Athleta also sells sports bras and regular bras. While they are made out of different materials, they can generally be washed together.
Washing Sports Bras and Bras in the Washing Machine
Similar to other delicates, you'll want to protect them by using a mesh laundry bag. Seeing as how regular bras tend to have clasps, however, it's probably a better idea to separate them into two different bags. Once they're in the bags, you can put them into the machine.
Note: You can wash their sports bras and bras with other activewear as long as they are like colors
Add an appropriate amount of ACTIVE detergent; next, choose a delicate wash cycle. Wash only with cold water, do not use hot water as that will lead to shrinking and damage. Allow the cycle to run. Afterward, take the sports bras and bras out. Drape them over a drying rack and allow them to air dry. Do not put them in the dryer—the high heat will ruin the elastic.
Washing Athleta Sports Bras and Bras Manually
It's always a good idea to wash sports bras and bras manually if you have the time. As you can imagine, they do take a beating in the washer over time.
As with underwear, you'll want to soak the items in a sink or tub filled with soapy water. For the solution, mix together cold water with a minimal amount of ACTIVE detergent; swirl with your hand to mix. Once you've soaked the bras, you can gently massage them to get rid of the oil and sweat. When they're done, bring them under the faucet and rinse them clean.
Lay them on a dry towel; lightly press down on the garments to get rid of some of the water. Line or drip dry. As with their other clothes, do not put them into the dryer.
Best Detergent for Athleta Brand Clothes
Athleta is known for their activewear. Given that, it's only natural that you want to use a detergent that is geared towards that type of material (i.e. synthetics). Nine times out of ten, regular detergents will not cut it; they are simply not designed to lift away oil and sweat from the man-made fibers.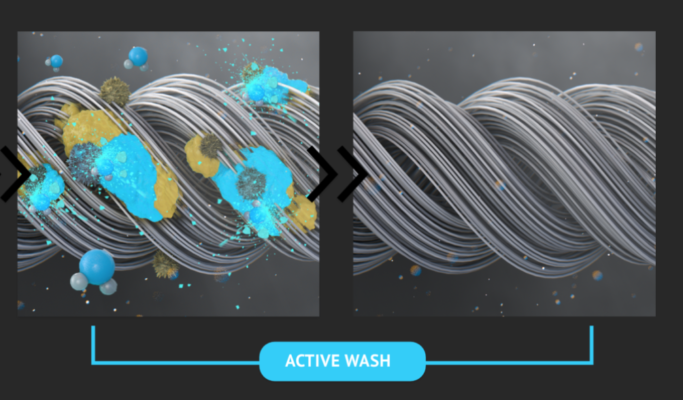 Instead, you want to use something that'll be able to break down and dissolve the oils. Enter ACTIVE detergent. Plant-based and non-toxic, this formula contains enzymes that are capable of doing exactly that. Try it out, you won't be disappointed.
Note: This promotional offer is only guaranteed through the end of the day.