Acacia offers swimwear and ready-to-wear apparel such as dresses, tops, bottoms, and jumpsuits. That's not all, they also have a men's collection, which consists of shirts and trunks.
More About Acadia
Acacia was founded by Naomi Newirth in 2010. A Maui-based girl, she decided to create her own bikinis after having difficulties finding ones that fit her. Since then, the brand has expanded its product category to include kids' clothes, dresses, and other ready-to-wear collections. In 2019, Acacia opened its flagship store in Hawaii.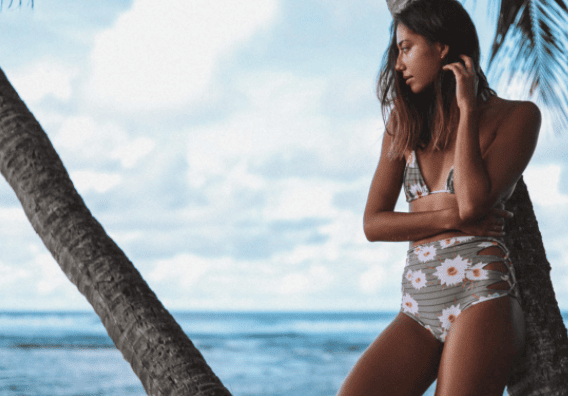 Their products are also available from retailers such as BLVD, Les Sol, Adventure Sports Maui, Performance Ski, and Azaleas.
What Kind of Swimwear Do They Offer?
Acacia offers different types of swimwear including bikinis, one pieces, bodysuits, and coverups. Not only are they available in a variety of colors, but they also come in numerous designs and prints (e.g. floral, stripe, animal).
Price-wise, their products range from $100 (bikini tops/bottoms) to $200+ (full pieces/bodysuits). With that said, their swimsuits do go on sale every now and then. Domestic shipping is also free to the Continental US, Hawaii, and Alaska for orders over $200.
Taking Care of Acacia Products
There are certain things that you want to consider when it comes to swimwear. For one thing, you never want to expose them to heat; it can permanently damage the fibers. Also, you want to wash them right away after every wear—that'll prevent sweat and body oils from degrading the material.
And by wash, we mean gently with the right detergent and water temperature. One wrong step and you can easily ruin your expensive bikini!
Fabrics Used By Acacia
Before we dive into how to wash their suits, let's check out some of the materials that they use. If anything, that's what determines how an item should be washed!
Recycled Nylon
Nylon is strong, lightweight, and durable. On top of that, it has extraordinary stretch, which makes it suitable for swimsuits and other activewear. Plus, it dries quickly and repels water. Like many synthetic materials, however, it's sensitive to heat (it can shrink or melt if exposed to high temperatures).
Spandex
Spandex is made of polyurethane, a synthetic polymer that's known for its elasticity. Lightweight and versatile, it can be used to make a variety of clothing from swimsuits to bras. Keep in mind, however, that it's not very breathable. Also, it's sensitive to heat. For this reason, it should always be washed using cold water.
Recycled Polyester
Recycled polyester (rPET) is made from post-consumer bottles. Not only is it durable, but it's also great for insulation. Plus, it has moisture-wicking abilities. The only thing is that it's temperature-sensitive and has a tendency of sticking to wet skin.
How to Wash Acacia Swimwear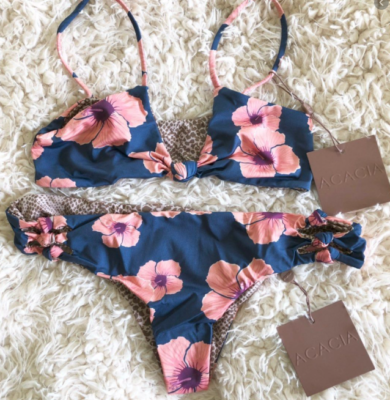 Acacia swimwear should be washed by hand. With that said, you can also put them in the washing machine—there are just a few precautions that you have to take, which we'll be going over below.
Hand Washing Your Acacia Swimsuits
Rinse your swimsuit with cool water right after wearing. If you can, let it soak for 30 minutes; that'll get rid of most of the sweat, body oils, and chemicals that can damage the fabric.
In the meantime, prepare a bath. Fill a clean sink with cold water (approx. half full) and add half a scoop of ACTIVE detergent (a bucket or washtub will do as well). Dissolve the powder by agitating the water with your hand and put in the swimsuit—it should be inside out and fully covered by the soapy solution.
Leave it in there for up to 30 minutes; you want to let the detergent work into the fabric.
Tip: You can remove stains with white vinegar. Either soak your suit in it or apply it directly onto the stain. Baking soda works as well. Apply a liberal amount onto the stain and wait at least one hour before rinsing clean.
Drain the dirty water and refill the sink with clean water. Swish the swimsuit through it a few times to rinse off the soap. Repeat until the garment is free of detergent. If you want, you can also hold the suit under running water (continue to rinse until it runs clear).
Press the excess water out of the swimsuit with your hands. Resist the urge to twist it like a rag or towel—that will permanently stretch out the fibers. Once the extra water is out, lay it flat on a clean surface (e.g. towel) to dry. Never use the dryer.
The Proper Way to Machine Wash Acacia Swimsuits
Turn the swimsuit inside out and rinse with cool water. Next, put it in a laundry bag—that'll prevent it from snagging, pilling, or getting caught on your other items. Never put a bikini or one piece into a washer directly.
Close the mesh bag and put it in the washing machine. Add the rest of your clothes (you can wash swimsuits with other similar activewear) if you're washing a mixed load. From there, measure and add one scoop of ACTIVE detergent. Don't use fabric softener or bleach—both can damage the fabric. Use white vinegar instead if you need to soften the garments (one cup will suffice).
Tip: Add a couple of bath towels if you're washing the swimsuits by themselves. It'll keep the load balanced so that the washer will run more smoothly.
Choose your settings. For swimsuits, you always want to run the gentlest cycle. Also, make sure to use cold water. Hot water will damage the fibers.
Run the cycle and wait for it to finished before taking out your swimsuits and other clothes. Don't transfer your suit to the dryer. Rather, let it air dry on a drying rack. Or if you want, you can lay it flat on a clean towel. Keep it away from direct sunlight.
The Best Way to Wash Acadia Leggings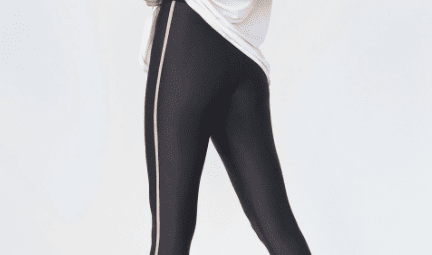 All of their leggings are machine washable. Of course, you can wash them by hand as well. We'll be going over both options below.
Using the Washing Machine For Your Acadia Leggings
Turn the leggings inside out. Make sure that there's nothing in the pockets and place them in a laundry bag. While you can put them directly in the machine, they'll last longer if you use a bag; it'll prevent them from snagging or getting caught on other garments.
Ensure that the bag is closed and put it in the washer. Add the rest of your laundry (we recommend washing their leggings with other activewear) and pour in one scoop of ACTIVE detergent. Don't add bleach or fabric softener—they'll do more harm than good.
Choose a delicate setting; it's the machine equivalent to handwashing and it'll be the gentlest on your leggings. Also, make sure to use cold water. Hot water can and will damage the fabric.
Press the start button and let the washer run. Retrieve your leggings afterward and let them air dry on a laundry rack or clothesline. Don't use the dryer. Remember, you don't want to expose them to heat.
Tip: Take your leggings (and other clothes) out of the machine once the cycle is finished. Don't leave them inside for prolonged periods, otherwise, it can breed bacteria.
How to Hand Wash Your Acadia Leggings 
Turn on the faucet and fill the sink with cool water. Pour in 1/2 a scoop of ACTIVE detergent (feel free to use more if you're washing multiple items at once) and allow the powder to dissolve. You can speed up the process by agitating the water with your hand.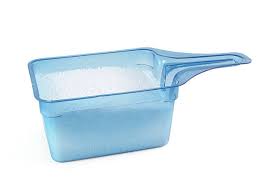 Turn your leggings inside out and place them in the sink. Swish them around gently with your hands. Let them soak for up to 30 minutes.
Drain the sink and refill it with fresh water. Use it to rinse the leggings. Continue until the item is free of detergent. If you want, you can also hold them under running water. The most important thing is to get rid of all the soap. Depending on the amount of detergent used, this can take a couple of minutes.
Remove the leggings from the sink and gently squeeze out the excess water. Don't wring them like a towel—that will ruin the fabric. If necessary, you can roll them inside a towel instead. From there, let them air dry on a hanger or drying rack (ideally in a well-ventilated area away from the sun). Like we said earlier, you want to avoid the dryer.
The Best Laundry Detergent For Acadia Swimwear
ACTIVE detergent is the ideal choice for several reasons. For one thing, it's formulated with synthetic fabrics in mind. That is, it contains enzymes that are capable of physically breaking down and dissolving impurities such as sweat, body oils, and dirt that are embedded deep within the fibers.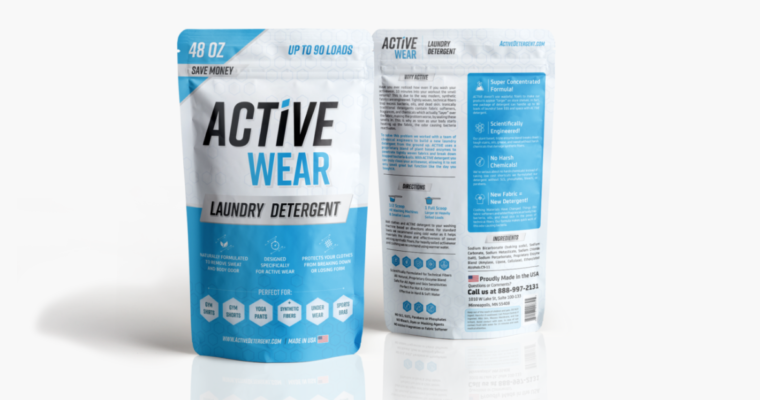 Not only that, but it's gentle on the skin. All of the ingredients are plant-based and there aren't any fillers or fragrances—this makes it a suitable option for those with sensitivities. Also, it's much better for the environment as well!
Note: This promotional offer is only guaranteed through the end of the day.