Teva is a footwear company that specializes in sandals. With that said, they also sell flip flops, sneakers, boots, and more. Aside from their shops, you can also find their products at retailers such as REI Co-op, Macy's, and Amazon.
More About the Teva Company
Teva was founded in 1984 by Mark Thatcher. A rafting enthusiast, he had decided to make his own shoes after noticing that there was a lack of proper footwear for river activities. Following some trial and error, he created the first pair of sports sandals—that is, a traditional sandal with an added nylon ankle strap.
A huge success, he went on to sell over 200 pairs the first year. As demand for his products rose, he eventually started the Tevas company.
More About Teva Products
Teva sells a wide range of footwear for men, women, and children. As far as their sandals go, they offer various styles from wedges to straps. In addition to that, their catalog also includes boots, sneakers, and flip flops, although their selection is not as extensive.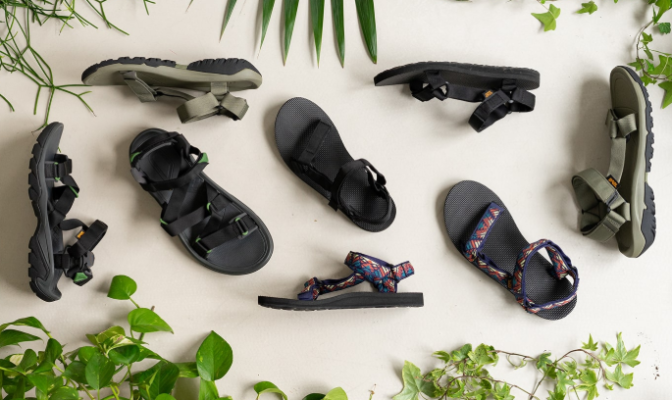 In terms of price, their sandals are not that expensive at all. If anything, it's what you'd expect to pay for a pair of shoes. While it depends on the style (some are pricier than others), you can probably get a pair for under $70. This is especially true if you manage to get them while they're on sale.
Taking Care of Teva Sandals and Shoes
Teva products are made with sports in mind. Given that, it's not surprising to know that they're built for durability. In fact, several models feature a waterproof finish!
That's not to say that they'll stay clean forever, though—because they won't. Assuming that you wear them regularly, dirt, mud, and grime will find its way onto your shoe (the chances of this are particularly high if you wear it for sports activities). In other words, you'll have to clean them every once in a while.
Not only will that make them look cleaner and nicer, but it'll also make them last longer as well. Yup, believe it or not, but dirt and mud can degrade the materials over time!
Materials Used by Teva
The majority of their shoes are made from synthetic materials (yes, that includes their sandals). What's the reason for that, you ask? They're much more resilient than other fabrics! Here are some of the ones that they use.
Polyester
Polyester is a synthetic polymer that's often used for sportswear including clothes and shoes. Not only is it much more durable than traditional fabrics, but it's also capable of pulling sweat and moisture from your skin. Couple that with the fact that it's cheap to make, and it's easy to see why it's so popular.
Nylon
Nylon was originally made as a substitute for silk. Don't be fooled by the fact that it's made from plastic—it's soft, lightweight, flexible, and durable. Given all that, it's not surprising to know that it has so many applications. Not only can it be used by itself, but it can be blended with other fabrics for added elasticity and strength.
The Different Types of Teva Soles
Their shoes feature various types of soles, each of which is designed for a specific purpose.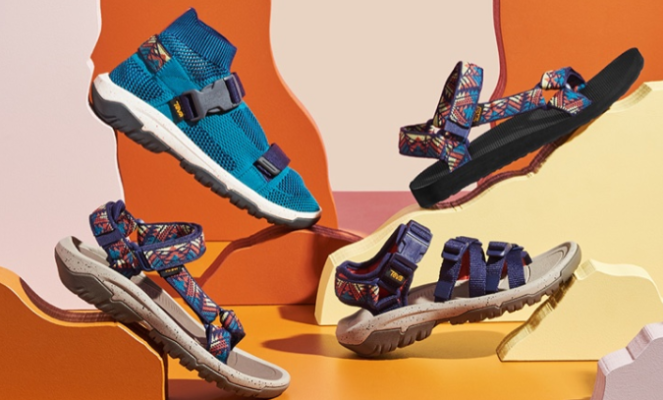 Durabrasion Rubber Sole
Their Durabrasion Rubber soles feature a durable construction that provides performance without adding a lot of weight to the shoe. They also provide great traction, which is exactly what you need when you're out and about. On top of that, it can stand up to a lot of abuse!
Float-Lite Midsole
Their Float-Lite midsole, as its name implies, is feather-light. At the same time, it's also super durable. You won't have to worry about it wearing out even if you wear it regularly. What's more, is that it'll give you great traction and grip on various types of terrain.
EVA-Foam Midsole
EVA is a man-made material that's often considered to be a type of foam. Useful for footwear, it not only provides comfort but also provides stability against your foot. Given that it's foam, it's also lightweight, which means that it won't add to the overall bulkiness of the shoe.
Best Way to Wash Teva Sandals
Like we said earlier, your sandals will probably get dirty at some point. Here's what you can do about it.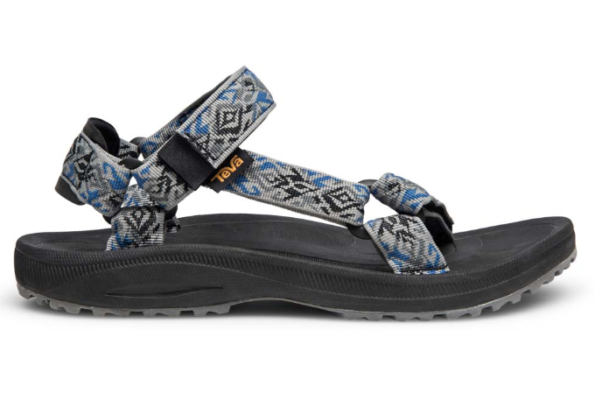 Handwashing Your Teva Sandals
The best way to wash your sandals is by hand. First things first, you want to remove any dirt or grit that might have built up on the soles. To do this, use a soft-bristled brush (e.g. old toothbrush, dish brush). Scrub gently and the debris will come off. Clapping the sandals together might also help to loosen some of the particles that are stuck on the fabric.
Once you've gotten rid of all the dirt, you can proceed to wash them with water. The easiest way to go about doing this is to fill a basin or large sink with water. Don't forget to add soap as well. As far as which type goes, it depends on your sandals. Is it made from polyester or nylon? If so, use a scoop of ACTIVE detergent. Is it made of leather? If so, you'll want to use a leather-safe cleaner. For the purposes of this article, however, we'll be assuming that they're made from man-made materials.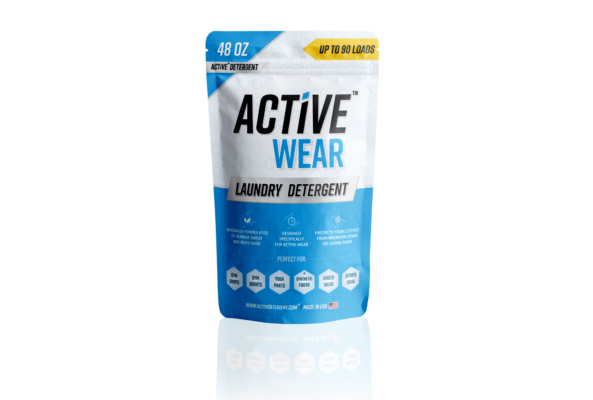 Dissolve the detergent powder and swish the water around to create a sudsy solution. Place your sandals in fully. Don't hesitate to bend the shoes if necessary—that will help to open up the grooves, which will allow for better cleaning. Let them soak for at least 25 to 30 minutes, the longer the better.
From there, you want to rinse away the soap. There are two ways to do this—you can drain away the sudsy water and refill the sink with clean water or you can hold the sandals under the faucet. Ultimately, it doesn't matter which method you choose as long as you get rid of all the detergent. Finally, let the sandals air dry.
Note: Some of their sandals are treated with a zinc product that prevents bacterial growth. To "reactivate" it, you'll have to expose the shoes to sunlight. 15 minutes or so will do!
Can You Put Teva Sandals Into the Washing Machine?
It's not recommended that you put their sandals in the washing machine, however, you may be able to get away with it if you're careful. First things first, you want to get rid of the dirt and grit. As mentioned above, you can do that by clapping the soles together or by scrubbing with a brush. Once it's free from debris, place it in a laundry bag. This is important as it'll prevent them from being thrown around, which can cause damage. On top of that, it's a way to keep them together during the wash cycle. Avoid washing them with other items if possible.
Note: Certain sandals, such as those made from leather, should not be put in the washer as the materials are more delicate.
Place the sandals in and set the washing machine to "gentle"—that way, there won't be too much agitation. Next, add a scoop of ACTIVE detergent (feel free to play around with the amount). Set it to cold water and start the cycle. Let it run fully before removing the laundry bag. Take out your sandals when it's done washing and let them air dry. It's crucial that you do not stuff them in the dryer. The heat can cause the straps and sole to warp.
How to Deodorize Teva Sandals
Sometimes, a simple wash won't be enough to get rid of the lingering odor. In cases like that, you'll want to do an extra step. Here are some options.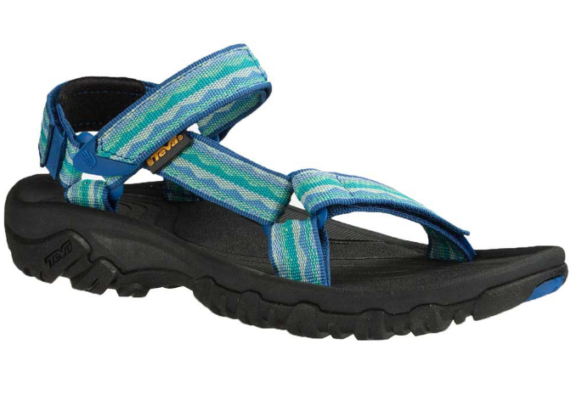 Using an Anti-Bacterial Mouthwash
Believe it or not but you can clean your Teva sandals with mouth wash. Don't use it at full strength, though. Dilute it first with water (approximately one cup mouth wash to two cups water). Place your sandals in once the solution is thoroughly mixed and let it soak for at least 15 minutes. The mouth wash will help to kill the odor-causing bacteria on the shoe. From there, scrub it with a soft-bristled brush and let it air dry.
Using Baking Soda
Baking soda is super versatile. Not only is it great for baking, but you can also use it as a deodorizer! It's easy. Just sprinkle a layer on the foot bed—that's all you have to do. Once you've done that, let the power sit for at least 10 hours (overnight is recommended if your sandals are excessively smelly). If necessary, you can strengthen the deodorizing effect by placing the sandals in a plastic bag and sealing it with baking soda inside.
Putting Them In The Freezer
Another way to get rid of the smell is to put them in the freezer. Before you do that, however, place them in a plastic bag. The last thing that you want is to contaminate your food! From there, place them in and allow them to freeze overnight. The cold temperature will help to neutralize the smell.
Note: This promotional offer is only guaranteed through the end of the day.