Good American is unique in that they promote extreme inclusivity of all body types—that is, their products are available in a full range of sizes. To give you a better idea, most, if not all of their items come in sizes 00 to 24. As far as their actual catalog goes, they sell activewear, dresses, jeans, lingerie, jackets, and shapewear. In addition to that, they also have their own line of maternity clothing.
About Good American
Good American is the brainchild of Khloe Kardashian and Emma Grede. Like many women, they often struggled to find proper-fitting jeans. Ultimately, that's what pushed them to establish the brand in 2016 (they started out as a denim line). It wasn't until a year later that they decided to offer other products such as tees, sweatpants, bodysuits, and accessories.
While they don't have their own brick and mortar stores, their products are available at a few major retailers including Nordstrom, Bloomingdale.
More About Good American Activewear
It wasn't long before they introduced their own activewear line for women. Nowadays, they have a wide array of workout clothes including joggers, leggings, sports bras, sweatshirts, tanks, tees, crop tops, and more. Of course, they're all available in a full range of sizes. If anything, that's what sets them apart from other brands.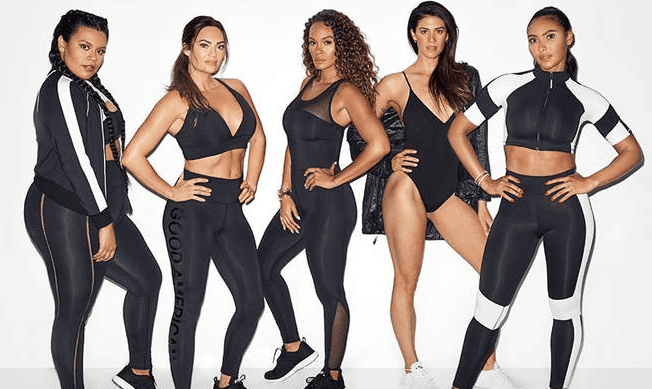 Price-wise, their products are not particularly cheap. For instance, a pair of their leggings will set you back ~$100. Some of their other items, such as their jackets, go for even more. It's not too surprising when you think about it, though. After all, most of it all of their garments are assembled in Los Angeles, California (as opposed to China). With that said, they do have sales from time to time.
Taking Care of Good American Activewear
Their clothes aren't exactly cheap. Want to get your money's worth? If so, you'll want to pay attention to how you care for them. Even the most durable of garments will wear down quickly if you don't care for them properly!
Generally speaking, you want to wash the clothes as soon as you're finished wearing them. There's a good reason for this—the sweat and oils can cause the fibers to break down. Not to mention that the former will cause the fabric to smell! If anything, that will only attract bacteria and critters (yes, believe it or not, but dirty laundry can attract rats and roaches).
Want to know how to wash Good American clothes the right way? If so, you're on the right page. You see, that's what we're here to talk about!
Fabrics Used by Good American
Before we dive into the actual washing guide, let's have a look at some of the materials that they use for their workout clothes. After all, different fabrics have different properties, which may require different washing methods.
Nylon
Nylon, a type of polyamide, is a synthetic fiber that's lightweight and strong. Known for its silk-like texture, the material is lustrous, soft, and flexible. Easy to care for, its hydrophobic properties means that its resistant to water and dries quickly—this is one of the reasons why it's often used for swimwear. Even when washed, it retains its shape well.
Good American uses nylon in their leggings, jogger jackets, sports bras, bralettes, and more.
Polyester
Polyester fibers are elastic, durable, and wrinkle-resistant. A type of synthetic polymer, it is one of the most popular textiles in the world. Not only is it resistant to wrinkles, but it's also resistant to water—that is, it won't absorb liquid like cotton. Because of this, it is quick-drying and easy to wash. In some cases, it is blended with other fibers to improve the properties of the garment.
Good American uses polyester in their running jackets, jogger jackets, leggings, sports bras, and more.
Modal
Modal is a plant-based textile that's made from beech tree pulp. For this reason, it's considered a semi-synthetic fabric. Not only is it light and soft, but it's stretchy and breathable, which makes it ideal for activewear. What's more, is that it's highly durable—that is, it does not have a tendency of pilling. The fabric also retains the color well.
Good American uses modal in their cropped hoodies, sweaters, and more.
Elastane
Elastane has been on the market since the late 50s. Similar to polyester, it is made from a type of plastic. What makes it unique, however, is that it has extraordinary stretch. For this reason, it is often used for undergarments and sportswear. It's worth noting, however, that pure elastane is rarely used; it is almost always mixed with other fibers such as cotton, polyester, or rayon.
Good American uses elastane in their leggings, sports bras, bralettes, jackets, and more.
How to Wash Good American Leggings
Good American offers a variety of leggings for women, all of which are designed with workouts in mind. If you want them to last, be sure to take good care of them. You can start by washing them properly—here's how!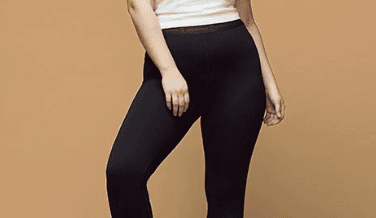 Tossing Good American Leggings in the Washer
You'll be happy to know that their leggings are machine washable. Just because we said that, however, doesn't mean that you can just throw everything in and call it a day. As it is, there are specific things that you want to do when it comes to washing them.
Assuming that you're washing more than one pair, you'll want to separate them based on color. Don't forget to do this with the rest of your clothes as well if you plan on putting them in the same load. While you're at it, turn the leggings inside out. You see, that will protect the surface from friction damage. It serves another purpose as well—it makes the garment easier to clean as the sweat, dirt, and oils will be exposed to the detergent water.
Note: It's always a good idea to use a mesh bag—they will add an extra layer of protection against the agitation of the machine. Ideally, you want to put one pair per bag but it's not always necessary.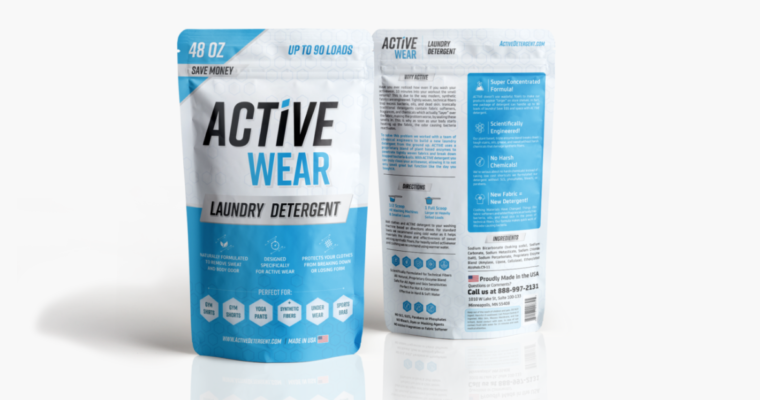 Once you've put the leggings in the washing machine, add in the detergent—a scoopful of ACTIVE detergent will do. Next, set the settings. While it depends on the fabric that you're working with (always double-check the care tag label), it's generally safe to use a delicate setting with cold water. Avoid hot water whenever possible as it can cause irreversible damage to the synthetic fibers. Fabric conditioners should also be avoided as they're not meant to be used with activewear (i.e. they will get rid of the sweat-wicking finish).
Wait for the cycle to come to an end before opening the door. Remove the leggings from the washer and let them air dry either on a drying rack or clothesline. Never put them in the dryer. If anything, that's a cardinal sin when it comes to washing athletic clothing!
Washing Good American Leggings by Hand
Don't hesitate to wash your leggings by hand every once in a while. You'll save money on your power bill and your clothes will last longer! The first step, as always, is to sort out the items. Once you've done that, you want to prepare a sink or tub by filling it with warm water. To create a sudsy solution, add a scoop of ACTIVE detergent and mix.
Put your leggings in the basin (you can probably wash a few at a time) and let them soak in the detergent water—make sure that the fabric is 100% immersed. From there, you want to let it sit for 20 to 30 minutes. If there's a stain on your leggings, it helps to apply detergent directly onto the fabric before soaking it.
Swish the leggings around in the detergent water a few times before massaging it with your hands. Afterwards, pick each pair up and put it under running water—that will remove the film of detergent. Continue until the water comes out clear; it should not be sudsy. Once the leggings are free of soap, place them on a clean towel. Remove the excess water from the garment by rolling it up in the towel or by blotting it. Ultimately, however, you should allow it to air dry. Do not put it under the sun as the rays can cause the fibers to deteriorate.
Washing Instructions for Good American Sports Bras
As far as their sports bras go, you want to treat them like other delicate items. Here's how to wash them:
Washing Good American Sports Bras by Hand
Just like their leggings, their sports bras will last longer if you wash them by hand. Don't worry about it too much, the process is actually quite straightforward. First things first—you want to prepare a sink by filling it with water and ACTIVE detergent (a scoop or so will do). Once the powder has dissolved, put your sports bras in. You can hand wash multiple at a time as long as you do not overfill the sink.
Gently swirl the bras around in the water to submerge them. Allow the items to sit for at least 20 minutes—that will give the detergent time to remove the sweat and oils from the fabric. Once you've done that, you can rub the material to remove any remaining dirt or sweat. Rinse it clean with water afterwards to ensure that there is no detergent left on the bra.
Never twist your sports bra like a dishcloth. Instead, you can get rid of the dampness by using a clean towel—you can either blot the item with it or roll it up. Once the item is no longer dripping wet, you can place it on a clothesline for it to air dry. Remember to never use the dryer.
Putting Good American Sports Bras in the Washer
Their sports bras can be put in the washing machine as long as you follow the proper instructions. As always, you want to double check the care tag label before you do anything—that way, you won't have to worry about ruining them in the wash!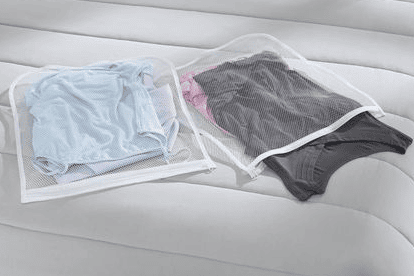 Given the fact that they're delicates, it's best to wash them in lingerie bags—this is especially true if you're washing them with other clothes (friction against them can damage the fibers). Once you've done that, pop them into the washer and add the detergent. Generally speaking, a scoop of ACTIVE detergent will do unless your load is large. From there, choose a delicate wash cycle and wash the bras with cold water.
Remove the sports bras from their lingerie bags once the cycle is done. Ideally, you want to air dry them on a drying rack or clothesline. Avoid hanging them by their straps as that can cause the elastic to stretch. Similarly, do not place them in the dryer for that will ruin the garment's form.
Note: This promotional offer is only guaranteed through the end of the day.