Columbia Sportswear is a company that specializes in sportswear, outerwear, and footwear. To be more specific, they sell gear for hiking, hiking, fishing, hunting, and trail running. For instance, they offer headgear, backpacks, gloves, and other accessories. 
More About Columbia Sportswear
Columbia Sportswear was founded in 1938. A family-owned business, the company had started out as a hat distributor called,  the Columbia Hat Company. It wasn't until many years later that they started to sell other products such as jackets, pants, and accessories. They officially changed their name to what it is today in 1960.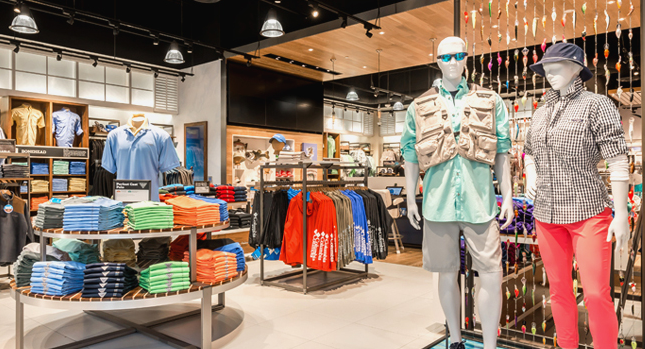 Nowadays, they operate more than 13,000 stores in over 72 countries with their flagship store in downtown Portland. As of 2023, they pulled in nearly $3 billion in revenue.
What Kind of Outerwear Do They Sell?
Columbia offers a variety of apparel including rain jackets, vests, parkas, base layers, performance pants, and more. Not only do they offer products for men and women, but they also have a line for children. For those who are wondering, they do offer plus sizes as well.
How affordable is their outerwear? It depends on what you're getting. For example, a jacket can cost you anywhere between $60 to $200. In general, however, their prices are slightly lower than some of its competitors. They also have sale events quite frequently. For instance, they're currently having a summer sale (at the time of this writing), where many of their items are up to 50% off.
Taking Care of Columbia Sportswear Outerwear
Most, if not all of their clothes are designed for outdoor activities. In other words, they're made to withstand the elements and repeated wear. That is, they won't fall apart as easily as your regular shirt and jacket. Keep in mind, however, that their lifespan does depend on how well you take care of the items.
For instance, you'll be able to tell if you neglect a jacket and never wash it. Not only will it develop a noticeable odor, but the mud and grime on the item can actually deteriorate the fabric over time. That's why you don't want to be lazy about washing your dirty clothes. It can affect their durability!
Columbia's Proprietary Fabrics
The brand has come up with several innovative technologies that they use for their products. Let's take a look at some of the most popular ones.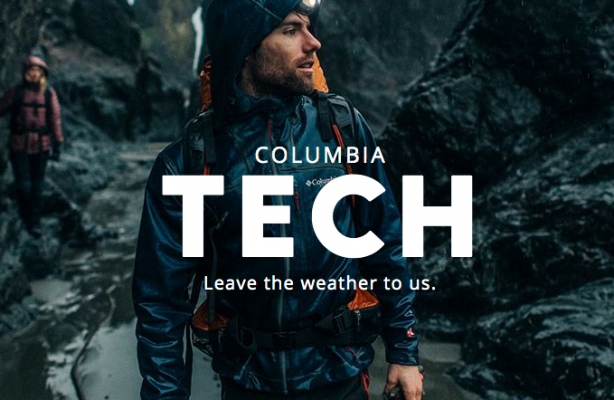 TurboDown Wave
TurboDown Wave is an insulating fabric that's designed to keep you warm even on the coldest of days. More specifically, it features a wave of synthetic insulation between two layers of down; the goose down will keep the heat in while the cold stays out.
Omni-Heat
Omni-Heat is a thermal reflective technology that makes use of little silver dots to reflect and retain the warmth of your body. In a way, it's similar to emergency blankets, the ones that are used to keep you warm in cold weather. Lightweight, you won't have to wear several layers to stay warm.
Outdry Extreme
OutDry Extreme is the first waterproof membrane to feature a soft, moisture-wicking fabric on the inside. There's also an Eco version, which is constructed from recycled materials without dyes and PFCs.
Omni-Shield
Omni-shield is a stain and water repellent fabric that helps you stay clean and dry even in wet conditions. Built with a coated fabric, it features a physical barrier that resists light rain and the absorption of liquids into the yarns and fabrics.
Omni Wind Block
Omni-wind Block is a waterproof material that offers maximum wind protection. Breathable, it provides a durable barrier that lets sweat evaporate while warding off the cold.
Washing Instructions for Columbia Rain Jackets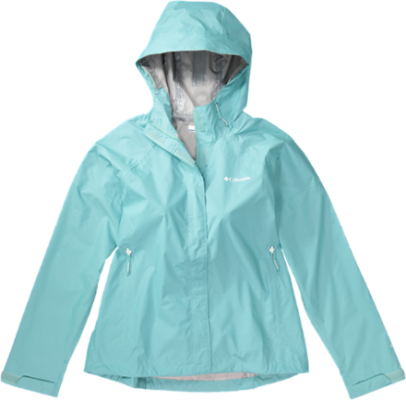 Putting Columbia Rain Jackets in the Washing Machine
Before you put it in the washer, you want to pre-clean it. In other words, you want to remove any debris that's stuck on the jacket. To do this, you can use a clean brush or cloth. If there are any stains, you may have to pre-treat it first with detergent.
The next step is to close all the zippers and fasteners; the pockets should also be emptied. Once you've done all that, you can stuff the rain jacket in the washing machine—try to do it so that the weight is evenly distributed. If you want, you can also put a few towels in to help balance the laundry load.
For soap, you want to add one scoop of ACTIVE detergent. Do not use fabric softeners or bleach; they both contain harsh chemicals that can make the waterproof material lose its qualities. Always wash with cold water—ideally on a delicate setting.
Once the rain jacket's been washed, let it air dry in an area with plenty of ventilation; that will prevent the inner waterproof coating from peeling. If you want, you can also tumble dry on low heat but the jacket has to be zipped up and right side out. Add a couple of towels to absorb some of the moisture.
Finally, test the jacket's DWR coating. If water doesn't bead up on the surface, you'll have to re-treat it with a DWR spray.
Hand Washing Columbia Rain Jackets
Pre-treat any stains; make sure that the jacket is free of dirt and debris. Empty out the pockets and zip up the zippers. Next, you want to prepare a tub by filling it with tepid water. Add half a scoop of ACTIVE detergent and mix to prepare the bath; it should become soapy after some agitation.
Place your rain jacket in the tub; immerse it by gently pressing it down with your hands. Swirl the item a few times in the soapy water and let it soak for approx. 15 to 20 minutes. Afterward, rinse clean with water. You can use a sprayer on a faucet or refill the tub with cool, clean water. Repeat as needed—you shouldn't see any soap suds once you're all done.
Do not wring the jacket; that can cause unnecessary damage to the fabrics. Instead, lift it with both hands and gently squeeze it to remove excess water. Then, place it on a clean towel and roll the towel. You can then lay it flat to dry or hang it up to dry. Tumble drying is also an option but only on low heat.
Note: You can wash Columbia vests, windbreakers, softshells, the same way.
How to Wash Columbia Down Jackets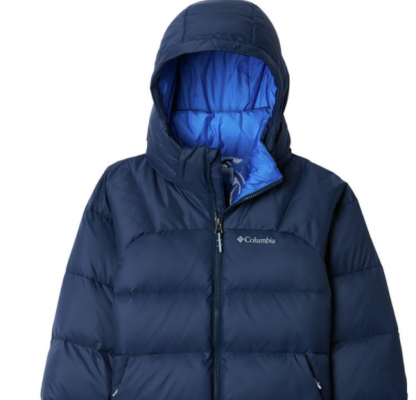 Is It Safe to Put Columbia Down Jackets in the Washer?
Yes, they are. Before you load it in, however, there are a few things that you want to do. First, you want to brush off any loose dirt or debris. Once that's done, zip up the jacket. Empty the pockets and if they have zippers, zip them up too.
Put the down jacket into the washing machine. Do your best to even it out so that it's not balled up anywhere. You can wash them with other items, however, it might be best to wash them on their own with a couple of towels thrown in.
Pour in a scoop of ACTIVE detergent. As with their rain jackets, you do not want to add any bleach or softeners; they'll damage the fabric. Wash with cold water and use a delicate setting for the best results. Don't be alarmed if the jacket is clumpy after washing; it'll fluff back up once you put it in the dryer. Tumble dry on low heat and put in a few tennis or dryer balls. You may have to run two cycles for it to dry completely.
If you don't have a dryer, you'll have to do fluff it out yourself. While it's air drying, check it every few hours and undo any clumps with your hand; repeat until the jacket is dry. Keep in mind, however, that there's a chance of mold growth with air-drying if it doesn't dry fast enough.
Washing Your Columbia Down Jacket By Hand
Pre-treat the down jacket; remove any debris with a brush. When you're finished, close all the zippers, including the ones for the emptied pockets). Place the jacket aside and prepare a tub or large sink by filling it with tepid water. Create a bath by mixing in half a scoop of ACTIVE detergent.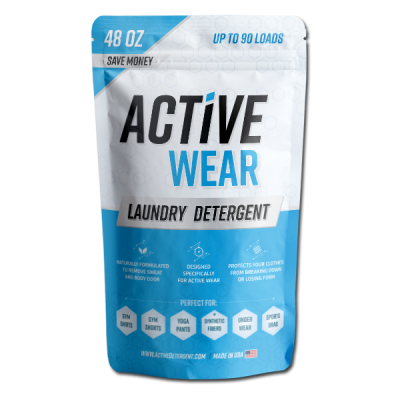 Place your down jacket in the water. Gently press it down to submerge it fully. Give it a few swishes before letting it soak for 15 to 20 minutes. The next step is to rinse out the soap; you can do this by refilling the tub with clean water. Squeeze the fabric with your hands to remove the detergent; make sure you don't wring or twist the item. Given the absorbent nature of the jacket, you'll have to repeat this several times to remove all the detergent.
Once it's free of detergent, tumble dry on low—that will fluff it back out. Add a few dryer or tennis balls for the best results. If you don't have a dryer you can let it air-dry (remember to manually fluff out the jacket) but you should know that there's a chance of mold growth.
Note: This promotional offer is only guaranteed through the end of the day.