Born Primitive is an apparel company that specializes in workout clothing for men and women. Veteran-owned and operated, they pride themselves in making high-quality products that inspire their customers.
About Born Primitive Clothing
Born Primitive was founded by Mallory and Bear Handlon in 2014. Based in Virginia Beach, Virginia, the company came to be after they realized there was a lack of choices for performance apparel. Taking matters into their hands, they decided to design their own activewear, starting with a sports bra.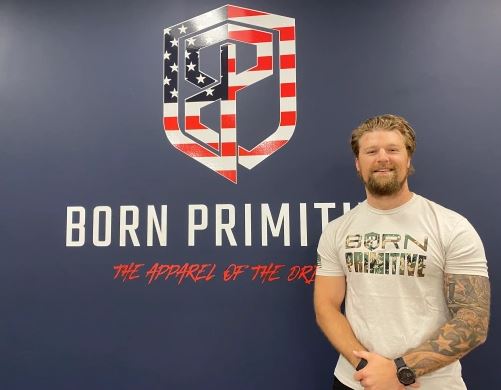 Since then, the fitness brand has grown tremendously. Nowadays, their products can be found at a number of retailers across the U.S. including Bloom Dancewear, Elevate Athleisure, Turquoise Shop, FIT Lifestyle, BodyPro Impact, and Phantom Pro Apparel. Not only that but they're also available in Africa, Bahrain, Australia, New Zealand, Belgium, Canada, Chile, and several other countries.
Types of Born Primitive Gym Clothing
Born Primitive sells a variety of activewear including shorts, sleeveless polos, sports bras, swimwear, leggings, and joggers. Not only that but they also offer undergarments for men and women. Various accessories are also available such as hats, headbands, shaker bottles, fanny packs, keychains, and banners.
While their clothing isn't inexpensive, you do get what you pay for in terms of quality. Born Primitive tank tops go for $58 and their yoga pants go for $78 a pair. Shipping, however, is free across the continental U.S. for orders over $150. They also have a sale section where you can get some heavily discounted gym apparel.
Caring For Your Born Primitive Clothing
There are some things that you want to keep in mind when it comes to caring for your Born Primitive clothing. First and foremost, you should wash them after each wear; this is especially true if you're wearing them to work out as you don't want the tops and bottoms to soak in sweat.
And when it comes to washing, you always want to follow what it says on the care tag label. For example, some items such as leggings shouldn't be put in the dryer. Water temperature matters as well. Generally speaking, activewear should always be washed with cold water as hot water can damage the performance fibers.
What Materials Does Born Primitive Activewear Use?
Their workout clothes are made from various performance fibers such as polyester, nylon, and spandex. Conversely to cotton and other traditional materials, they're more durable, which makes them ideal for activewear.
Polyester
A lightweight and resistant to moisture material. It's also durable, like most synthetic fabrics. While it lacks breathability, it's moisture-wicking, which means sweat won't be trapped on the skin. That and the fact that it's quick-drying makes it a good choice for various activewear from tank tops to leggings.
Nylon
Nylon is a silk-like material that's derived from plastic. Like polyester, it has great durability and is resistant to many things including abrasion and chemicals. It's also stretchy, which makes it a good choice for garments such as leggings and swimwear. The only con is that Nylon is sensitive to high temperatures and can warp if subjected to heat.
Elastane/Spandex
Spandex is the stretchiest out of all manmade fibers. Because of this, it's often used in formfitting clothes such as tights, leggings, and swimwear. However, it does have its drawbacks. For one thing, it's not very breathable; it can also retain odors from sweat. Fortunately, this can be fixed by mixing spandex with other fabrics such as polyester.
Two Different Methods to Wash Born Primitive Leggings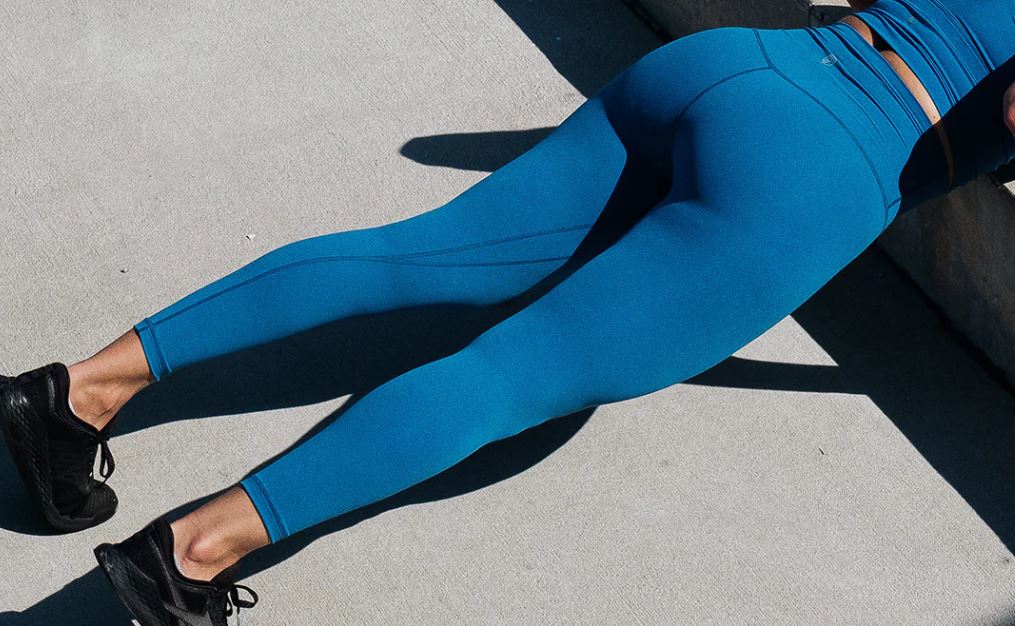 Their leggings are made from a nylon and spandex blend, which means you can wash them in the washer. Or you can wash them the old-fashioned way in the sink. Either way works and we'll be going over both methods in detail below.
Machine Washing Born Primitive Leggings
Before washing your leggings, make sure nothing is left in the pockets. Next, turn them inside out; you want the outer layer to be on the inside and vice versa. That'll do two things- it'll prevent the outer surface from rubbing against your other laundry and it'll expose the dirty side to the detergent.
While it's not absolutely necessary, we strongly recommend putting your leggings in a laundry bag before adding them to the washer. That'll add an extra layer of protection so that that your leggings will look new for longer. If you're washing your leggings with other garments, make sure they have their own bags as well (it's best not to add multiple items to one bag).
Tip: Born Primitive leggings can be washed with other gym clothes such as joggers, t-shirts, and tanks. The only thing you have to be careful with is the colors; you don't want to mix opposites together (ie. lights with darks) as the colors can bleed and ruin your clothes.
Zip up the laundry bags and add them to the washing machine. Next, add a scoop of ACTIVE detergent powder. Do not add it to the detergent drawer; pour the detergent straight into the washer drum. We don't recommend using fabric softener as it'll add a layer of wax to your leggings, which will cause them to trap sweat on your skin.
If you need to soften your leggings, try using white vinegar instead. It'll soften the fabric, deodorize the leggings, and won't leave a vinegar-y smell behind. Adding 1/2 cup to the washer during the final rinse cycle will do.
Set the washing machine to the delicate setting and run a wash cycle with cold water. Don't use hot water as it can cause your clothes to break down prematurely. Once the cycle is complete, take out your leggings and allow them to air dry. Don't tumble dry and don't let them sit out in harsh sunlight.
Tip 2: Don't leave your wet laundry in the washing machine for extended periods of time. You want to take them out as soon as possible as the wet environment can breed bacteria and other germs.
Hand Washing Born Primitive Leggings
The first step is to prepare a bath. Fill the sink with lukewarm water and mix in one scoop of ACTIVE detergent. It'll take the powder a few minutes to dissolve or you can speed up the process by agitating the water with your hand. It should be super sudsy once it's fully mixed.
Turn the leggings inside out so that the inner layer is facing outward and place it in the sink. Using your fingers, gently massage the fabric for 30 seconds; that'll help remove any dirt and debris. Make sure the bottoms are completely submerged in the soapy water and walk away. Leave them in the sink for 20 to 30 minutes. During that time, the detergent will penetrate into the fibers to remove sweat and other gunk.
Once the time is up, rinse the leggings thoroughly under cool water. You can either refill the sink with fresh water from the tap and rinse it that way or you can put them under running water. Continue to rinse until there are no more signs of detergent; there shouldn't be any soapy residue left over when you're done.
To get rid of remaining water, press the leggings against the sink firmly. You can also use a clean towel to blot the excess moisture. When you're finished, hang them dry away from direct sunlight. Do not use the dryer.
The Best Ways to Wash Born Primitive Sports Bras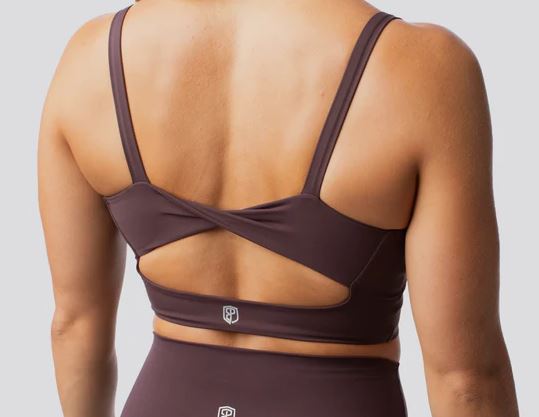 Born Primitive Sports Bras, or sports bras in general, are more delicate than your average pair of leggings. Given that, it's best to wash them by hand; that'll ensure they stay in tip-top shape. Having said that, you can also put them in the washing machine- there are just a couple of extra steps that you want to take.
Machine Washing Your Born Primitive Sports Bra
Before you do anything, remove the pads if they are removable. Set them aside*. Once the pads are out, turn the sports bra inside out and place it in a laundry bag. Don't put the bra directly into the machine with the rest of your laundry. Not only will that damage the fabric but it'll also compromise the elastic.
Tip: You can wash your sports bra with other gym clothes, such as leggings or shorts, as long as you sort out the colors (ie. you're not mixing items with light color with darker items). Make sure to put each item in their own laundry bag so that they won't rub against each other.
Make sure the laundry bags are zipped up all the way and throw them in the washer. Measure and add a scoop of ACTIVE Wear Detergent; you don't want to add too much as that will actually trap sweat and odors on the fabric. Do not use bleach or any other chemicals, including fabric softener. If necessary, you can add half a cup of white vinegar to the basin to soften up the sports bras and other garments.
Choose cold water and run a gentle wash cycle. Don't wash your sports bras with hot water as the high temperature will damage the elastic. Similarly, you don't want to wash them on a normal setting as the tumbling and agitation can cause the fibers to deteriorate.
Take the sports bra out of the washing machine as soon as it's finished running. Don't leave it inside the washer; the wet atmosphere can breed germs and mold. Allow the sports bra to dry naturally on a drying rack. Avoid hanging it up on a clothesline as that can damage the straps over time.
*Note: You can put the pads inside their own mesh bag and machine wash them along with the bra. Alternatively, you can wash the pads by hand.
Hand Washing Your Born Primitive Sports Bra
Take the removable pads out of the sports bra. Add one scoop of ACTIVE detergent to a sink or tub and turn on the faucet. Make sure to use cool or lukewarm water.
Once the powder is dissolved, place the sports bra and the removed pads in the tub. Gently rub the fabric between your fingers; the bra should be completely saturated with the detergent solution. If necessary, you can also add some white vinegar; it'll help get rid of any odors that are present.
Leave the sports bra in the sink for 20 to 30 minutes.
Turn on the tap and rinse the sports bra and pads thoroughly. Continue to rinse under running water until all of the soapy residue is washed off.
Tip: Never twist your sports bra, or any bra for that matter, like a towel or rag- that will permanently stretch out and damage the fibers.
Place a clean towel over the wet sports bra and gently press down to remove excess water. After that, hand them to dry on a drying rack. Do not expose it to direct sunlight, even if it's indoors.
Best Laundry Detergent For Born Primitive Clothing
The type of detergent that you use matters. For Born Primitive clothing, and workout clothes in general, you want to use a product that is scientifically engineered for synthetic fabrics.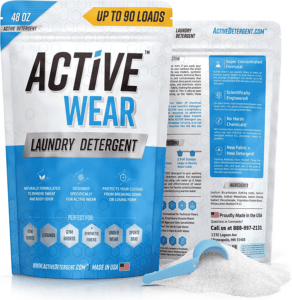 ACTIVE detergent fits the bill perfectly. Not only is it formulated for synthetic fibers, but it contains three active enzymes that are designed to break down gunk- including soil, sweat, and dirt. Additionally, the formula is all-natural. Everything is derived from plants; it does not contain any harsh chemicals. In fact, it's hypoallergenic and perfect for those with sensitive skin.
Note: This promotional offer is only guaranteed through the end of the day.