Golfing might not be considered to be a strenuous workout but it can still benefit your health. After all, you'll be doing a lot of walking between the holes. In fact, it's not uncommon for a golfer to walk several miles during a game. Not to mention that swinging the golf club can work out your muscles!
That's not all, golfing is also great for your mental health. For example, it can help reduce anxiety and stress. It also offers an opportunity for social interaction, which can keep depression at bay. On top of all that, being outside can be relaxing for your mind. This, in return, can improve your cognitive function and concentration.
The Popularity of Golf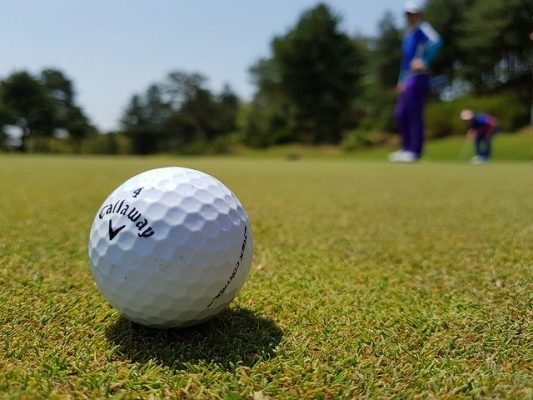 Golf has been played since the 15th century. If anything, its popularity has only increased since. Nowadays, there are more than 24 million golfers in the United States. Some of the most popular professional tournaments include the US Open, Open Championship, Masters Tournament, and Ryder Cup.
Do you know someone who's into golfing? Perhaps they spend their weekends out on the golf course? That wouldn't be surprising, given how popular the sport has become.
Is their birthday coming up? Looking for some gift ideas? We've done the research for you so you don't have to. Keep reading to find out what's on the list!
7 Best Gift Ideas for Golfers in 2023 – Top Recommendations
When it comes to gifts, you can't go wrong with giving something practical. Here are a few things that can be put to good use at the golf course:
1. Titleist Pro V1 Prior Generation Golf Balls – $40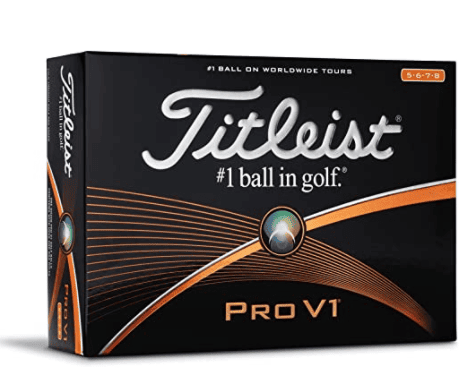 Every golfer needs golf balls. I mean, how would you play without them? Some courses may rent them out but let's face it, it's always best to have your own. That way, you can get used to how they feel and spin, which can boost your performance on the golf course. Why let the quality of the balls get in the way of your score, right?
As for which ones to get, we highly recommend the Pro V1 Golf Balls by Titleist. If anything, they're some of the best that the industry has to offer. For one thing, they're versatile. That is, you can use them both for short and long games. For the former, they'll provide very low spins and for the latter, you'll get excellent drop-and-stop control.
Compared to other golf balls, they're also well constructed. Soft, yet durable, they come with a casing layer that allows for better speed and spin. Its unique tetrahedral dimple design will also allow for consistent flight each time you swing. Featuring long-lasting durability, you'll be able to use them for many, many games.
One box comes with 12 golf balls.
2.
Callaway Dawn Patrol Golf Glove – Around $15-20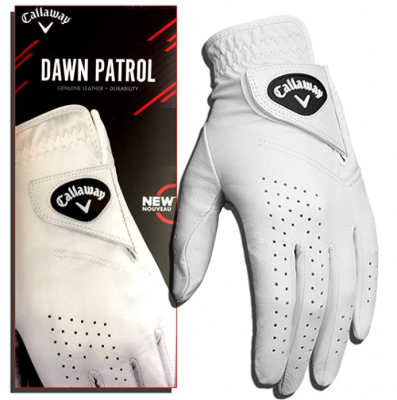 Golf gloves are highly recommended if you plan on playing seriously. As it is, they do several things. For one thing, they provide grip—that way, you won't have to worry about the club moving around in your hand, which can prevent you from making a good swing. Not only that, but it helps to prevent blisters (the constant rubbing between your skin and the grip can irritate your hand). Assuming that you're right-handed, you'll wear the glove on the left hand.
Which brand should you go for? Callaway, hands down. Their golf glove is made of high-quality leather and feature an adjustable closure so that you can customize your fit. That way, you know that it'll be secure and comfortable. Featuring a cotton terry cuff, it'll also wick away sweat if you happen to be playing on a hot day. On top of that, it's breathable.
Depending on whether you're right or left-handed, you'll want to get the one that's designed for the left or right hand. Either way, you get to choose the size (the glove is available from small to XX-large) that's right for you.
3. Hydro Flask Water Bottle – $30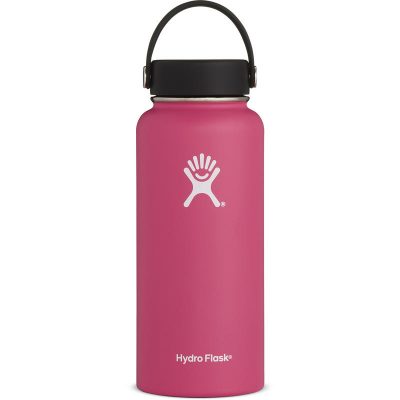 As with all sports, you want to make sure that you stay hydrated while playing golf. Remember, just because it's not considered to be a strenuous workout doesn't mean that you won't be sweating. This is especially true if you're playing during the hot, summer months; the heat can easily beat you down while you're on the course!
Given that, you want to bring some sort of water bottle with you. While you can always get the disposable kind, we highly recommend getting a reusable one instead. Not only will it be cheaper in the long run since it's refillable but you'll also be doing your part to help the environment. Because let's face it, the last thing that the planet needs is more plastic waste. Not to mention that it's healthier. For one thing, you won't have to worry about ingesting BPA, a harmful chemical, which is often found in some plastics.
The Hydroflask is a high-quality water bottle that's made of stainless steel. Featuring vacuum-insulated technology, you can count on it to keep your drink cold or hot, whichever you prefer. Easy to use, it even comes with a tiny handle on the top so that you can carry it easily while you're walking between holes. When you get home, just wash it with some soap and water and you'll be good to go for next time.
Available in over a dozen colors, you get to choose the one that suits your personality. On top of that, there are also different caps that you can get for the bottle. Not to mention that it's also available in different sizes!
4. ACTIVE Detergent – $24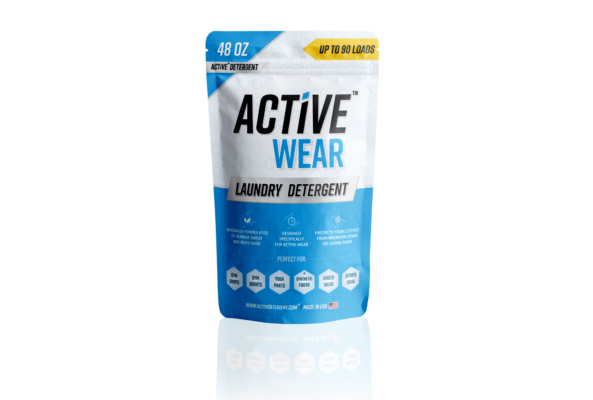 Golf shirts should always be washed after each wear. Why? They probably have sweat on them from you walking around all day. Not to mention that dirt and whatnot can easily get on you when you're swinging your club. The last thing that you want is to re-wear your dirty golf tee or polo as that can irritate your skin. On top of that, the bacteria and sweat can cause damage to the technical fibers over time.
What should you wash your golf shirts with? ACTIVE detergent. You can probably guess by its name but it's specifically designed for activewear—and of course, that includes the garments that you wear at the golf course! Despite being all-natural, the formula is highly effective as it contains multiple enzymes, which are able to dissolve impurities within the fibers such as body oils and sweat.
Seeing as how it's all-natural, it's also better for your skin and the environment. For one thing, you won't have to worry about harmful chemicals being introduced into the waterways. Cost-efficient, one bag will give you enough powder to wash many loads. Of course, you don't have to just use them for your golf shirts either—you can also use them for your other workout clothes!
5. Bushnell Phantom Golf GPS – $120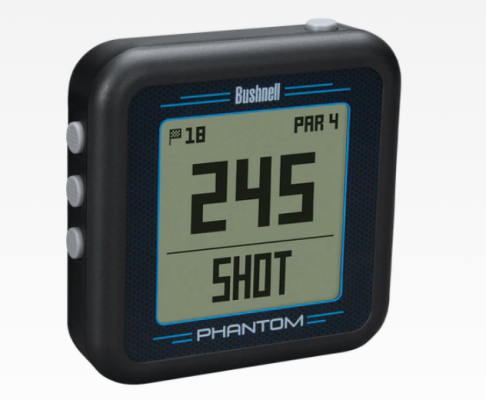 More and more people are using GPS devices on the golf course nowadays. They might be a bit costly, but most would agree that their features are worth it. Basically, they allow you to pinpoint your exact location while you're playing. For example, you can use it to check the distance to nearby hazards or the green. Some will even show you your tee times!
For those who are thinking of getting one, consider the Phantom Golf GPS by Bushnell. Small and compact, it comes with a magnetic mount that lets you attach it to your cart. Bluetooth-enabled, it comes preloaded with over 36,000 courses so that you can easily use it out of the box. It's worth mentioning that it also comes equipped with a shot distance calculator. In other words, you can measure every swing you make. On top of that, it has a hazard finder, which you can use to keep yourself out of traps.
Despite its small size, it packs a powerful battery that can be used up to 10 hours. You can use it to see your tee times, GPS distances, and flyovers. On top of that, you can use it to track your scores!
6. Orange Whip Golf Swing Trainer – $109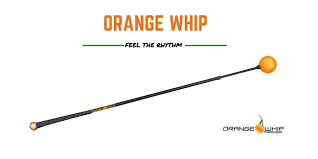 There's always room for improvement when it comes to golf. You just have to put in the time and train. After all, you won't get any better without practice. It might not be a big deal if you just play golf as a hobby but it's definitely something worth looking into if consider yourself to be a serious golfer.
Don't have time to go to the golf course for a practice session? You can always practice at home—you just need the right tools. Take the Orange Whip Golf Swing Trainer Aid, for example, it's made so that you can practice your swing in the comfort of your own home. How does it work? For one thing, it'll help you develop rhythm and balance. Each time you swing the trainer aid, you'll receive instant feedback. That way, you know what to improve on for your next swing.
Not only that, but its weighted system will help increase your flexibility. In other words, you'll be less prone to injuries while playing on the golf course. At the same time, you'll also improve your range of motion, which will directly benefit your swing. Last but not least, the trainer will strengthen the muscles that you need for the sport.
7. Lifetime Creations Monogrammed Golf Towel – $35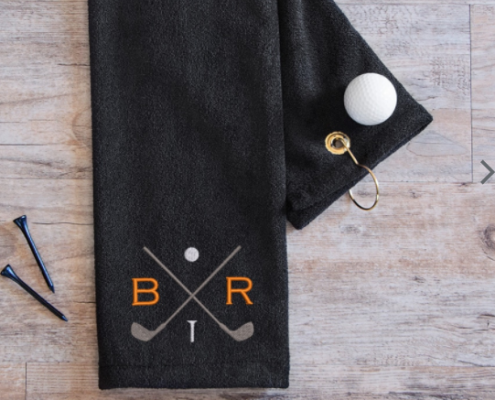 Golf towels are another must-have item if you're a golfer. What else would you use to wipe your golf balls and clubs with? If anything, it's highly important that you dry your golf clubs after playing. You want to absorb all the moisture so that the metal won't rust. Wiping the handle during a game can also help improve your grip. On top of all that, you can use them for your sweaty hands!
Here's an idea—why not get a monogrammed golf towel from Lifetime Creations? Yes, that's right, you can customize it with your gift's initials monogrammed on the front. You can even pick the color for the embroidered initials! 6" x 25" in size, it also comes with a grommet and hooks for easy hanging. As far as the material goes, the front is made of soft, microfiber while the back comes with polyester scrubbers for easy wiping of golf clubs.
Note: This promotional offer is only guaranteed through the end of the day.