Pilates is similar to yoga in that it's a low-impact exercise. Unlike the latter, however, it focuses on strengthening muscles while improving flexibility and postural alignment. Easy on the joints, it can help with back pain and prevent injuries.
As it turns out, there's more than one type of pilates as well. For example, there's contemporary pilates, classical pilates, mat pilates, and reformer pilates. At the end of the day, it depends on what your personal preferences and goals are. For example, mat pilates focuses on your core, which makes it ideal for those who are experiencing back pain.
The Popularity of Pilates
The popularity of pilates has increased considerably in recent years. To give you a better idea, more than 9 million individuals do pilates in the United States!  If anything, that's not too surprising given that almost every gym offers classes. What that also means is that you probably know someone who's into pilates. Ask around—you might be surprised by the results!
For example, maybe one of your co-workers goes to pilates classes after work. If that's the case, why not give them something pilates-related for the holidays or perhaps their birthday? They're bound to put it to good use. Drawing a blank? Need some gift ideas? Well then, you're at the right place because that's what we'll be sharing on this page!
7 Best Gift Ideas for Pilates Lovers in 2023 – Top Recommendations
Here are a few practical gifts that any pilates lover will love! The best part? They won't break the bank!
1. Shandali Yoga Towel – $9 to $20 Depending on Size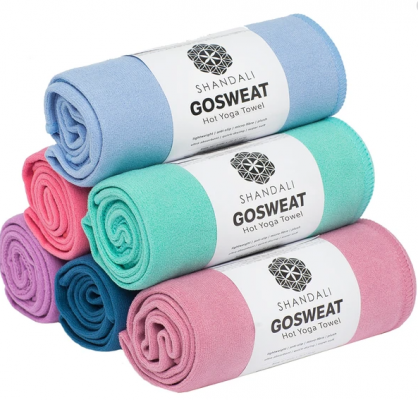 Who says that yoga towels are just for yoga? You can also use them for pilates! For one thing, you can use it to wipe the sweat away from your face after a workout (yes, you can get sweaty from pilates). Of course, you can also use it to wipe your map. After all, the last thing that you want is a slippery mat when you're doing pilates—that can easily lead to falls and injuries!
Yes, you can always use a regular towel but wouldn't you want to use something that's specifically designed for the sport? Take these yoga towels by Shandali, for example, they're ultra-absorbent, quick-drying, and plush. On top of all that, they're lightweight so it won't weigh you down. Featuring a tight-weave design, they're capable of absorbing many times their weight in moisture. In other words, you'll stay fresh and dry. It's easy to clean as well since you can just run it through the washer.
Available in two sizes (26.5" x 72" and 16" x 26.5"), you can pick the one that's right for your needs. Did we also mention that it comes in seven different colors?
2. Active Detergent – $24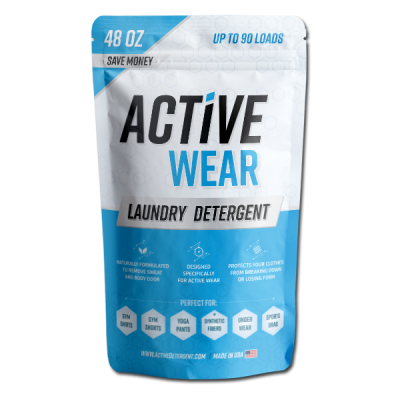 Depending on the intensity level, you can get sweaty after a pilates session. In other words, you want to make sure to wash your gear (e.g. tanks, sports bras, leggings, etc) once you get home. Why? The oils can easily compromise the material without you knowing. At the very least, you want to air out the garment before putting it away in a bag—the goal is to remove as much of the moisture as possible.
Plain water won't be enough to do the trick, though. To get rid of the sweat and oils, you'll have to use some sort of soap and we recommend ACTIVE detergent. As you can probably guess, it's formulated for activewear and of course, that includes what you wear for pilates. Plant-based, the formula contains various ingredients that are physically capable of dissolving dirt, bacteria, and sweat. It's also gentle enough to be considered hypoallergenic. This makes it suitable for those with skin sensitivities.
One bag comes with 48 oz of powder, which will be enough for up to 90 loads. Made in the USA, you know that you're getting a quality product. It does not contain any fillers or harmful chemicals whatsoever.
3. ToeSox Socks – $15-25 Depending on the Design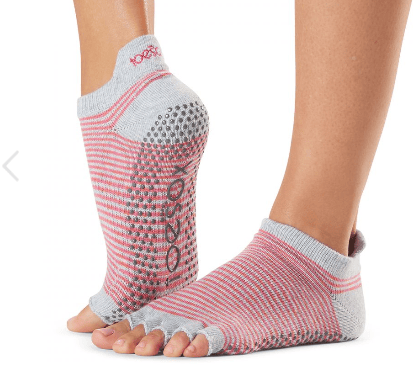 Grip socks are a must-have for pilate lovers. Basically, they're socks with tiny rubber grips on the bottom. What do they do? They prevent your feet from sliding all over the place on the mat so that you'll have more control and can focus on the exercise. Not only that, but it'll provide a physical barrier between your skin and the germs on the mat and equipment.
There are various types that you can get but ToeSox socks are our favorite. Featuring a five-toe design, they allow you to move and spread your toes naturally. It also comes with an arch band that provides gently pressure to support your feet. Not to mention that the low rise will keep you comfortable throughout your workout. The way it's designed, it also won't twist or bunch together when you're doing your pilates workout. In fact, they're also suitable for other activists such as kickboxing, dance, and yoga.
Made of cotton, spandex, and rubber, they are fully machine washable. There are also many colors and designs to choose from—including Disney! Multiple sizes are available from x-small to x-large. Price depends on the pattern and style.
4. Hydro Flask – $30-40 Depending on Style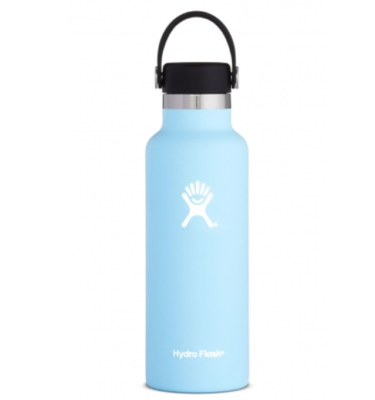 One of the things that you always want to bring with you to your pilates session is a water bottle. That way, you can take sips before, during, and after your class. After all, it's important that you keep your body hydrated.
While you can always buy a bottle from a vending machine, it's much better to bring your own from home. Not only will you be saving yourself some money, but it's also better for the environment. Because let's face it, the world's got enough plastic bottles to deal with as it is.
Which reusable water bottle should you get? Consider the Hydro Flask. If anything, it's one of the most well-known brands out there. Backed by a lifetime warranty, it's both durable and practical. Featuring vacuum-insulated technology it can keep your water cold for up to 24 hours and hot for up to 6 hours. Of course, it's also BPA-free. You can also make use of the small handle at the top to bring it with you on the go.
In terms of varieties, there are many styles that you can choose from. For one thing, the Hydro Flask comes in many different colors from deep reds to bright yellows. You can also pick between the standard lid and the sports cap, the latter of which enables you to take quick sips without having to twist it open. Multiple sizes are available as well.
5. Asakuki Oil Diffuser Set – $37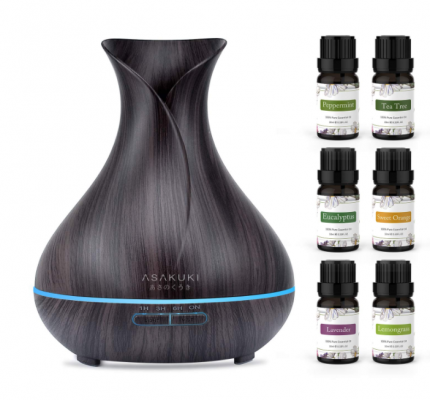 Using essential oils for pilates can enhance your performance. For example, it can promote feelings of calm and positivity. It's also believed to increase your energy and boost your mood. Considering that, it's not surprising to know that more and more people are incorporating them into their workouts.
Are you someone who practices pilates at home? Then why not get one the Asakuki Essential Oil Diffuser Gift Set? It comes with six different types of essential oils including lavender, eucalyptus, sweet orange, tea tree, peppermint, and lemongrass, all of which have their own benefits (you'll get a small pamphlet that goes over the various scents).
In terms of the diffuser itself, it comes with a 400ml water tank, which allows it to run up to 12 hours. Easy to use, it can easily scent an entire room. What's more, is that it comes with beautiful lights—ones that you can customize! For example, you can set it to your favorite color. Alternatively, you can set it to an automatic color cycle. For those who are wondering, you can adjust the brightness of the light as well.
6. Mantra Sports Pilates Ring – $26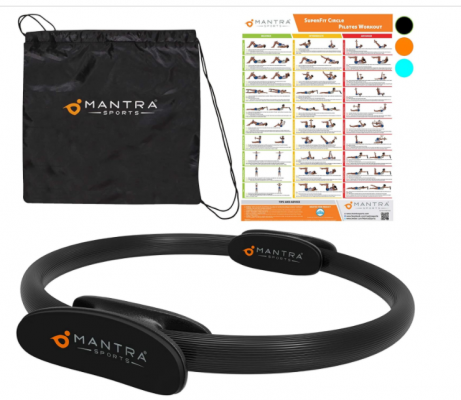 A Pilates ring is a great tool for those who are interested in furthering their training. Highly versatile, you can use it for a variety of exercises. For example, you can use it to strengthen your chest muscles or tighten your inner thighs.
There are many different varieties but we recommend the one by Mantra Sports. Made of premium fiberglass, it's up to 30% lighter than those made of steel. Easy to use, it also comes with dual EVA foam pads on the inner and outer sides so that you can grip it easily. You can use it to shape your tights, stretch your calves, exercise your arms, and more. The kit itself even comes with a step-by-step exercise poster so you can just follow along if you're not sure where to start.
14-inches in diameter, it's large enough for most exercises and small enough so that you can take it with you on the go. There are three colors to choose from—black, blue, and orange, and they all come with a small drawstring bag for you to store the tool.
7. Manduka Pro Yoga Mat – $120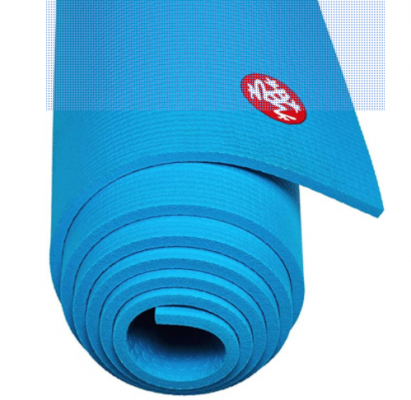 You're going to need a yoga mat for pilates. If anything, it's a must-have. Not only will it prevent you from slipping, which is a real possibility when sweat is involved, but it'll also give you a sense of space, if you get what I mean.
Manduka is one of the many brands that make these types of mats. Made of eco-certified PVC material, it'll cushion your hips, spine, knees, and elbows while you're doing your poses. Remember, you don't have to use it for pilates either. You can just as easily use it for yoga, and other fitness classes!
Available in two different sizes, you can choose the one that works best for you. On top of that, it comes in various colors including green, blue, black, brown, purple, and more. Which one will you choose?
Note: This promotional offer is only guaranteed through the end of the day.