The Upside is a stylish sportswear label that offers a variety of activewear and loungewear for women. In fact, the brand has been spotted on numerous fashion icons over the years including Kelly Slater, Karlie Kloss, Kim Kardashian, and Candice Swanepoel.
More About The Upside
The Upside was founded by Jodhi Meares in 2014. Their goal is to provide women with activewear that combines fashion with technical performance. Based in Australia, the company is known for their luxurious materials and easy sleek style, both of which have earned them a loyal following.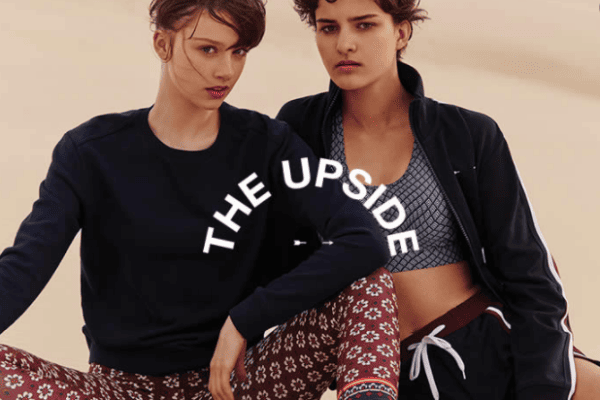 As of 2023, there are three physical locations in Bondi Junction, Miranda, and Mosman. Their products are also available at many stores around the world including Lane Crawford, Net-a-Porter, Selfridges, and Matches.
What Kind of Activewear Do They Sell? 
The Upside offers an array of products including sports bras, leggings, shorts, jackets, swimsuits, tanks, and more. That's not all, they also sell fundamentals such as long sleeve tops, track pants, tees, and hoodies.
Price-wise, however, they are on the higher end. If anything, you can expect to spend at least $70 per item. For example, a sports bra will cost you between $80 to $100. The same goes for their leggings, most of which go for above $100. The good news is that they do offer free express shipping to most countries with orders over $150 (otherwise, there's a flat rate of $20).
Taking Care of The Upside Clothing
The Upside is known for their quality products. Even the most durable of clothing, however, will wear out eventually. That's why it's so important to take care of your items- it'll ensure that they'll last a long time. For starters, you never want to procrastinate when it comes to washing sweaty clothing. The longer you wait, the worse it is for the fabric.
The way you wash your clothes is important as well. If anything, it'll determine how long they'll last. When in doubt, check the care tag label- it'll give you all the information that you need to go about washing the item.
Fabrics Used By The Upside
The way you wash an item is determined by the fabric. After all, they're not all the same! Here are some of the materials that The Upside uses for their clothing.
Polyamide
Polyamide aka nylon is a synthetic fabric that's often incorporated into athletic apparel. Not only is it lightweight, but it's also abrasion and wrinkle-resistant. On top of that, it has excellent elasticity, which makes it ideal for workouts.
The Upside uses polyamide for their leggings, sports bras, tanks, swimwear, and more.
Spandex
Spandex is a synthetic fabric that's often woven together with other materials such as nylon, polyester, or cotton. Similar to nylon, it has great elasticity and can stretch up to 8 times its length. For this reason, it's often used to make form-fitting garments such as leggings and swimsuits.
The Upside uses spandex for their leggings, tanks, sports bras, jackets, and more.
Polyester
Polyester is similar to other synthetic fabrics in that it's strong and lightweight. On top of that, it resists fading and holds up well to repeated wearing and washing. The only thing is that it's temperature-sensitive. Also, it's not as breathable as other fabrics such as cotton.
The Upside uses polyester for their hoodies, track jackets, and more.
The Proper Way to Wash The Upside Leggings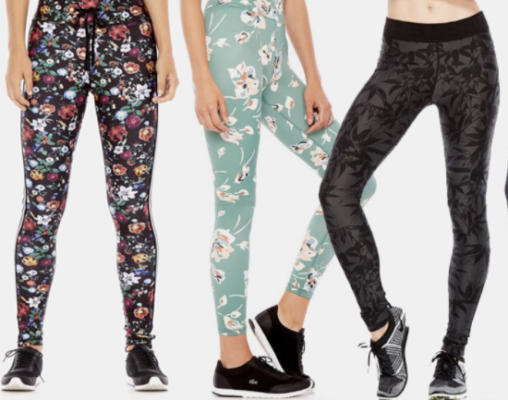 Their leggings are made of synthetic fabrics (e.g. polyester, nylon, spandex), which makes them 100% machine washable. With that said, you can also wash them by hand. We'll be going over both methods below.
Option 1: Machine Washing The Upside Leggings
Empty out the pockets and turn the leggings inside out—that'll prevent them from fading so that they'll look newer for longer. Not only that, but it'll allow the detergent to reach the inner layer, where sweat tends to accumulate.
Assuming that you're washing a mixed load, you'll want to place your leggings inside a laundry bag. That way, they won't snag on your other items during the wash cycle. If you don't have a laundry bag, you place them inside a clean pillowcase- just tie off the end with an elastic.
Once you've placed everything in the washing machine, add 1/2 a scoop of ACTIVE detergent- that's all you'll need. Skip the fabric softener; it'll only add a waxy substance to your leggings, which will prevent them from pulling sweat from your skin.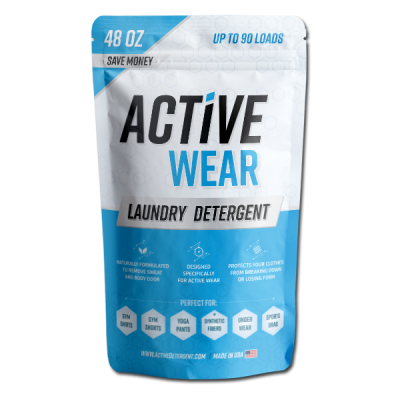 Tip: White vinegar is a great natural softener that you can use instead. Not only will it soften up your leggings, but it's effective for removing odors as well.
Next, select your wash cycle. For leggings and sportswear in general, it's best to use a delicate setting with low spin. Also, make sure to choose cold water- hot water can damage the elastic fibers over time.
Retrieve your leggings once the washing machine is finished running. Don't leave them inside for longer than necessary, otherwise, they'll start to smell, which means that you'll have to wash them all over again. Let them air dry on a hanger or drying rack in a well-ventilated area away from the sun. Do not tumble dry.
Option 2: Hand Washing The Upside Leggings 
For hand-washing, you'll need a sink or tub. Start by filling it with cool water. Once it's halfway full, add half a scoop of ACTIVE detergent. Dissolve the powder by swishing the water gently with your hand- you should end up with a sudsy solution.
Place your leggings (and other garments) in the sink so that the item is under the soapy water. Let it sit immersed for at least 15 minutes. Gently knead the fabric afterward to loosen any debris. From there, rinse it thoroughly with clean water. Continue until there's no more detergent/soap film- it can take up to a couple of minutes.
Place the leggings on a clean towel afterward. Slowly roll it up with the pants inside to extract the excess moisture. From there, you can air-dry the item with a drying rack or hanger. Remember, you don't want to tumble dry the leggings.
The Best Way to Wash The Upside Sports Bras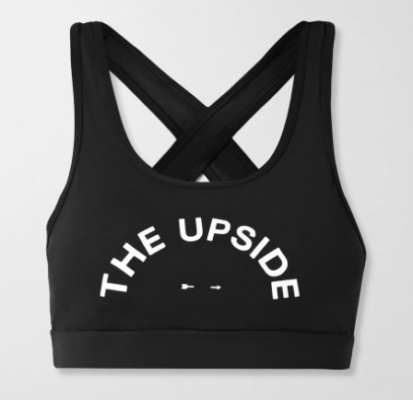 Sports bras, in general, are much more delicate than regular garments. Here are two ways that you can wash them.
Option 1: Machine Washing The Upside Sports Bras
Fasten all clasps. Once you've done that, turn the sports bra inside out. If you want, you can also take out the cups- that'll help them keep their shape. Place the bra in a lingerie bag and put it in the washing machine. That way, it won't get tangled with or caught on other clothing.
Add the rest of your laundry and pour in one scoop of ACTIVE detergent. Next, set the washer to a delicate or gentle cycle with minimal spin. Make sure to use cold water and press the start button. As with leggings, you can skip the fabric softener.
Let the washing machine run. Once the cycle is complete, retrieve your sports bra. Place it on a clothes drying rack so that it can air dry. Avoid hanging the item by the straps as that can stretch out the fabric. Also, don't tumble dry the bra- the heat will destroy the fibers.
Option 2: Hand-washing The Upside Sports Bras
Fill a tub or sink with cool water. Measure half a scoop of ACTIVE detergent and pour it in. Mix the powder into the water by swishing it gently with your hand. Place the sports bra into the solution once the detergent is fully dissolved.
Let it sit and soak in the sink for approx. 15 minutes. Drain the sink afterward and refill it with water. Proceed to rinse the sports bra- continue until it's free of soap. Finally, use a clean towel to remove the excess water. From there, you can let it air dry. Remember not to use the clothes dryer for the sports bra.
How to Wash The Upside Swimsuits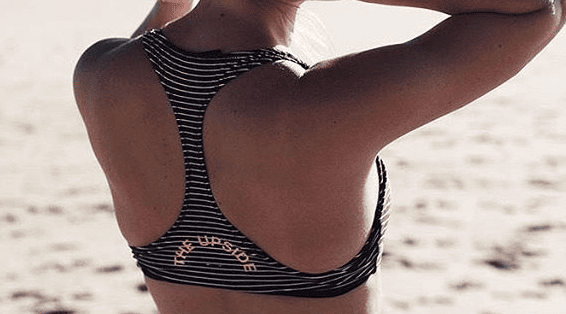 It's best to hand-wash your swimsuits if you want them to last. Here's how.
Hand-Washing The Upside Swimsuits
Rinse your swimsuit immediately after wearing- that'll get rid of any sunscreen, chlorine, or body oils that are on the fabric. From there, wash it as soon as you get home.
To do that, all you need is a sink or tub. Start by filling it with cool water. Add half a scoop or less of ACTIVE detergent and swish the water to combine the powder. Place your swimsuit in the sink once there are bubbles. Gently massage the fabric with your hand to work out any dirt or debris. From there, let it soak for about 15 minutes.
Drain the dirty water and rinse the swimsuit under the faucet until the water runs clear and there's no detergent left. Instead of wringing the garment, roll it up inside a towel- that'll allow you to remove extra water. When you're done, lay it flat to dry in a well-ventilated area. Don't hang it up- the material can stretch due to the weight of the water.
Can You Put Your Swimsuits in the Washer?
You can wash your swimsuit in a washing machine if you're in a pinch. Just make sure to use a mesh laundry bag- you don't want the straps to get caught during the cycle. We recommend adding a couple of towels to prevent over agitation.
Select a cold water setting and run a delicate or gentle setting. Roll the water out of the swimsuits after and lay it flat to dry.
Note: This promotional offer is only guaranteed through the end of the day.