Splits59 is a women's activewear company that's based in Los Angeles. Started by triathletes, the brand specializes in apparel that combines functionality, style, with quality textiles.
More About Splits59
Splits59 was founded by Keith Peterson and Jonathan Schwartz in 2008. The goal was to create refined, technical clothing for women. Since then, their apparel has been seen on plenty of celebs including Miranda Kerr and Emily Blunt, both of whom were early adopters.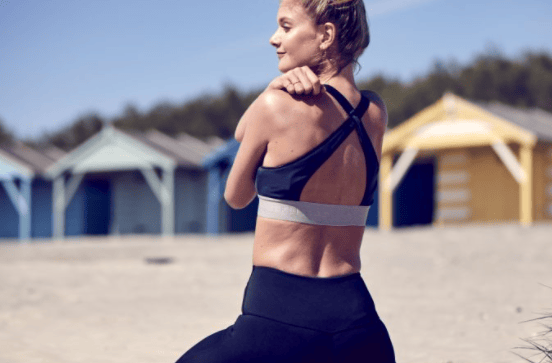 While their website has the best selection, you can also find their products at other retailers such as Urban Outfitters, Bloomingdales, and Selfridges.
What Kind of Apparel Do They Sell?
Splits59 offers a variety of activewear including shorts, leggings, tanks, tees, bras, camis, and sweats, most of which are made from up-cycled fabrics. Not only that, but they have a tennis collection as well, which consists of jersey polos, shorts, and more.
Price-wise, their products are quite reasonable. You're looking at around $120 to $150 for a pair of leggings and $40 for a sports bra. The good news is that shipping is free on all US orders. International shipping is available as well (pricing will depend on your country).
Tip: You can get 15% off your first order by signing up for their e-mail newsletter!
Taking Care of Your Splits59 Clothing
Assuming that you went to the gym, you'll want to wash your clothes as soon as possible. At the very least, you want to air them out; that'll let the fabric breathe, which can help prevent nasty odors. Don't leave them in a pile on the bathroom floor—bacteria will grow and that will only worsen the smell.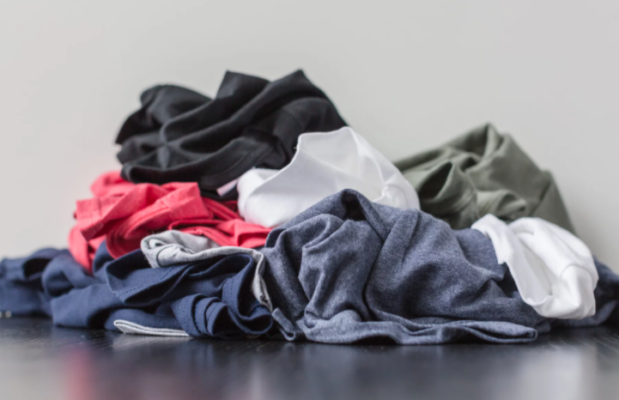 Be careful, though, there are certain things that can ruin your clothes when you're doing the laundry. Need some help? That's why we're here! Keep reading for everything that you need to know about how to wash their activewear.
What Fabrics Do They Use For Their Activewear?
Splits59 uses upcycled technical fibers for their clothes. Here's an overview of the different textiles.
Polyester
Polyester is robust and durable. Not only is it easy to wash and maintain, but it's also lightweight and quick-drying, both of which make it an excellent choice for activewear. Like most man-made fibers, however, it doesn't do well with heat. It's also not as breathable as other fabrics such as cotton.
Spandex
Spandex is known for its flexibility; it can stretch many times its length and return to its original shape. For this reason, it's often used in dance wear, costumes, swimwear, and workout clothes. It's never used alone, though. It's always woven with other fibers such as cotton, polyester, or nylon.
Nylon
Nylon is resistant to many things including moisture, abrasion, and static. It's easy to wash and has a soft, smooth feel, which makes it a good choice for a variety of clothing, including activewear. The only thing is that it tends to fade easily in sunlight.
How to Wash Splits59 Leggings So That They'll Last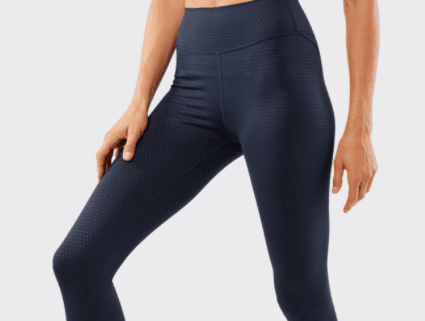 You can throw your Splits59 leggings into the washer or wash them by hand, the latter of which will be gentler on the garment.
Option 1: Using the Washing Machine to Wash Your Splits59 Leggings
Start by flipping the leggings inside out—it'll prevent the outside from fading and expose the inner layer to the detergent. While you don't have to, it's highly recommended that you use a laundry bag (mesh bags with zippers work best). That'll provide additional protection, which is always nice when you're using the washing machine.
Tip: It's perfectly fine to wash your Splits59 leggings with other items! Ideally, you want to put them in the same load as other activewear such as tees, tank tops, sports bras, etc. Just make sure that the colors are similar so you won't have to worry about dye transfer. 
Once your leggings are in a laundry bag, place them in the machine. Measure a scoop's worth of ACTIVE detergent powder and put it in. Set the washer to a "delicate" or "gentle" setting and run a wash cycle with cold water. Avoid hot water—it can compromise the shape of the item. Also, skip the fabric conditioner; it'll affect the finishing so that the fabric won't be able to pull sweat away from your skin.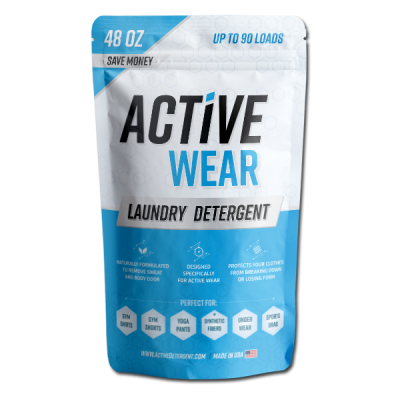 Run the washing machine and let it finish before opening the door. Carefully take out the bags and remove your leggings. Hang them up on a laundry rack or clothesline so that they can dry naturally. Don't expose them to direct sunlight—that can cause the fabric to fade. And never use the dryer; the high heat can permanently damage the leggings. 
Option 2: Washing Your Splits59 Leggings By Hand
Start by filling a sink or washbasin with cool water. Add a small amount of ACTIVE detergent (half a scoop or so will do, unless you're washing your leggings with other items) and agitate the water with your hands; you should get a soapy mixture. 
Turn your Splits59 leggings inside out and place them in the sink or washbasin. Press down on them gently if you need to; you want them to be completely submerged in the solution—the detergent won't be able to clean the item if it's not on the item, after all!
Tip: You can spot-treat stains with white vinegar or baking soda. Add a liberal amount onto the spot and gently rub it in with your finger with a soft-bristle brush. Let it sit for about 20 minutes or so before rinsing with water. Repeat until the stain's gone.
Leave the leggings in the sink and let them sit in the mixture for about 20 to 30 minutes. Massage the fabric gently with your hands and rinse off the soap suds. The best way to do this is by holding them under running water (you may have to squeeze the leggings a bit to remove all of the detergent). Continue rinsing until there are no more signs of soap; the water should eventually run clear. 
Transfer your leggings onto a clean towel and roll them up inside—that'll get rid of most of the excess water that's in the fabric. From there, you can place them on a clothesline or rack to air dry. Remember not to use the dryer.
Washing Splits59 Sports Bras The Proper Way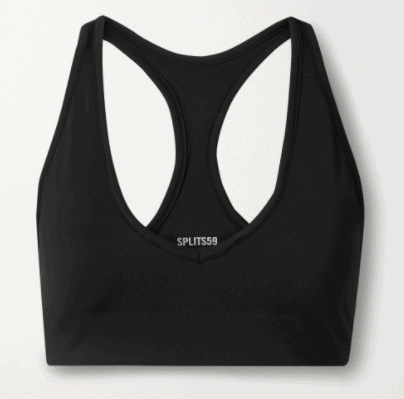 You want to be a little more careful with sports bras as they tend to be more delicate than leggings. Here's how you can wash them.
Option 1: Machine Washing Your Splits59 Sports Bras With Other Clothes
You can put your Splits59 sports bra in the washing machine as long as you use a mesh bag. Never throw it into the washer directly—the agitation will stretch out the elastic fibers. Not only will the bag protect it from friction damage, but it'll also keep the pieces together if you happen to have one with removable pads. 
Pro-tip: Avoid washing your sports bras with zippered clothing (e.g. jeans, hoodies); they can get caught on your sports bra and cause damage.
Close the mesh bag and throw it in the washing machine along with the rest of your clothes. Select a gentle setting (it's what you want to use for most activewear) and add in one scoop of ACTIVE detergent (feel free to add more, if you're washing many things at once). As always, cold water is the way to go.
Allow the washer to run. Take out the mesh bag afterward and remove your sports bra. Drape it on a laundry rack and allow it to air dry. Never put it in the dryer—the heat will ruin the elastic that keeps your bra functional.
 Option 2: Washing Your Splits59 Sports Bras By Hand
Sports bras are small and compact; this allows you to wash them easily by hand. Start by creating a soapy water mixture—dissolve half a scoop of ACTIVE detergent in cool water. Swish it gently with your hands a few times and put your sports bra in. Consider removing the pads and soaking them separately if they're removable. And remember, you can wash them with other garments. If anything, it'll save you some time by washing them together! For example, you can wash your sports bras with your tank tops, leggings, or shorts.
Press down on the sports bras a couple of times with your hands to saturate them with water; the entire item should be covered by water. From there, let it soak for around 20 to 30 minutes (don't soak it for too long, though, otherwise the dyes can bleed). After soaking, rinse it clean with running water. Consider rubbing it a few times with your hands to get rid of any leftover dirt or oils.
Continue rinsing your sports bra until all of the soap residues is gone. Blot away the excess water with a towel and hang it up on a hanger so that it can air dry. A drying rack works well as well. Like we said earlier, you never want to dry your sports bra—or any bra, for that matter—with the dryer.
Note: This promotional offer is only guaranteed through the end of the day.