Indigo Luna is an eco-conscious apparel brand that specializes in yoga wear and swimwear. They also have a knit collection that consists of ponchos, dresses, jumpers, tees, and scarves.
More About Indigo Luna
Indigo Luna is a small, family-run company that's known for their sustainable and eco-conscious manufacturing practices. For one thing, all of their garments are made from recycled or organic materials. That's not all, everything is also cut, seen, and dyed by hand.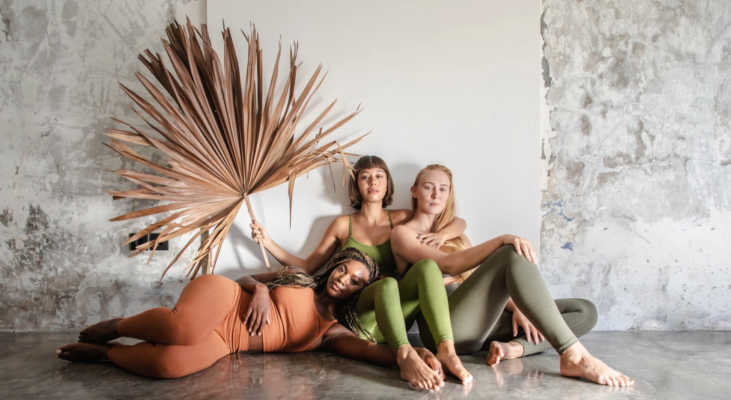 Aside from their online shop, they also have a physical showroom in Torquay, Australia.
About Their Activewear Collection
Their yoga collection includes tanks, bike shorts, leggings, crop tops, sports bras, and more. They also have a swimwear line, which consists of rash guards, one pieces, and bikinis, all of which are available in various colors and designs.
Price-wise, you're looking at around $70 to $100 for an item. They also have a clearance section where you can take up to 40% of some of their discontinued pieces.
As far as shipping goes, they offer free delivery on all orders over $150AUD within Australia. And for those who are wondering, yes—they do offer international delivery. Depending on where you're located, it can cost anywhere from $15 to $30 for DHL Express delivery.
Taking Care of Their Yogawear and Swimwear
Their yoga wear and swimwear are made from quality fabrics. However, they can still wear out, especially if you're rough on the garments. That's why it's so important to be careful with your activewear. In other words, don't leave them in the laundry bin for days on end. Wash them as soon as you can. That way, bacteria won't have a chance to build up.
You also want to be careful with how you wash your clothes. For example, you never want to use the dryer for swimsuits. If anything, that's the easiest way to ruin them.
For those who need some help, read on! We'll be going over everything that you need to know below.
Fabrics Used By Indigo Luna
All of their garments are made from sustainable materials. Here are some of the main ones that they use.
Eucalyptus Tencel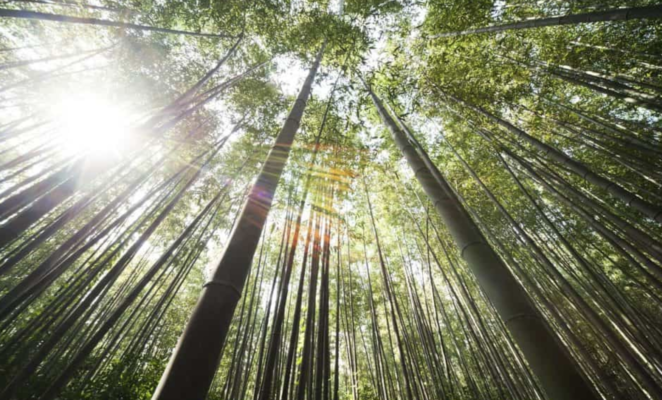 TENCEL lyocell is an eco-friendly fabric that's made from eucalyptus wood. More specifically, the wood pulp is dissolved, spun into fibers, and woven into yarn. A type of semi-synthetic rayon, it's soft, gentle on the skin, and doesn't wrinkle easily. It's also breathable, which makes it suitable for activewear.
Viscose
Viscose was originally used as a substitute for silk. Derived from wood pulp, it's often used in clothing, bedding, and upholstery. Not only is it soft, but it also has a silk-like sheen. Compared to cotton, however, it's a little harder to clean and maintain.
ECONYL
ECONYL is a type of recycled nylon that's made from synthetic waste such as fishing nets, industrial plastic, and waste fabric. As with traditional nylon, it's strong and has excellent resiliency. It's also quick-drying and waterproof, which makes it ideal for activewear and swimwear. However, it isn't as breathable as some of the other synthetic fabrics.
Organic Bamboo
Bamboo fabric is softer and more sustainable than cotton. It also has great insulating properties—it'll keep you cool during the summer and warm during the winter. The only drawback is that it tends to be more expensive than other similar fibers.
Indigo Luna: What's the Best Way to Wash Their Leggings?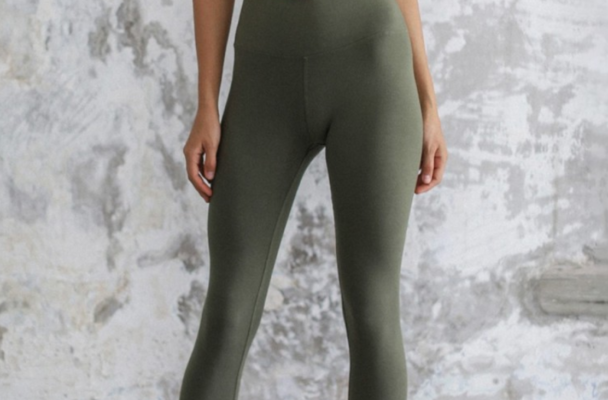 Their Ananda leggings are made from organic cotton and elastane. In other words, it's perfectly fine to put them in the washer. Or if you want, you can hand wash them in the sink. Not only will that save you money on your electrical bill, but it'll also be gentler on your pants. We'll be outlining both methods in detail below.
Using a Gentle Machine Wash Cycle
Place your leggings in a mesh laundry bag (remember, always turn them inside out). That way, you won't have to worry about them getting torn, ripped, or ruined in the wash—this is especially true if you're washing a mixed load.
Throw the bag into the washer and put in the rest of your clothes. We recommend washing your leggings with other similarly-colored garments such as shorts, tank tops, and sports bras. Avoid putting them in the same load as jeans (or other denim items) as they can damage your leggings.
Put in one scoop of ACTIVE detergent. Skip the fabric conditioner. Not only can it trigger allergies, but it also has a tendency of trapping in dirt and other debris (ie. your leggings will be harder to wash clean).
Tip: White vinegar can be used in lieu of a fabric conditioner. Add 1/2-1 cup during the final rinse cycle and it'll soften and freshen up your garments.
The next step is to choose your settings. We recommend using a gentle wash cycle as that'll minimize the amount of agitation during washing. In other words, your leggings will look new for longer. And make sure to set it to cold water—hot water can break down the fibers and cause the colors to run and fade.
Air-dry the leggings on a clothesline or drying rack after washing. Do not leave them outside in the sunlight. Don't tumble dry. 
Washing Them By Hand
Fill a sink with cold water; it should be big enough so that you can fully submerge the leggings. Pour in 1/2 a scoop of ACTIVE detergent and swish the water—that'll ensure that it's completely dissolved.
Lay your leggings in the sink so that it's immersed in the water. Don't worry if the water changes color. That just means that the fabric dye is releasing color; it won't cause any permanent color loss after washing.
Swirl the garment around a few times and let it soak for about 20 minutes. Rinse thoroughly with cold water afterward. We recommend filling the sink with clean water and rinsing it that way. Repeat as needed until all of the soap suds are gone. You can also run the leggings under the faucet for a couple of minutes, if necessary.
Carefully lift the leggings out of the sink and squeeze out the excess water with your hands. Don't wring or twist the item—that can cause unnecessary damage to the fabric.
Tip: You can roll up your leggings on an absorbent towel to get rid of more water.
Lay the leggings on top of a dry towel and let it air dry. You can also put them on a clothesline or drying rack.
Indigo Luna: How Should You Wash Their Swimsuits?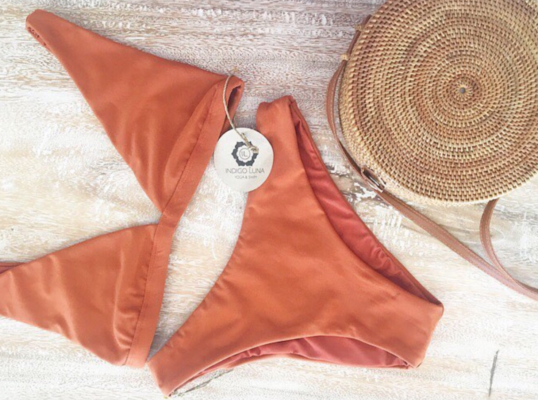 It's best to wash their swimsuits by hand. You want to avoid using the washer as it can stretch out and damage the delicate fibers. Having said that, you can get away with using a machine cycle every now and then as long as you don't do it all the time.
Washing Indigo Luna Swimsuits By Hand
Rinse your swimsuit as soon as possible after taking it off. You don't want your body oils to remain on the fabric as they can break down the fibers. The same goes for chlorine, sunscreen, and other chemicals. We recommend letting it soak in a sink but you can also run it under a faucet.
Go ahead and wash your swimsuit after soaking. Fill a washtub with cold water so that it's ¾ full and mix in half a scoop of ACTIVE detergent (swish the water with your hand to dissolve the powder). Lay your suit in the tub so that it's fully immersed and let it sit in the soapy solution for another 15-20 minutes.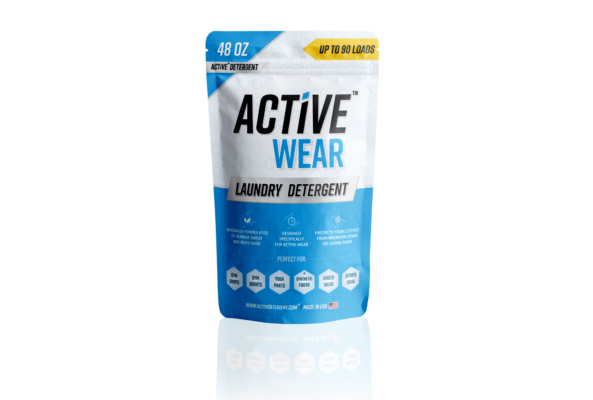 Rinse the garment thoroughly afterward with cold water. Remove the dirty water from the sink and refill it with fresh water. Gently press up and down on the swimsuit to remove soap suds. Repeat until the item is clean. You can also hold it under running water.
Press the swimsuit against the edge of the tub to remove the excess water. You can also roll it up inside a clean towel. Never twist the item—that'll cause permanent damage. 
Lay it flat and allow it to air dry, away from the sun. You can also use a clothesline or laundry rack as long as you don't hang up the suit by its straps (the weight of the water can cause them to stretch out). Avoid the dryer at all costs.
The Right Way to Machine Wash Your Indigo Luna Swimsuits 
Place your swimsuit (inside out) in a mesh laundry bag. That'll protect it so that it won't get torn, snagged, or caught during washing. Never put it directly into the machine as it will get damaged. And as always, you want to rinse it with cool water beforehand.
Close the laundry bag and throw it into the washer. We recommend adding a few towels to balance the weight so that your suit won't get thrown around while the machine is running. You can also wash it with other delicate items such as tank tops.
Measure a scoopful of ACTIVE detergent and add it to the dispenser. Next, set your settings. As a general rule, you always want to use cold water. Never use hot water as it can stretch out the nylon fibers. And make sure to set it to delicate—you don't want to expose it to unnecessary agitation.
Once the swimsuit has been washed, lay it flat to dry. Never put it in the dryer.
Note: This promotional offer is only guaranteed through the end of the day.