Levi's is a US-based clothing company that's known for its denim jeans. However, they also sell other products such as dresses, pants, shorts, and jackets. They even have their own line of accessories, which includes bags, hats, belts, and face masks.
More About Levi's
Levi's was founded by Levi Strauss in 1858. Instead of a clothing company, however, they were a dry goods business. It wasn't until the 1920s that they started to sell modern jeans. By the 1950s, their denim had become popular among a wide range of youth. In fact, they remain to be their number one selling product.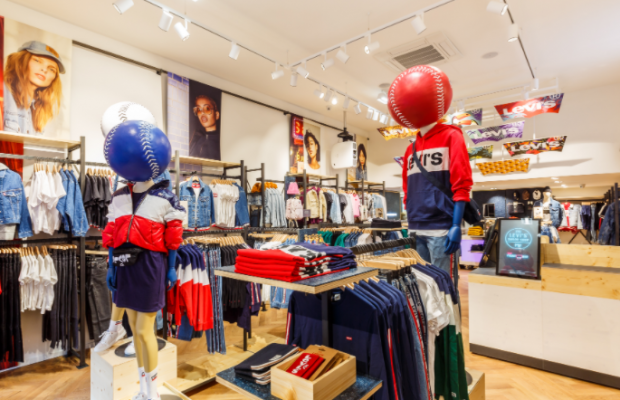 As of 2023, they operate more than 500 stores worldwide. That's not all, they also have about 2,900 branded stores. Due to the recent pandemic, however, they've had to cut a portion of their staff.
What Kind of Athletic Clothing Do They Sell?
They might not be known for their activewear but that doesn't mean that they don't sell any. Take their sweatshirts, for example, they can easily be worn for athletic purposes. The same goes for their tops, shorts, and hoodies.
Their prices are fairly reasonable as well. For instance, you can get a fleece hoodie for $65. Don't forget, they also have a sale section. Depending on your timing, you might just be able to snag yourself a good deal! Shipping is also free on your first order if you sign up for their newsletter (otherwise, it's a $7.95 flat rate for ground shipping).
Taking Care of Your Levi's Athleisure Wear
Just because their products are made of quality materials doesn't mean that you can neglect their care. Remember, the better you take care of them, the longer they'll last. If anything, this goes for all clothes, not just theirs.
Take their sports bras, for example, it's important that you wash them after each workout. That way, they won't be soaking in your sweat, which isn't exactly the best for the fabric. The same thing goes for their tees and shorts, basically anything that you can wear to the gym.
If you need some tips on how to wash them properly, read on! Because that's what we'll be going over in this post.
What Kinds of Fabrics Do They Use For Their Athleisure Wear?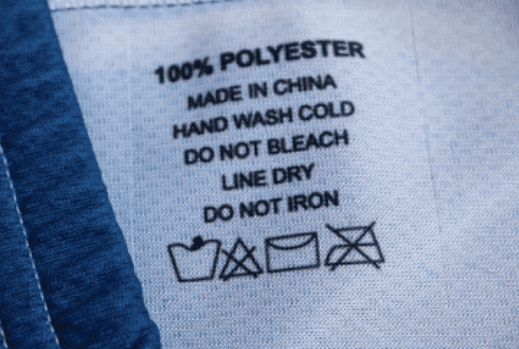 Understanding the fabrics that they use will give us a better idea as to how to care for them. After all, that's what determines the washing instructions.
Polyester
Polyester is commonly used for sportswear. Man-made, the fibers are incredibly durable and strong—much more so than cotton. On top of that, it's abrasion-resistant and moisture-wicking. Basically, what that means is that it'll keep you dry and cool while you're working out at the gym.
Levi's uses polyester for their sports bras, tanks, tees, track jackets, and more.
Elastane
Elastane aka spandex is a stretchy fiber that's often incorporated into sportswear for flexibility. That is, it allows you to move freely when you're working out. Synthetic just like polyester, it's often incorporated with other materials instead of being used by itself.
Levi's uses elastane for their sports bras, hoodies, sweatshirts, and more.
Cotton
Cotton is a natural fiber that's derived from the cotton plant. What sets it apart from polyester and other synthetic materials? It's much more breathable. At the same time, it's just as soft. The only thing is that it's not as durable, especially with continuous wear.
Levi's uses cotton for their hoodies, sweatshirts, shorts, and more.
Nylon
Nylon is another manmade fabric that's often used for sportswear. Stronger than polyester, it's also smooth, and lightweight, two properties than make it ideal for activewear. On top of that, it's easy to wash and quick-drying.
Levi's uses nylon for their jackets, shorts, and more.
How to Wash Levi's Sports Bras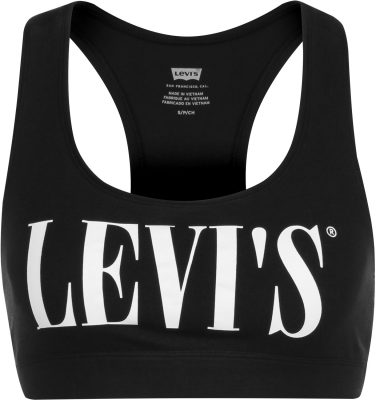 There are two ways to wash Levi's sports bras—you can either throw them in the washing machine (carefully) or wash them by hand. Here's a step-by-step instruction guide.
Option 1. Placing Your Levi's Sports Bra in the Washing Machine
Their sports bras do not have removable pads so you don't have to worry about taking them out. Instead, just place the whole thing in the garment bag. This is super important; it will protect from the bra from damage while it's being washed. And for those who are wondering, it is perfectly fine to wash them with other garments as long as you've sorted out your laundry.
Once the sports bra is in the bag, place it in the machine. The next step, after adding everything else, is to put in the detergent. We recommend one scoop of ACTIVE detergent, although you can adjust the amount based on what and how much you're washing. Make sure to skip the fabric conditioner—you won't be needing that for your sports bras. If anything, it'll only make them less clean.
Set your washing machine to a cold water cycle on a delicate setting with minimal spin; that will ensure that your sports bra won't get damaged. You should never use hot water as these types of fabrics are sensitive to heat.
Let the cycle finish completely before removing your sports bra. Do not transfer it to the dryer. Instead, let it air-dry indoors. Avoid putting it under direct sunlight.
Option 2. Hand Washing Your Levi's Sports Bra
Sports bras are very easy to wash by hand. Aside from detergent, all you need is a washbasin and water. First things first, fill it up so that it's 3/4 full. Once you've done that, stir in 1/2 scoop of ACTIVE detergent. You want the powder to fully dissolve so go ahead and agitate the water with your hands. Place the sports bra in the solution afterward; the fabric should be completely covered in the sink.
Massage the sports bra gently with your hand to help loosen any debris and allow it to sit and soak for at least 15 minutes. Do not skip this step—the detergent needs time to work into the fabric.
Drain the washbasin or sink afterward and refill it with clean water. Rinse the sports bra thoroughly until all soap suds are gone. You may have to squeeze out some of the excess detergent that's been absorbed into the fabric. Continue until the water that comes out becomes clear.
Place the bra on a clean towel. Blot out the excess moisture and let it air-dry. Try not to hang it up by the straps. Instead, place it on a rack or on a clean surface. Never put them in the clothes dryer.
Washing Levi's Hoodies The Correct Way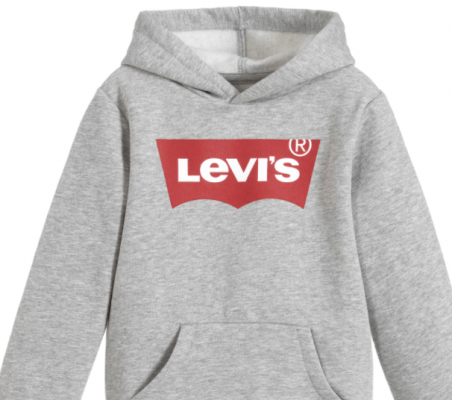 Option 1. Putting Levi's Hoodies in the Washer
Start by turning the hoodie inside out (remember to pull the sleeves and hood out of the garment). Any zippers should also be zipped up to prevent snagging. Once you've done that, load them in the machine. It's perfectly fine to wash them with other pieces of clothing as long as they have a similar color. Don't overstuff the machine, though, or else it won't be able to clean efficiently.
Add one scoop of ACTIVE detergent and pick a delicate cycle—that will ensure that the material won't be damaged. Avoid softeners and conditioners; they should never be used with activewear. The same thing goes for bleach.
Run the wash cycle using cold water and wait for it to finish before taking your clothes out. Do not dry the hoodies by putting them in the dryer—the heat will shrink the cotton. Instead, let them dry naturally.
Option 2. Hand Washing Levi's Hoodies
Unlike machine washing, where you want to zip up all the zippers, you want to leave them open for hand washing—it'll give you better access to the fabric. With that said, it's still good idea to flip the hoodie inside out. That way, it'll be easier for you to get rid of the oils and dirt on the fabric.
Once you've prepared the item, it's time to prepare the sink. Basically, you want to create a bath by filling it up with warm or tepid water and adding soap—we recommend 1/2 a scoop of ACTIVE detergent. Swish it around a few times with your hand and you should wind up with a soapy mixture.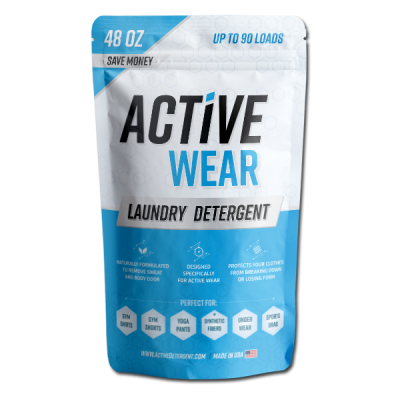 The next step is to place your inside-out hoodie in the sink. Ensure that the entire thing is immersed. Gently knead the fabric with your hands before letting it soak in the detergent mixture for about 15 to 20 minutes.
Finally, you want to rinse the item thoroughly to remove all the soap suds. We recommend draining the sink and filling it with new water from the tap and doing it that way. Continue to rinse the hoodie until the water that comes out of it is soap-free—there shouldn't be any bubbles leftover. Depending on the item, this step can take a few minutes. Once you've done all that, you're ready to let it dry. Remove it from the sink and squeeze out the excess water before allowing it to air-dry (ideally, you want to hang it up somewhere). Don't use the clothes dryer.
Note: This promotional offer is only guaranteed through the end of the day.