Tieks is a footwear company that specializes in ballet flats. Made of Italian leather, they're foldable and can easily be fit into a purse. What's more, is that there are dozens of different colors to choose from. If anything, that's one of the things that set them apart from other brands.
More About Tieks
Tieks was founded by two siblings, Kfir and Dikla Gavrieli in 2008. They were later joined by their brother, Elram, who worked together to design a versatile ballet flat—one that could be folded and put in a purse. The goal was to make it as durable and comfortable as possible.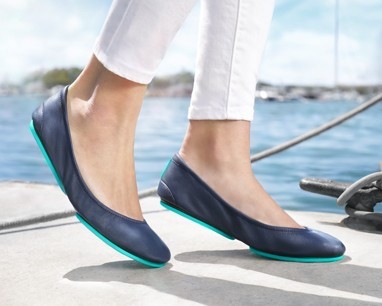 By 2010, the company had come up with nearly 20 different styles of ballet flats. Since then, they've expanded to more than 50 styles, some of which are made from vegan leather. It's worth noting, however, that their shoes are not available at any retail store like Macy or Bloomingdales. The only way to buy them is through their official store.
More About Tieks Ballet Flats
Their ballet flats are unique in that they feature a split-sole; the midsole is also flexible for maximum comfort. Speaking of comfort, the shoes also stretch and mold to your feet for the perfect fit. On top of that, the insoles will prevent your feet from hurting even with long-term wear.
Complete with non-skid rubber outsoles, you won't have to worry about slipping. Not only do they offer shock absorption, but they'll also keep you grounded.
Taking Care of Tieks Ballet Flats 
All of their ballet flats are made from leather. In other words, they're made to last. That doesn't change the fact that they can get dirty, however. This is especially true for light-colored flats—that is, dirt and mud can easily get onto the upper. This isn't surprising given that they're not that much lifted from the ground.
That's why you want to take proper care of them. For example, it's probably not a good idea to wear them if you plan on walking on rough terrain. As far as cleaning goes, it is definitely possible. In fact, it's easier than you think. Want to know how you can clean yours? Then keep reading!
Different Styles Offered by Tieks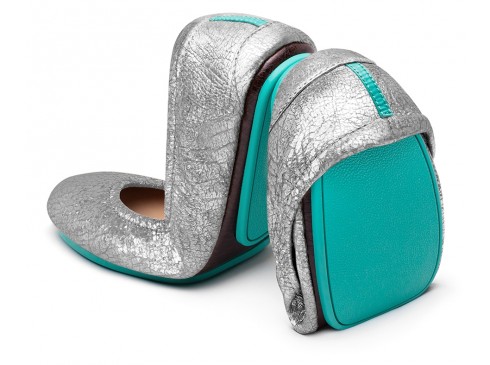 Tieks uses a variety of leathers and textures for their ballet flats. Here's a brief overview of their different styles.
Napa Classics 
Their Napa Classic collection is made from full-grain leather. Tanned with high-grade oils, they have a prominent natural grain while retaining a soft feel. There are multiple colors available as well including navy, fuchsia, mustard yellow, grey, and chestnut.
Metallic Classics
Their Metallic Classic styles are brushed with the finest oils before being painted with a metallic finish. Expertly tanned, they are buttery soft to the touch. Colors available include metallic bronze, metallic pewter, metallic gold, and rose.
Croc Patents
Their Croc Patent collection is made from premium leather that has a high-gloss, shiny coating. Saturated with luxurious color, they're embossed with a crocodile texture to create an exquisite look. Colors available include brown, diamond white, slate grey, and obsidian black.
Snake Print
Their Snake Print sales are made from hand-painted leather that's cut to mimic real snake scales. As such, each print is comprised of multiple colors. The leather is also tumbled to give it that soft feel. Prints available: Electric Snake, Mocha Snake, Azure Snake, and Sand Snake.
Shiny Distressed Classics
Their Shiny Distressed Classic styles are made from top-grain leathers that are meticulously burnished and dyed. Featuring vivid colors, they're also treated with a wax coating to add shine. Colors available include Pacific, Green, Poppy, Clover Green, and Cobalt Blue.
Metallic Sparkle Prints 
Their Metallic Sparkle Prints feature soft Italian leather that's pressed with a delicate foil to give it a sparkly appearance. Not only that, but it has a antiqued and crackled look. Colors available include Moonstruck, Starstruck, and Lovestruck.
Textiles
Aside from leather, they also have a few styles that are made from various European textiles. With that said, the insole is still made from leather. As far as designs go, there are both bold patterns and neutral colors available.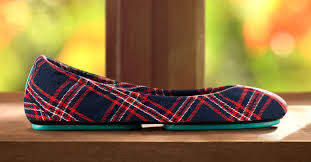 How to Clean Leather Tieks Ballet Flats
Have a pair of leather flats that are in dire need of cleaning? Don't worry, it's not as difficult as you might think. Follow the instructions below and they'll be clean again in no time!
Note: It's always a good idea to check their website for the specific product instructions. After all, different materials require different care.
Cleaning Your Leather Tieks Ballet Flats by Hand 
The first thing that you want to do is wipe the flats with a soft, damp cloth. Remove any dirt or debris that's on the leather upper. From there, create a soapy solution by dissolving a bit of ACTIVE detergent in a bowl of warm water. Saturate the cloth with the mixture and use it to buff the shoe. Make sure to use gentle movements as leather is a delicate material. Do not use too much pressure when you're wiping.
The next step is to "rinse" off the soap. To do this, wet a separate cloth with water and use it to wipe the ballet flats. Continue until there are no more visible signs of soap. Remember, you don't want the leather to become too damp, otherwise, it can become damaged.
When you're finished, allow the leather flats to dry at room temperature. Do not leave them out in the sun—the UV rays can cause the leather to fade and that's the last thing that you want.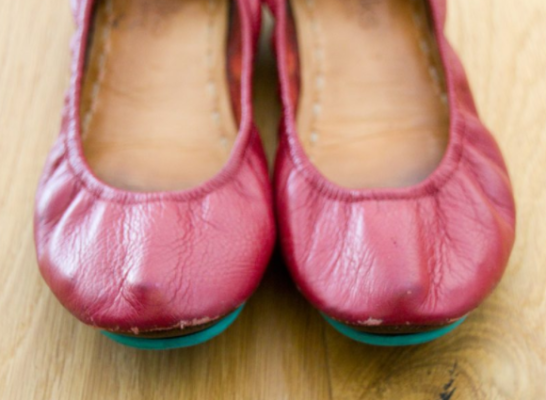 Pro-tip: You can use a colored shoe cream to cover up any visible scratches that are on the shoes. As an extra bonus, they'll also add some shine to your flats.
Can You Put Leather Tieks Ballet Flats in the Washing Machine?
The answer is no. You do not want to put the leather shoes in the washing machine. It can easily cause the glue to deteriorate, which can make them fall apart. Not to mention that the water can cause the leather to become brittle once they're dry. The only safe way to "wash" their leather flats is to do it by hand with a soft cloth (refer to the instructions above).
How to Clean Textile Tieks Ballet Flats
As mentioned earlier, they also have a few styles that are made from textiles. Here's how you can wash them.
Putting Textile Tieks Ballet Flats in the Washer
It's best to wash your textile ballet flats by hand. With that said, they are more "durable" than their leather counterparts in that they can be put in the wash—you just have to be careful. Remember, the insoles are still made from leather. Start by removing any dirt or debris from the upper with a soft-bristled brush. Repeat with the sole.
Once you've done that, place your textile flats into a lingerie bag. It'll protect them from the rigorous movements of the washer. For the best results, do not wash your shoes together with clothing; separate them into different loads. However, it's a good idea to add in a few towels to balance to load so that things won't be thrown around.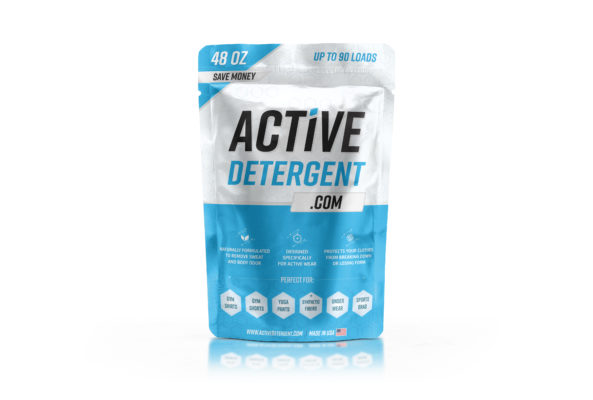 Place the lingerie bag in the washer and set it to a delicate cycle. It's important that you use cold water as hot water can damage the leather insoles. As far as detergent goes, a scoop of ACTIVE detergent will do. Do not add any chemicals such as bleach.
Take the flats out of the bag once the wash cycle is complete. Let them air dry at room temperature before wearing them again.
Washing Textile Ballets Flats by Hand 
Their textile flats can be hand washed in the same fashion as their leather flats. Using a soft, damp cloth, wipe the outside of the shoe. Remove any dirt from the upper before brushing the sole with a soft-bristled brush. Mix a small amount of ACTIVE detergent with water to create a soapy solution and use it to wipe the fabric.
Rinse out the cloth with water and use it to remove the detergent from the shoe. Remember, it's okay for the textile to get wet—it's not as delicate as leather. Afterward, put them in a well-ventilated area where they can dry naturally.
How to Deodorize Smelly Tieks Ballet Flats
Chances are, you're going to be wearing these flats without any socks. That means that they'll probably get smelly after a while, especially if they're your everyday shoes. Here are a few quick and easy methods that you can use to deodorize your shoes:
Put Baking Soda in the Flats
Baking soda is one of the best things that you can use for cleaning. What's more, is that it's a great deodorizer. It's pretty straightforward—simply add some baking soda into your flats. Make sure that it's spread throughout the shoes (e.g. toe area, heel area). Leave the powder in overnight (the longer the better) and remove the next day. If necessary, wipe the inside of shoes with a damp cloth to remove any residual baking soda.
Wiping the Inside with White Vinegar
White vinegar can also be used to get rid of any smell that's present in your shoes. Grab your bottle and wet a clean cloth with the solution. From there, use it to wipe the inside of the flats (pay attention to the toe and heel areas). The vinegar scent will dissipate eventually, leaving your shoes smelling fresh. Do not use any other kind of vinegar such as apple cider vinegar.
Wiping the Inside with Rubbing Alcohol
Rubbing alcohol can be used in a similar way. Saturate a clean cloth with the solution and use it to gently wipe the inside of the flats. The great thing about using rubbing alcohol is that it'll dry quickly so that you won't have to wait that long before you can wear the shoes again.
Put the Flats in the Freezer
Cold temperatures can kill off the bacteria that are causing the odor. Given that, it's not surprising to know that you can deodorize your flats by putting them in the freezer. Consider placing them in a plastic baggie before putting them next to your food.
Note: This promotional offer is only guaranteed through the end of the day.