T-shirts and sweaters are comfy but they're not suitable for all situations. For instance, you wouldn't want to wear a pullover to a company event. For occasions like that, you'd want to look nicer with something a bit more formal—something like a dress shirt.
A dress shirt, by definition, is a type of button-up garment, one that comes with a full-length opening and collar, the former of which is fastened using buttons. More often than not, they're worn with a suit, tie, or other types of formal wear. In some cases, however, they can be worn casually. 
History of Dress Shirts
Dress shirts have come a long way since the 1800s. For one thing, they were initially only worn by men. Nowadays, they are a popular item for both genders. The style of the collars has also changed dramatically. Back then, it was not uncommon for them to be large and up to the neck. As a matter of fact, they were so big that they had to be attached to the shirt separately.
Types of Fabrics Used for Dress Shirts
Traditionally, these button-up shirts are made out of woven cloth such as cotton, silk, linen, or wool. Over the past couple of decades, however, more and more manufacturers have begun to use man-made fibers. The reason is simple—they're cheaper. 
Still, these types of dress shirts are frowned upon by some—the main reason being that they are less breathable and soft compared to those that made out of natural fabrics. With that said, synthetic fibers do have their advantages. After all, they're called "high performance" dress shirts for a reason! 
What are Performance Dress Shirts?
Performance dress shirts are essentially dress shirts that are made out of synthetic fibers such as polyester or nylon (blends are also common). Compared to cotton and wool, these types of fabric are much more durable; it is also one of the reasons why they're referred to as "high-performance."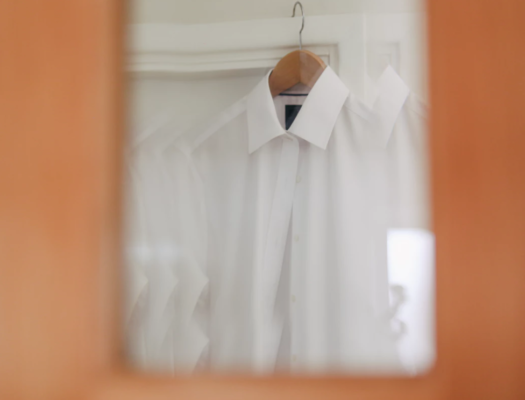 Advantages of Performance Dress Shirts
Sure, they might not be as breathable as cotton, but they do come with a set of advantages. For one thing, they are moisture-wicking. What this means is that the fabric is capable of pulling moisture (e.g. sweat) away from the skin; it then travels to the surface, where it evaporates into the atmosphere. With that, the wearer is able to stay dry throughout the day, even with physical activity. This ultimately solves one of the major issues with traditional dress shirts—unsightly sweat stains. After all, you won't have to worry about sweat stains if there isn't any sweat left to begin with!
Another great thing about performance dress shirts is that you won't have to worry about wrinkles. By nature, synthetic materials are much less likely to get wrinkled. For this reason, you won't have to bring out the iron either. If anything, performance dress shirts will stay nice and smooth throughout the day.
Last but not least, they're comfy; they're not nearly as "restraining" as traditional button-up shirts. Incredibly stretchy, they offer a sports-like feel, which offers you a wide range of movement. At times, you might even forget that you're wearing a dress shirt!
Popular Performance Dress Shirt Brands
Nowadays, many clothing brands offer performance dress shirts—perhaps more than you think! We'll be going over some major ones below.
Under Armour
Under Armour is a popular clothing brand that has been operating since 1996. Aside from performance dress shirts, they also sell sportswear, footwear, outdoor gear, undergarments, and accessories. Headquartered in Baltimore, Maryland, the company operates hundreds of stores around the world with head offices in London, Seoul, Toronto, Hong Kong, Paris, and Jakarta, among a few others countries.
Their performance dress shirts are all made out of 100% polyester.
Express
Express sells a variety of fashion apparel for both men and women. Founded in 1980, the American brand started out as "Limited Express", a manufacturer of women's clothing. It wasn't until later on that they launched a men's line in 1987. Today, they manufacture a wide array of clothing including dress shirts, jeans, jumpsuits, jackets, underwear, loungewear, and more. As of 2023, they operate more than 600 locations in the United States and Puerto Rico.
Their performance dress shirts are typically made out of blends (e.g. nylon/spandex, cotton/spandex).
UNTUCKit
Untuckit is a relatively new apparel company. Established in 2011, the brand is known for their casual shirts, all of which are designed not to be tucked in (thus their name). Aside from performance dress shirts, they also sell ones made out of linen and cotton. In 2015, they opened their first brick-and-mortar store in SoHo, New York. Since then, they have opened more than a dozen additional stores across the country.
They use a variety of synthetic fibers for their performance dress shirts including Coolmax, lycra, spandex, and nylon.
Mizzen+Main
Mizzen+Main is a clothing retailer that specializes in performance apparel for men. Headquartered in Dallas, Texas, the company sells dress shirts, casual shirts, blazers, and jeans. Since their inception in 2012, they have been featured in numerous publications including The Wall Street Journal, ESPN, and The New York Times. They've also collaborated with several professional athletes such as J.J. Watt and Phil Mickelson.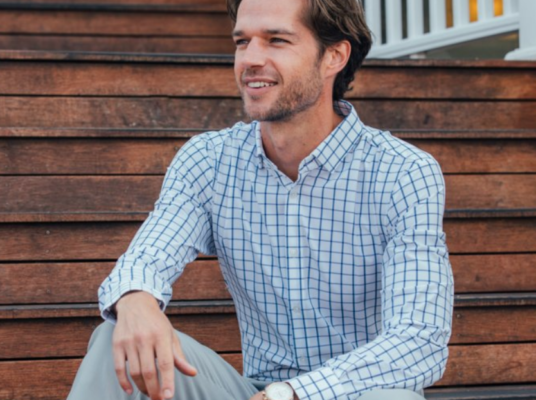 They offer performance dress shirts for casual and formal occasions, both of which are made from polyester and spandex blends.
Calvin Klein
Calvin Klein is a fashion house that specializes in leather and accessories. Over the past few decades, however, they've also begun to sell apparel including performance dress shirts. As of 2023, they operate more than 200 retail stores across the world.
As far as we can tell, most of their performance shirts are made from cotton and spandex.
Bonobos
Bonobos is a clothing retailer that is e-commerce driven. A subsidiary of Walmart (they acquired the company for $310 million in 2017), the brand sells a variety of clothing for men including suits, denim, swimwear, shorts, and formal shirts. As of 2023, there are 48 locations in the United States. Noted for their team of customer service "ninjas", Bonobos has been featured in The Boston Globe, USA Today, and The New York Times, among other publications.
Bonobos dress shirts are made from cotton and spandex.
Ministry of Supply
Ministry of Supply is a manufacturer of high-performance clothing. Based in Boston, Massachusetts, the company gained fame for using the same type of temperature-regulating material as NASA. In addition to their online store, they also a number of brick and mortar locations in New York, Chicago, Washington, D.C., Atlanta, and San Francisco.
Their performance dress shirts are made from polyester and PCM-infused polyester, the latter of which is used in NASA spacesuits.
Kenneth Cole
Kenneth Cole is a fashion house that sells apparel, watches, fragrances, handbags, and other accessories. Established in 1982, the company started as a forty-foot trailer in New York City. Three years later, they opened their first retail shop in Manhattan. Since then, they have expanded their operations to Canada, Hong Kong, U.K., Japan, Australia, and several other countries.
Kenneth Cole dress shirts are made from cotton and spandex.
Twillory
Twillory is known for its innovative SafeCotton dress shirts. What is SafeCotton? A type of non-iron fabric that is soft and wrinkle-free. Fashionable yet functional, they are not only crafted from hyper-breathable stretch fabrics, but are also moisture-wicking.
Aside from shirts, they also sell accessories such as socks, ties, and laundry bags.
Alfani
Alfani is sold exclusively at Macy's department stores. In addition to dress shirts, which are available in a number of styles, they also sell shoes, pyjamas, robes, tops, shirts, and more.
Most of their performance stretch dress shirts are made from cotton, nylon, and spandex.
How to Wash Performance Dress Shirts
Performance dress shirts are relatively easy to wash. With that said, there are a few things that you should keep in mind. After all, they're crafted differently from regular button-up shirts.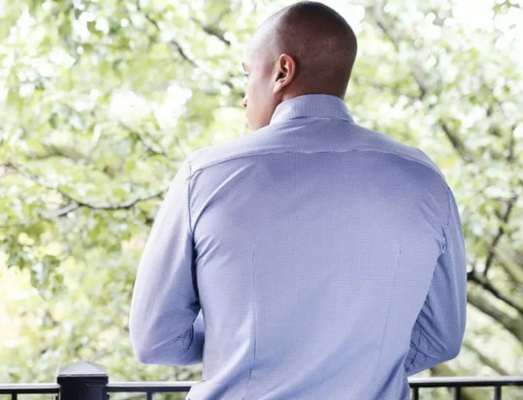 Putting Performance Dress Shirts in the Washing Machine
Undo all of the buttons, including the ones on the cuff, before putting it in the washer; this will allow every part of the shirt to be properly washed. If it comes with a removable collar stay, take it off and put it aside. Once you've done that, turn the dress shirts inside out and load them into the machine. You can wash the performance dress shirts with other clothes as long as they're like colors. If necessary, you can put your shirts in a mesh laundry bag to protect them from your other garments.
Pro-tip: You might want to pre-treat the shirt if there are noticeable stains (more on this later).
Add 1-2 scoops of ACTIVE detergent to the machine, depending on how many shirts you are wishing. Choose a gentle cycle and wash with cold water; hot water will cause the fabrics to shrink over time. Take the dress shirts out when the cycle is finished; hang them up on a clothesline and allow them to dry naturally. Try your best not to put them in the dryer—the warm air is not good for synthetic fibers.
Washing Performance Dress Shirts by Hand
Want your performance dress shirts to last? If so, consider washing them by hand. You can easily do so in a basin or sink. Fill it with warm water and mix in a small amount of ACTIVE detergent; agitate the liquid with your hands to mix the solution. Unbutton the shirts and put them in the mixture. Soak them for at least 15 minutes—this will make them easier to wash later.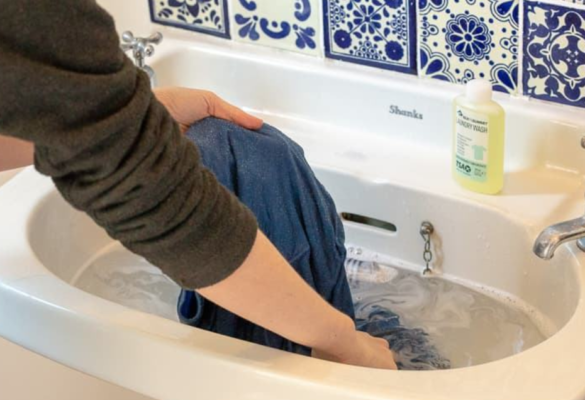 Once they've been soaked, rub the fabric gently against itself to remove debris. When you're finished, rinse the detergent off with water; continue rinsing until the water is clear. From there, place the dress shirt onto a clean towel, (you can also use it to remove some of the excess water). Hang them on a clothesline and wait for them to dry.
The Best Way to Remove Stains from Performance Dress Shirts
It's not uncommon for performance dress shirts to get stained. Luckily, they're fairly easy to clean. One of the easiest ways to remove spots is to pre-treat them with soapy water. Ultimately, what you want to do is dab a bit of ACTIVE detergent or mild soap onto the problem area. Afterwards, soak it for at least 15 to 30 minutes. From there, you can either wash it by hand or put it into the washer.
As an alternative, you can use a commercially bought stain remover. Simply apply it to the stain before washing the shirt as normal.
Deodorizing Performance Dress Shirts
Performance dress shirts are moisture-wicking, however, that doesn't prevent them from getting smelly—especially if you've been moving around throughout the day. To get rid of the smell, soak it in a mixture of water and vinegar (one cup of vinegar to a tub of water works well). Alternatively, you can pour the vinegar directly into the washing machine. Baking soda can also be used in the same way as a deodorizing agent.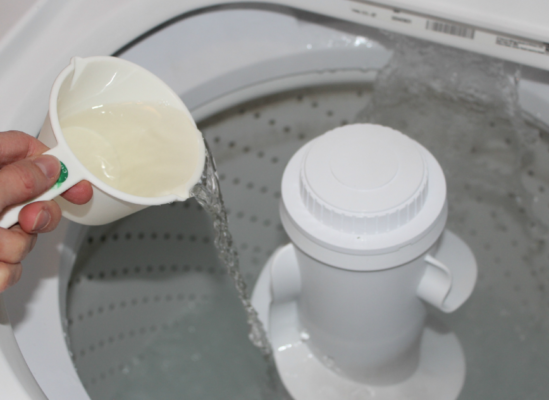 Pro-tip: Plan on wearing a dress shirt more than once? If so, air it out when you get home. That will prevent odors from developing.
Note: This promotional offer is only guaranteed through the end of the day.