Nimble Activewear is a high-performance activewear brand that's based in Sydney, Australia. One thing that sets them apart from other brands is its custom-engineered fabric, MoveLite, which is made from recycled plastics. Aside from sportswear, they also sell accessories such as hats, bags, scrunchies, dog leashes, and more.
More About Nimble Activewear
Nimble Activewear was founded by Vera Yan and Katia Santilli in 2014. Their goal was to create a stylish yet affordable alternative to the bland, expensive workout clothing that's on the market. Aside from their online shop, they have two brick-and-mortar locations in Bondi Beach and Armadale.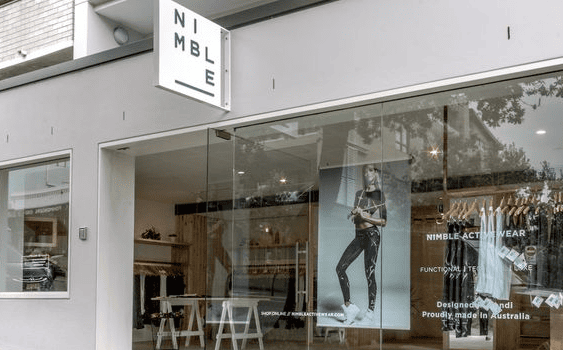 For those who are wondering, they do ship their products worldwide. In fact, shipping is free if you order more than AU$150.
What Kind of Activewear Do They Sell?
Nimble Activewear sells a variety of tops including sports bras, tanks, tees, long sleeves, and jackets. Not only that, but they offer a variety of bottoms as well such as leggings, shorts, and track pants. Currently, they have four collections—Cosy, Reset, Ribbed, and The Iconic Exclusive.
Price-wise, they're mid-ranged. You can expect to pay $50 for a sports bra and $75 for a pair of leggings. One thing to note, however, is that all of their prices are displayed in AUD- they have a few currency options but USD isn't one of them so you'll have to do the conversion yourself.
Taking Care of Your Nimble Activewear
Their activewear is of decent quality. You won't have to worry about the seams coming apart or the fabric wearing down after a few uses. With that said, you still want to take proper care of them.
For one thing, you want to wash the item after each use- that goes for pretty much everything including their sports bras, tanks, and leggings. You don't want your sweat to remain on the fabric as that can cause it to smell. Not only that, but it can lead to bacteria growth, which is something that you definitely don't want to deal with.
Not sure how to wash your Nimble activewear? Looking for some tips so that your tanks and leggings will last? If so, you're on the right page. Keep reading for everything that you need to know!
Fabrics Used By Nimble Activewear
First, let's familiarize ourselves with some of the materials used. If anything, that's one of the most important things that you want to consider when you're washing clothes.
MoveLite 
MoveLite is the company's proprietary fabric. Made of recycled plastic, it's combined with spandex for a buttery soft sensation. Not only is it sweat-resistant, but it's also super lightweight, which makes it perfect for workouts.
COMPRESSLITE
Compresslite is similar to Movelite in that it's also made of recycled PET and spandex. Unlike the latter, however, it's made for compression, which helps to prevent muscle fatigue during workouts.
Performance Moss
Performance Moss is a blend of PET, nylon, and spandex. Cottony soft, it'll keep you cool and comfy as you sweat. It's also quick drying so you won't have to wait around for it dry after washing.
Modal
Modal is a semi-synthetic fabric that's made from beech tree pulp. Known for its silky-smooth feel, it's wrinkle-resistant, and breathable, and absorbent, which makes it perfect for activewear.
Studio Space Dye
Their Studio Space Dye fabric is a blend of polyester, nylon, and spandex. Gentle like cotton, it'll meet all of your technical needs whether you're going to the gym or running around the block.
LiteTech
Litetech is a performance poly fabric that's lightweight and smooth to the touch.
How to Wash Nimble Activewear Leggings The Right Way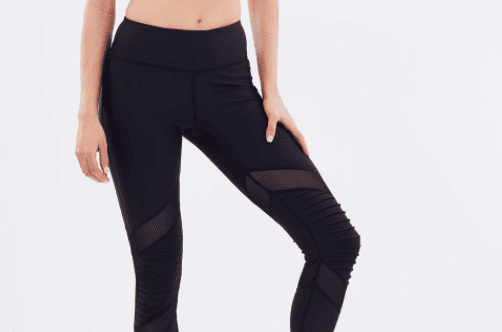 There are two ways to wash their leggings—you can either throw them in the machine or wash them by hand. We'll be going over both methods in detail below.
Method 1: Putting Nimble Activewear Leggings In the Washing Machine 
Nimble Activewear leggings are all machine washable so you can load them in with other laundry. Just make sure to turn them inside out before putting them in. That way, your leggings will look new for longer. Not only that, but it'll ensure that the outer layer will get the proper amount of water and detergent.
Note: While you can place your leggings directly in the washing machine, it's highly recommended that you use a laundry bag. It'll prevent the fabric from rubbing against your other items. A clean pillowcase is a suitable alternative if you don't have one. Make sure that the bag is properly zipped up (assuming that it has a zipper) before placing it in the washer.
Add the rest of your clothes (you can wash their leggings with other activewear as long as they're of similar colors). Next, add one scoop of ACTIVE detergent to the dispenser or if there isn't one, add it directly to the drum. Avoid fabric softeners; it'll coat the fabric of your leggings with a waxy layer that will do more harm than good.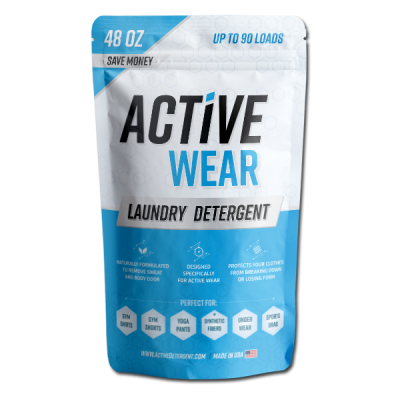 Once you've done that, choose your cycle. We recommend using cold water with a gentle or delicate setting. While hot water is more effective at sanitizing, it can damage the material so it's best to avoid that.
Press the start button and let the washing machine run. Afterward, take out your leggings and other items and hang them up to dry. Do not put them in the dryer; the heat can easily ruin the fabric.
Method 2: Washing Nimble Activewear By Hand 
You can hand wash their leggings in a sink or washbasin. Fill it halfway with warm water and add half a scoop of ACTIVE detergent. Mix it thoroughly by agitating the water; you want the powder to be completely dissolved.
Before placing the leggings in the water, turn them inside out. Make sure that they're completely immersed in the solution or else they won't clean properly. If necessary, you can 'submerge' them by pressing on them with your hands.
Let the leggings soak in the sudsy solution for at least 20 minutes. That will give the detergent time to work into the fabric. Once time is up, drain the sink. Refill it with clean water and use it to rinse the soap suds out of the leggings. Continue until they're detergent-free.
Gently press out the excess water before placing them on a clean surface. Never wring the leggings like a towel—that can ruin the elastic fibers. You can, however, roll them up in a towel; that will get rid of some of the excess water. And like we said earlier, you want to avoid the dryer.
Best Way to Wash Nimble Activewear Sports Bras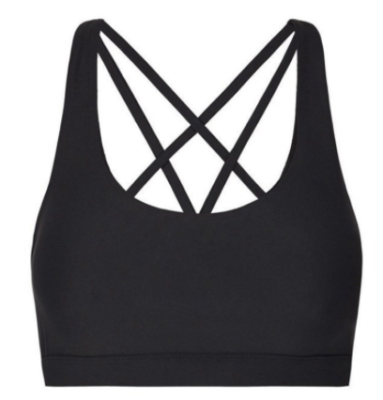 Method 1: Machine Washing Your Nimble Sports Bras 
Their sports bras can be machine washed with other activewear including their leggings. Just keep in mind that they're more delicate. For that reason, we highly recommend using a lingerie bag- it'll prevent them from being thrown around during the wash cycle. Use a pillowcase if you don't have a garment bag.
Make sure that it's closed properly and put it in the washer. Add the rest of your clothes. Measure out one scoop of ACTIVE detergent and pour it into the dispenser or drum. Run a cold water cycle on a delicate setting with minimal spin- it'll be gentler on the fabric. As with all activewear, it's not recommended that you use fabric softener as it can affect the material's moisture-wicking properties.
Run the washing machine and wait for it to finish completely before retrieving the garment bag. Take out your sports bra and allow it to air dry away from sunlight. Remember not to dry them with the dryer.
Method 2: Hand Washing Nimble Sports Bras 
Bring your sports bra to a sink. Fill it half-way with warm water and add in half a scoop of ACTIVE detergent. Agitate the water to dissolve the powder and place your sports bra in. As always, you want to make sure that the item is completely submerged in the solution.
Gently massage the fabric with your hands before letting it sit for 20 minutes. Drain the dirty water afterward. Refill the sink with clean water from the faucet and use it to rinse out the sports bra. You can also rinse it out by holding it under the faucet. Continue until there's no more soap residue.
Transfer the sports bra to a clean surface. Gently press out the water; never wring the item. From there, you can let it dry on a drying rack.
Cleaning Your Nimble Activewear Shorts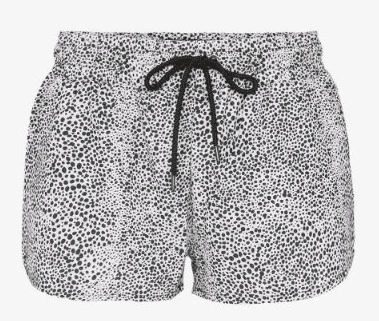 Their shorts are pretty much the same as their leggings material-wise. Given that, it's not surprising that you can wash them the same way.
Method 1: Using the Washer For Nimble Activewear Shorts
Start by turning the shorts inside out. You can also protect them by using a laundry bag. Place them in the washing machine with your other clothes and add one scoop of ACTIVE detergent. Fabric softeners are not recommended as they can affect the shorts' moisture-wicking abilities. Consider using white vinegar instead if you want to soften the fabric.
Run a gentle cycle with cold water. Avoid hot water as it can damage the synthetic fibers. Allow the washer to run completely before retrieving the shorts. Hang them up in a well-ventilated area to dry.
Method 2: Hand Washing Your Nimble Activewear Shorts
Turn the shorts inside out. Fill a sink with warm water and dissolve half a scoop of ACTIVE detergent. Place the shorts into the sink once the solution is thoroughly mixed. It's important that the item is fully immersed in the soapy water.
Allow them to soak for 20 minutes. Drain the sink afterward and rinse the shorts with clean water from the faucet. Continue to rinse until all of the detergents is gone. Gently press out the excess water and let them dry naturally indoors.
Note: This promotional offer is only guaranteed through the end of the day.