Lululemon Athletica is a yoga-inspired apparel company. Based in Canada, the brand sells a variety of activewear including jackets, shirts, shorts, and leggings for both men and women. In addition to clothing, they also manufacture accessories such as yoga mats, bags, hats, headbands, and more.
More About Lululemon Athletica
The Canadian company was founded by Chip Wilson in 1998. In 2000, they opened their first retail store in the Kitsilano neighborhood of Vancouver, British Columbia. Within three years, their popularity had earned them the "Most Innovative Retailer of the Year" award. 
Incredibly successful, they eventually extended outside of Canada, with stores in the United States. Since then, they've also expanded their operations to other countries including Australia, Hong Kong, Germany, South Korea, Japan, Switzerland, and the U.K. As of 2023, they have more than 300 locations worldwide.
A Closer Look at Their Activewear
The brand offers a wide range of yoga gear from leggings to headbands. While it's true that that is their specialty, they also sell other types of apparel—ones that are meant for other sports. For instance, they also sell joggers, performance jackets, and swimwear. Their children's line (separate from their Ivivva brand) also includes apparel for dance, gymnastics, tennis, and other activities.
Taking Care of Lululemon Products
As expected from a well-established brand, their products can be quite costly. Luckily, their price tags are generally backed up by their quality. In fact, that's one of their selling points. For instance, the general consensus seems to be that their leggings and tops can be worn for several years. While they don't offer a lifetime guarantee, as many people claim, they do have a Quality Promise. In other words, they'll be happy to replace a product if there is an inherent defect in its fabric or construction.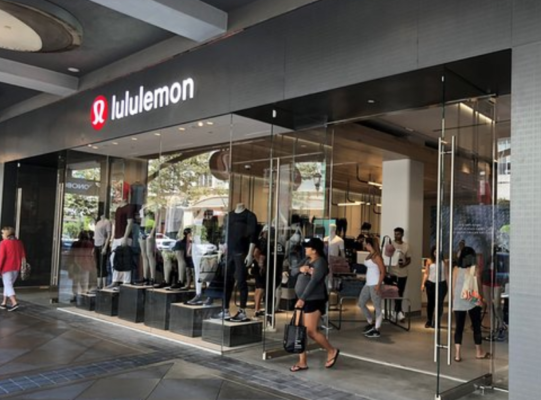 Given how most of their items are on the pricey side, it only makes sense that you'd want to take proper care of them. To put it simply, you want to wash their products with care. Nothing's worse than ruining a new shirt in the laundry!
Not too sure about how to wash Lululemon apparel? Don't worry—we will be going over some of the best methods below. Before we do that, however, let's take a look at their special proprietary fabrics. After all, that's what they make their clothes from! It also dictates how their items should be washed.
A Look at Lululemon's Proprietary Fabrics
Luon
Luon is their signature four-way stretch fabric. Cottony soft, it's perfect for wearing to the yoga studio. Did we also mention that it's moisture-wicking? There are multiple versions of Luon including Full-On Luon, Light Luon, and Seriously Light Luon, all of which are suited for different purposes. 
Lululemon's Luon line consists of jackets, joggers, tights, and yoga pants.
Luxtreme
Luxtreme is a four-way stretch fabric that is engineered to fit like a second skin. Sweat-wicking yet cool to the touch, it offers enough support for most physical workouts. There are three versions—Standard Luxtreme, Light Luxtreme, and Full-on Luxtreme.
Lululemon's Luxtreme collection consists of sports bras, yoga pants, leggings, tights and more.
Nulu
Nulu is so comfortable that you'll feel like you're not wearing anything. Not only does it have four-way stretch, but it's sweat-wicking, lightweight and buttery soft. Non-restrictive, you'll have no problem at all doing your yoga poses. Developed as part of their Naked Sensation line, it delivers all of the technical performances qualities that you need.
Lululemon's Nulu collection consists of jackets, leggings, yoga pants, tanks, crops, and more.
Nulux
Nulux is very similar to Nulu—both are lightweight and buttery soft. However, the former is much more suited for high-intensity training. Extremely smooth, the fabric will sit against your skin with light compression. The fact that it is sweat-wicking will also ensure that you stay dry during your workout.
Lululemon's Nulux line consists of tights, cropped pants, sports bras, and more.
Everlux
Everlux is designed for maximum breathability in high-humidly, high-heat environments. Not only is it super efficient at wicking away sweat, but it dries fast—more so than the rest of their fabrics. When sweat starts to flow, it will keep you dry by dispersing moisture from the skin in all directions. Buttery soft, it features a unique double-knit structure that allows it to remain cool-to-the-touch on the inside. Despite being double layered, it is incredibly lightweight.
Lululemon is mainly known for their Everlux leggings. However, they also have Everlux shorts, tights, and cropped pants.
Swift
Swift is designed to be strong and light. Incredibly versatile, it offers both two-way stretch and freedom of movement. On top of being moisture-wicking and water-repellent, it is also strong—it will stand up to whatever you throw at it. There are three versions to choose from—Swift, Swift Ultra, and Swift Ultra Light.
Lululemon's Swift collection mainly consists of long sleeve crews, and pants, the former of which is typically used as a base layer.
Silverescent
Silverescent is phenomenal at fighting odors. Powered by X-Static, it features stink-stopping technology, which effectively prevents odor-causing bacteria from growing on the fabric. How does it work? The material contains silver ions, which binds to and kills bacteria.
Lululemon's Silverescent collection consists of short sleeve crews, racerback tanks, polos, and more.
How to Wash Lulu Leggings, Tights, and Yoga Pants
As you probably already know, Lulu Lemon offers a variety of leggings and yoga pants for women. Some of their most popular styles include Align, Fast & Free, In Movement, Under Under, On the Fly, and Train Times. Did you know that they can all be washed in a similar fashion?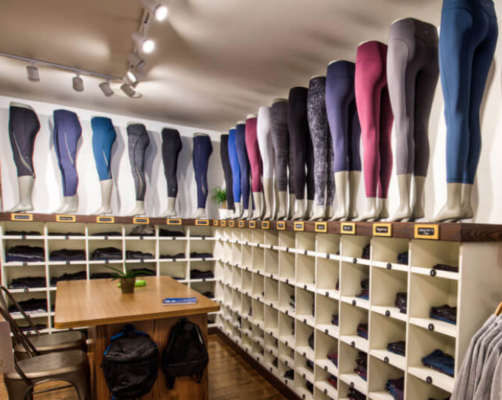 Putting Lululemon Leggings, Tights and Yoga Pants in the Washing Machine
All of their leggings and yoga pants are machine washable. Before loading them in, though, turn them inside out—that will decrease the likelihood of fading and snagging. Avoid washing them with abrasive garments such as those with zippers or velcro (you can wash them with most other types of clothing). There's also the option of putting them in a mesh laundry bag, which will protect them from the rest of your clothes.
Pro-tip: Always be careful of the colors; never mix light-colored items with dark-colored ones. When in doubt, separate them into two different loads.
Add 1-2 scoops of ACTIVE detergent to the washer. Wash the items with cold water on a gentle cycle (low spin if possible). Take everything out when the cycle is finished and hang them dry. While you can put them in the dryer (tumble low only), it's generally not recommended as the heat will make them wear out faster; they'll also lose their softness after a few washes.
Is it Better to Wash Lulu Leggings, Tights and Yoga Pants by Hand?
Yes, hand washing is always the gentlest option. The delicate setting on your washer is great, but it will still toss the items around, which over time, can damage the fabric.
To start, fill a basin or the sink with cold water. Do not use hot water—the fabrics can be damaged by high temperatures. Add 1 scoop of ACTIVE detergent and mix to create a soapy solution. Put the leggings, tights and yoga pants in without overloading the sink. Let them sit in there for at least 15 minutes.
Pro-tip: The above "pre-soaking" method can also be used to eliminate odors and stains.
Wash each of the items gently with your hands when the time is up. You can do so by rubbing the fabric in between your fingers. Afterward, place the items under the faucet to rinse out the detergent. When you're finished, lay them flat on a clean surface. Remove some of the excess water from the items by pressing them lightly against a towel. Hang them on a clothesline to dry. As mentioned earlier, avoid putting them in the dryer.
Note: The methods mentioned above can also be used to wash their short/long sleeves, tank tops, joggers, trousers, skirts, polos, wide leg pants, and shorts (e.g. T.H.E., Surge, Pace Breaker). Just be careful of the colors.
Cleaning Lululemon Swimwear
Lululemon sells swimwear for both men and women (e.g. bikinis, swim trunks, one piece swimsuits). As with the rest of their activewear, these items are made from technical fibers.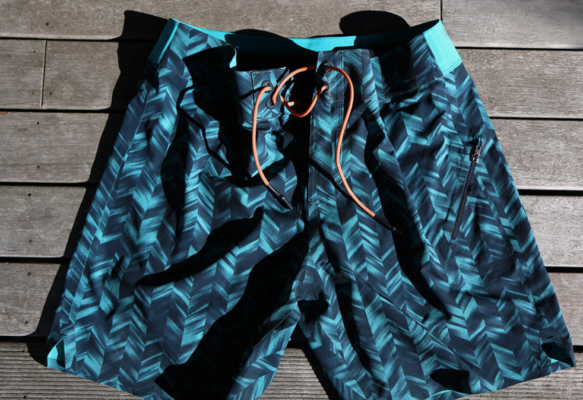 How to Wash Lulu Swimwear by Hand
First things first, rinse the swimsuit with water as soon as possible after taking it off. This will remove most of the chlorine, sunscreen, and salts, all of which can damage the fabric. Alternatively, you can soak it in a tub of clean water.
The next step is to clean it with ACTIVE detergent. Begin by filling the sink with cold water. Create a soapy mixture by adding 1 scoop of ACTIVE detergent. Place the swimsuit in (turn it inside out first) once it's thoroughly mixed. Proceed to clean it by gently rubbing the fabric; you can also swirl it around in the liquid.
Pro-tip: Never use bleach on a swimsuit—it can weaken and stretch out the synthetic fibers.
Continue to clean for a few minutes. When you're done, rinse it well with water to get rid of the detergent. Avoid wringing or twisting the swimsuit; gently squeeze out the water instead. Lay it flat to dry on a clean surface, out of direct sunlight. Alternatively, you can allow it to drip dry in the bathroom. Never put your Lululemon swimsuit in the dryer—the elastic will quickly deteriorate in the heat.
Is Lululemon Swimwear Machine Washable?
While it's not advisable, Lululemon swimwear can be put in the washing machine—as long as cold water is used. Add a scoop of ACTIVE detergent and wash on a delicate cycle. Take the items out once the cycle is finished and hang them dry. Avoid putting the swimsuits in the dryer.
Best Way to Wash Lulu Lemon Underwear
The brand offers a variety of women's underwear including bikinis, thongs, and boy shorts. They also sell various styles of boxers for men.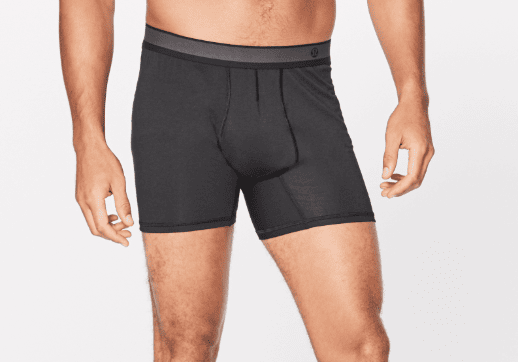 How to Wash Lululemon Underwear Properly in the Washer
Their underwear should be washed as delicates in the washing machine. Place them in a mesh lingerie bag to prevent the elastic from getting stretched. Avoid washing them with other clothes; there is a chance that they get damaged over time if tossed around with heavier garments (e.g. jeans, jackets, shirts, etc). Dyes from other clothing can also darken underwear in the wash.
Pro-tip: Underwear can generally be washed together with socks.
Load the items into the washer and add 1 scoop of ACTIVE detergent. Wash them on the gentlest setting with cold water. Do not use fabric softener or bleach. Take the underwear out of the bags when the cycle is complete. Hang them on a clothesline and allow them to air dry. Do not put them in the dryer.
Washing Lulu Underwear by Hand
As always, hand washing is a gentler option than using the machine. Begin by filling the sink with cold water. Add half a scoop of ACTIVE detergent and mix thoroughly with your hand. Submerge the underwear in the solution—be careful not to overload the sink. If necessary, rub a small amount of detergent onto the fabric to take care of stains. Let the garments sit for at least 15 minutes (possibly longer if there are stains).
Next, wash the underwear by gently rubbing the fabric with your fingers. Avoid twisting the items as that can cause damage to the fibers. Afterward, rinse them clean with water. Remove them from the sink and place them on a clean surface. If necessary, gently squeeze out some of the water before hanging them up to dry.
Note: The above methods are also great for washing their bras and sports bras.
The Best Laundry Detergent for Lululemon Clothing
ACTIVE detergent is an ideal choice for Lululemon clothing. Why? It is formulated specifically for activewear—such as the ones sold by the company. Unlike conventional detergents, it comes with three types of enzymes that are capable of going deep into the crevices of the technical fibers to dissolve and remove bacteria, oils, and dirt. Not only that, but it contains natural chelating agents that bring your clothes back to their original state. In other words, you'll be able to extend the life of your Lulu items.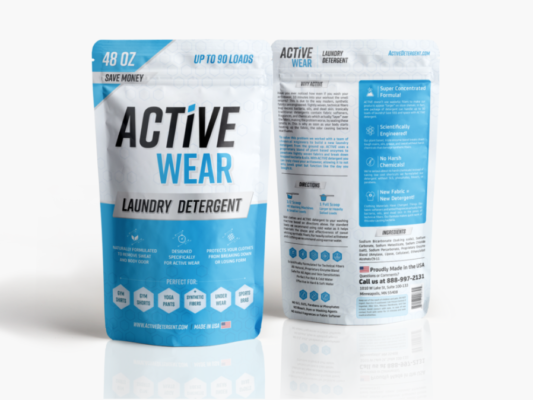 Another great thing about ACTIVE detergent is that it is all natural; it does not contain any harsh chemicals that will cause skin reactions or pollute our waterways. It is also fragrance-free and hypoallergenic, the latter of which makes it an excellent choice for those with sensitive skin.
So, what are you waiting for? Why not give ACTIVE detergent a try? You won't regret it!
Note: This promotional offer is only guaranteed through the end of the day.