Knee injuries are not uncommon. In fact, the knee is one of the most commonly injured body parts! There are a number of injuries that you can get such as strains, sprains, fractures, and dislocations. In some cases, you can even tear the meniscus. What's the meniscus? It's a piece of rubbery cartilage that provides rotational stability. Believe it or not but it can be quite fragile—one hard tackle on the football field and there's a real chance of an injury! Normal wear and tear from aging can also weaken the cartilage; over time, this can cause it to tear with normal activities.
The Anatomy of the Knee
The knee consists of several parts, any of which can be injured. For one thing, three bones meet to form the joint—the shinbone, kneecap, and thighbone. Within the knee itself, there are also fluid-filled sacs called bursa, which help to reduce friction. The quadriceps and hamstrings also play a role in flexing the knee.
A Closer Look at Some Knee Injuries
We mentioned some of the more common knee injuries earlier. Let's take a closer look at some of them below.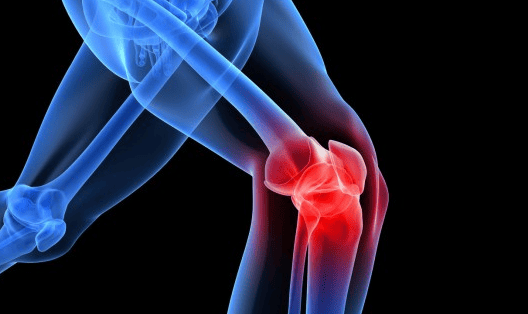 Fractures
Knee fractures are relatively common. More often than not, it's the patella—also known as the kneecap—that's broken. However, it can also involve the ends of the tibia and femur. Remember what we said earlier? They meet to form the knee joint.
Most fractures are caused by high impact trauma such as motor vehicle collisions and significant falls.
Dislocations
A dislocation occurs when parts of the knee are out of place. For instance, the tibia or patella can be forced out of alignment. This type of injury is often caused by contact sports, motor vehicle collisions, and falls.
Meniscal Tear
Meniscal tears are often seen in those who play contact sports—they can occur when pivoting or twisting. Common symptoms include a popping sensation, pain, difficulty straightening the knee, and swelling. When you try to move it, your knee might also feel "locked in place".
How to Prevent Knee Injuries
Given how common knee injuries can be, it only makes sense that you'd want to try and prevent them from happening—this is especially true if you engage in contact sports. Fortunately, there are several ways that you can protect the joint from harm:
Maintain a healthy weight—that will put less stress on your knees
Warm up your leg muscles before exercising
Wear well-fitted, supportive shoes—ones with cushioned soles are ideal
Strengthen your muscles with regular exercise—having strong muscles will help to protect your joints
Avoid kneeling on hard surfaces
Wearing Knee Sleeves As a Form of Protection
Ever heard of knee sleeves? They're a type of garment that is meant to protect the knee from injury or damage. Suitable for a variety of sports, they slide over the knees and are typically made of a compressive material. By increasing blood flow, they help to reduce pain and swelling in the join after a workout.
Advantages of Knee Sleeves:
The compression will help you recover more quickly after a training session
Provides lateral stability by limiting patella movement
Can increase your proprioception (the sense through which we perceive our body)
Disadvantages of Knee Sleeves:
Some can be pricey
They can get stinky after a while
Why You Should Wash Your Knee Sleeves
Does it surprise you that knee sleeves can get quite stinky? Think about it—they're in constant contact with your skin. Naturally, it will absorb some amount of sweat over time. Ultimately, it's this moisture that leads to the development of odor.
Given that, you want to make sure that you wash them regularly. The last thing that you'd want is skin irritation from a dirty knee sleeve! Don't forget, there's always a chance of infection too whenever bacteria is involved.
But wait, what's the best way to clean and wash knee sleeves? Not sure? Need some tips? Then you're on the right page! We'll be going over the washing instructions for these garments below.
How to Wash Knee Sleeves & Compression Braces
Most knee sleeves are made from neoprene, a type of synthetic rubber. Don't let the word "rubber" scare you—most of them are easy to wash. Before you do anything, though, it's always a good idea to check the inner tag for specific washing instructions.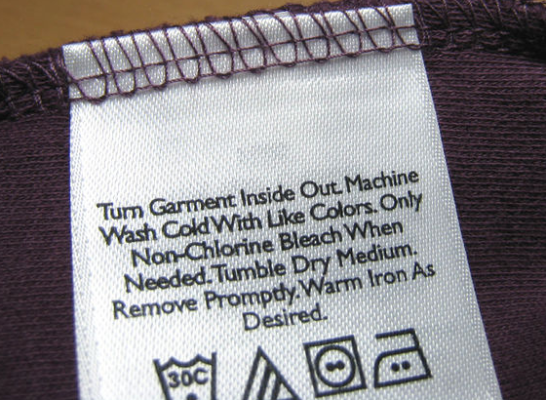 Are Knee Sleeves Machine Washable?
Yes, most knee sleeves are machine washable. As mentioned above, however, you want to read the labels first—some may require hand washing.
The first step is to turn the knee sleeve inside out. This makes sense when you think about it—after all, sweat tend to accumulate on the inside, where it's in constant contact to your skin. Washing them inside out will also prevent them from losing their color.
Pro-tip: Consider putting your knee sleeve in a net laundry bag (clean pillowcases are suitable alternatives)—that will prevent them from being tossed around too much inside the machine.
Carefully measure one scoop of ACTIVE detergent and put it in the machine. Select a gentle cycle and wash with cold water. Contrary to popular belief, hot water is not the better choice—the heat can actually cause your sleeves to shrink! Are your sleeves excessively stinky? If so, consider adding half a cup of baking soda along with the detergent. It will help to neutralize the smell!
Note: It's perfectly fine to wash your knee sleeves with other garments. With that said, you probably don't want to wash them with delicate items such as bras or underwear as the rubber sleeves can damage the fabrics.
Remove your sleeves from the machine once the washing cycle is finished. Gently squeeze out some of the extra water with your hands—continue until it's no longer dripping. Never twist or wring the sleeves as that can cause irreversible damage to the material! Another way that you can get rid of the excess moisture is to lay them on a dry towel. Place them on top and roll the towel—that will effectively squeeze out some of the water.
Transfer the knee sleeves to a clean, flat surface and allow them to air dry. Depending on how thick they are, it can take several hours for them to dry completely. Do not put them under direct sunlight—the heat from the sun's rays can cause them to shrink!
Pro-tip: Avoid hanging them up—this can actually cause them to warp and lose their elasticity.
Washing Knee Sleeves By Hand
Chances are, your knee sleeves will last longer if you wash them by hand. After all, the washer's not exactly the gentlest!
The first step is to fill a container with warm water (a basin or sink works too). Mix in one scoop of ACTIVE detergent; stir the liquid with your hand until the powder has completely dissolved. This is important—undissolved detergent can end up on your sleeves, which can irritate your skin and damage the fabric!
Place your knee sleeves in the cleaning solution once the detergent is dissolved. Gently press down to submerge the entire item—you might want to work the water through the sleeves with your fingers. Avoid using a brush as that can easily damage the material. Pay extra attention to the crease on the sleeve as dirt tends to accumulate in that spot.
Pro-tip: Consider wearing a pair of plastic gloves if you're sensitive to cleaners!
Let the knee sleeves soak for 15 to 20 minutes. From there, pick them up and massage them gently with your hand. Once you're finished, rinse them out with water—you can use the faucet in your sink. Alternatively, you can submerge them in a sink full of clean water.
The next step is to remove the excess water. You can do this by squeezing the sleeves gently. As mentioned earlier, you do not want to twist or wring the item as that can stretch out the elastic! Using a towel might be a good idea. Place them on a flat surface to dry once they're no longer dripping. Do not wear them until they're fully dry.
What About Elbow Sleeves?
Elbow injuries are not as common as knee injuries, but they do happen. For instance, you can get pinched nerves, tendinitis, or bursitis. As with the knee, most of these injuries tend to result from sports. Fortunately, there are sleeves that athletes can wear to protect the joint—they're pretty much the same thing as knee sleeves, but for the elbow!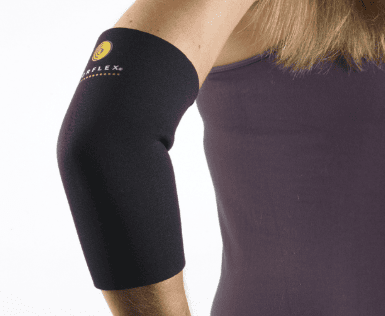 Advantages of Elbow Sleeves:
They improve blood circulation, which prevents swelling and inflammation
Acts as a mini shield—they protect the skin from scratches and other injuries
Helps to maintain your body temperature
Prevents muscle soreness to some degree after exercise
Disadvantages of Elbow Sleeves:
Can get stinky after a while
It's true—elbow sleeves are also prone to developing odors. What should you do? Wash them on a regular basis!
How to Clean & Remove Odors from Elbow Sleeves
Elbow sleeves are very similar to knee sleeves in that most are made from neoprene. Some, however, are made from polycotton—that is, a blend of polyester and cotton. Either way, you can put them in the washing machine for a good cleaning!
Putting Your Elbow Sleeves In the Washing Machine
Start by turning your elbow sleeves inside out—that will give the water and detergent better access to the inner layer, where most of the sweat is. Consider putting them in a mesh laundry bag if you're washing them with other clothes (avoid delicates as there's a chance that they can get damaged by the sleeves).
Pour one scoop of ACTIVE detergent into the dispenser and close the door. Choose a delicate wash cycle—remember to use cold water! Hot water can cause the elbow sleeves to warp and shrink. Skip the fabric conditioner!
When the washing cycle is finished, take out the sleeves. Remove the excess moisture by squeezing them lightly with your hand. From there, place them on a flat surface to dry (away from direct sunlight). Avoid hanging them up on a clothesline. It can take several hours for the sleeves to dry completely, depending on their thickness. Do not tumble dry.
Washing Elbow Sleeves by Hand
Yes—you can also wash your elbow sleeves by hand! Given how compact they are, you can probably do so in a small bowl or container. If you want, however, you can always use the sink. Start by filling the vessel with warm water. From there, add in one scoop ACTIVE detergent—make sure that it's thoroughly dissolved before putting your sleeves in. Let them soak for 15 to 20 minutes.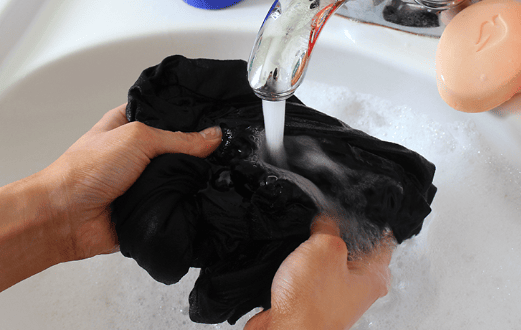 Work the soapy water into the sleeve with your hand. When you're done with that, put it under the faucet—that way, you can easily rinse off the detergent. Remember, you don't want there to be any residue on the fabric! Squeeze out some of the extra water before transferring it to a clean towel. Roll it up to get rid of some of the extra moisture—you can also blot it with the towel.
The last step is to let it air dry. As mentioned above, you do not want to put your elbow sleeves in the dryer. There's a great chance that the material will shrink even on the gentlest setting! You wouldn't want to have to buy another set of sleeves, would you?