Exercise is important for our daily lives. Not only does it help to control weight, but it boosts energy, improves mood, promotes sleep, and combats various diseases. How much physical activity do we need? Experts recommend at least 150 minutes of moderate activity a week.
One of the easiest ways to meet this quota is to go to the gym. For those of you who do, chances are, you own a bunch of activewear. After all, who exercises in jeans? As you may already know, these garments are different than regular clothes. For one thing, they are often made out of synthetic material as opposed to say, cotton.
Why Should You Wear Activewear When You're Exercising?
They pull moisture away from the skin so that it can evaporate more easily
They help to regulate body temperature
They keep you dry during your workout
Fabric often dries quickly after being washed
They are comfortable and provide you with a free range of movement
This should be obvious but there are many companies out there that make activewear. As a matter of fact, more and more brands have been popping up in recent years. On this page, we will be taking a look at one of the more well-known brands in the country—Fabletics.
About Fabletics
An American company, Fabletics started out as an online subscription retailer in 2013. Based in El Segundo, California, they specialize in women's sportswear and footwear and offer their members personalized outfits based on their preferences. In 2015, they launched a men's activewear line called FL2 with the help of actor, Oliver Hudson. A year later, they began to sell other apparel such as swimsuits and dresses. Not only are their products available online but they operate over 20 brick-and-mortar stores across the country.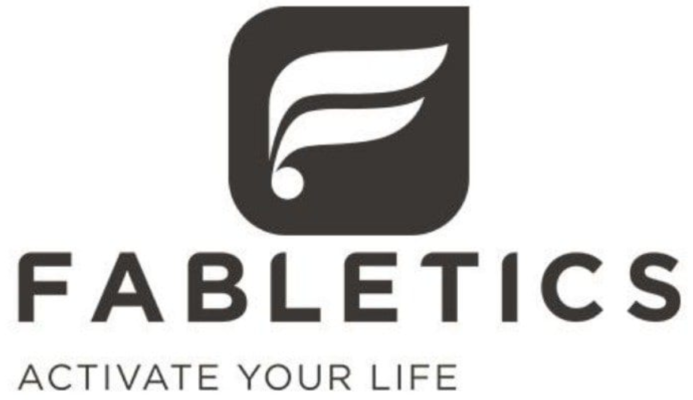 Over the past several years, Fabletics has been featured in numerous publications including Elle, People, USA Today, and Women's Health.
The Different Fabrics of Fabletics
As with most clothing brands, Fabletics produces a variety of fabrics, each of which is designed for different purposes. Ultimately, it's this that sets them apart from other companies—that is, each of them has its own lines of fabric that are used for their products.
Not too familiar with the fabrics used by Fabletics? We will be going over the major ones below.
PowerForm
PowerForm is designed to be comfortable and light. The perfect balance of soft and supportive, it offers all of the attributes that you'd need for a successful workout. Not only that, but it is breathable, which enhances airflow. Perfect for pilates or yoga, the fabric focuses mainly on freedom of movement and flexibility.
While Fabletics is mostly known for its PowerForm Leggings, the company also sells PowerForm tops such as capris.
PowerLight
The PowerLite line was first introduced in the summer of 2017. Great for all types of exercise, it is both moisture-wicking and super breathable. "Kind of like magic", it also features UPF protection and all-way stretch. High-impact yet lightweight, it will feel like you're not wearing anything at all! Even cooler is the fact that it can be worn all year round—both during winter and the summer.
PowerHold
PowerHold is their famous signature fabric. A blend of polyester and elastane, it is designed to flatter your figure without holding you back. Out of all of their fabrics, it is the one with the greatest compression. Want something that will boost your athletic performance? This is the one.
For now, this fabric is only available in their leggings.
Seamless
Their seamless fabric is exactly that—it is smooth and form-fitting. Perfect for a variety of activities including yoga and lounging, it features natural sweat-wicking capabilities that will keep you dry the entire time. Constructed out of nylon and elastane. Provides light compression for a second skin feel.
Their seamless line includes many products including leggings, sports bras, tops, tanks, and, hoodies.
SculptKnit
Their SculptKnit fabric provides high compression, which makes it perfect for training. Put together with wrap knit technology, it will sculpt and support your form for a flattering look. Breathable, chafe-resistant, and moisture-wicking, you will remain dry the entire time! Constructed out of nylon and elastane.
Their SculptKnit line includes leggings, sports bras, and tanks.
How to Clean Fabletics Clothing – Safe Washing Instructions
As you can expect, each type of fabric has a different set of care instructions. If you want to maximize their lifespan, you should always pay attention to how you wash them. For one thing, they should not be washed like regular clothes. After all, the material has different properties that make it suited for exercise.
Not too sure how you should go about washing your Fabletics leggings? Tops? Don't worry—that's why we're here. Below, we will be going over how to wash different articles of their clothing.
The Best Way to Wash and Clean Fabletics Leggings, Yoga Pants and Tights
Most of their leggings and pants are made out of nylon, elastane, and polyester—all of which can be put in the wash. With that said, care should be taken when they're in the washing machine.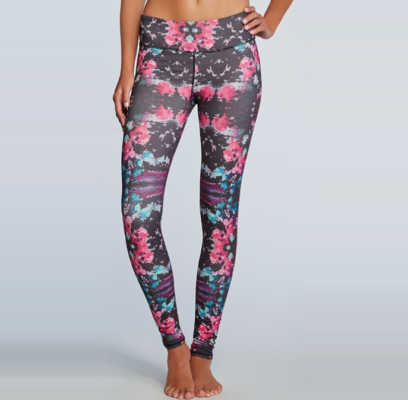 Place the leggings into a mesh laundry bag. If you don't have one, you can use a clean pillowcase—this will prevent the fabric from being damaged, especially if you have a mixed load. According to the Fabletics website, the garments should always be washed with cold water, on a gentle cycle. Add a bit of ACTIVE detergent to the machine, which is specifically designed to break down sweat, oil, and bacteria and press start. If you're washing multiple pairs of leggings, be sure to separate them into like colors—the last thing that you'd want is to ruin them in the wash.
Pro-tip: While you can wash your Fabletics gear with other clothing, it's best if you avoid putting it together with cotton and denim.
When the cycle is complete, you can tumble dry them on low heat. Do not add dryer sheets as this will affect the fabric's ability to wick away moisture. If you're not in a rush, we recommend that you let them air dry as this will be better for the leggings in the long run.
If you want to go for the gentler route, you can always hand wash them. For this, all you need to do is fill a tub or a sink with soapy water (you can achieve this by mixing water with a bit of ACTIVE detergent). After letting it soak for several minutes, gently rub the fabric together to get rid of the sweat and odor. When you're done, rinse it with clean water to get rid of the detergent. Remove the excess water by gently pressing down with a towel. Allow it to air dry for the best results.
For stains, you'll want to pre-treat the area by adding a bit of extra ACTIVE detergent to the spot. Gently rub it in and allow it to saturate for a few minutes before putting it in the washing machine.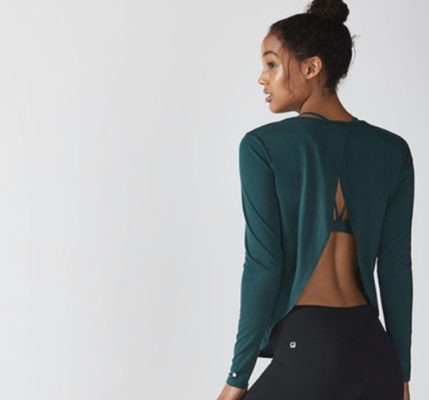 Note: You can easily wash their tanks, short and long sleeve tops with the same method. Do note, however, that some of their shirts contain cotton. If this is the case, you might want to separate them into a second load.
Washing Fabletics Sports Bras – Low, Medium, High Impact
Fabletics sells three types of spots bras—low, medium, and high impact. As you can probably guess, they provide different levels of support, which you can choose based on your fitness routine. For instance, you would want to go with a low impact sports bra for something like yoga.
Despite the differences, the majority of them are made out of the same type of material—polyester and elastane (some have nylon added in as well). What this means is that they can also go into the washing machine. Given that they're relatively delicate, you'll want to place them in a lingerie bag. You can wash the sports bras with other light-weight clothing such as t-shirts, socks, and underwear. Avoid putting them in the same load as towels and jeans as they are heavy and can damage the elastic.
Pro-tip: Before putting the bras into the wash, remove the cups—this will help it to retain its shape. You can hand wash the cups in warm or cool water and allow them to air dry.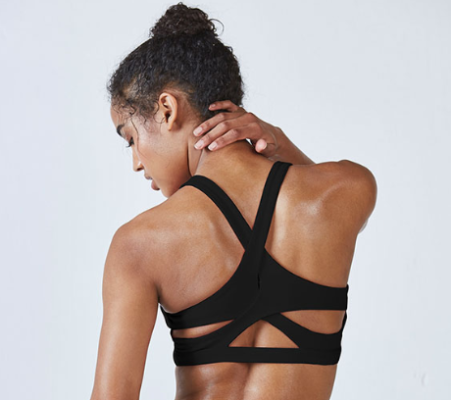 Similar to the Fabletics leggings, you'll want to use cold water with a gentle cycle. Hot water can cause shrinking and color bleeding. Pour some ACTIVE detergent into the machine and press the start button. When the wash cycle is done, take the bras out of the mesh bag and hang them to dry. Alternatively, you can put them in the dryer on low heat. As long as you don't blast them with high heat for long periods of time, they will be fine.
If you want them to last longer, you can hand wash them in a tub. After all, they do take a beating in the washing machine. Using a small bucket or sink, mix together some soapy water with ACTIVE detergent. Swish the liquid around for several seconds before placing the sports bras in. Gently massage each item, making sure that they're clean. Afterwards, drain the sink (or empty the tub) and rinse each bra individually. Carefully wring it out (you don't want to do it too hard or you'll damage the fabric) and hang it up to dry.
How to Wash Fabletics Headbands and Hair Ties
Fabletics has a line of seamless headbands, all of which made out of nylon and elastane. As you can expect, they can get quite sweaty after a good workout. For this reason, you should always give them a wash after you're done with your routine!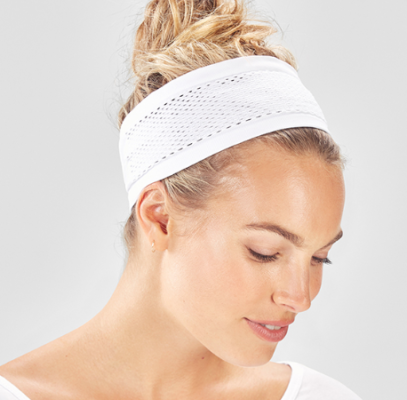 As it is, you can just toss them into the washing machine. Add a bit of ACTIVE detergent and wash with cold water on a gentle cycle. You can put them in with most other clothing. As far as drying goes, you want to avoid putting them in the dryer as that can damage the elastic. Instead, lay them flat to dry.
If there are stains on the headband, you can pre-treat them by adding a bit of detergent onto the spots. Rub it in gently and allow it to sit for about 15 minutes, before putting them in the washing machine.
As an alternative, you can hand wash them in warm water with some ACTIVE detergent. If they're particularly dirty, you might want to soak them for a few minutes before massaging and washing the item. When you're done, rinse it with clean water and allow them to dry flat.
Note: This promotional offer is only guaranteed through the end of the day.